Every new year brings new emerging trends in interior design. While you may have already started planning a redesign for your home, have you thought about your office? Keeping your workspace on trend will not only make it appealing to guests and visitors, but it can actually make your employees happier and more productive, too. Take a look at some of our newest collections that bring a modern twist to every area of the office.
Metropolitan Conference Room Furniture
We've added new conference tables to our best-selling Metropolitan collection to round it out and allow you to coordinate the look in your entire office. These extendable tables come in four-foot-wide square sections that can be extended to fit conference rooms big and small. Each table includes a center grommet hole for wire management, and you even have your choice of two beautiful finishes—black and boardwalk walnut. Meetings shouldn't be dramatic, but that doesn't mean your furniture can't be.
Agile Training Room Furniture
Modern and modular, our brand new Agile collection is all you'll ever need for the training room tables in your office. These adjustable height training tables come in a variety of shapes, including basic rectangular options, trapezoids, petal shapes and more. Uniquely designed worksurface shapes make these tables easy to push together and use in conjunction with one another, meaning you can hold meetings of all different types, including lectures and collaborative group sessions. Plus, Agile tables come in a wide range of colors to suit the modern office, including skyline walnut, brighton walnut and gray elm.
Encounter Waiting Room Furniture
If your waiting room is outdated or uncomfortable, try bringing a burst of modern edge to the space. Lounge furniture in the waiting room is one of this year's biggest office trends due to its high-end look and the superior level of comfort it provides guests in your lobby. Our new Encounter collection is made up of modular seating and tables that can be positioned in countless ways to fit your space just right. Unsure of how much seating is needed for your waiting room? Call our furniture experts at (800) 558-1010 and ask about our complementary space planning services.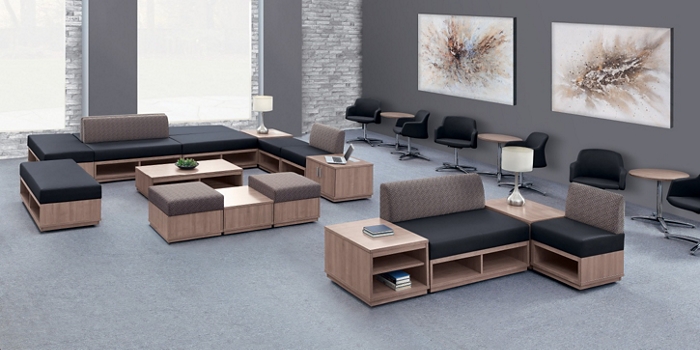 Figo Breakroom Furniture
Although this collection includes task seating and waiting room options as well, Figo is truly breakroom furniture at heart. Tables of various sizes and heights allow you to vary the visual space in your lunchroom, while the chairs feature perforated backs and polypropylene seats that make sitting comfortable and cleaning a breeze. Black, brown, navy and white color options ensure that your breakroom will be fresh and modern. Your breakroom should be an employee getaway, and the furniture in the space is the first step toward paradise.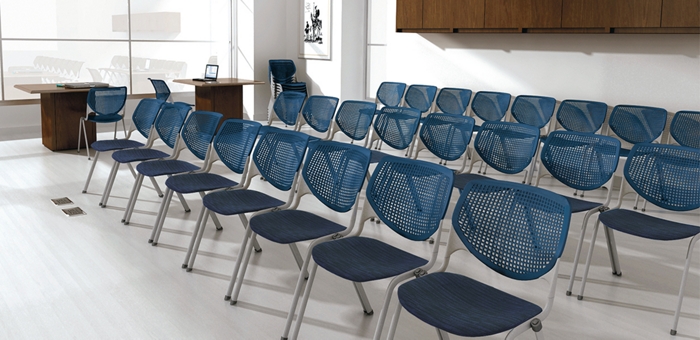 Boardwalk Office Furniture
Whether you work from home or from a corporate corner office, your furniture should reflect your personality. Our brand new Boardwalk collection is a striking bark gray and white finish with a streamlined design that's made to impress. Although the furniture grouping is sleek and simple, it comes back with special features like tons of storage space and an adjustable height desk option. Best of all? There are plenty of pieces, so you'll be able to outfit your office exactly as you'd like. After all, your office is your home away from home. Shouldn't it feel like home, too?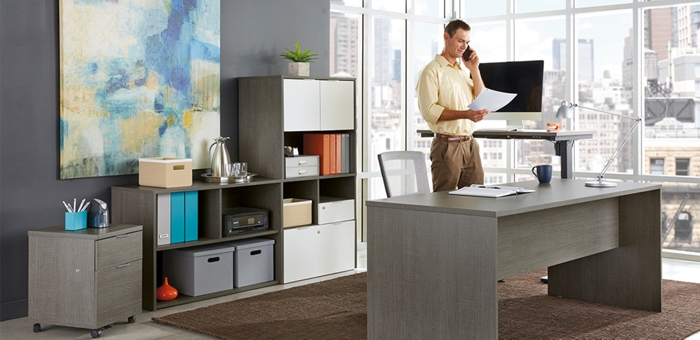 From the largest conference table to the smallest piece of décor, we're constantly updating our selection of office furniture to meet practical and design needs that fit the modern way of working. Still haven't found what you're looking for? Take a look at our full selection of new office furniture here.