In recent years, the trend away from chalk boards and toward dry erase boards has been gaining momentum. Whiteboards can be used to supplement meetings and lesson plans in the same way as chalkboards, but they don't come with the same mess and health hazards associated with chalk dust. So what type of whiteboard should you purchase? The answer is different based on the purpose the board will be serving and what your company's needs are. Take the following factors into consideration when selecting your new dry erase board.
What type of whiteboard should I get?
Melamine or plastic whiteboards can come with a non-magnetic surface or with a steel backing that allows it to accept magnets. The primary benefit to melamine is its inexpensive cost, so if you are searching for a dry erase board that is budget-friendly then melamine is the way to go. Melamine is also lightweight, making it easy to mount and a good choice for home office use.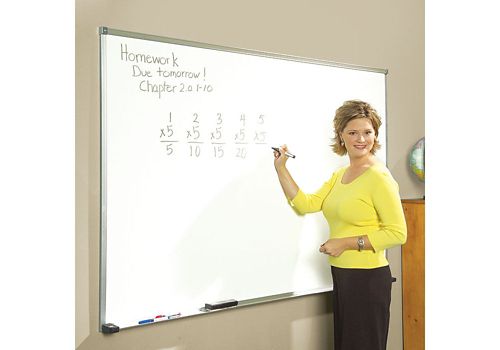 Porcelain or ceramic whiteboards are a more expensive option, but offer greater durability and resistance to scratches and stains. Like melamine, porcelain boards are easy to write on and often magnetic, but because porcelain is less porous than melamine plastic, the surface of your board won't succumb to what is commonly known as 'ghosting'. Ghosting occurs when markers leave stains on your board that cannot be easily wiped off by an eraser. Although porcelain is more durable and easier to clean than melamine, it is also much heavier, so mounting may require multiple people.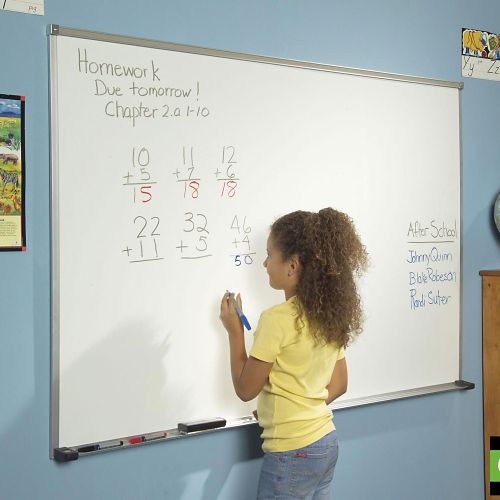 Glass whiteboards are the next step up, as they are not porous at all, preventing unwanted ghosting and staining even more effectively than porcelain. Markers erase easily without smudging, so you can count on smooth, long-lasting use. On top of that, glass marker boards are often frameless, creating a truly eye-catching, modern look. Glass whiteboards can also be magnetic, but they can reflect a double image in poor lighting which may make them difficult to read in some instances.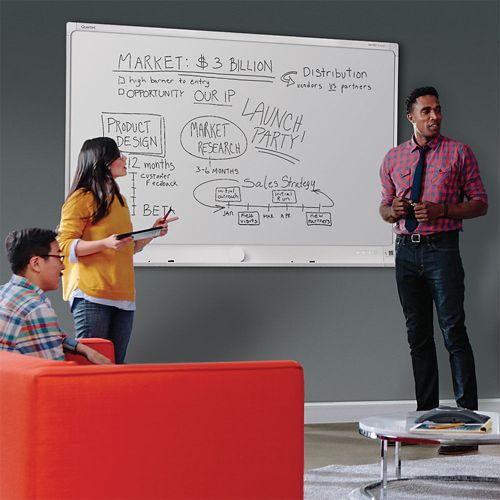 What type of room is the board being used in?
What type of room will this board be used in? What will the board's intended purpose be? If you're planning on using the whiteboard in a conference room where it will be used as not only a writing surface, but a projection screen as well, be sure to purchase a board with a matte finish. Boards that have a high-gloss finish will be difficult for meeting members to read, so invest in a board that will not produce too much glare. If you're looking for something to enhance sessions in your training or classroom, then an interactive board may be just the thing. Interactive boards integrate your computer and projector into your whiteboard, creating a learning experience that is better suited to grab and retain attention. If you're looking for a whiteboard to keep in your executive office, then an
enclosed whiteboard
may be more appropriate. Enclosed whiteboards come in cabinet form so that the whiteboard can be closed and concealed when not in use, maintaining a clean, professional look. The sides of an enclosed board are often equipped with additional whiteboard space or corkboard material for posting notes and relevant memos, which can also come in handy for the busy executive.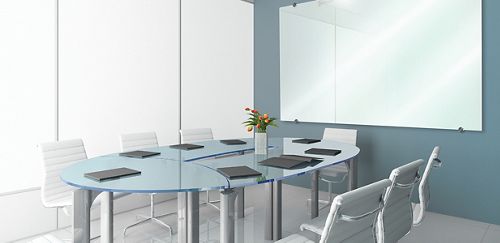 Should I get a wall mounted whiteboard or a freestanding one?
Are you looking for a wall-mounted board that will remain stationary in one room at all times, or are you in need of a mobile option that can be easily transported from one boardroom to the next? Wall-mounted whiteboards are available in both framed and frameless versions, and framed versions can come with a metal frame or a wood frame that can be matched up to your existing furniture. Wall-mounted whiteboards ensure that your dry erase board is always right where you need it to be; however, if you have a more modern office, then you may be in favor of a mobile option. Mobile whiteboards can be easily taken from one room to the next, so you won't need to equip every conference room and executive office with its own writing surface. When it comes to mobile whiteboards, you won't need to worry about proper mounting which can include making sure that the board fits your wall and is level. Mobile boards can also be used as partitions and room dividers in offices with more of an open floor plan. Best of all, many mobile boards also have the ability to adjust in height to accommodate the needs of different users. When it comes to selecting the right whiteboard for your space, not every office is created equal. Different boards work better for offices, conference rooms and training rooms just as different types of chairs work better for reception areas, cubicles and lounges. Take your budget, purpose and room of use into consideration before making the decision to go with one marker board or the other.