When it comes to office furniture for government employees, there's one trend that seems to be growing more and more every year—the need for standing furniture solutions. Alternating between sitting and standing has been proven time and time again to increase blood flow, leading to healthier, happier and more productive employees. It's no wonder government offices are hopping on board the standing height bandwagon, as the benefits of this type of furniture have proven themselves to be quite noteworthy. If your government office has already made the decision to equip the space with standing height solutions, then this list of our best-selling GSA approved standing desks is for you.
---
Height-Adjustable Table Desks
Featuring the NBF Signature Series Statesman
Take your workspace to all new levels with a height-adjustable desk. Available in a variety of shapes and sizes, a simple height-adjustable workstation can make a difference in employees' day-to-day health and happiness. This is a flexible solution with a small footprint-- perfect for multi-person offices that don't have the space for multiple desks per-person. A single motor--often with programmable settings--easily operates the desk with the push of a button.
Our Statesman height-adjustable desk includes added storage space for tucking away small supplies, as well as built-in cable management to keep cords and peripherals safely out of the way.

---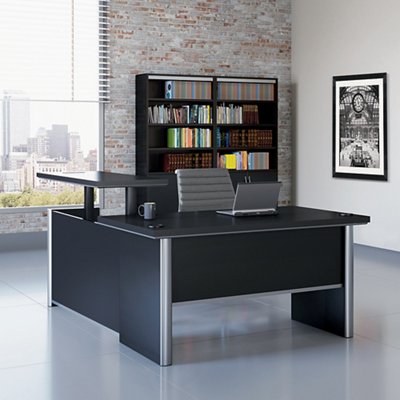 Height-Adjustable L-Desks
Featuring the NBF Signature Series Metropolitan
For an impressive executive office or private suite, adjustable L-desks make a strong statement while providing all of the benefits of a height-adjustable workstation. Depending on the model, either the return or the entire workspace may be adjustable; choose the solution that works best for you. These options are available in several of our best-selling collections, such as Metropolitan, and can range from simple silhouettes to highly stylized designs.

---
Standing-Height Desks
Featuring the NBF Signature Series Urban
Create a standing-only workspace or use a static standing desk in conjunction with a standard-height to optimize ergonomic choices while also keeping costs down. Standing height desks often sit roughly 42" high to fit a wide variety of statures and are available in styles that range from executive chic to simple, compact writing stations. The Urban standing-height desk is a great solution for an industrial-inspired office with an edge.

---

Monitor Arms
Featuring the ESI Edge Heavy-Duty Monitor Arm
Articulating monitor arms, or even standing-height clamp on arms, can provide added height when you're at your desk, making it easy to stand and focus on tasks at hand. Pair these with static or adjustable risers to keep your keyboard and peripherals nearby and ready for use.
Additional options can hold multiple monitors at one time--with some holding as many as four--to accommodate the setup you need to succeed. Clamp-on, bolted, and grommet-installed options are available to best suit your desk and space.
---
Need help finding standing height desks that work?
Call our furniture experts today at (866) 440-5386
or shop our full assortment of GSA contract office furniture.