The end of the fiscal year is fast approaching, and that means it's time to use up those government budget dollars before you lose them for good. When it comes to office furniture for government employees, there's one trend that seems to be growing more and more every year—the need for standing furniture solutions. Alternating between sitting and standing has been proven time and time again to increase blood flow, leading to healthier, happier and more productive employees. It's no wonder government offices are hopping on board the standing height bandwagon, as the benefits of this type of furniture have proven themselves to be quite noteworthy. If your government office has already made the decision to equip the space with standing height solutions, then this list of our best-selling GSA approved standing desks is for you.
If you don't want to have to replace the desks that are already in your office, the Ergotron WorkFit sit stand station is a smart choice. This simple yet high quality monitor stand can be easily placed on top of any work surface for use as a monitor stand that can be raised and lowered with a flick of the wrists. The small footprint is just the right size for your monitors, but it's also small enough not to take up too much space on your desk. A keyboard tray moves in tandem with the rest of the unit and is positioned for comfortable typing whether you're sitting or standing.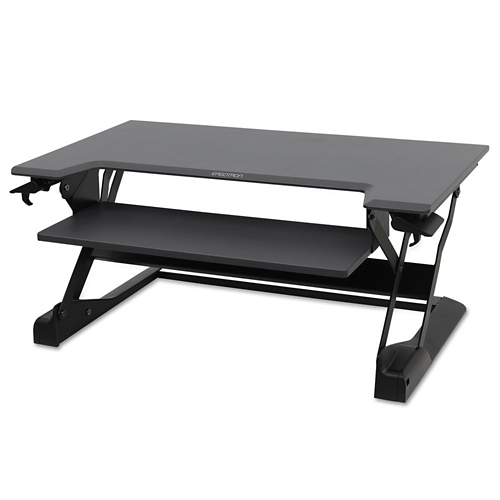 Another adjustable height monitor stand solution, Balt's sit stand stations make it easy to alternate between sitting and standing in one convenient area. Rather than sitting on top of your desk, these units clip onto the edge of your desk, keeping them in place and easy to use. Choose between a single monitor option or a dual monitor option and work in total comfort all day long.
One of our best-selling collections, At Work includes several standing height options with a simple design that's made to fit right in with most any office décor. These standing desks are designed to be used in conjunction with a standard height desk, so we recommend equipping your workspace with an At Work standing desk, At Work table desk and an ergonomic stool that allows you to toggle between both work surfaces. Most pieces in the At Work collection are available in your choice of Espresso or Warm Ash, all with brushed nickel framework for a modern edge.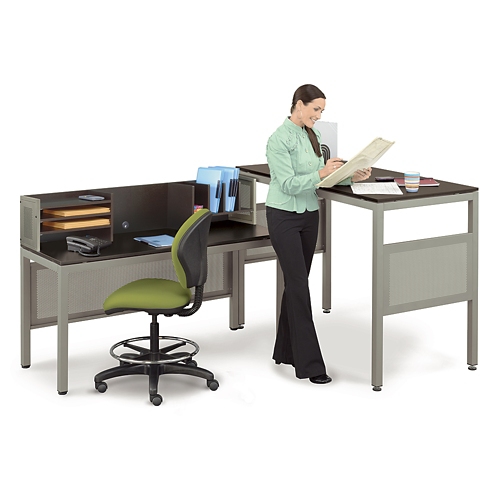 Sleek and ergonomically designed, the Officient Alta desk is a standing height solution with a twist. The table comes in your choice of 36" wide or 48" wide and features a tilt top which architects and designers can use to draft and write comfortably. Wheels on the front of the table make it easy to move around the office, and your choice of light gray or iron gray laminate gives the tables an eye-catching look.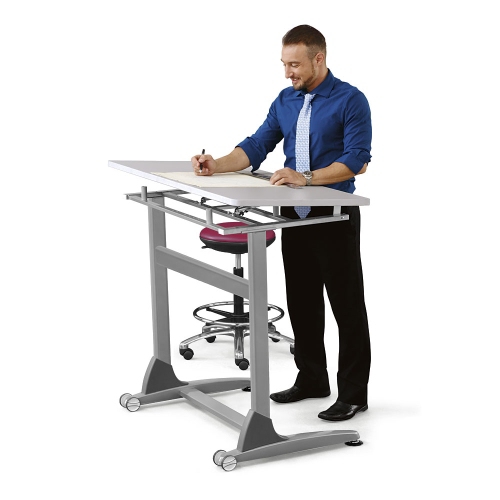 Martin Fulton by Kathy Ireland
The Fulton collection delivers contemporary style with high quality construction at standing height. This wood veneer standing desk includes desktop power and a center pencil drawer that has a drop-down front for use as a keyboard tray. Easily alternate between sitting and standing by using a stool or a standard height desk in combination with this beautiful espresso standing desk.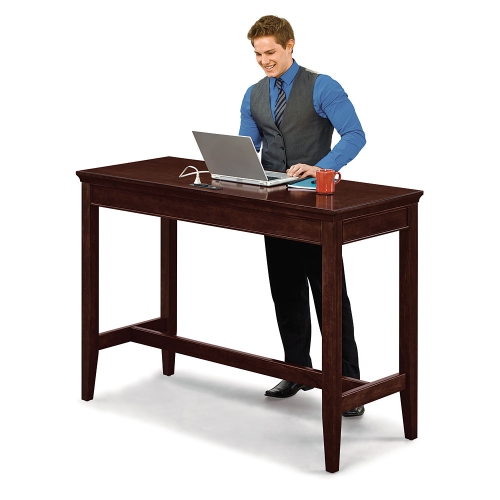 The Prestige Plus collection has been a GSA favorite for years, and we're happy to now be able to offer an adjustable height solution that matches this versatile assortment of furniture. Available in your choice of Bordeaux Cherry and Graphite, White Chocolate and Antigua or solid Chocolate, Prestige Plus delivers high style design and ergonomic functionality for the modern office. The reversible return on Prestige Plus L-desks has a height range of 28" to 45" high, and the height is easily adjusted with just the touch of a button.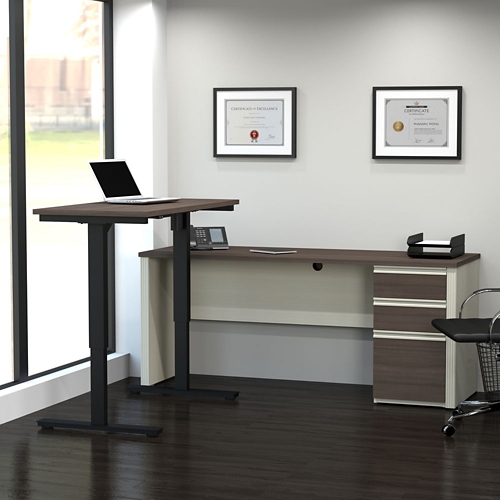 Balt's Ergo Eazy ergonomic adjustable height workstation features a height range of 29" to 39" high, adjustable via a pneumatic lever. This cost effective standing solution saves space by eliminating the need for an additional desk. Instead, your government employees can do all of their work in one spot, whether they want to sit or stand. A printer shelf and CPU space keep your electronics up off the ground, and an attached keyboard tray makes typing a breeze.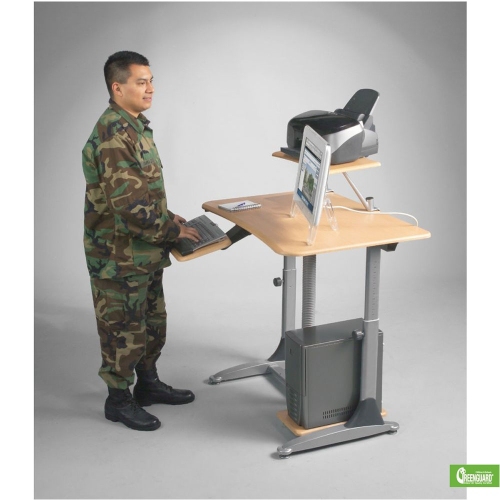 Need help finding standing height desks that work? Call our furniture experts today at (800) 558-1010 or shop our full assortment of GSA contract office furniture.