Whiteboards have taken over the role in the classroom that was once completely dominated by chalkboards. But with all the different dry erase boards available today, how do you decide what type of board will be best for your school's classrooms? Here's what to consider.
Wall Mounted or Mobile?
First thing's first—do you want a whiteboard that will be mounted to the wall in your classroom, or would you rather go with a mobile option?
Wall-mounted whiteboards are ideal for permanent use in a classroom, and most classrooms designate a good amount of wall space just for their whiteboard. Not only do wall-mounted whiteboards offer a great permanent solution, but they are also great space savers as they don't take up any floor space. Make sure to measure your wall before you begin shopping to ensure your new board will fit the space.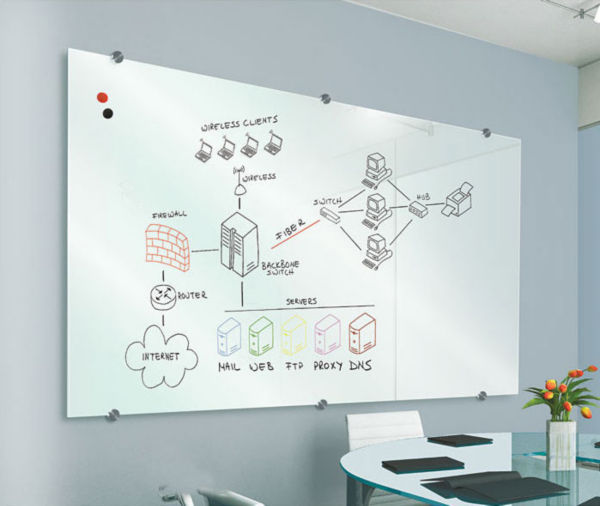 Mobile whiteboards take up more floor space than wall-mounted options, but they're great learning tools when teachers need a writing surface in different areas of the room or even in different rooms altogether. Mobile dry erase boards come in almost as many sizes as the wall-mounted variety, making it easy for you to find just the right option for your classroom. Many mobile boards are even reversible, meaning they have a whiteboard surface on both sides.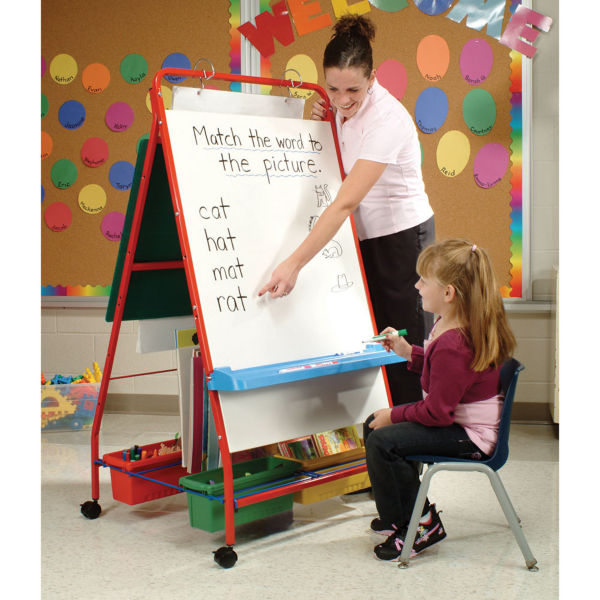 What type of board surface should I choose?
Whiteboards come in a broad range of surface types that all look similar, so it can be tough to decipher the differences and which option will be best for your classroom. The four main types of whiteboard are as follows:
Melamine whiteboards are made of a plastic material that can be written on and erased. The primary benefit to melamine is that it is budget-friendly and lightweight, though it should be noted that this type of surface is more susceptible to staining, ghosting and denting, so it may need to be replaced every few years, especially if used in a busy classroom. Melamine boards are often made with a steel backing that makes them magnetic, which is great for posting notes and student artwork in a school.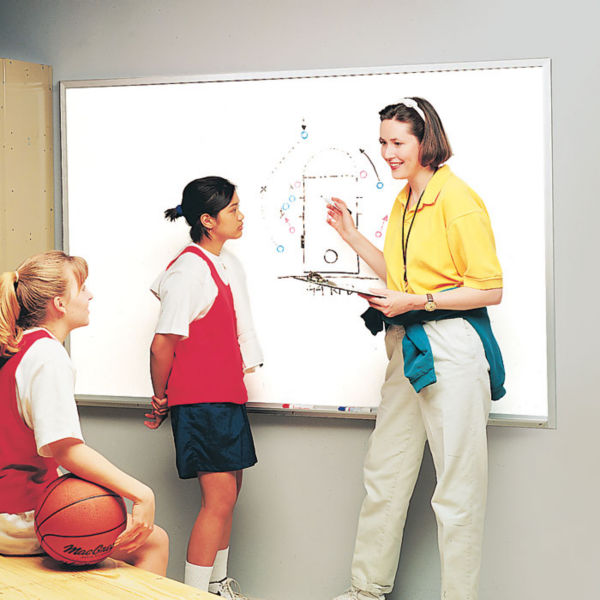 Porcelain whiteboards, otherwise known as ceramic dry erase boards, are another common type of markerboard. Although more expensive than melamine, it offers much greater durability and resistance to scratches and stains. Like melamine, porcelain boards are easy to write on and often magnetic, but because porcelain is less porous, the surface of the board is much less likely to succumb to ghosting.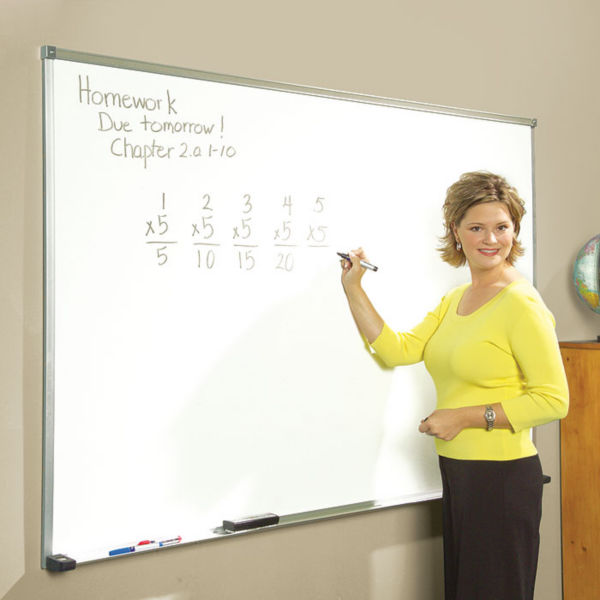 Glass boards are not porous at all, which makes them the most durable option; however, it also makes them more expensive. Because markers can be easily erased from glass without ghosting or staining, these boards last much longer than melamine or porcelain, so you won't need to replace them anytime soon. Glass markerboards are usually frameless and even come in fun colors that can work well in a classroom.
Gorilla Glass® is a specialized type of glass made by Corning that is thinner and more lightweight than regular glass. Gorilla Glass® is commonly used to make smartphone screens because it is super-durable and resistant to cracking and scratching. The same material is now being used to manufacture dry erase boards, making them even tougher and longer-lasting than standard glass boards.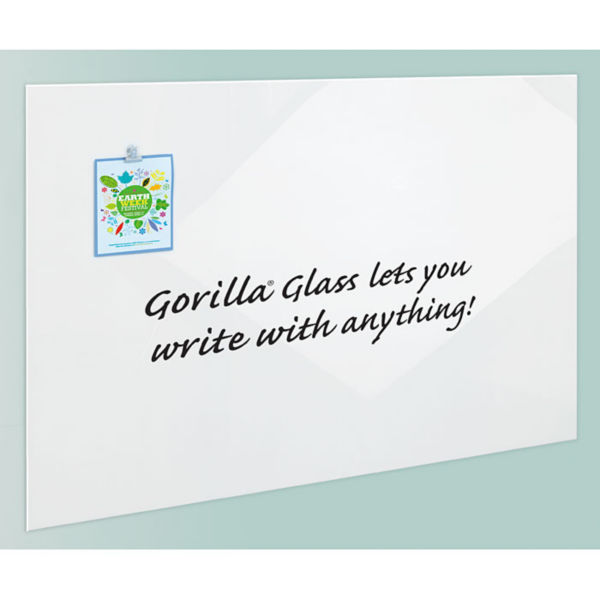 Are there specialty whiteboards?
Absolutely! There are a number of specially designed whiteboards available to meet specific classroom needs.
Music staff whiteboards, as the name implies, have a printed music staff on them. This is ideal for music, choir and band teachers to use without having to use valuable class time to draw a new staff every day.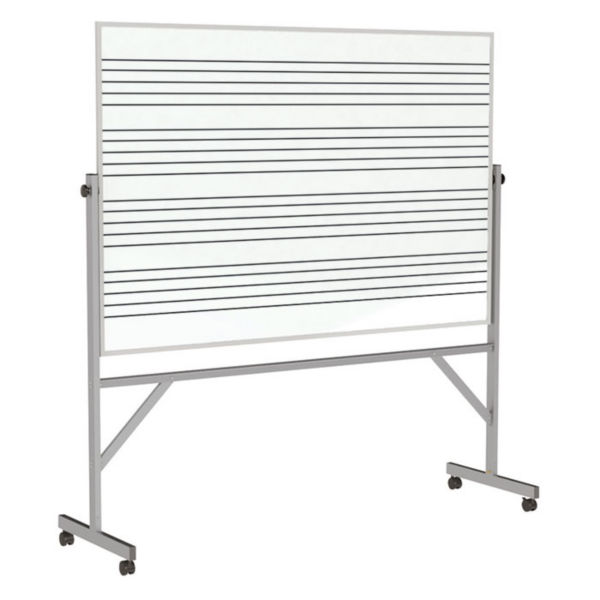 Calendar boards are similar to music staff boards, but they have a blank calendar printed on them instead of a staff. These types of boards are especially ideal for classrooms wherein there is almost always a calendar posted somewhere. These large, erasable calendars eliminate the need for paper waste and make calendar creation more fun for students and teachers.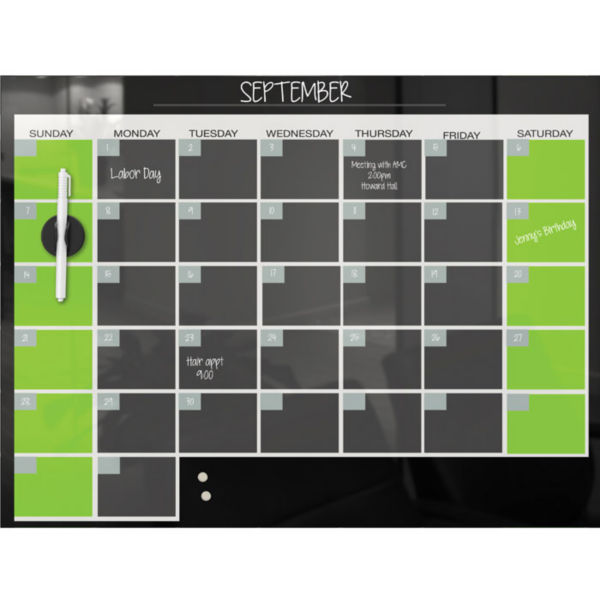 Peel-and-stick whiteboards ship rolled up like a poster and can then be peeled off their protective backing and stuck onto your wall. This creates a nice built-in look that is often more affordable than framed boards that need to be mounted.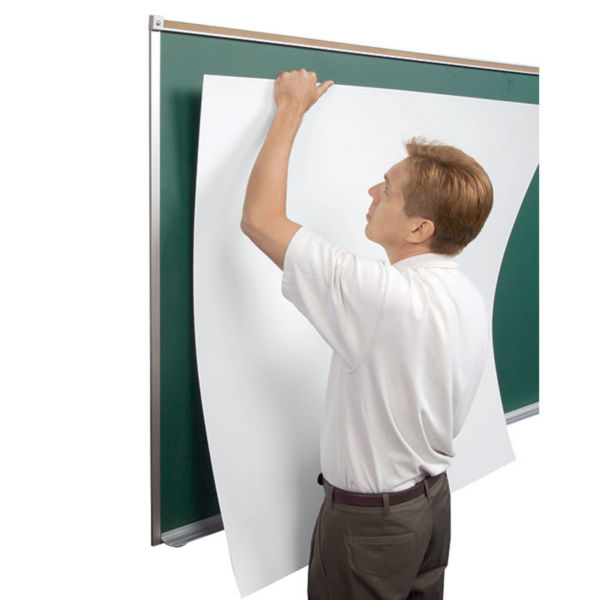 Colored board is usually made of glass and comes in a variety of sizes and colors. Whether you're matching your whiteboards to your school colors or want a cool black dry erase board for your school cafeteria, there's plenty here to choose from!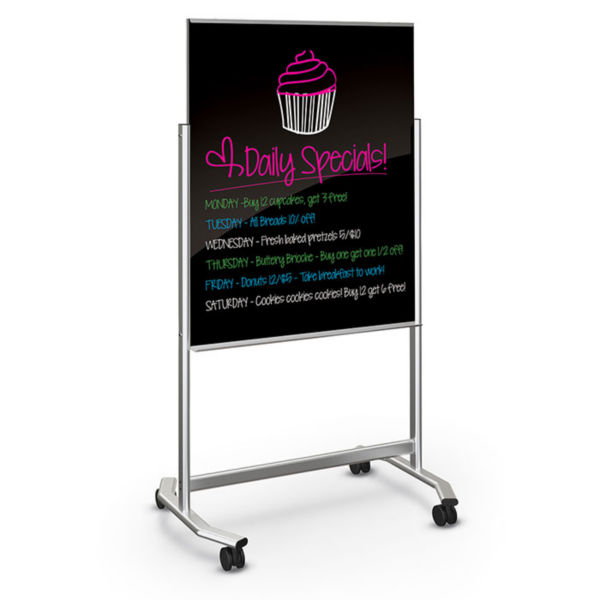 Whiteboard easels & flip charts allow educators and students to write comfortably while keeping markers and erasers nearby. Most easels are mobile, making them easy to move around in the classroom to wherever they're needed.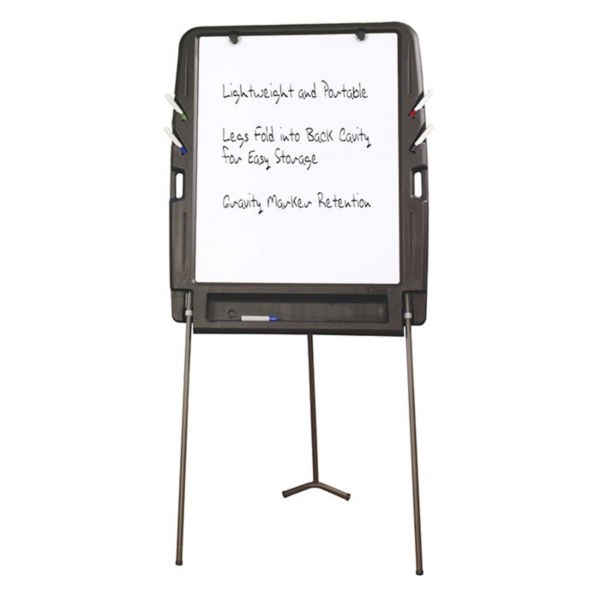 Digital dry erase boards are interactive and often preferred for upper education. When connected to a computer and projector, these boards become large, interactive screens that bring presentations to life.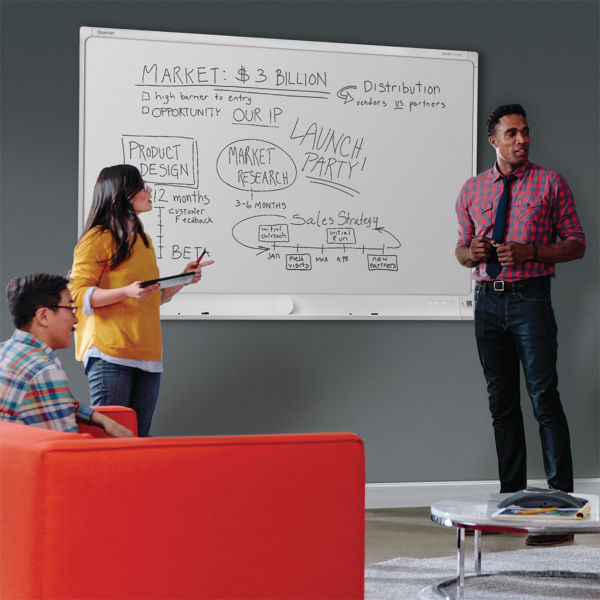 Need help finding the right boards for your school? Call us at (800) 527-2417 and one of our school furniture experts will be happy to help!