Flip-arm chairs, chairs that have arms that you can flip up or leave down, can enhance the functionality and efficiency of any workplace. The ability to go armless offers several benefits, especially for police stations where officers prefer them because they don't impede their duty belts.
Aside from comfort and style, here are the top reasons why investing in chairs with flip-up arms may make sense for your organization.
Lowers Furniture Costs
Flip-arm chairs can be used for meetings, training sessions, interviews, briefings, and more. Investing in flip-arm chairs eliminates the need for multiple seating options, allowing you to save money and space.
Professional Appearance
Investing in quality, uniform flip-arm chairs that match the office design aesthetic reflects positively on the organization. NBF offers several flip chair options to match any style. 
Easy to Clean
Ensuring that furniture remains clean, even in high-traffic areas, is important. Flip-arm chairs are often designed with materials that are easy to clean and maintain.
Increases Accessibility 
Many flip-arm chairs are designed to meet accessibility requirements, providing comfortable seating options for individuals with disabilities, those with mobility challenges or people with larger bodies.
Supports Employee Productivity
Comfortable employees are productive employees. Many flip-arm chairs offer ergonomic adjustments to customize the chair to multiple users.
Long-Term Cost Savings
Compared to basic chairs, flip-arm chairs may have a higher initial cost. Their durability and versatility can add to cost savings in the long term. 
4 Chairs We Love With Flip-Up Arms
Ready to make the switch to the improved flexibility of an office full of chairs with flip-up arms? Here are 4 of our favorites.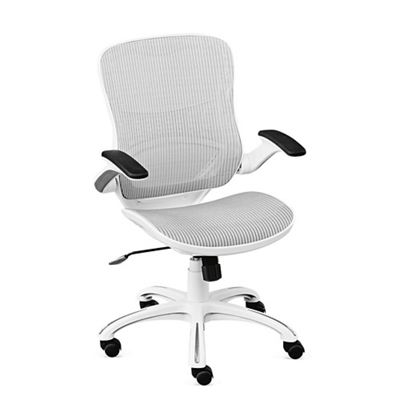 Featured Product: Linear Vertical Mesh Task Chair
Why we love it: Enjoy a pop of contemporary style and functional features at a great price point.
Featured Product: Avanti Executive Chair w/ Flip Arms
Why we love it: With a leather look and kinetic lumbar support, this chair has your back every time you lean, twist, and reach.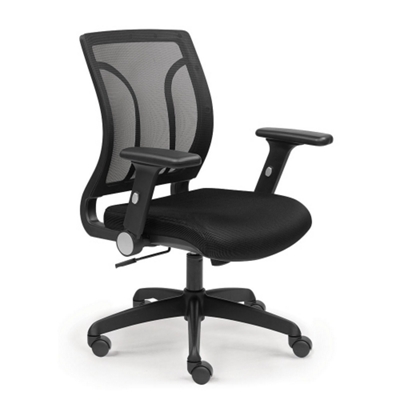 Featured Product: Essential Mesh Back Chair
Why we love it: A memory foam seat means that you get all-over support instead of a couple of sore pressure points.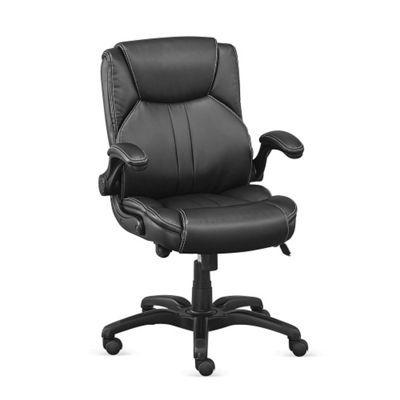 Featured Product: Omega 24/7 Big and Tall Chair w/ Flip Arms
Why we love it: With a 5"-thick foam seat and a weight capacity of 300 lbs, this chair was built to support a wide range of bodies for all-day comfort.
Need Help? We've Got You
Let's decide the best solution for you. Connect with one of our 100+ furniture experts who can help you make the best choice for your team, space, and budget.