If you haven't had to order furniture for a healthcare environment before, the prospect might be scary – there's a lot of risk when patients are involved. This short guide will give you the most important things to consider when ordering furniture for a medical space.
Chair Construction
Look for items designed specifically for healthcare – standard commercial or residential furniture generally isn't appropriate and won't hold up to 24/7 use and harsh disinfectants.
Chairs used by patients should have a higher weight capacity (300+) – roughly 20% of seating should be "bariatric" or have a weight capacity of 500-750lb. Look for a generous "clean out" space between the seat and back of chairs. This allows debris to fall to the floor and makes cleaning up spills and soil much easier. Chair frames should be durable, cleanable and resistant to chemicals – metal will last longer than wood. Consider alternative materials – there are aluminum or plastic chair frames that look like wood but are better for infection control.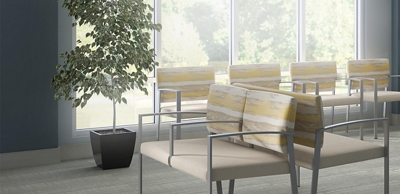 Chair details matter! Look for seating that has a "wall saver" design to minimize facility damage, and straight front legs to prevent trip hazards. Chair arms should have protective caps (urethane or solid surface) and comfortable grips to help users get out of the chair. Minimize or eliminate decorative stitching and tufting which is difficult to clean and can harbor harmful bacteria. Items that feature easily replaceable components will help prolong the useful life of your furniture and increase your return on investment.
Surface materials
Textiles can make or break your project! All materials in healthcare spaces should be non-porous and wipeable – that means that woven or fabric material should be avoided. Look for textiles with a high resistance to cleaning chemicals and those that are approved for use with the chemicals your facility uses. We recommend a quality healthcare vinyl – there are thousands of options at every price point, style and color.
Wood is a porous material, and while it can add warmth to a space, it is easily damaged and can harbor bedbugs. Laminate is a better choice for frequently used areas as it offers the look of wood but can be easily cleaned and disinfected. Solid surface has become increasingly popular in healthcare spaces because it is seamless and very resistant to chemicals – consider using it on high touch or high moisture surfaces like countertops.
Designing A Patient Centric Waiting Room
The waiting space is often your patient's first impression – make it count! Depending on what type of facility or patient population you have, you'll want to keep wider aisles to accommodate assistive devices. Set aside dedicated wheelchair parking spaces so aisles aren't blocked and those patients don't feel like they are "in the way". If space permits, consider smaller seating groupings that allow family to be together, or those needing some privacy to be alone. Motion can help with anxiety – many guest chairs include a flex back that can help.
Patients and family appreciate thoughtful amenities like coffee and water stations, or areas to charge electronics. A small child's play area can keep even the smallest visitors occupied and help reduce stress levels for parents. Most importantly, patients don't want to feel forgotten so be sure to offer clear lines of sight from the waiting area to the check in area. Finally, don't forget things like magazine racks, TV mounts and waste receptacles to finish off the space.
Care and Maintenance
Once your new space is complete, the challenge of keeping it fresh and clean begins. Be sure to read the care & maintenance guides that come with your new furniture & carefully follow instructions when cleaning with disinfectants to avoid damage. After disinfection is complete, don't forget to rinse with clear water to remove chemical residue – it's healthier for your patients and keeps furniture looking new longer. Consider adding wall & corner guards to high traffic areas to prevent damage and paint scrapes.
Need help or have questions? Call one of NBF's furniture experts at 800-558-1010, or read more on our Resources page.