NeoCon, one of the largest trade shows in the furniture industry, took place last week, Monday, June 9th through Wednesday, June 11th. The event features showrooms from top furniture brands and focuses on commercial interiors. NBF, as a large retailer of commercial-grade products, attended the conference to not only see the new design trends, but to also interact with vendors. As we posted previously, there were many trends that we saw emerging consistently throughout the numerous showrooms. One such trend was the emphasis on healthcare segments. While healthcare is a well-established niche of the furniture industry, there were a few developments and trends that could not go unnoticed.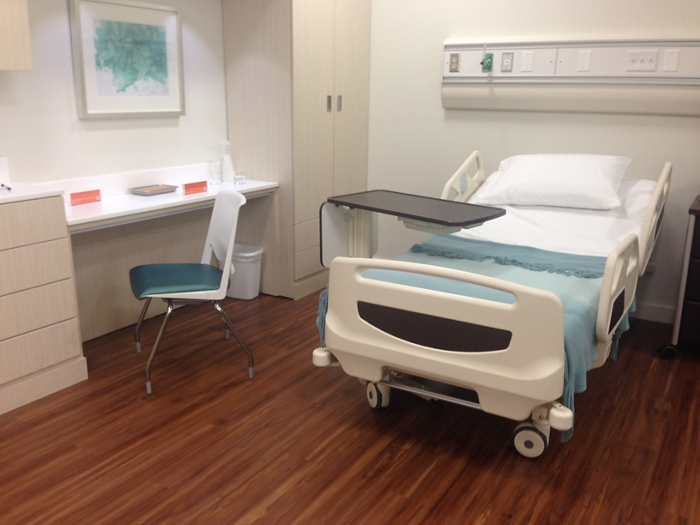 Warm Yet Calming Colors
When one thinks of a hospital or even a small clinic, one generally thinks of the color white. Any such healthcare facility looks extremely clean—although almost to a fault, as this can appear sterile and cold. The showrooms that featured healthcare products instead offered the opposite. We saw warm, yet calming colors, including soft blues, pale yellows and various shades of cream and beige. These colors lend a much warmer and more welcoming tone to a space. The showrooms still delivered the pristine cleanliness needed in any healthcare setting, but also had a more homey and comfortable feel.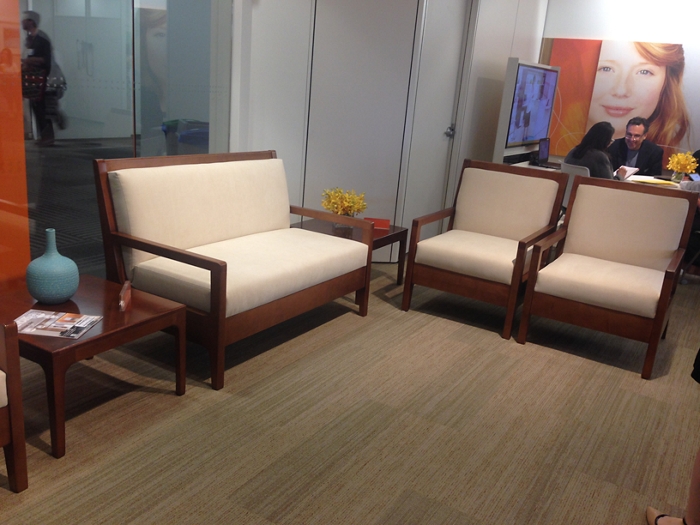 Wooden Design
To further create a warm and homey environment for patients, visitors and caregivers, the healthcare showrooms also featured numerous aspects of wooden design from wooden chair frames to rich wood floors. When combined with the calming blues, yellows and creams, the overall effect created a truly comfortable space that, in the best way possible, did not resemble your typical healthcare facility.
Designs to Address the Specific Needs of Healthcare Facilities
There are certain considerations that every healthcare facility must think about before purchasing any furniture. One such consideration is how easy the piece of furniture will be to clean. Having antimicrobial vinyl addresses this need, as it is easy to clean and does not trap in germs or odors.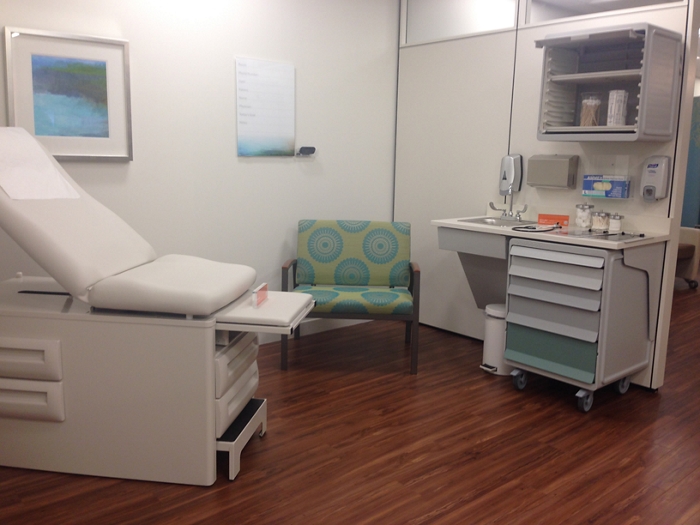 Designs to Help Healthcare Providers
Supporting healthcare staff is still another requirement of any piece of furniture designated for healthcare settings. While nurses certainly do use computer workstations often throughout the day, each use usually does not extend the duration of two minutes. This means that nurses simply do not have the time to make ergonomic adjustments for their particular body. Many supportive products were available at NeoCon this year, including a nurse's workstation from Humanscale with minimal available adjustments to address the problem above, making it streamlined and easy for all nurses to use. The station is designed in such a way to already have ergonomic adjustments preset—the only adjustment that each nurse needs to make in order to have a fully ergonomic workstation is to adjust the height, which can be done quickly so as to help the staff keep up with the quick work pace found in most healthcare environments.
Designs to Keep Patients Comfortable
There are special considerations to be made when it comes to the needs of patients. Many furniture options, like that of the hip chair, have a specific design which helps make a patient recovering from hip surgery more comfortable when seated.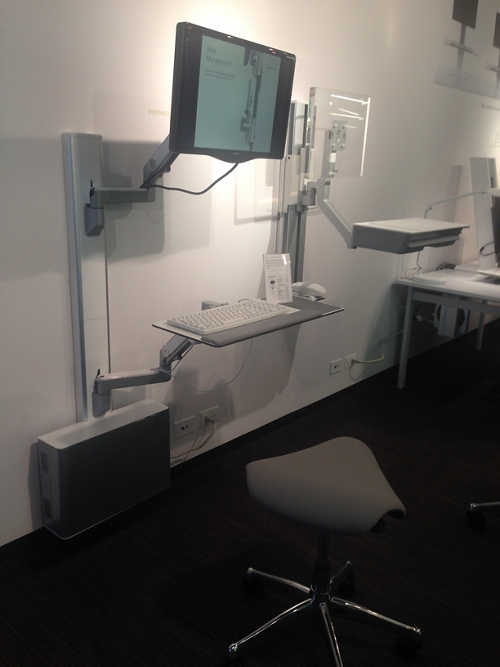 Designs to Support Guests
Specific furniture designs for guests and visitors were also present. An example of one such design is this super comfortable sleeper bed that can be extended for guests who wish to stay with the patient overnight.
Every trend spotted at NeoCon suggests that furniture manufacturers and designers are doing their best to make healthcare facilities more than just safe and sterile. The trends point to an effort to make patients and guests as comfortable and as welcome as possible, while also making it easy for caregivers and medical personnel to effectively do their work.