Whether you're running a small business or a multi-million dollar corporation, every office wants to save money wherever possible. Although saving money may be necessary, plan wisely when budgeting for your new office furniture—some pieces are worth the splurge. Read on to determine what pieces of furniture are worth the extra dollars spent and what items can save you some cash up front.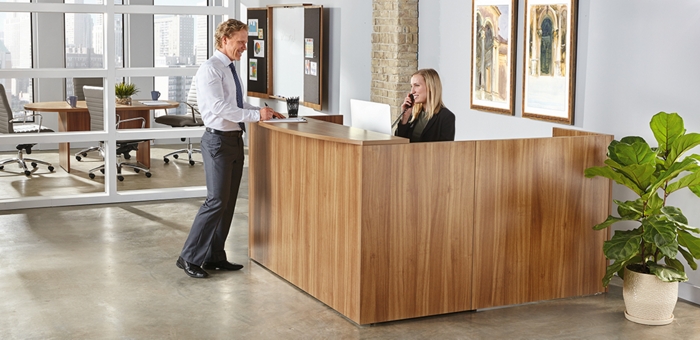 Reception Area
When it comes to the main desk in your waiting room, we suggest choosing a piece of furniture that's going to make a statement in the room and promise long-lasting use. Even the cheapest reception desks cost a pretty penny, so believe us when we say this is not the type of furniture you're going to want to replace in a few years' time. Not only is it expensive to replace, but it's difficult to replace as well, considering this is such a large piece of furniture. Do yourself a favor and go with a durable reception desk that's going to last for many years, and pick something attractive enough to really draw in your visitors as soon as they step foot through your front door.
Coffee and end tables are waiting room necessities, but they don't need to take up much of your budget. Occasional tables in a reception area are used very lightly, so selecting inexpensive options will not mean needing to replace the furniture the same way it would for a reception desk. In addition, occasional tables are not as expensive to replace as larger furniture is, so when your coffee and end tables are ready for an update it won't be such a blow to your budget.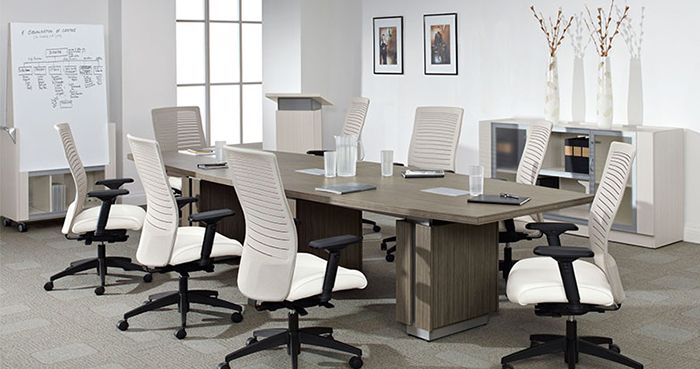 Conference Rooms
SPLURGE: CONFERENCE TABLES & CHAIRS
Similarly to reception desks, conference tables are expensive, and you won't want to have to replace yours in a year or two, especially if the table is a large one. That's why we recommend splurging a little on your conference table of choice. Going with something sturdier and more resistant to high traffic use will ensure you won't need to replace it anytime soon, which will actually save you money in the long run. In addition to picking the right table, we also recommend going with conference chairs that are comfortable enough for users to sit in during long meetings. After all, nobody is going to be productive in a conference if their back is killing them.
SAVE: STORAGE & CASEGOODS
Storage and casegoods in the conference room are generally used sparingly for storing electronics and paperwork. Because this type of furniture is not being subjected to frequent daily use, you'll be safe selecting a mid-price option that may not be quite as heavy duty as your conference table. Ready-to-assemble laminate options are usually a good choice for the budget-conscious buyer.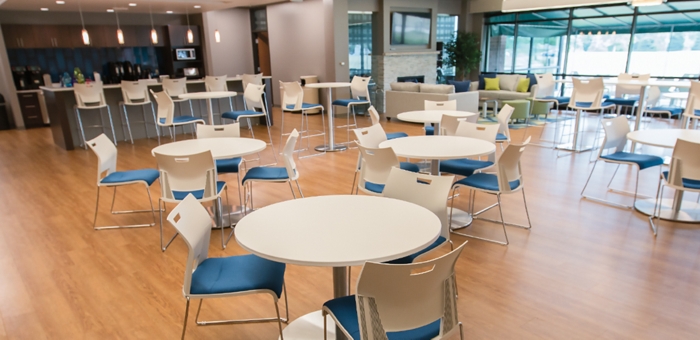 Breakrooms
The main pieces of furniture that employees use in your breakroom is the tables and chairs. These furnishings are used every single day, and that means they need to be able to take a beating. We recommend choosing sturdy tables and chairs that are designed to be durable and easy to clean. This way, you won't need to worry about furniture breaking or needing to be replaced for a long time to come.
A breakroom should be a place that inspires creativity and relaxation in your employees, so the right décor is a must. That being said, there are tons of budget-friendly décor and accessory options to choose from when designing your business's lunchroom. We recommend getting all the important furniture first and selecting your décor based on whatever budget you have left over. No matter what the budget is, you'll find a selection of artwork, lamps and area rugs to fit into it.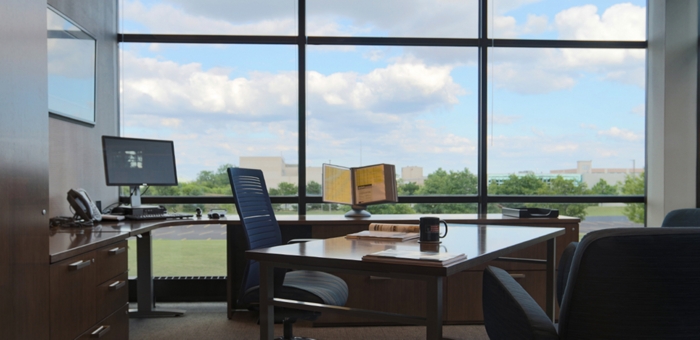 Private Offices & Workstations
SPLURGE: DESKS & OFFICE CHAIRS
Desks and office chairs in your business should be high quality enough that they can withstand daily use, and they should be comfortable enough that employees can work at them all day, every day. Providing employees with a standing height desk option is becoming essential in today's workforce, and offering an office chair with the right ergonomic adjustments will ensure employees are comfortable enough to work productively all day.
Workstations are hugely important to the overall productivity and happiness of your employees, so the furniture you select for private offices and cubicles should be of the best quality you can afford. One thing you can save on, however, is the guest chairs employees keep at their workstations for visitors to use. Whether its side chairs in a corner office or a task chair in a cubicle, these chairs are used very lightly and therefore don't need to be able to withstand any harsh wear the way the employee's ergonomic chair needs to. Adjustments on these types of chairs may also be minimal, which will help you save on the cost.
Need help finding furniture to save on and furniture to splurge on? Call our furniture experts today at (800) 558-1010 or leave a comment below!