After looking at all of the compiled research, you've decided that getting a standing desk is the best way to maintain a healthy lifestyle at work. Now that the choice has been made, actually adding a standing desk to your office can be a daunting task to say the least. There's a vast selection of standing desks to choose from. Plus, many employees don't have the option to decide whether or not they get to have a new desk. Here's how you can get a standing desk in your workspace once and for all.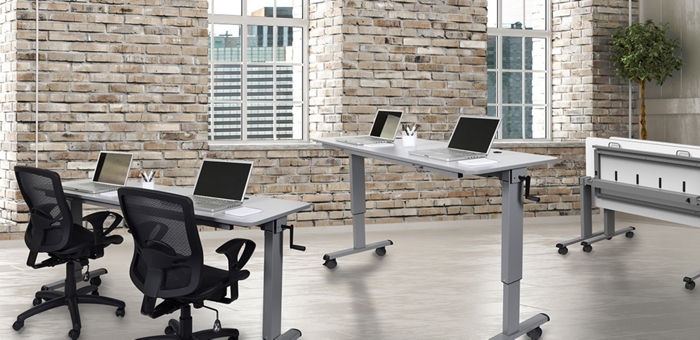 If You Work in a Cubicle
This can perhaps be the most daunting situation of all. First of all, you'll most likely have to get approval from a manager or supervisor to add a new desk to your space. The standing height craze is a relatively new trend, and many offices haven't implemented it yet. Therefore, it may be tougher to convince an office manager that you need a standing desk if nobody else in the office has one. Whatever the case may be, here are a few things you will have to consider if you want to work with a standing desk.
Explain your need. If your company does any type of survey or performance review where you can make suggestions on how to improve your workplace, it's an opportune time to share your concerns. Unfortunately, flexibility is going to be limited in these situations—simply because it is a shared space and not just used by you individually. Before you can add any new feature, you're going to have to run it by your boss and maybe even HR and your coworkers, depending upon your workspace. Show them the research. Explain why you want and need a new setup and how you will be more productive because of it. Maybe you're experiencing chronic back or neck pain – now is the time to share these complaints and offer a standing desk as a possible solution. You could even ask for a trial period of some kind to test out a standing desk. If you see success with it, your coworkers may want their own standing desks as well!
Be specific. Research standing desks to determine the exact one that you want before approaching your manager about it. This will allow you to have a price in mind which a supervisor is sure to want to know before they make any kind of decision whatsoever.
Consider your coworkers. If your cubicle walls are short, it's going to be pretty awkward if you're just peering down at your coworker's back. If possible, reorient the angle of your workspace so that you avoid peering over someone's shoulder. If this is not a possibility, you may want to consider adding additional panels that could solve the problem and offer more privacy for everyone.
Consider an adjustable height monitor stand. If you already have a workstation, you probably have a desk set up that isn't going anywhere. This means you can't just buy a full standing desk and call it a day. There's simply nowhere to put it, and your boss most likely won't allow you to totally remove your current workstation. Instead, consider an adjustable height monitor stand. These convenient adjustable height workstations simply clip on or sit on top of your existing work surface, and they're usually a budget-friendly option too!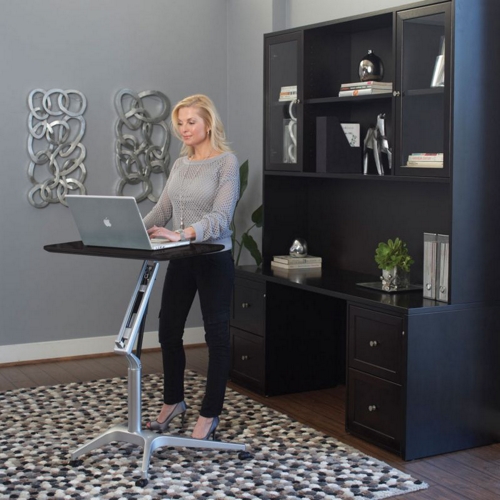 If You Work in a Home Office
A home office generally offers much more flexibility than any cubicle or workstation in a corporate environment since you can do whatever you want with your own space.
Consider space constraints. Many home offices are on the small side. Some home offices may even just be a designated corner of another room that already serves another purpose, such as a family room or guest room. In this instance, you will want a standing desk that isn't very large or bulky. You'll probably also want a standing desk that is either easily adjustable or one that you can pair with a tall, ergonomic stool because, let's face it, you aren't going to be standing the whole day. It is possible to both sit and stand with a stool and smaller standing desk that you can add to your current set up. If you really want to make standing as easy as possible, try working with a leaning stool.
Think about your budget. Chance are, you already have a desk. Maybe this desk works just fine as far as storage, but it doesn't have any features that support standing. There are plenty of economical solutions available for you to choose from.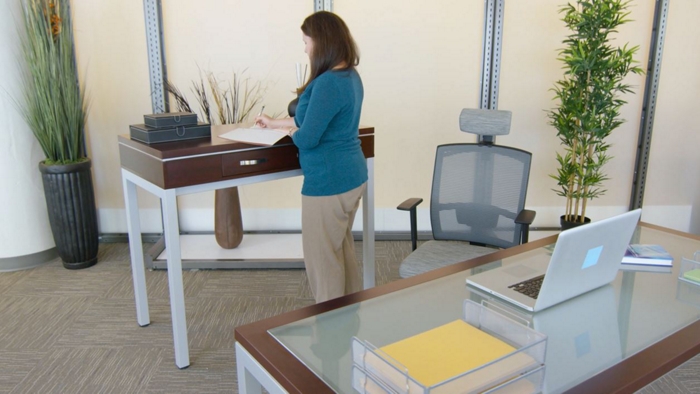 If You Work in an Executive Office
In an executive office, there is sure to be more room and more freedom for customization. The trick here is staying on budget and finding an option that works for your needs and complements your current office set up. We have added many standing desks and adjustable height tables that match many of our current collections in order to make this process easier. Simple desktop solutions may also work well for many executive offices; it only depends on what type of work you wish to complete while standing.
Other Options if a Standing Desk is Not a Possibility
If you've tried getting a standing desk and it is simply not working out for whatever reason, the next best things you can do for your workspace are as follows:
Invest in an ergonomic chair. Ergonomic chairs feature adjustments that offer you optimal and personal comfort. These chairs, with the proper adjustments, may help alleviate back and neck pain or other discomfort you experience. Be sure to adjust the ergonomic chair in a way that best supports you. We even have a guide to help with this if you are unsure how ergonomic adjustments should be made.
Stand up and move around every hour. The best way to do this is to set up a silent alarm on your computer that will alert you every hour. Why is this a good strategy? Research shows that it only takes an hour of sitting for your body to slow down and that standing every hour can help to counteract a lot of the negative health effect associated with sitting. Setting a silent reminder on your computer every hour is a good way to remind yourself to just stand for a little bit.
Need help finding a standing desk that works? Call our furniture experts at (800) 558-1010 or shop our full selection of adjustable height desks here.