February is commonly the time of year when new year's resolutions fall by the wayside and we forget all about the goals we wanted to achieve due to our busy work schedules. Don't let this happen to you! If your resolution is to stay healthy in the office this year, then we've got plenty of standing desks and tables to help you out.
At Work Standing Height Desks. The At Work standing height desks are a National Business Furniture exclusive that will help you stay healthy in style. The collection includes standing desks in three different sizes and two color options—espresso and warm ash. The sleek, streamlined look of these desks sets them apart from the competition, and they also come at an affordable price.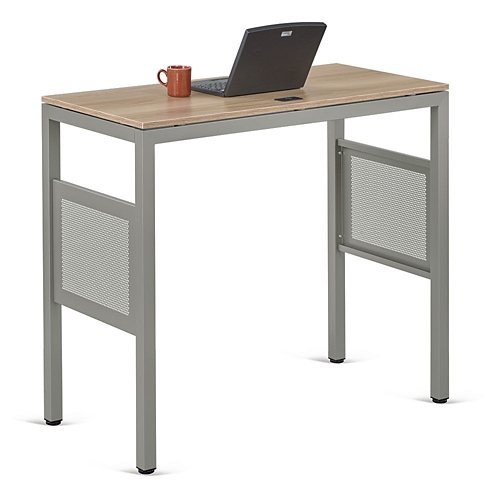 Statesman Standing Height Desks. If you prefer something a little more traditional in style, then the Statesman standing desks could be right up your alley. Available in two different sizes, the Statesman desks are finished in a chestnut cherry wood veneer. These desks even have a pencil drawer that can be flipped down for use as a keyboard tray if needed.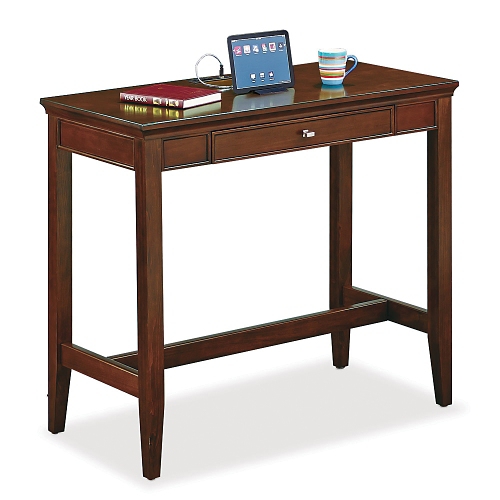 Reveal Standing Height Desks. New to the NBF family, the Reveal Standing Desk has a modern design with a traditional mahogany finish that gives you the best of both worlds. The center pencil drawer has a flip-down front that allows you to use it as a keyboard tray if desired.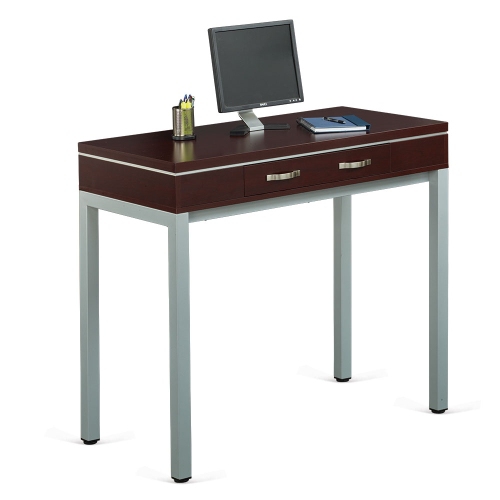 EZ Lift Adjustable Height Desks. A newer addition to NBF.com, the EZ Lift adjustable height tables are aptly named for their ease of use. With just the touch of a button you can move these units up and down until you find your ideal standing or seated position. Remember, standing all day is as bad for your body as sitting all day, so be sure you put in a good mix of both.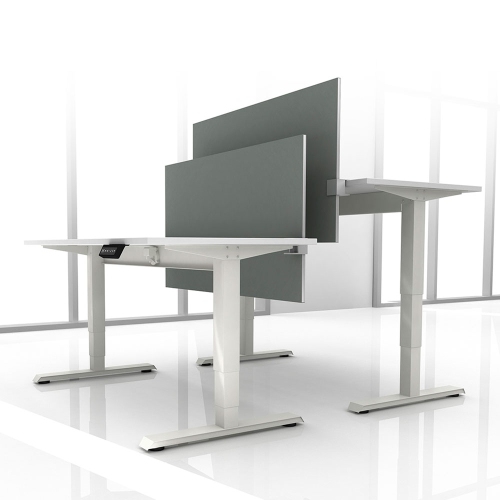 Bestar Adjustable Height Tables. These adjustable height tables from Bestar are easy to use and come with a design that matches many of Bestar's other furniture collections. Available in a variety of colors, you'll be able to select the one that's right for you and match it up with a corresponding Bestar look such as those found in the Connexion collection.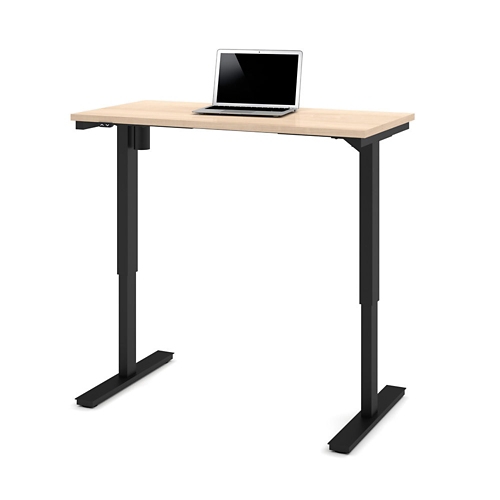 Toggle Sit Stand Desks. These dynamic adjustable height desks have a height range of 26" and can be moved up or down from 26" high to 52" high. The Toggle desks makes excellent use of T-legs, and the absence of a crossbar and modesty panel means that they can be used from either side when working on collaborative projects.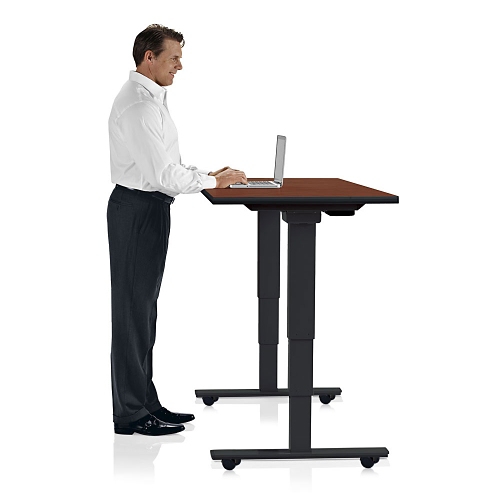 Alta Standing Height Desks. This collection of Officient desks includes two different sizes as well as some special features you don't see every day. First, these standing tables have wheels on one side, which makes them a breeze to move around a room in no time flat. Better yet, these units have a drafting table style angled top that can be positioned at any angle desired and locked into place as needed.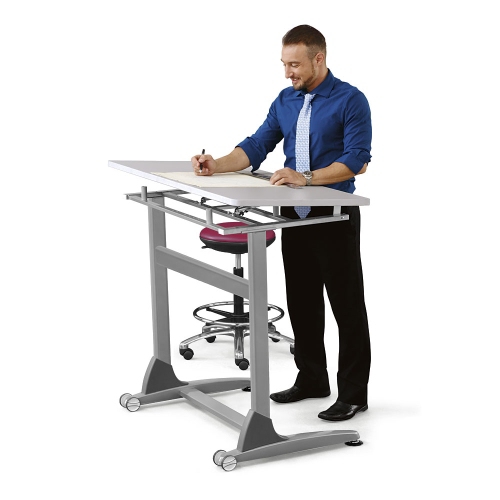 Efficiente Marker Board Tables. This is another collection of standing tables that's just loaded with special features. Not only are these tables adjustable in height, but they also feature a flip top and four rolling casters that make them easy to move and easy to store. On top of all that, these boards also come with a whiteboard top. That's right, you can write on the tops of these tables just like you would a whiteboard, and it'll wipe off clean when your meeting is over.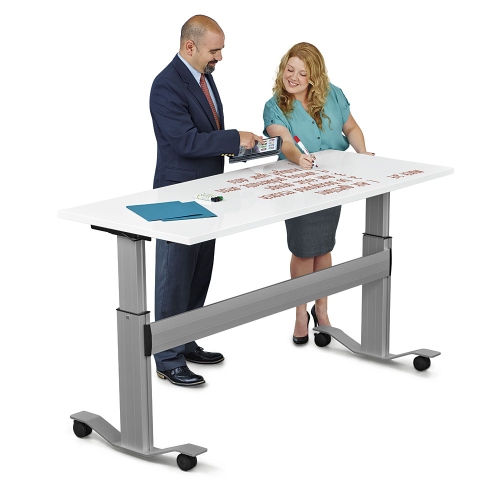 TaskMate Electric Monitor Stands. If you already have a desk and aren't looking to purchase a brand new one, the TaskMate electric monitor stands are a smart alternative. Simply place one of these monitor stands on your desk top, place your computer monitor on the stand and you're good to go!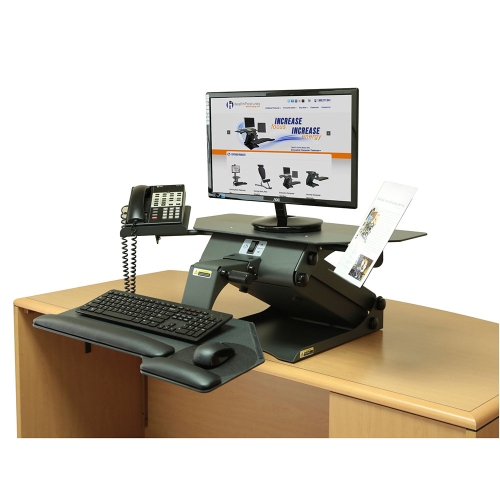 Balt Adjustable Height Monitor Stands. If you like the idea of the monitor stand but want something a little more affordable, these options from Balt are a great choice. Available in both single monitor and dual monitor options, these stands clip right onto your existing desk and can be moved up and down with ease in a matter of seconds.
Need help finding furniture that works? Call our furniture experts at (800) 558-1010 or shop our full selection of standing desks here.