No matter if you're updating an outdated meeting space or outfitting a brand new office, finding conference room furniture that works can be easier said than done. There are a lot of factors to consider, and that's why we've compiled this comprehensive guide to help you set up your new conference room with ease.
The Purpose of the Conference Room
Traditionally, a conference room can be either a large or a small room used specifically for meetings and discussions. Conventional conference rooms are also called meeting rooms and boardrooms, and they are comprised of one table in the center of the room with several chairs surrounding it. Some conference rooms can be made more dynamic and serve more purposes, like that of a training room, interview room and/or collaborative workspace, by using mobile modular tables.
Today, many companies with space constraints often elect to use their conference room as a multi-purpose space. Flexibility and movement should be the two biggest concerns, and the best way to implement both is to invest in multi-purpose furniture. This will not only save space, but will also increase the efficiency of the layout.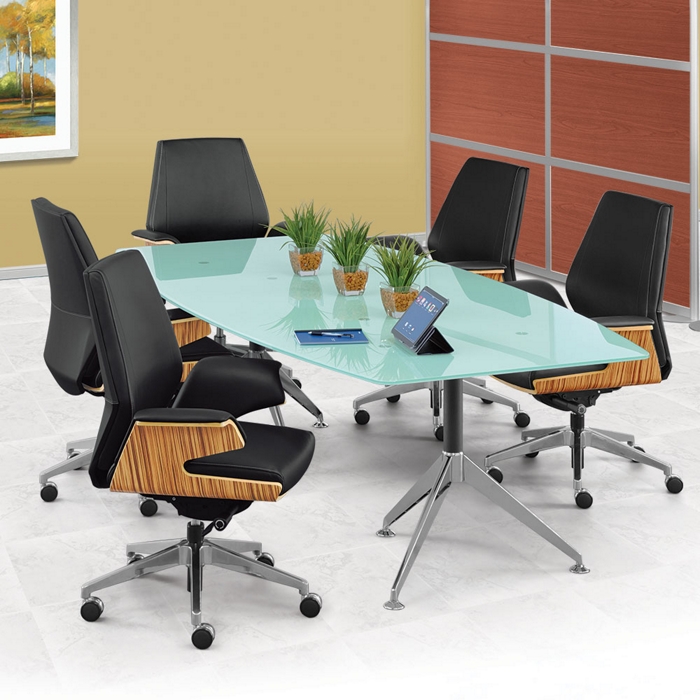 The Size of the Conference Room
Accurately measuring your space is the first step you should take when determining how large your furniture needs to be. Be sure to account for extrusions (radiators, pipes, etc.) that could interfere with the layout. Take note of door and window placements and how the door(s) opens as it may affect furniture placement and layout. People often overlook how the door opens only to have a very tight and uncomfortable entrance to their conference room. For a full guide to furniture layout, check out our tips on how to arrange office furniture.
Types of Conference Tables
A conference table is a key component of any meeting room, and there are tons of options from which to choose. For a more detailed account of the options available, read our complete guide to conference tables.
Rectangular and square tables are great for medium to large spaces and can be found with extendable or adjustable options that allow for better adaptability to changing needs.
Ovular and racetrack tables provide rounded corners that allow for more seating capacity and easier movement within the space.
Boat-shaped tables provide the best sight-lines. By being wider in the middle, employees and guests are not sitting in a straight line, making it easier to see screens, presentations and other meeting participants.
For round tables, you'll need to allow for a 3-foot walkway around the entire circumference of the table. Round tables can be huge space savers in some rooms, but they can be awkward in other spaces when there is just not enough room for the walkway.
Regardless of table shape, one thing to consider is a table featuring a power data module. By having a power source directly in the table; projectors, phones, computers and other electronic devices can be easily placed on the table surface without worrying about wall outlet placements and wire management. Depending on your needs, a table with a power data module can really simplify your conference room setup.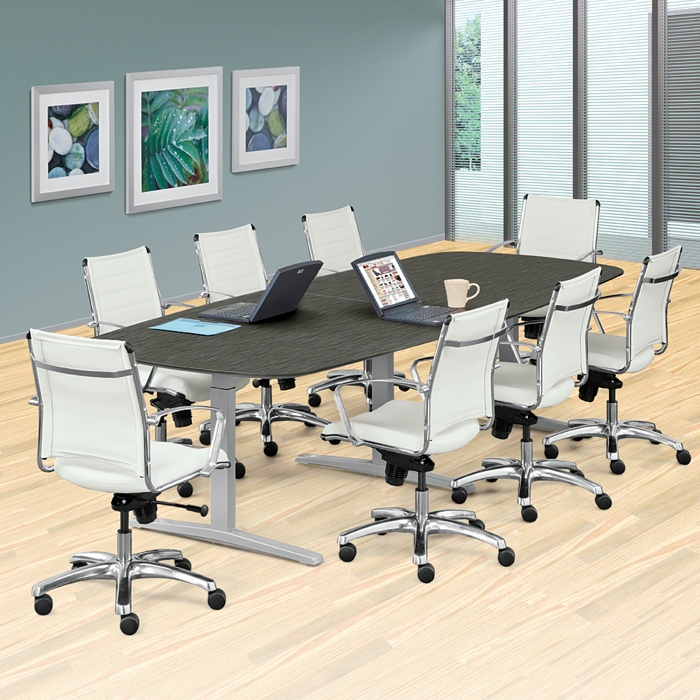 Size of Conference Room Tables
The size of your room will be a limiting factor when selecting furniture. As a general rule, you want to allow three feet of space around any furniture to provide a safe and comfortable walkway. In this example conference room, you can see how to subtract the space needed for the walkway. If you have a 12' x 12' room, subtracting a 3-foot walkway around the entire room gives you 6' x 6' of space with which to work. With that determined, if you only want a table and some chairs in this conference room, you would be able to select and fit a 6' x 6' table inside the room, but nothing larger. However, a smaller table could be more beneficial if you want multiple furniture options, keeping in mind that the 6' x 6' dimensions must fit all of your desired conference room furniture, including credenzas, podiums and chairs placed against the walls.
Although a 3-foot walkway is a good minimum to adhere to, more space may be needed depending on the layout of your conference room. The most important thing to keep in mind is the comfort and safety of anyone walking or sitting in the space. If you have a certain number of people that you are hoping to accommodate in your conference room, there is another rule of thumb that you can apply: the length of the table measured in feet is also the number of people the table can sit. For example, a 14-foot long table can fit 14 people-- six people on either side and one person at each end.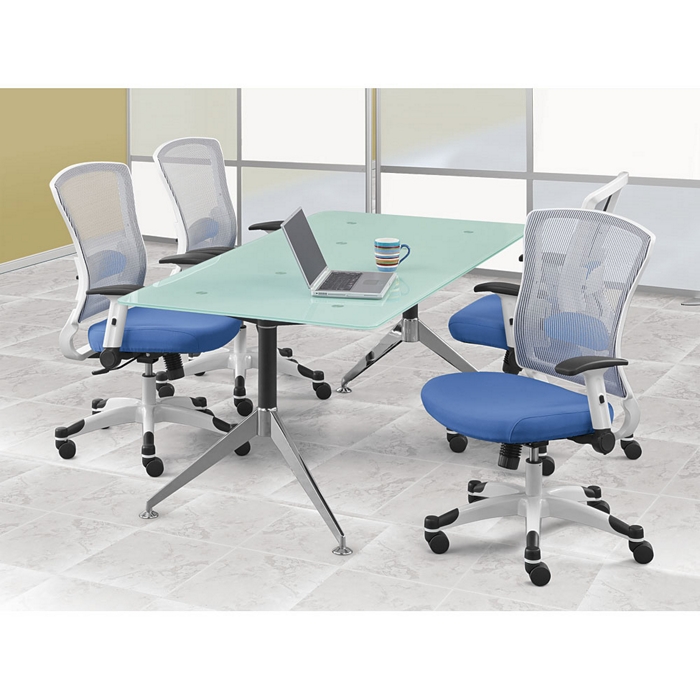 Conference Chairs
Conference chairs are an essential part of every meeting room. They are designed to be comfortable, but not overly complex so that meeting participants won't be fiddling with complicated ergonomic adjustments during meetings. Since conference chairs are used by so many people, their adjustments are typically limited to seat height and tilt tension. With many different styles, meeting chairs also offer a way to define your space. Be sure to consider how the conference chairs will fit at your selected table.
Many offices will occasionally need additional seating for their conference rooms. Stacking chairs and nesting chairs are great portable solutions. These should be selected with care as they should still project a professional image and store easily when not needed. Another option, provided there is ample space, is to line the parameter of your conference room with guest chairs. This can accommodate more people without overwhelming the meeting room with another table.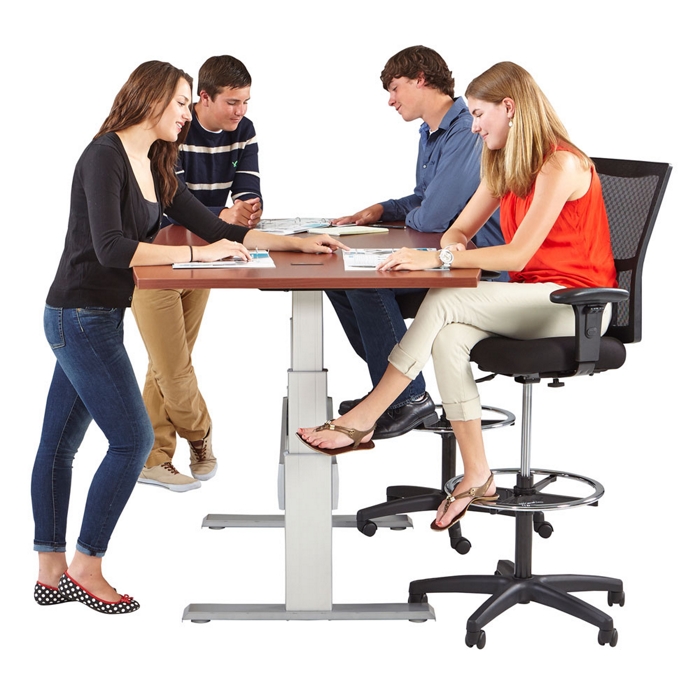 Don't Forget…
Whiteboards can be extremely helpful during meetings. Placing one or multiple marker boards in your meeting room will provide much needed visual space to share and capture ideas. Choose from several styles and sizes, including the increasingly-popular glass boards to fit your room's needs. Some whiteboards and glass dry erase boards can double as projection screens for presentations. Be sure to consider the placement of a whiteboard carefully, as you will want to ensure that everyone in your conference room will have a clear view of it.
Adding storage pieces to your conference room is essential for maintaining a well-organized space. Consider storage furniture that is space-saving and dual-purpose like credenzas that allow you to store supplies behind cabinet doors while providing space on top for meeting materials. Also consider how or if your storage furniture will need to open. You will want to avoid having drawers and doors bump in to other furniture.
Bookshelves can give an air of sophistication to a conference room, while also displaying important books, collections and company literature and awards.
AV stands or media centers are necessary to hold TV screens and video/presentation components. Many AV stands allow you to easily adjust the height and tilt of your screen to ensure the comfort of all viewers. Media centers are a wonderful multi-purpose option as they include storage space in addition to creating room for your screen.
Podiums are ideal if your conference room will be hosting large-scale presentations with speakers. Be sure to plan for enough space to keep the speaker at the podium comfortable.
Consider the ideal placement of a projector – if you wish to place it on the conference table, purchasing a conference table with a power data module would be the best option.
Design and Layout
In regards to designing a conference room, we advise that you avoid trendy furniture. Stay away from fads. Instead, go for a clean, timeless look and you can avoid a costly upgrade for an outdated conference room a few years down the road. If you do want to add some trendy colors, decor or design, do so by adding it in the form of less expensive accent pieces. This way, you can still get the look you want while the conference room as a whole will stand the test of time.
If your conference room has windows, take advantage of the natural lighting. Good lighting, especially natural light, is proven to stimulate creativity and productivity. Install window treatments, like blinds, and use them to block out exterior distractions or when privacy is needed.
Finally, don't overwhelm your space. An artificial plant is often a perfect finishing touch, as it can nicely tie a meeting room together without taking up too much space. Also, be sure to think about utilizing your wall space, either by hanging artwork or installing some storage furniture, as this can drastically improve the look and feel of a conference room.
Budgeting
Budgeting is vital. Budgeting forces you to decide what is absolutely necessary to have in your conference room versus what would be nice to have in your conference room. In order to make the most of your budget, invest in durable, high-quality furniture and take time to create a room that will stand the test of time.
Resources
Sometimes it can also be difficult to envision just what the conference room will look like. National Business Furniture Design Services uses software that gives an accurate 3-D rendering of what your conference room could look like, and there are many similar programs available. Using such software, of course, helps to ensure that your project will turn out how you envisioned it.
Looking for conference room furniture that works? Shop our full selection of conference furniture or check out our 30 second tips in the video below.