When it comes to crafting and maintaining a great first impression on guests, nothing will make as much of an impact as your reception room. In fact, often times your service may be exceptional, but a shoddy and unwelcoming waiting area can do irreversible damage to how clients, visitors and even patients perceive your business. However, this should be welcome news! Why? Because creating a welcoming reception area is totally in your control and very much so do-able.
In effort to make creating a welcoming waiting room even easier, NBF has crafted the Esquire Collection, one of our newest Signature Series collections. The Esquire Collection contains three pieces, all designed to wow any and all guests.
The Esquire Glass Top Reception Desk features laminate construction available in a rich, regal mahogany finish paired with sophisticated tempered glass. Silver accents give the whole piece a sleek and modern look, while the contrasting mahogany still lends a desirable warmth. The front desk is available in two different sizes (95"W x 64"D & 190"W x 64"D) with the larger size designed to accommodate two employees as opposed to one. With multiple grommet holes, wire management is made both seamless and easy. Best of all, these ADA-compliant designs ensure that you can welcome all guests.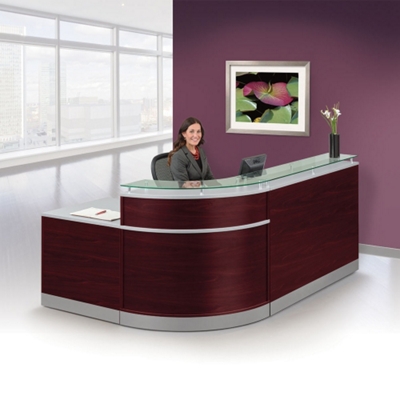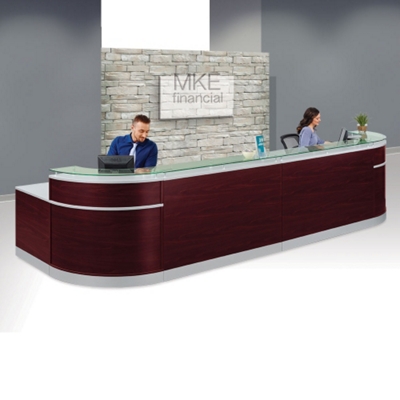 The Esquire Three Drawer Mobile Pedestal is the last complementing piece of the collection, providing a space for portable storage. Mahogany laminate finish matches the Glass Top Reception Desks and the storage unit is able to accommodate both letter and legal sized hanging files. This mobile pedestal file is the ideal piece for adding a bit more organization to your waiting room.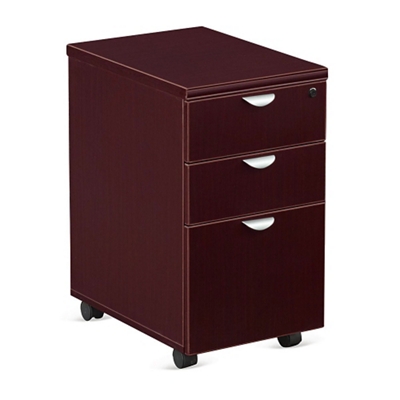 Discover even more of our reception furniture collections! No matter what your budget or your business, we've got the furniture to improve your workplace. Need more guidance when it comes to setting up a welcoming reception room? Find our helpful, expert tips in our How to Set up a Reception room post.