Every November, I attend the Healthcare Design conference with the goal of finding new, exciting items and taking advantage of their educational sessions. For me, the highlight of the show was a session given by four respected healthcare designers on the cleanability of healthcare materials.
Why does it matter?
The number one complaint I hear from healthcare facilities is that their textiles don't hold up. They see cracking, splitting, fading, or staining. Compromised textiles can be a vector for HAI-causing bacteria transmission, potentially resulting in regulatory violations.
Why does it happen?
The cleaners and disinfectants used in healthcare spaces are harsh on surface materials because they need to be strong enough to kill harmful microbes. Most disinfectants require a "dwell time," or an amount of time that the cleaning solution needs to stay wet on the surface to ensure the bacterial is completely killed. Repeated cleanings result in chemical residue on surfaces that eat away at the materials, which leads to cracking, peeling, and fading. Some materials perform better than others when harsh cleaners are used.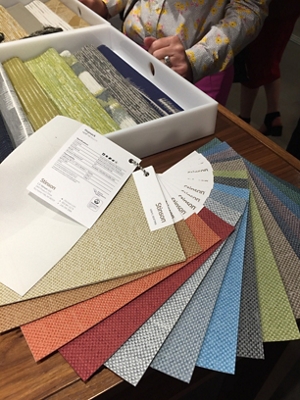 What materials are the best?
The answer really depends on the type of cleaner your facility is using! Not every material is going to react well with every cleaner, even within the same product category. In general, healthcare-grade vinyls have performed best in testing. NBF.com has a "cleanability" filter that will help you find a material that works with your cleaner.
Isn't vinyl bad for the environment?
The vinyls of today are much different than the past – most healthcare grade vinyls are phthalate free, which is much better for the environment. Many mills are also removing added flame retardants and anti-microbial coatings in order to conform to the Healthier Hospitals Initiative's "safer chemicals" guidelines.
Need help?
Let NBF's team of trained professionals help you find the right material for your space! We have representatives in many major markets, offer free design services, and will happily get you samples of fabrics and finishes. Give us a call today at 800-558-1010 or visit us at www.nbf.com.