Neocon 2019 brought together architects, designers, manufacturers and end users from around the globe – this 3 day event in Chicago showcases the best and newest options for commercial design. If you couldn't attend the show, here are just a few trends:
Third Space
The concept of a "third space"- a space that blends elements from home and work has been on the rise for a few years. Nearly every showroom and display area incorporated some common third space elements – relaxed seating, laptop friendly surfaces and integrated power. Even small spaces can incorporate these concepts by adding booth-type seating to the back of existing panel systems or adding a few comfortable seats in underutilized spaces. Add in small tables to hold drinks or create a place for work and casual meetings.
This concept goes beyond the office space – the third space concept can be used in healthcare waiting rooms to create conformable, non-threatening spaces for family. Arranging items in "pods" creates semi-private spaces for caregivers to discuss care and answer questions.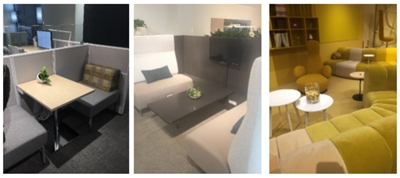 Acoustical Solutions
The need for privacy in open plan spaces is a common challenge – workers need places to take a private call, discuss sensitive topics (especially when reviewing patient information) or have quiet time to work on a complex project. Adding offices and conference rooms may not be practical in existing spaces – but noise-absorbing acoustical solutions can help. These panels are generally made from recycled materials and are very flexible and easy to install. Not only do these panels help reduce noise and create private spaces, they can add visual appeal!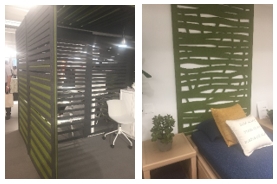 Mid Century Designs
The "mid-century" trend is still going strong, with many manufacturers introducing designs inspired by mid-century classics. Common elements include warm wood tones, natural materials like wool or felt, and angled legs. Clean lines and residentially inspired pieces make these items perfect additions to both office and third space areas. Many of the new products introduced can be adapted for healthcare use (painted metal frames instead of wood, non-porous surface materials) and have moderate price points.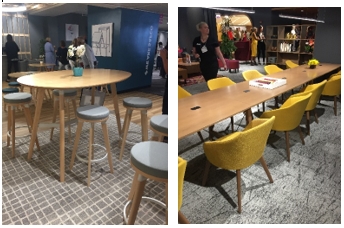 Surface Materials
Colors at the show were more saturated than the pastels of past years – lots of sunny yellows, emerald greens and deeper blues mixed with neutral grays and whites. There are some exciting innovations that will be coming to the market soon, including the use of AI to help streamline the design process. Soon, you'll be able to upload a logo, a photo of an existing space or an inspirational photo and textile options that coordinate will be automatically selected and displayed! New materials are also on the way – textile suppliers are looking at incorporating TPE to make textiles more cleanable and durable in medical spaces.