At NBF, we're proud to be introducing some brand new NBF Signature Series Collections. These are exclusive designs that you will not find anywhere else!
Metropolitan Collection
Does your entire office need a more modern facelift? Say goodbye to your outdated furniture and let us introduce you to the stunning Metropolitan Collection. With its clean, straight lines and silver hardware, the Metropolitan Collection delivers all that is great about modern office design. NBF's exclusive finish, Boardwalk Walnut, makes the entire collection even more show-stopping; not only does it provide a driftwood look, one of the current top trends in furniture, but it also provides a stylish contrast to the silver accents and hardware. Best of all, this entire collection offers high versatility, with a wide range of complementing pieces that address the needs of many different settings. For example, privacy panels are available for more open spaces where providing more privacy may be a primary concern.
The At Work Collection – Warm Ash Color
The NBF Signature Series At Work Collection is one of our most popular collections ever, so it just felt right for us to offer it in a brand new color. In fact, we even asked the opinion of our customers on what they would most like to see, and this color, which we dubbed 'Warm Ash' took the prize! This new color even adds more modern flair to this collection, while still offering the same exceptional quality and value.
The Fairbanks Collection
The Fairbanks Collection offers the best in contemporary design, providing true luxury at an affordable price. Featuring light cherry and mahogany finishes, this more transitional collection is sure to appeal to many with truly unique aspects like the decorative reeded desk edges.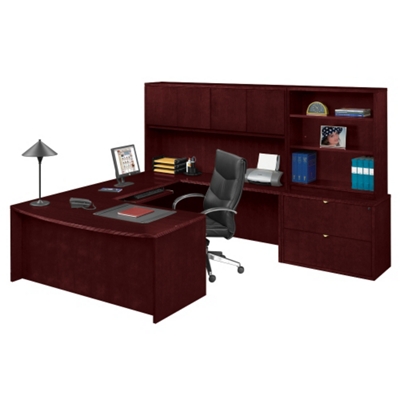 The Cumberland Collection
Searching for a traditional and elegant office collection that's fit for a king? This exclusive design is everything richly elegant and is sure to convey both warmth and professionalism. The Cumberland Collection highlights the very best of traditional style with decorative wood accent molding, antique brass hardware, superb craftsmanship and rich cherry veneer.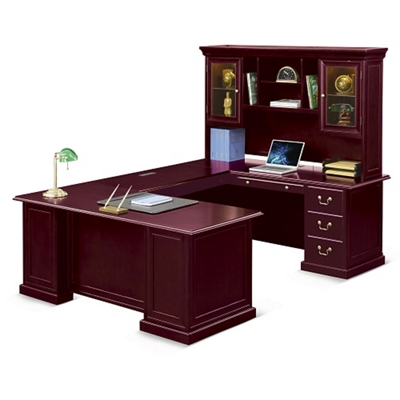 The Solutions Collection
The Solutions Collection is aptly named, as it was designed to solve a variety of office problems. One such problem, for example, is the issue of space constraints; this collection offers compact options in order to address the needs of small spaces. With durable laminate surfaces that are scratch and stain resistant, these furnishings are sure to last beautifully for years.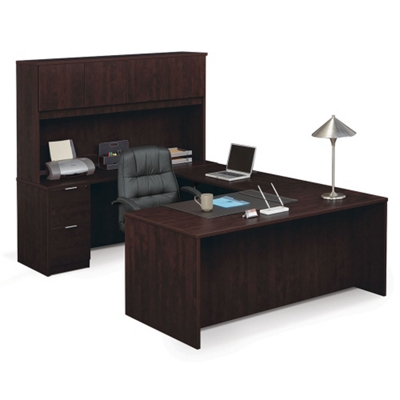 The Ascend Collection
Let the Ascend Collection take your office style to new heights! This contemporary collection features numerous trendy two-tone finishes, including espresso and boardwalk and mahogany and black combinations. With a professional aesthetic, this collection features straight lines and has a level two certification, meaning that it not only looks great, but also helps support better sustainability standards.
The Alloy Collection
Steel desks have never looked so good! The Alloy Collection features durable steel construction with a unique knife edge. Contrary to its name, the knife edge isn't sharp to the touch, but instead just provides a sharp, sleek look. This collection is ideal for modern industrial settings and, like all of the other NBF Signature Series collections, is an exclusive design.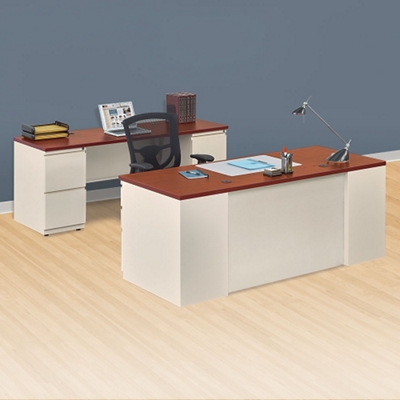 Esquire Collection
Want to welcome guests and make a positive first impression? The Esquire Collection can certainly help with that! This new collection includes a reception desk, a double reception desk and a three drawer mobile pedestal. Both reception desks feature a sleek, tempered glass top paired with a sophisticated mahogany laminate finish to create a stunning look for any waiting room or reception area.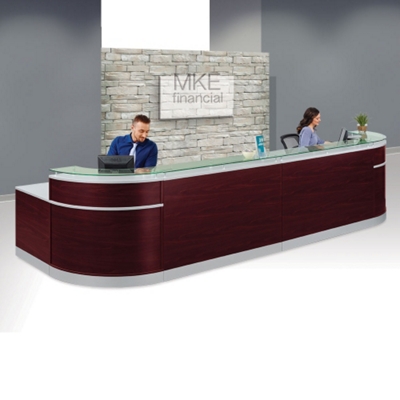 The Arc Collection
If you have been searching for a unique look for your reception room seating, look no further than the Arc Collection. The seating options available in this selection feature floating wooden armrests to give the entire collection a distinct, beautiful look. This collection can also be found in numerous, bold color options in a combination of fabric and polyurethane, making it a wonderful option for many workplaces, including healthcare facilities.