At the end of October, a handful of your friends here at NBF ventured to Cleveland Ohio for this year's annual Healthcare Design conference. Cleveland's hospitality and 'warm welcome' made up for the overcast and windy weather during our visit.
This likely comes as no surprise after the last two years we've endured, but the wildly emerging trend at this year's conference was focused on healthcare staff respite – and listen up, this is where our expertise in furniture comes in! When it comes to a recharge room in a hospital or clinical setting, just how helpful is this oasis if staff members simply don't have the time to venture down the hall to decompress? We're looking at furniture function and design choices to change the game in this day and age.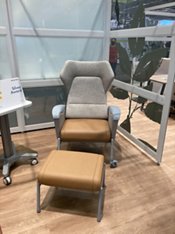 Staff recharge rooms, we're looking at you
What good is a staff recharge room if the staff does not have the time to enjoy and take advantage the room? These wellness spaces were a focal point of the conference and it was clear that it's time to put effort into the furniture used by medical professionals at all levels. Dedicated recharge spaces are an emerging trend in corporate environments, however their prevalence is finally being recognized in healthcare spaces.
A recharge room should be a separated space from a breakroom or staff cafe, ideally small in size and full of amenities that promote wellness. A recliner, adjustable lighting, calming paint choices, and stash of personal amenities (these can vary from a store of Advil and pain relievers to a more complex array of single-use items), however they can be as elaborate or simple as your facility can accommodate.
Healthcare recliners, we're looking at you
When it comes to patient self-sufficiency, we can lean on furniture to absorb the impact of the nurse's call button. Enhancements have been made to patient recliners, repositioning the control mechanism of the recline feature to the inside of the arm of the chair allows patients to make the decision about whether they're sitting fully upright or in a more reclined position for a quick nap. The point here is, the patient can easily make that choice for themselves, simply with the press of a button on the recliner, not on the remote to summon a nurse for assistance.
Healthcare recliners are just as valuable in patient rooms as they are in the aforementioned staff recharge rooms. The inherent durability and cleanability creates a value-add for any use, even with less feature-filled recliners that can be used for guests in patient rooms.
Space planning in patient rooms, we're looking at you
An educational session communicated the results of a study executed to investigate the impact on patient recovery in a cardiac intensive care unit. The study showed that a patient room with visible, natural light decreased the overall stay by 12 hours.
We're looking for the functionality of the room and the furniture within it to be intuitive and easily accessible by the patient and their guests – it's simply easier, less frustrating, and significantly faster for patients to be able to adjust to their environment, without the requirement of additional assistance.
Healthcare Design opened our eyes to the industry's shift to significantly improve staff care to avoid burnout, enhance the working environment, and give back to the folks who've selflessly taken on the brunt of impact the pandemic has brought forth. Healthcare workers who are well taken care of while on the jobs give better care and ultimately boost the overall patient experience – and better patient experience ultimately leads to a quicker recovery and shortened hospital stay. NBF is excited to play an integral role in this next phase in the healthcare industry by providing intuitive, innovative furniture solutions for these spaces!