As is tradition, National Business Furniture sent a delegation of merchandisers, marketers, space planners, and a copywriter to NeoCon-- "the commercial design industry's launch pad for innovation" and one of the largest furniture trade shows in the country. In one fast-paced day, we gathered inspiration from the top minds in the industry and saw the trends that will inspire commercial offices, educational spaces, healthcare facilities, hospitality environments, and residential design for the coming years. As always, a few of the best and brightest trends really caught our eyes.
#Commercidential? #Resimercial?
Walking into the National Office Furniture showroom, we saw a dynamic mixture of office staples seamlessly integrated into sofas, beanbag chairs, and comforting credenzas that wouldn't look out of place in an on-trend living room. A roll of Kraft paper hung on the wall with the simple phrase "Blend Workstyles + Lifestyles" written on it, and that ethos couldn't have been more apparent in this year's offerings.
Fresh takes on traditional pieces were lined with textiles that you'd see in your dream house, breaking from the blasé fabrics of offices past. There's a distinct shift in the boundaries of residential and commercial spaces; the two once-disparate realms are borrowing from one another, and the results are stunning. We live a large part our lives within our workspaces-- shouldn't they be as cozy, luxe, and comfortable as the places we live our passions within?
Living Lively
Building off of the home-away-from-home atmosphere, intense and creative visual impact has made its way into the office. Colorful, noisy, vibrant, loud, modern wallpaper was a recurring staple, making waves alongside the clean lines of minimalist furniture that once lived squarely within solid colored walls. Removable wall treatments are more ubiquitous than ever and provide an easy way to bring this trend into your personal space.
Bookshelves, hutches, nooks, and tables were lined with dynamic assortments of art pieces, curious books, and personal accents that are hand-plucked from a boutique or housewares store. An emphasis on accents ran throughout every vendor's space and built a personality within every office. At NeoCon, they're simply props assembled to tell a make-believe story, but in life, the things you're surrounded with tell your story.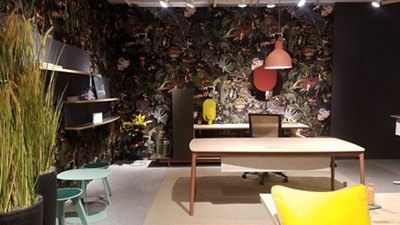 Still Scandinavian
From the most affordable names in office furniture to the artistically-minded contract vendors, the Scandinavian influence is stronger than ever. These enduring styles represent a timeless appeal that still feels "new" after all these years. Sloping silhouettes on conference chairs, splayed leg tables with light finishes, and visibly stunning build quality has made this style a staple for the updated office space. If you'd like an aesthetic that will look new-and-now for years to come, this is certainly a trend to embrace.
Let There Be Light!
From bulbs that wash a room in a warm, pinkish glow to fixtures that double as art, lighting design is a consideration at the forefront of interior design. Mood-altering hues were carefully selected by every vendor, with some companies building a shift in light from vignette to vignette within the same showroom space. Gentle, daylight-mimicking bulbs made windowless spaces feel as warm and welcoming as a room with a view while occasionally stark, pure white light let vendors turn their showrooms into an art gallery of Avant Garde chairs and wares.
Beyond the bulbs, dramatic light fixtures dangled from the ceiling, often in a rounded silhouette with trendy, golden accents. Overhead lighting is more than fluorescent panels, or even the once innovative spotlight-like beams of track lighting. Desks were adorned with table fixtures that did double-duty with wireless QI charging pads or USB ports built into beautiful wood finishes. Ambient, personally-tailored light has become a must-have in personal offices as well as spaces without borders.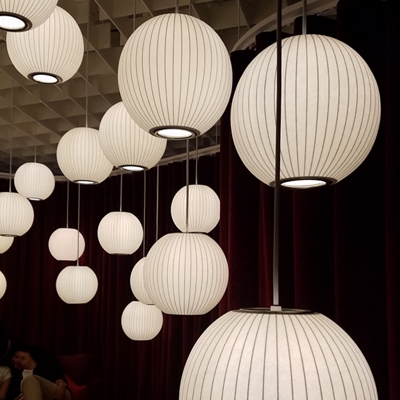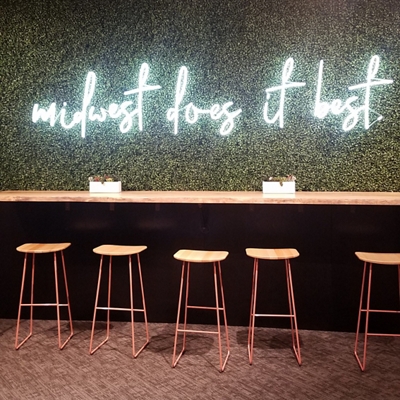 Expressive and dynamic style is making its way through the commercial furniture industry as a way to make employees and guests feel fulfilled while they work. Exciting, daring design is becoming a staple of vendors at every price point, building a brighter future that fits every space. NeoCon is an opportunity to see what's new, next, and now, so stay tuned to see the bright ideas that NBF can bring to your office.