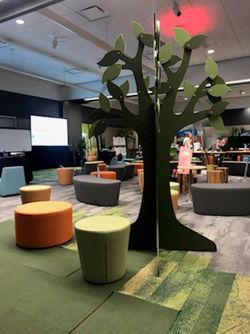 Held this year in Pittsburgh, Pennsylvania, EDspaces brought manufacturers, designers, and educational professionals from around the world for a week of collaboration surrounding the future of furniture in learning environments. Last year in 2020, virtual learning was the hot topic but now that we are navigating our new normal, trends such as multi-layered flexible learning spaces, gemstone inspired colorways, and biophilic design stole the show.
While we've all been impacted by the pandemic in more ways than we can count, the global shift pushed designers to imagine a new type of classroom as educators are now leading learners in ways they've never instructed before. During a presentation about classrooms with multiple layers of flexibility within one physical space and thinking outside of the box, the speaker declared, "the box is gone, and it should be!" We are seeing schools quickly shifting to give learners both choice and voice in their environments with the focus on flexible and modular furniture to encourage individuality.
Picture This: One instructor preparing 25 learners for a particular lesson
Five of these learners are setup virtually so the instructor's laptop is open to stream the lesson on their adjustable height mobile lectern that's travels with them throughout the building every day. Five learners didn't quite get all of their energy out at recess so they're choosing to actively sit on this adjustable height wiggling stool for a while. Span across the classroom to the next five student who are sitting on a four legged chair with footrest and carpet casters – two of them are sitting traditionally, with their notebooks on their lap, two of them are sitting on them with the backrest facing them, in a straddle-like position and one is sitting atop the backrest in a perched position. Behind them, we see a small touchdown group of students – two sharing the ottoman to prop up their laptops and the remaining three sitting together on the middle level of the arrangement, as their legs swing freely off of the edge. Finally, we see five students who prefer to learn with some movement on their individual floor rockers.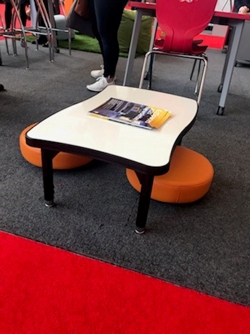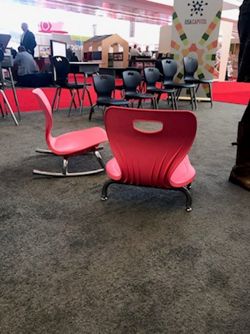 Within these collaborative spaces that offer a variety of options to accommodate each learner, we are seeing a surge in incorporating natural imagery and biophilic design. Think of it as, "bringing the outdoors in". Whether this means framed artwork of naturescapes on the classroom wall or, for our educators with less than a green thumb, artificial greenery, studies have shown that the presence of nature helps increase productivity and overall wellbeing. Gemstone-inspired colorways support the movement of bringing the outdoors into the learning environment, reflective in emerald edge banding on tables and desks to amethyst student chairs and sapphire mobile storage stations.
Our visit to EDspaces last week was invigorating, encouraging and so EXCITING to be at an in-person event to see, stand at, and sit on the newest furniture to hit the education market. We met with existing partners to bring you their newest products and discovered brand new manufacturers who we're excited to partner with in the future. All in all, NBF is super excited to see these trends begin to emerge in your classrooms as we navigate this new normal together.