This month, the NBF team headed to Neocon, North America's most important design exposition, for yet another year of commercial office furniture inspiration and trend watching. Among the many new trends that were spotted was the overarching idea of incorporating more movement in the office environment.
Everyone has heard the phrase by now—sitting is the new smoking. When the idea that prolonged hours of sitting in the same spot could be shaving years of your life away first arrived on the scene, the solution was standing. Standing height desks, standing height tables and similar products were created to allow employees to alternate between sitting and standing throughout the day. But with more research, ergonomics experts and furniture makers are discovering that the game changer is not only standing but moving. This trend toward creating a healthier work environment was prevalent at this year's Neocon show, and we're excited about the things that we found.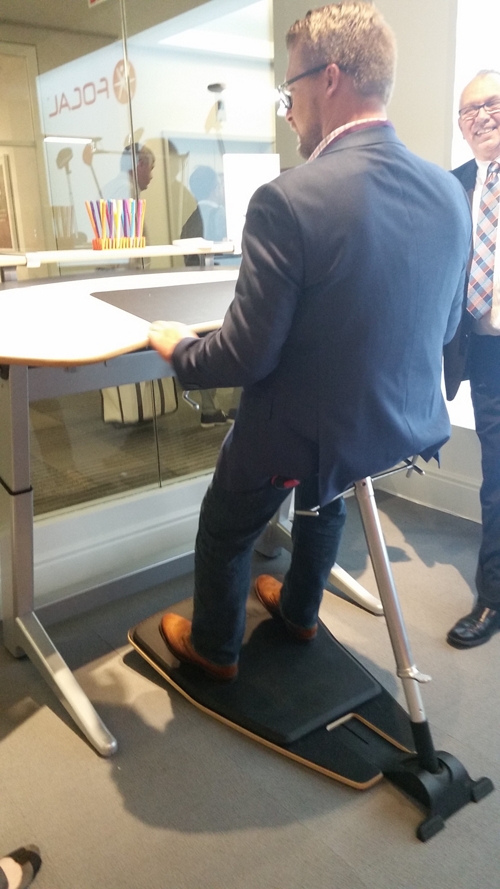 Active Sitting
Yes, you read that right. One of the trends we saw at nearly every showroom we visited this year was the appearance of seating that enables the user to move around while they sit. For example, many manufacturers have started making ball chairs and soft seating with a rounded bottom that forces the user to move and use a little core strength in order to balance themselves on the seat.
Safco recently began distributing a line of what are known as leaning stools. The collection includes five different styles of stool designed to push the body into the most ergonomically balanced position and to allow the user to move around in the seat as needed. Between the leaning stools, the ball chairs and the balance seats, it's clear that fidgeting at work is being encouraged and supported.
See Safco's Focal Upright leaning stools here: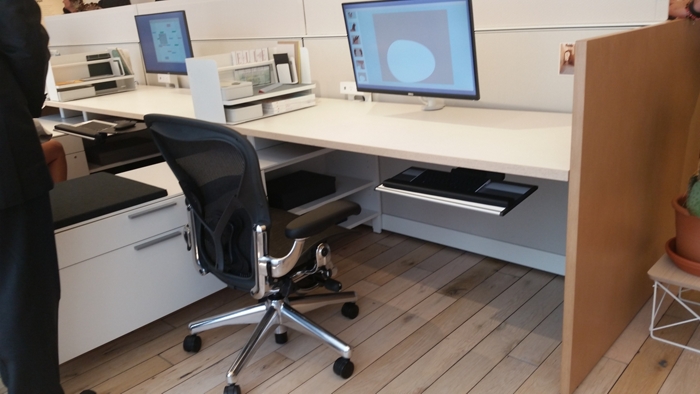 Adjustable Keyboard Trays
Another common ergonomic trend we spotted was the emergence of keyboards that have a wide adjustability range. Not only can these keyboard trays be moved up and down, but they can also go very far left and right, plus they can be pulled farther and closer to the work surface. Many also included a tilt function to make it easy for a user to achieve the ideal wrist positioning. This wide range of adjustability is designed to aid users of all statures and working environments to achieve the most comfortable and least damaging typing position.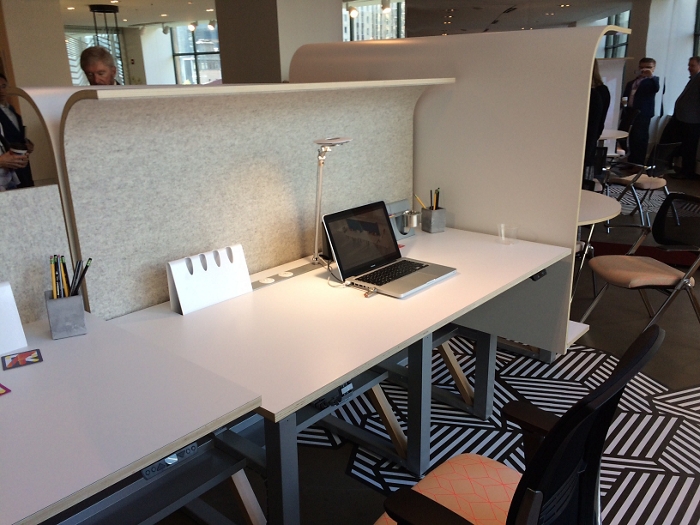 Adjustable Height Desks with Preset Controls
By now, adjustable height desks are nothing new. We did, however, notice an increasingly popular trend in adjustable work surface design—preset controls. Most of the adjustable desks we saw at Neocon this year include multiple buttons that can be configured to raise or lower the work surface to a predetermined height. This way, all workers need to do to raise or lower their desk is push a single button one time. No more guessing at what height will be the most comfortable or holding down a button for an extended period of time. These desks make it easy. We even saw many models that automatically raise and lower the work surface at certain times of day, thus reminding the user to sit or stand at specific intervals.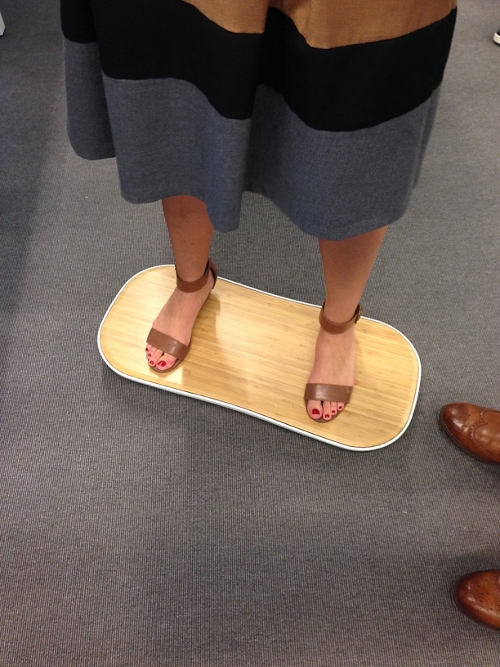 Standing Desk Balance Boards
Remember, it isn't about standing; it's about moving. Balance boards are simple but effective tools that can be used at a workstation to incorporate more movement into the action of standing at your desk. These boards have a rounded bottom that forces you to use your core strength to keep it balanced while you stand on it. It's not hard to do, but it does take a little more work than just standing there. Plus, it makes dancing at your desk more fun!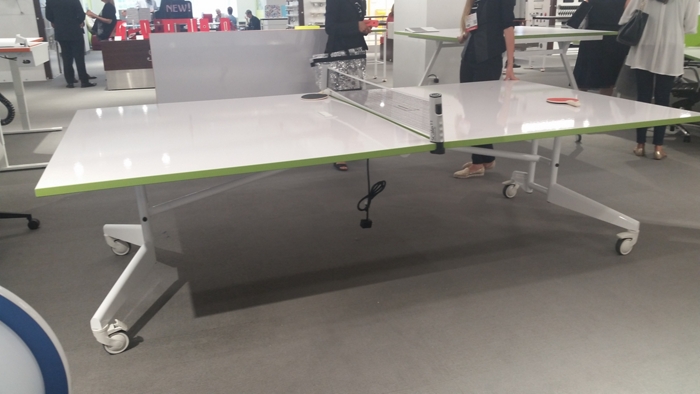 Active Meetings
In addition to active workstations, we saw an abundance of furniture designed to promote more active meetings in the conference room. The usual adjustable height conference tables were represented, and Safco's leaning stools can certainly work great for conference room use as well. We also saw some outside-the-box designs we hadn't heard of before. One example we especially liked was a conference table that could transform into a ping pong table. Who doesn't want to have a ping pong match with their co-worker while discussing next quarter's marketing goals? Now that's what we call active working!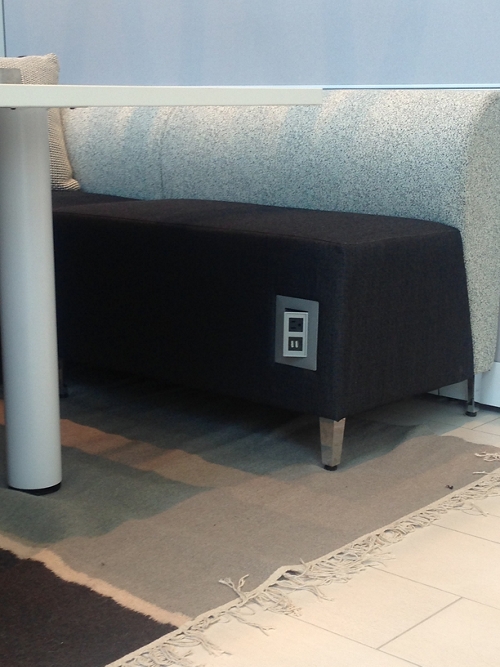 Integrated Data Ports & Other Technology
With all of this moving around in the office, it's becoming more and more important to make every area open to accepting technology. From lounge seating to end tables and from desktops to conference tables, we saw USB ports and outlets integrated into most of the furnishings we saw this year. It's clear that in this more flexible workplace of the near future that being able to be plugged in anywhere, anytime is a key to success.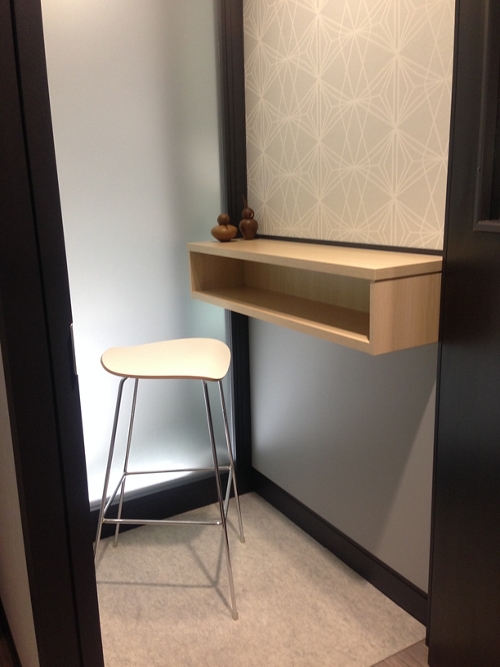 Noise Relief
Building on that idea of flexibility in the office, we noticed an abundance of new furniture designs aiming to relieve employees that have to work in noisy office environments. Felt upholstery was a huge winner this year, and we saw the textile in nearly every showroom we visited. Some designs we especially liked featured felt partitions that had a curved lip designed to go the extra mile in keeping distracting noise out of an open work area.
If there's anything Neocon 2016 made us realize, it's that office furniture is there to work with the natural needs of the human body, not the other way around. People need to have the flexibility to move freely, and different environments need to be provided for various work functions and employees with different work styles.