You may have recently read our guide to table heights and wondered to yourself, "But what chair size do I use with these tables?" Put simply, counter height stools go with counter height tables and bar height stools go with bar height tables. But, of course, decision making is never that easy, is it? Often times, chairs and stools aren't listed as being counter or bar height, and you're left to guess for yourself. If you're on the hunt for new chairs or stools for your breakroom, basement, kitchen or café, let this be your guide.
In short, the difference between standard, counter height and bar height stools is the height of the stool, of course. Below, we've highlighted the height ranges for each from shortest to tallest:
Standard Chair Height is 16"– 23"H at the seat
Counter Height is 24"– 27"H at the seat
Bar Height is 28"– 33"H at the seat
WAIT!
Before we get into the meat of this post, we recommend that you first pull out your tape measure and start measuring the height of your bar, table, or countertop. This will ensure that you have the accurate height of your table or countertop to know what barstool type will fit best.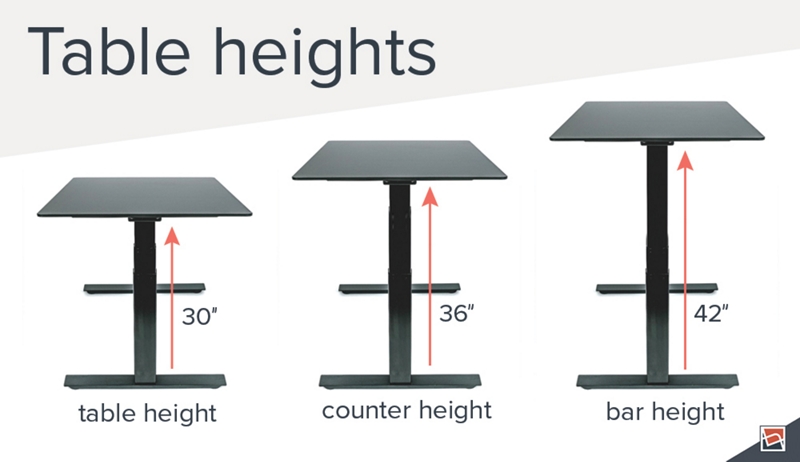 After you have that measurement, get to reading below to see which type of stool is the one for you.
Standard Height Café Chairs
How tall are standard height stools?
Standard size chairs, also known as table height chairs, are the easiest to select since they are made for use at a standard height table which measures 28"- 30" high. Café chairs typically measure in at around 16"- 23" high at the seat and can be found in most any style. The word standard can get thrown out a lot and this is an important distinction, so make sure you know which stool you're going to need by measuring your table first. You don't want to guesstimate on this one!
Counter Height Stools
How tall are counter height stools?
Counter height stools are taller than chairs and typically measure 24"- 27" high at the seat. These stools are designed to be used at counter height tables, which measure between 35"- 39" high. This type of stool is shorter than what you might see at a restaurant or bar, but counter height stools are often ideal options for use in residential settings or in office breakrooms.
Bar Height Stools
How tall are bar height stools?
Bar-height stools are the tallest on this list, usually measuring between 28"- 33" high at the seat. This type of seating is usually what you'll find in restaurants and bars and is best used with bar-height tables that measure 41"- 43" high.
To learn more about what type of breakroom seating would be best suited for your space, reach out to our furniture experts at (800) 558-1010, or request a live demonstration from our virtual showroom.