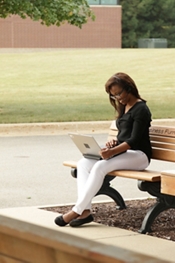 As dinner on restaurant patios and weekend trips into the wilderness become mainstays of Summer 2020, days at the office are now spent more sequestered than ever. In lieu of eating in cafeterias and gathering in conference rooms, employees are highly deskbound in order to stop the spread of COVID-19. Mix up the open air with office productivity and you've got a great solution for any company culture.
Depending on your location, there may be room to transform outdoor spaces, such as patios, surrounding green space, or even smaller entryways, into outdoor oasis for employees. Create areas for collaboration or solitary work with a few easy upgrades. No matter the climate, you can harness the end of summer or a temperate fall and make long-lasting outdoor spaces that employees will love.
Step Up the WiFi
A major hurdle for outdoor enjoyment starts with technology. There's only so much work that can be done without laptops and, these days, even meetings require some sort of tech to keep things running smoothly. Add WiFi extenders and additional routers to the edges of the outdoors, ensuring that there's a strong enough signal to run your most necessary operations from anywhere.
Choose the Right Seating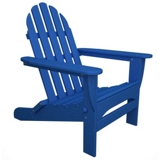 Choose seating and tables that can facilitate all sorts of working needs. While there's always room for laid-back, relaxing options, more traditional tables and benches can accommodate meetings, lunches, or independent work alike.
Outdoor mainstays are already readily available for these workspaces. Simple picnic benches can replace conference tables, though it remains imperative to keep employees well-spaced with tape or markers to show proper spacing. Portable acrylic screens can be grabbed and utilized to keep face-to-face seating even safer.
Materials Matter
To protect from the elements and ensure that your outdoor furniture will make it to summer 2021, use materials that are designed and proven for outdoor use. Solid plastics, resin, and outdoor laminates will be indicated for indoor/outdoor use and, if you're looking at anything metal, make sure that it's stainless and will stay corrosion and rust-free indefinitely.
Create Some Shade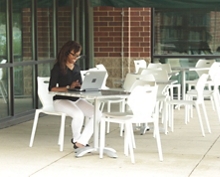 To keep laptops glare-free and protect against midday sunburn, ensure that your space has enough shade to keep employees out of the sun if they wish. Umbrellas, either mounted through tables or in a cantilever style, can provide a temporary solution but areas with a partial overhang may benefit from an extended awning. Whether it's automatically retractable or removable at the end of the season, temporary shelter can also serve to keep your furniture in tip-top condition in any climate.
Expand Your Area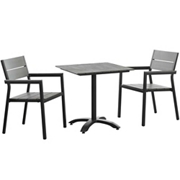 Not all offices are equipped with ample outdoor seating or a prime location for a patio. Leverage the areas available, even if they're small, to add a little bit of respite from the office. A couple of chairs out front, simple benches, or off-to-the-side seating can still make a huge impact.
Seating alone doesn't suit everybody's working style. Even in the most constricted areas, keep a few folding tables off to the side for employees to grab, use, disinfect, and return for quick and casual use. Movable outdoor furniture may need to be secured depending on the location, but semi-mobile choices can encourage employees to move meetings outdoors without committing to a conference-like setup in a small space.
Power Up
Make sure employees keep charged with any necessary extension cords or power stations that can be moved throughout the outdoor space. Keep a few of them handy and easy to extend, ensuring that there isn't any need to crowd around scarce outlets.
Embrace the Great Outdoors
Throughout the office, fake plants reign supreme. When the weather's right and the sun is shining, a few potted plants or pleasant landscaping can elevate the mood in an outdoor area. Take advantage of seasonal foliage and beautify your outdoor oasis. Use taller greenery to create separation between tables to ensure proper social distancing.
🎵 Don't Stop the Cleaning 🎵
...Hold onto that healthy feeling! Just because you're outdoors doesn't mean that COVID-19 magically disappears. These areas still need to be cleaned by the same disinfectants that keep indoor areas virus-free. Station a few cleaning caddies around your outdoor area and ensure that disinfectants are both FDA approved and suited for your materials. Because outdoor furniture is significantly more durable, harsher solvents can be used when necessary. Near the entrance, hand sanitizer and extra masks can support employees moving about the space, just as they would in any other shared area.
Ready to Return to Work? Shop All Return to Work Essentials Now.