It's early in the morning, and your receptionist arrives to the office. What sort of reception desk will they sit down at? A cold, stark, avant-garde mélange of glass and metal with no storage or privacy? Or perhaps something a bit more welcoming. One with an ample work surface and plenty of storage; perhaps with a place for them to hang their jacket? That's exactly what your receptionist can expect with the L-desk from our exclusive NBF Signature Series Tower collection.
The Tower reception desk is aptly named, with three sturdy pillars and cross-panels that give it an almost medieval look. Arresting and bold, it will capture the attention of clients and visitors the moment they walk through your doors. Designed specifically for our exclusive NBF Signature Series line, every aspect of this L-desk was inspired by the needs and desires of those entryway office guardians we appreciate so much.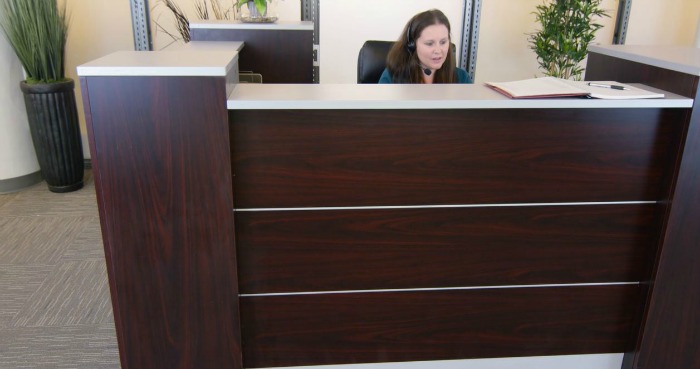 Both end towers are packed to the brim with storage, with the purpose of creating a knee space unencumbered by file pedestals and large handbags. Looking inside the reception station, the right-hand tower boasts a storage cabinet with two adjustable shelves as well as one file drawer that can accommodate both letter- and legal-sized hanging files. Meanwhile, the left-hand tower will proudly hold a jacket or cardigan on its built-in hanger rod, and can easily guard a purse, man-bag, emergency heels or mid-day snack on the adjustable height shelf nestled inside.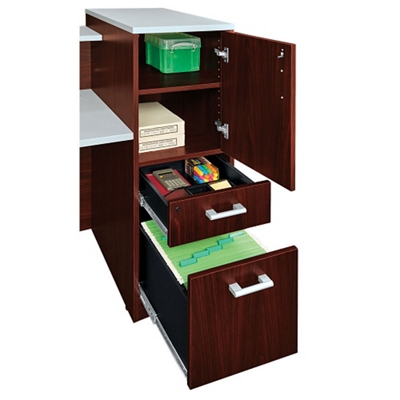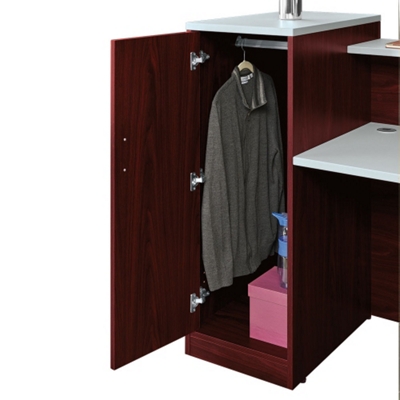 Ever-conscious of tripping hazards, the Tower reception desk also has integrated desktop and center tower cable management holes so that computer cords, space heater cables and other technology can be routed away from moving limbs.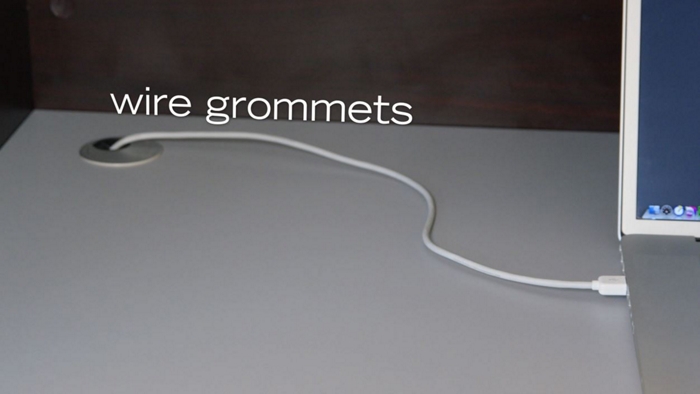 Indeed, the Tower desk oozes permanence, and the gorgeous Mahogany and Silver Gray laminates effortlessly blend traditional and modern styling for a camouflaged look that won't be out of place in most contemporary office settings.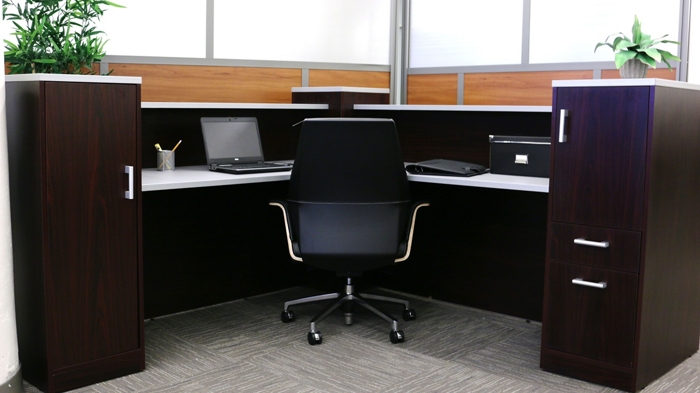 We certainly seem to love our Mahogany reception desks here at NBF! For similar colors and styles, take a look at our Esquire collection – a line of three reception desks that we've designed to also incorporate sleek glass elements and one or two gentle curves for a sophisticated look.