NBF partnered with Kelton Global to conduct a survey of over 1,000 American workers. We examined how people feel about their work from home workspaces and what they need to make their days better and brighter using a combination of finding the right furniture, designing a beautiful workspace, and building behaviors that can create long-lasting workplace wellness.
---
The Inevitable Intersection
When work makes its way into the living space, it starts to feel as if work is everywhere. We've always used the term "work/life balance" when evaluating the workplace. The same ideals still hold true, it's just that they're a little more difficult to conceptualize and enforce.
While it might feel like work is everywhere and everywhere is work, that's just not the case. Acknowledging your needs, enforcing your boundaries, and remembering that you're only human is the start of creating a healthy relationship with work, even when it's situated so close to everyday life.
Ergonomics are Essential
At the office, your company chose desks, chairs, and supplies that they thought were ideal for the greater company. At home, you might not have these workplace essentials ready to go. As you settle in to your workspace, consider furniture that is a net benefit for physical health.
We found that nearly one in four (22%) of those who are frustrated with their current space are currently using outdated furnishings or equipment that impacts productivity. Meanwhile, three in 10 (30%) believe that their workspace needs an upgrade. If you're part of either group, make sure that your new-and-improved setup is doing its best to help you stay on task.
Take A Seat
It's no surprise that seating is a constant struggle for work from home employees. As you look for the right seat to suit your sit, you aren't bound by traditional office options, but consider finding a task chair that has the same support and features that are staples of workplace seating.
Size and Shape
Whether you're big & tall or petite & small, there's a chair that's suitable for your stature. Find a chair that's designed to fit your body type with as much or as little padding as you'd prefer.
Materials
While the colors and styles are endless, there's a few main materials that are used in office furniture. Polyurethane and other faux leathers are very easy to clean and durable while actual leather is a luxurious option for an elevated office. Cooling mesh can make working a breeze while fabric can add style without sticking to skin.
Ergonomic Adjustments
The right combination of adjustments can make your workday experience feel like a dream. Mix and match the right tilt (synchro, knee, or center), lumbar support, arm movements, and seat depth that works for you.
Desk Decisions
From traditional tables to storage-rich setups, desks have a wide array of configurations and features to help you customize your workspace. No matter what size space you're working with, there's endless options to fit every floorplan, design scheme, and budget.
Desk Height
Standard height desks are the standard for a reason, but these days people are turning to standing height solutions for an added ergonomic benefit. Height-adjustable options marry the best of both worlds for those who like to sit or stand at any stature.
Storage Options
Pedestal desks have a wealth of supply and file storage while others are lighter on storage and encourage users to use mobile peds and other storage units to conceal their workday musts.
Tabletop Organizers
Coordinating hutches both big and small are there for your right-at-hand needs. These can occupy valuable vertical real estate to further enhance small space work areas.
Set (and stick to!) Boundaries
In short, what you allow is going to continue.
The boundaries you set with management, coworkers, and yourself will determine the success of your work/life balance. Likewise, leaving loopholes, creating exceptions, and relaxing boundaries can quickly erode any positive groundwork that had been set.
After determining reasonable boundaries, communicate them to managers and colleagues. Then? Stick to them. Calendar programs often have the ability to set available hours to establish a rough guideline that's visible to everybody while other nuanced boundaries may need more direct communication.
⇒ Determine what hours are reasonable for responding to emails, calls, and instant messages as well as which of those hours are available for scheduling meetings.
⇒ Decide whether or not you will check incoming communication during nights or weekends. It's okay if you keep all work-related communication to working hours only.
⇒ Select what applications you'd like to install on personal devices and set notifications to correlate with your available hours.
⇒ Realize that it's okay to keep worktime separate from personal time. If possible, determine who can take care of emergencies in your absence should you be unreachable.
Build Out a Routine
Thoughtful workday boundaries will begin to naturally establish a workday and workweek routine. Once your working hours are established, begin to schedule important activities at easy-to-anticipate times and don't forget to include what's important to you. These little rituals can have a big impact on workday happiness.
⇒ Start Strong
Find the right way to start your day on a positive note. Brew a great cup of coffee, tidy up your desk, or do a quick sweep of your mailbox while listening to your favorite podcast.
⇒ Take a Break
Real, scheduled breaks can feel like a luxury when you're working from home. Build in time for lunch, a quick walk, or any necessary appointments that might conflict with the workday. Even a small 15-minute meditation session can make its way into the daily routine as a way to clear your mind and get ready for the next task.
⇒ Add a Little Personal Time
While it's ill-advised to blend your work life and personal life too much, it's okay to schedule a little bit of time to accomplish a household chore during the day. Use one of your breaks to run a recurring errand or quickly tidy up a part of your house without feeling guilty for wasting work time.
⇒ Make a Perfect Playlist
Everybody has a different ideal soundtrack to the workday. Take a little time to find a great auto-generated playlist, explore curated collections on your favorite streaming service, or subscribe to a podcast that you can keep playing in the background. White noise apps are another great way to keep the room tone lively without adding distracting words or lyrics.
⇒ Wrap Up and Wind Down
Ease your way out of the workday mindset with a relaxing task that will leave you in tip-top shape for the next day. Take the last fifteen minutes to leave your workspace organized, sterilized, and clean so that your early morning self can start the day off right.
Need a Helping Hand?
When you're alone at home, it's easy to forget that there's a lot of resources available through your employer.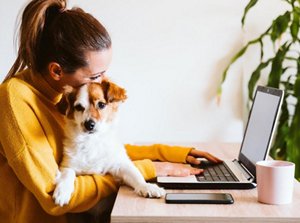 Employee Assistance Programs aren't all created equal, but if these benefits are available through your company, look into what they offer and keep these benefits in the back of your head. Some EAPs offer free counseling for both workplace and personal issues, both of which can be used as a singular solution as well as a stepping stone to additional help. Childcare support, legal advice, and gym discounts are commonly available in EAPs, however these programs do differ from company to company.
Talk to Your Manager about your needs, including how your personal needs intersect with and affect your work. The pandemic presented an all new set of challenges that impacted every employee differently. Accommodations can be made to ensure that employees' professional success and mental health are all accounted for but sometimes this takes input from one's supervisor or even human resources.
---

Looking for more ways to practice Workplace Wellness? Check out our free eBook to learn more!