Located in Chicago, Illinois, NeoCon is the defining event of the commercial design industry ever since 1969. Vendors from across the world bring their most innovative, brilliant products to the table to paint the perfect picture of what the next year of design will look like. Alongside overarching trends that span many years, there's always several stand-out trends that echo across brands. COVID-19 has changed the industry forever and this year's return to NeoCon showcased many of these new priorities.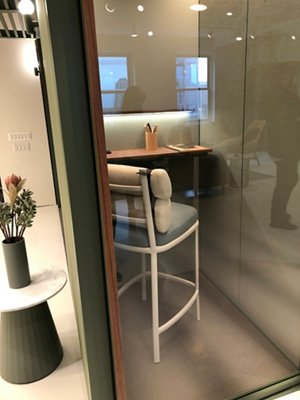 Private & Personal Pods
These one-person solutions are more or less the phonebooth of the future. Each pod is, at minimum, soundproof in order to provide privacy for the user and quietude for anybody outside. From there, the sky is the limit. Many pods have tech-ready features from something as basic as a few USB ports to elaborate setups built to accommodate online meetings with ease. Temperature and pressure control is a must in the most advanced of pods. More than in years past (admittedly, pods aren't a new concept, and many companies are merely expanding their existing offerings), pods are being manufactured by more accessible brands at favorable price points.
Keep it Clean
This might be the least surprising noteworthy newcomer for Neocon, but sanitizing solutions are a blazing hot topic. Since this is Neocon, it's safe to say that this is a step-up from a few bottles of sanitizer on a metal pole. Companies have both created standalone solutions as well as fully-integrated dispensers built right into collaborative furniture, mobile carts, and even on the walls of some of the aforementioned pods.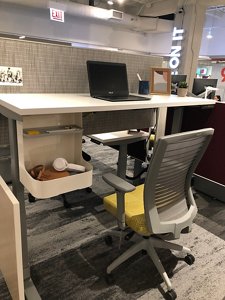 Taking Height-Adjustable to the Next Level
As one of the newest desking styles, height-adjustable desking has remained a fairly minimalist staple thanks to their basic tabletops and metal telescoping legs. A push to improve upon these designs has been very obvious. For power options, we're starting to see battery operated models as well as a return to pneumatic or hydraulic adjustment mechanisms. Cord management is more optimized than ever and the familiar telescoping legs are turning towards concealed mechanisms for a sleeker, inconspicuous look
Furniture on the Move
Take your work on the move with a recent push for more mobile options. Carts with working space up top, mobile white/corkboards for use as dividers and workspace, and simple tables on casters are on the rise, reducing the permanence of workspace and allowing for people to find their own personal space as needed. These items often do double duty to make sure that every piece of furniture is as flexible and versatile as possible.
New Colorways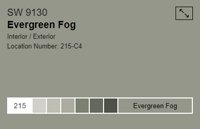 Coming into 2022, Sherwin Williams has announced Evergreen Fog as its 2022 color of the year. This flexible gray-heavy green is light enough to fit its way into very modern, clean aesthetics as well as warmer, lived-in rooms alike. Pair the shade with terracotta, brown-gray, warm browns, and warm beiges for an earthy, organic feel in any space.
Pair Evergreen Fog With