It goes without saying that your shade of paint can make or break a space. The all-around wrong color, clashing accents, mismatched lighting, and a myriad of reasons can create a disaster that's all-surrounding during the workday. As you choose your color palette for either your home office or corporate workspace, take careful note of the factors that go into a great color scheme that becomes the foundation for a great workspace.
Corporate Offices
It doesn't matter if you're a small business or corporate giant, designing a professional office space is less about one's personal taste and more about what's best for everybody. Sure, this sounds like it might be a bit restrictive, but that doesn't make any of your choices any less meaningful.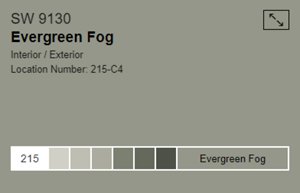 Consult a professional: An educated and experienced interior designer will have a wealth of knowledge and recommendations for your space. There's no harm in reaching out to a person who's used to finding the right fit and, in the long run, it's worth it. Especially if you're painting multiple rooms, a designer or planner will know how to tell a visual story that compliments your entire office.
Try before you buy: No matter who is calling the shots, it's vital to pick up paint samples to get a better idea of your choices. While conventional paint chips might help, if larger swatches are available, take advantage of them.
No-brainer neutrals: Your primary color is probably going to be a variation of off-white, light gray, or a very fait taupe, and that's not just okay-- it's advisable. These no-nonsense colors are tried and true, though they're not as harsh as a bright white.
Agreeable and accessible: Be mindful of different employees' needs that may be applicable now or possibly down the road. For instance, colorblindness can affect the way a person perceives bolder accents. Visually impaired people may need an emphasis on bright spaces and proper lighting. Even if this doesn't apply to your current staff, it's never ill-advised to look towards the future.
Different space, different mood: The open office isn't the only space worthy of consideration. Think about how your paint choices tell a story throughout the office and aim for a cohesive experience that won't distract employees or guests. Be particularly mindful of your reception area. For workers it's symbolic of the start of the business day but for guests it's necessary to make a great first impression with tasteful design.
Acceptable accents: If you have a big room it's a given that you have big walls. If you're trying to add an accent wall, avoid doing so on any wall that's close to employee desking. Entryways, nooks, or infrequently used spaces can benefit from an accent that doesn't overwhelm. Especially in a main space, consider using your company's colors to offset the ubiquitous neutrals.
Consider your upholstery: Are you designing your color palette around your furniture or are you designing your furniture around your palette? Make sure that all choices are well-coordinated, ensuring that you're not pairing cool tones and warm tones that will clash and distract. Be mindful of upholstery on seating or even on cubicle panels.
Creative conference rooms: Especially if your business has a plethora of conference rooms, this is a great opportunity to get creative with your color schemes and furniture choices. While you'll certainly want to reserve one as a highly professional space, use smaller collaboration areas to choose interesting colors or out-of-the-box furniture without committing to a large space.
The VIP treatment: Give incoming leaders an opportunity to make their private office their own while making just a little bit of extra effort. Choose a wall that isn't completely occupied by large furniture and use that as an accent wall. When one person leaves and another person moves in, ask them what color they'd like it painted. It's a personal touch that won't break the bank or take up too much time.
Home Offices
There's a big difference between an office designed by you, for you and a multi-person office that needs to appeal to all. While you have a lot less space but a lot more flexibility, there's still several considerations that can improve productivity, increase energy, and promote great workday wellness.
Push the boundaries of neutral: Eggshell, ivory, and alabaster are played out shades of off-white that can stay in the past. In the home and the home office, neutral color palettes can play with different shades of gray and taupe or, more daringly, leaning into a pastel palette can create a peaceful atmosphere in your workspace that's far from drab.
Invigorate with paint: If you're trying to create a high-energy space, ditch the neutrals and pastels and embrace bolder, more invigorating colors. If your space allows, use a combination of palatable neutrals and exciting hues with accent walls or details.
Dark colors aren't drab: For some, dark paint colors can make a room feel serious or studious, which may be what you're going for. If this fits your personality, don't shy away from working with deeper tones to get the right look. If you're working within a small space, try to mix dark and light colors on different walls in order to keep the space from feeling too cramped.
Avoid antagonistic colors: While you're working your way through the rainbow, there's a few less-advisable colors to avoid. For instance, reds are known to inspire anger and intensity.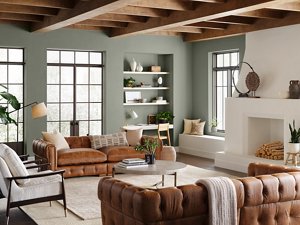 Add accents: Accent colors aren't just reserved for accent walls. Baseboards, molding, fixtures, and other odds and ends are often painted. If you're going to deviate from your wall colors, make sure that you pay attention to these bonus colors so that they don't stand out (in a bad way!).
Let there be light: If you're lucky, your at-home workspace will have the added benefit of natural light. Even when the sun goes down, there are still major considerations with what lighting you use. Whether it's overhead lighting or dedicated task lighting, choose lightbulbs that can fuel your mood. Some people enjoy brighter blue-toned bulbs while others benefit from softer more docile tones. Not sure? Many digital lightbulbs can be controlled by your smartphone to find the perfect balance.
Think long-term: We perceive color differently as we age. If you're designing for the long haul, go with a color and design scheme that will be pleasing as you advance. This is particularly true if you're putting together an office for an elderly person. If you've got multiple occupants, collaborate on your palette to ensure that it's affable for all.