Did you know that 92% of American workers say that when their physical workspace is lacking, their mental well-being and productivity can suffer? According to a new research study conducted by Kelton Global, the physical workspace affects the mental workspace a lot more than you may have once thought. The study surveyed adults ages 18 and older who are employed full or part time and measured which elements have the most influence on employee mood, performance and overall job satisfaction. The following physical elements were shown to have the greatest negative effect on employee mental wellbeing at the office.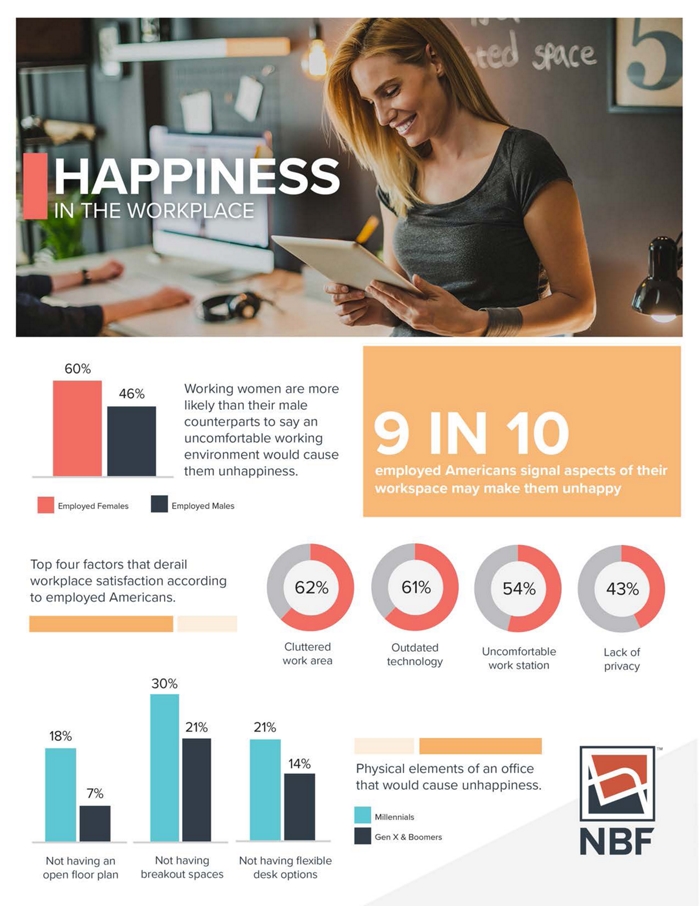 1. Cluttered Work Area
62% of survey respondents reported that having a cluttered workstation would make them unhappy on the job. Upon closer examination of the results, it was revealed that a cluttered workspace has an especially negative effect on women, of whom 70% said that having a cluttered work area would make them unproductive. By comparison, 55% of men felt the same way.
2. Outdated Technology
Having to utilize outdated technology was a close second in terms of workplace unhappiness among study participants. 61% reported that having to work with outdated technology would negatively impact their mental state at work, while one in four said that having multiple computer monitors is critical to workplace happiness.
3. Uncomfortable Workspace Ergonomics
More than half of survey respondents stated that an uncomfortable workspace would cause unhappiness at work. This includes not only the type of desk or cubicle the individual works at, but the ergonomic features and overall comfort of the office chair as well.
4. Lack of Privacy and Workspace Flexibility
43% of employed Americans say that not having a private area to work would negatively affect his or her mental wellness at the office. Additionally, one in four survey respondents find value in flexible work environments so that they may work away from their regular work areas when needed.
What Can Business Managers Do to Keep Employees Happy at Work?
The study results are clear-- employee satisfaction and productivity decreases when the provided work environment is not up to par. To stave off the negative effects of a poorly designed workplace, consider the four major contributing factors when designing your employee workstations and common areas.
1. Offer employees plenty of storage and filing space at their desks and keep the majority of files digital to decrease the amount of visual clutter that can be built up among the physical workspace.
2. Keep technology as up-to-date as possible and offer employees multiple monitors.
3. Provide ergonomic office chairs that can conform to individual users so that every employee can experience comfort at work.
4. Finally, provide privacy options intended for intense mental focus, and switch up your common areas to provide open space for collaboration as well.
When making office design decisions, take into consideration that women are more likely than men (60% versus 49%) to say that an uncomfortable workspace would cause them to be unhappy. Additionally, employees in the millennial generation are the most impacted by the physical workspace, indicating that younger workers may benefit the most from certain upgrades in office furniture and design. By making simple updates to the physical look and functionality of your office, you'll be investing in the future of your business's workforce.