We've all heard the tale of Goldilocks and the Three Bears. One bed is too big, one bed is too small, and one bed is just right. Though there's a little less in common with bowls of porridge, there's no doubt about it-- the same can be said about office chairs.
While you're on the hunt for the perfect fit, consider your stature and how a properly-sized chair can make every workday all the more comfortable. Whether you're papa bear, mama bear, baby bear, or the ever-picky Goldilocks herself, there's a seat for every size.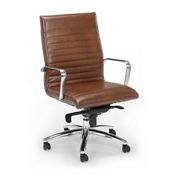 The archetype, Platonic ideal, or "OG" (if you will)-- the standard sized office chair is the most common of them all and its gotta-have-it adjustment is its height. Beyond that, this is always a fairly typical size with a width of 17-20" and a depth that gives most users between 2" and 4" of clearance between the edge of the chair and their knees. As this is the most common size, there's no shortage of chairs with slight variations to best accommodate your comfort. So long as you can adjust your height between about 16" and 20", you'll feel great with a simple, standard office chair.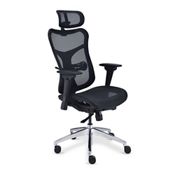 For those picky sitters that need things just right, there's newer technology that can help you achieve that perfect sit without committing to a custom size. These go-go-gadget chairs feature enhanced ergonomic adjustments, such as a movable seat pan that increases or decreases the depth with ease. 3D arms provide even more superior support, moving up/down/in/out/forward/back and they may even flip up for an armless appeal. At their core, these seats start with a standard configuration and provide flexibility from there.
Though they're bigger, they're not necessarily beastly. A high back chair is an excellent option for supporting the entirety of the spine during long days at the desk. These typically feature built-in lumbar support (static, adjustable, or self-adjusting for the most futuristic folks). Some seats have a headrest integrated at the top which may or may not be raised or lowered to perfectly accommodate your stature.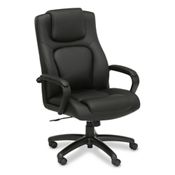 You don't have to be in the NBA to take a look at a big and tall chair. These are designed around larger statures and will have a higher back, deeper seat, and wider breadth than their counterparts. Stronger materials, such as a steel base, will support a much higher weight capacity and any ergonomic adjustments will be enhanced to fit your needs.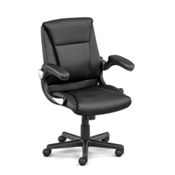 Even baby bear needs a seat at the table. Petite chairs account for short statures and narrow frames in order to maintain optimal depth and width. The seat pan, in particular, is significantly shorter in order to preserve the optimal 2-4" clearance between the knees and chair. This small-yet-mighty solution is stil height adjustable, accounting for tall and narrow frames as well. Petite chairs with an ANSI/BIFMA rating will still have standard weight capacities, despite their compact size.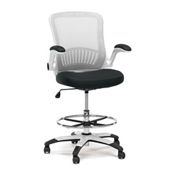 The sky is the limit! Well, only up to a certain height, but we can help get you there with an adjustable-height stool. Typically reserved for drafting tables, these have become a stellar solution for standing-height and adjustable-height desks that provide a standing option. For a moment of respite, a stool can be a solution. These often have foot rings for seated support. If you're more of a big and tall sitter, look for properly-sized stools that fit your needs.