What's the difference between leather and bonded leather? What's eco-leather? What's faux leather? All valid questions. With all these different names for various types of true and man-made upholsteries, it can be tough to determine what's what. That's why we're breaking it all down in this guide to leather.
Not all grades of leather and faux leather are created equal. There are a few important distinctions to consider:
Full Grain Leather shows the natural grain of the leather and is the highest grade for office furniture
Top Grain Leather is the most common and remains thinner and more flexible than full grain leather
Split Leather is made from the remainder of the hide once the top grain is removed
Bonded Leather utilizes leftover leather scraps to create a new product over a layer of faux leather
Polyurethane is a synthetic product that can be made to look very similar to actual leather
Vinyl is another synthetic material that is easy-to-clean and very low-cost
Faux Leather typically refers to polyurethane, vinyl, or other man-made materials
Full Grain Leather Office Chairs
Full grain leather hides show their grain, including any natural marks and imperfections. Layers of leather are left underneath the hide, leaving the leather in a state that is as close to its natural form as possible. It can breathe, and it's very durable. Eventually, it will develop a patina from interacting with the air. Full grain leather is the most expensive to buy, and it's used to upholster furniture of the highest quality.
Regal, Traditional, and Luxurious
Top Grain Leather Office Chairs
Top grain leather is the most common type used in high-end upholstered furniture. In this type of material, the split layer of the hide is removed, leaving it thinner and more flexible than full grain leather. The resulting hide is then sanded to create an even, smooth texture. If dyes are used, they are added after sanding, and then a finish coat is applied for durability. Not only is top grain leather more affordable than full grain, but it is also more resistant to stains.
Comfortable, Durable, Plush
Split Leather Office Chairs
Split leather is made from the layer of hide that is left once the top grain portion has been removed. Hides are shaved horizontally into different layers, so a tannery gets several sheets of leather product from just one hide. The split portion of the hide has an artificial layer applied to it which is then embossed with a grain to simulate the look of top grain leather. It's still leather, made from a real hide; however, its cost drops even further, so it is often found on very affordably-priced items. Split leather is also used to create suede.
Bonded Leather Office Chairs
Bonded leather is neither fish nor fowl, as they say. The manufacturing process starts out with real leather scraps— the leftover pieces that would normally become waste from tanneries. These are sent to a mill that grinds them into very small pieces, and the pieces are then spray-glued onto the back of a man-made material such as polyurethane. This makes the back of the upholstery feel like suede, and this backing can also have an effect on how the material upholsters. When a bonded leather is made with a good polyurethane material, it can be difficult to tell the difference between it and real leather.
Bonded leather is far less expensive than real leather, but because of its real leather content, marketers can use the word leather in their descriptive materials. Some call it recycled leather or eco-friendly leather because the manufacturing process is more environmentally-friendly than leather production, which uses several harsh chemicals.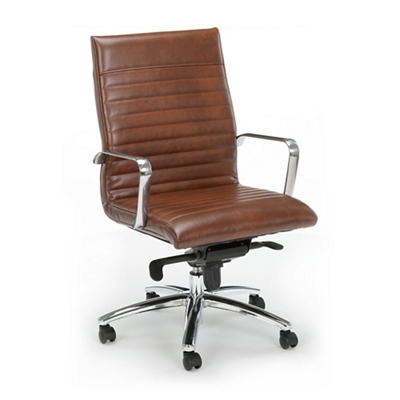 Versatile, Stylish, Affordable
Polyurethane Office Chairs
Polyurethane is used to create imitation leather, sometimes called pleather (plastic leather), synthetic leather or faux leather. It can be embossed with any texture, is water-resistant and is easy to clean and maintain. Good quality polyurethane can feel very soft and look a lot like leather. To tell the difference, look at the back of the material—if you see a woven fabric backing, it's man-made.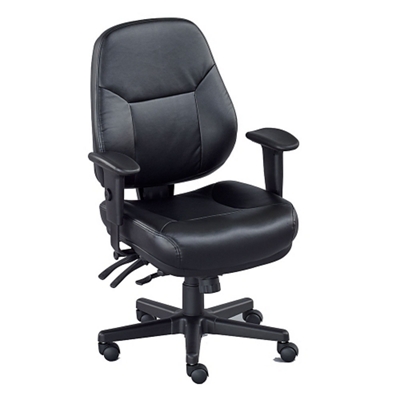 Durable, Cleanable, Enduring
Vinyl Office Chairs
Another man-made material that many of us are familiar with, vinyl is generally very water-resistant and easy to wipe clean, so it's often used to upholster furniture for break rooms, high-traffic reception or lounge areas and some office seating. It is usually embossed to simulate a leather grain or dyed with a pattern that looks like leather. Like polyurethane, vinyl has a woven backing. In its common form, it is one of the lowest-cost materials to use for upholstery and is often found on budget-priced furniture.
Antimicrobial vinyl is commonly used in hospitals and other healthcare facilities due to its easy-to-clean design. The textile is treated with a long-lasting antimicrobial solution that makes it highly resistant to the growth of germs and bacteria. It can be cleaned and disinfected with strong, hospital-grade disinfectants while still retaining its original color and appearance. Be sure to check for specific instructions from your furniture manufacturer in regards to which cleaning solutions are appropriate for your specific type of upholstery, and check out our complete guide to office chair cleaning here.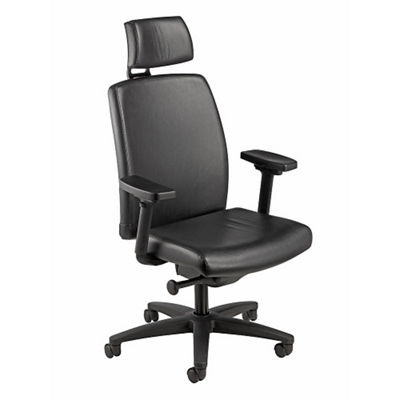 Affordable, Versatile, Cleanable

Need help finding the right type of leather furniture for your office? Shop our full selection of genuine leather chairs here or call our furniture experts at (800) 558-1010.