Where you work is as unique to you as how you work. Sometimes, you might be stuck working with a little less real estate than what's ideal. These unique layouts pose interesting challenges with a lot of creative solutions that need a little extra thought, careful planning, and a selection of furniture that can make the most out of any situation.
Our Brite collection is a mainstay in the modern, minimalist, and flexible home office. With a wide variety of desk sizes and storage types, it's easy to mix and match pieces to optimize your environment. Each piece features superior quality at an affordable price point, giving you the ability to pair multiple selections from Brite to really highlight the qualities of your home.
The Double-Duty Desk
It's no fair to have to pick and choose between "work" and "play" when you're short on space. Instead, find a furniture setup that can do both. When you're building out a double-duty space, select furniture that can be assigned a purpose or, for some items, a dual-purpose. For the most part, make sure your desktop has enough room to accommodate both your workday mainstays without needing to do much manipulating when the day is done. Use storage pieces to keep your intentions separated, dedicating one rolling pedestal to workday supplies and the other to the tools of the trade for whatever you're passionate about.
Shop the Brite Compact Home Office Set >>

The Two-for-One Special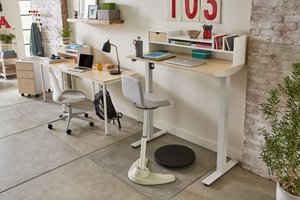 Working from home might mean that you have coworkers who don't even work at your company. For two (or more!) person home offices, blend form and function with coordinating desking that's tailored to each person's individual needs. Expansive collections offer a wealth of design options that differ in height, width, configuration, and even tech-ready details such as wireless chargers or cable management. Let each person pick out the right fit for their specific needs while still keeping tight to a beautiful design scheme, right down to coordinating seating with the same patterns on different pieces.

The Angular Approach
A lot of renovated flats, urban apartments, and quirky old houses have curious bonus areas that embrace the difficult-to-use spaces leftover in layouts. When your main rooms are occupied, these attics, enclaves, and under-the-stairs escapes are great spaces to take advantage of. Sometimes you'll need to split up your workspace to work within these difficult layouts, opting for multiple desks that are close within reach but not quite together. Fill in the gaps with décor or open-air storage to keep the area from getting overwhelmingly cramped while still giving it a sense of style.
Shop the Brite Two Desk Home Office Set >>

The Cozy Corner
A sliver of the living room or a corner of the dining nook might be your best bet for a work-from-home workspace. While you might be sharing space with a completely different purpose, the need for a focus-friendly setup is still the same. Choose a desk that has storage right at-hand so that your workday musts can all be concentrated in one space, eliminating the need to interact with the world around it and risk becoming distracted. A standing height desk can also offer flexibility and comfort, especially when paired with a stool that's just the right height for a quick rest.
Shop the Brite Standing Height Desk Set >>

The Simple Setup
There's something special about a reliable, standard-height desk that's got enough space to sprawl out. A 48" wide table desk gives you just enough room to keep your workday musts neatly organized on the tabletop without risking cramping. Embrace open-air supply storage that makes it easy to integrate décor alongside a box or two to keep small supplies at bay. This is a great opportunity to take a chance with your seating, opting for a standard-height ottoman that has a little bit of storage as well as a rounded base that encourages wobbling while you work in order to avoid excess fidgeting.