Overview:
With the help of social brand ambassadors in the education space, National Business Furniture distributed a survey around Back to School to better understand the unique set of challenges educators are facing this school year. The survey also shed light on solutions and advice for educators, from educators. The survey ran approx. two weeks (from July 23 - Aug. 7), and 1,160 responses were collected from educators across the country.
In fact, every U.S. state was represented in the survey. A few educators were even from other countries, including Canada, Mexico and the Northern Marine Islands. All grade levels (K-12) were represented. The survey skewed female with 97% female respondents, but this aligns with the U.S. teaching population data. A $500 e-gift card incentive was provided, and the random winner was a first grade teacher from Gilbert, AZ.
---
Key Findings - Quantitative
Q5 – WHAT WILL YOUR 2020-2021 SCHOOL YEAR SCHEDULE LOOK LIKE?
When it comes to this school year, teachers are facing a variety of possibilities. There is no clear "winner" between virtual or in-person, and 1 in 5 educators still don't know what their school's approach will be:
32% said hybrid (virtual & in-person)
26% said virtual
20% said I'm not sure yet
18% said in-person
3% said in-person, but shortened schedule/revised annual calendar
Q6 – HAVE YOU USED FLEXIBLE CLASSROOM FURNISHINGS IN THE PAST/PLAN TO IN THE FUTURE? (CHECK ALL THAT APPLY)
3 in 4 educators have used flexible seating in the past, and more than 1 in 3 educators plan to continue using flexible classroom furnishing but with limitations due to COVID-19 regulations. Less than 1.5% said they don't plan to use flexible classroom furnishings in the future. The top flexible products used included:
43% (or 493) said they've used adjustable height seating, stools
39% (or 449) said they've used sofas, lounge seating
30% said they've used yoga balls
27% said they've used rolling storage
27% said they've used standing tables/desks
25% said they've used whiteboard tables/desks hybrid (virtual & in-person)
20% said they've used moveable worktables
Based on respondents' comments, lack of funds (10 responses) is a deterrent to using flexible furnishings in the classroom in addition to COVID-19 (21 responses).
Q7 – IF BACK IN THE CLASSROOM, HOW WILL YOUR SPACE BE PHYSICALLY RECONFIGURED TO MEET COVID-19 PRECAUTIONS? (CHECK ALL THAT APPLY)
More than 1 in 3 educators are still unsure how they will reconfigure their classrooms amid COVID-19. Top solutions include:
Making sure desk and seating areas are 6 feet apart (55%)
Desk seating using a strict seating chart (41%)
Giving each student their own cleaning and classroom supplies (38%)
Q8 – WHAT ARE SOME PRODUCTS YOU ARE INVESTING IN FOR THE UPCOMING SCHOOL YEAR THAT YOU MIGHT NOT HAVE HAD IN YOUR CLASSROOM/HOME CLASSROOM IN THE PAST? (CHECK ALL THAT APPLY)
Top products include:
Cleaning supplies – and a lot of them! (76%)
Hand sanitizer, gloves, masks on behalf of your students or yourself (73%)
Adding more individually labeled containers or cubbies (60%)
Each student will be/have received their own utensils to limit shared materials (58%)
Each student will be/have received their own piece of technology to limit shared materials (50%)
Sneeze guards (20%)
---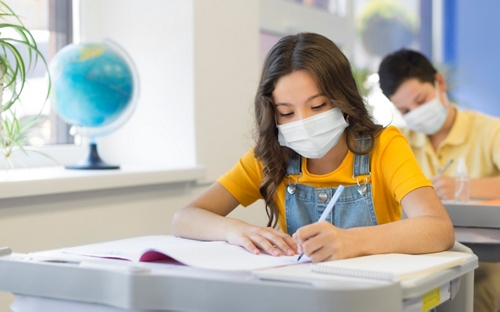 Key Findings – Qualitative
Q9 – WHAT IS YOUR #1 TIP FOR CLEANING A PIECE OF FURNITURE THAT MIGHT BE UTILIZED BY MULTIPLE STUDENTS IN A SHORT PERIOD OF TIME?
Wipe down after every use with a fast-acting disinfectant
Have a session to teach students how to do this and then expect them to clean after each use
Use furniture that's much easier to clean (leather/pleather vs. mesh)
Have cleaning supplies located right next to furniture for easy access
Q10 – WHAT IS YOUR BIGGEST CONCERN ABOUT COMING BACK INTO THE CLASSROOM SETTING THIS FALL?
Anxiety about my students or I contracting COVID-19 and bringing it back to our families
Worried about how I will keep students engaged and learning as normal as possible with all the new restrictions
Concerned about classroom spacing – how will I keep kids socially distant, desk space for enough students, etc.
Please note, there appears to be a high level of anxiety from teachers about going back to in-person classes. They are anxious about the increased risk of getting COVID-19 for themselves, their families members and their students. No matter what cleaning or precautions are being done—most educators are really worried. It's important for NBF to recognize, empathize with and help assuage these concerns.
Q11 – WHAT WILL YOUR SCHOOL DO WITH COMMON AREAS (LUNCHROOM, LIBRARY, MEDIA CENTERS)?
Closing all common areas
Using classroom for everything instead of common areas
Some are splitting students into small groups to use spaces
Students will be masked and asked to socially distance 6 ft. apart
Not sure
Q12 – IF VIRTUAL, WHAT ARE THE KEY WAYS THAT YOU AND/OR PARENTS CAN HELP CREATE AN EFFECTIVE HOME STUDY SPACE?
Create a designated workspace before classes start if possible. It should be well-lit, quiet, comfortable, and away from TV and other electronics, such as video games and phones. It should be stocked with school supplies/all the materials students will need to avoid distractions. Decorations, clear surface and good seating are also recommended to make it comfortable.
Set aside a time that students are "in school." And parents/teachers should be available during that time to discuss and solve technological issues.
Clearly outline expectations when learning from home and show examples/a model of behavior.
Q13 – WHAT ARE SOME OF THE BIGGEST TECHNOLOGY CHALLENGES?
The biggest challenge is ensuring students have WIFI/Internet access (devices are pointless if students don't have WIFI); rural/low-income areas face this challenge the most
The second biggest challenge is ensure students have devices/laptops
The third biggest challenge is the learning curve that comes with using new tech/programs/devices (ex: young kids don't even know how to email/can't explain what's going on when they're having technical difficulties)
Q14 – WHAT ARE YOU MOST LOOKING FORWARD TO THIS UPCOMING SCHOOL YEAR?
Seeing/meeting their students is the top thing educators are most excited about. Most educators are optimistic—saying they're ready for the challenges ahead and intend to make the most of it. Some say they're excited about more technology use, increased individualized education and getting back to a normal routine this year.