Every year, NBF furniture experts visit Neocon, the largest tradeshow for commercial office furniture in the country, to scope out new trends in office design for the coming year. You may have seen our recent article about one trend we spotted this year—active working. But what about the others? Active working certainly wasn't the only new thing we discovered at this year's show, and there are several other emerging concepts that we're pretty excited about. These are some of our favorites.
Multipurpose Workspaces. From lounge furniture that can be used as a conference space to conference spaces that transform into private offices, the trend toward furniture that can serve multiple purposes is a clear front runner this year. And is it hard to see why? These days, space is limited, and purchasing one piece of furniture that can serve two or three purposes means saving space, saving time and, most importantly, saving money. Read our full article on multipurpose office solutions here.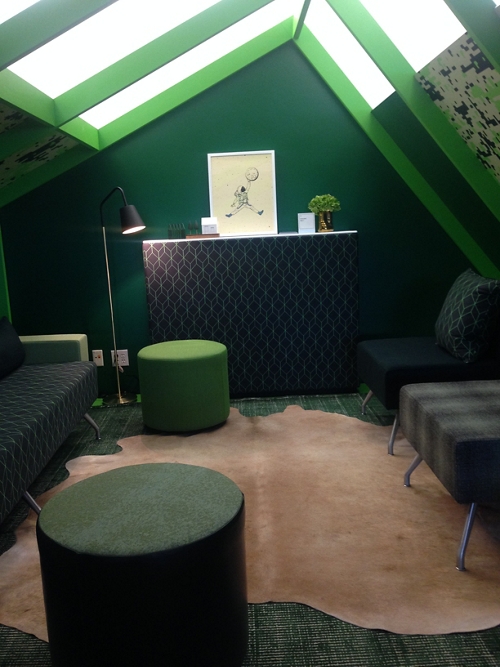 Soundproofing and Privacy. The more businesses have moved toward collaborative, open office setups, the more studies have shown that the open office is a hindrance to focus and productivity. You've probably heard the saying that everything is okay in moderation, and that's true for the office as well. It's okay to set your employees up in an open desk layout, but privacy needs to be provided for certain types of meetings and for individual work on projects that require peace and quiet. This is something we certainly saw a lot of at this year's Neocon show. From conference tables with curved walls that keep sound confined to tiny private rooms meant for solitary focus, there were plenty of private options from which to choose.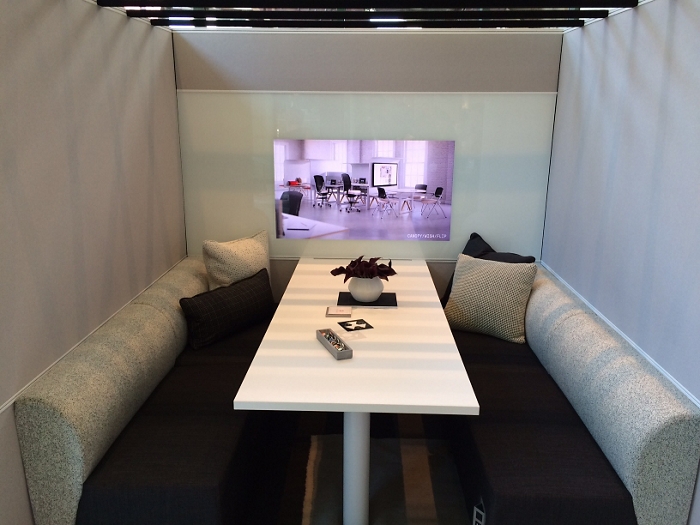 Homelike Décor. One trend we noticed at last year's show resurged in 2016—offices that look like home. This year, homey trends included plants, concrete office supplies, gold décor and even cross stitch artwork. Many employees spend more time at the office than they do at home, so bringing in casual elements that look more like they belong in a living room is a great way to spruce up the space and create a room that's inspiring and fun.
Integrated Technology. Advanced technology is unavoidable, and offices across the country are embracing it in ways you might not have seen before. One common trend we saw was the presence of data ports in furniture other than conference tables and desks. From lounge chairs to end tables to storage unites, USB ports and outlets are being added to just about everything these days, allowing employees and guests to stay charged and connected no matter where they are.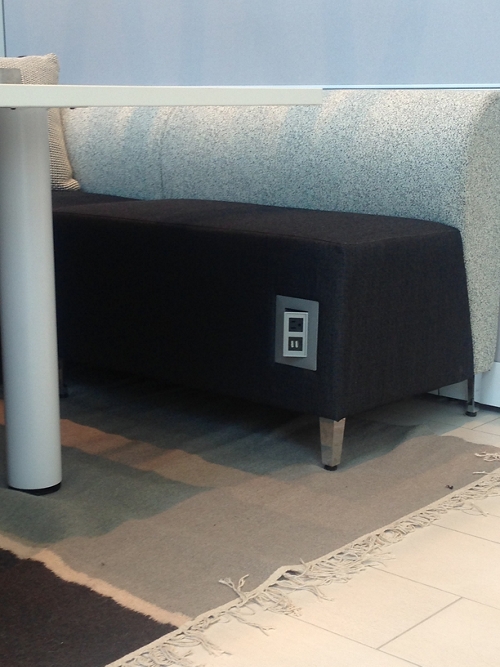 We also saw technology being integrated into the way we hold our meetings. We've all heard of teleconferencing by now, but certain pieces of furniture such as media tables are making teleconferencing easier than ever before. We also saw new strides being made in the booking of conference rooms, including apps that tell employers what rooms in the office are the most frequently used and wall-mounted tablets that display whether a conference room is open or in use.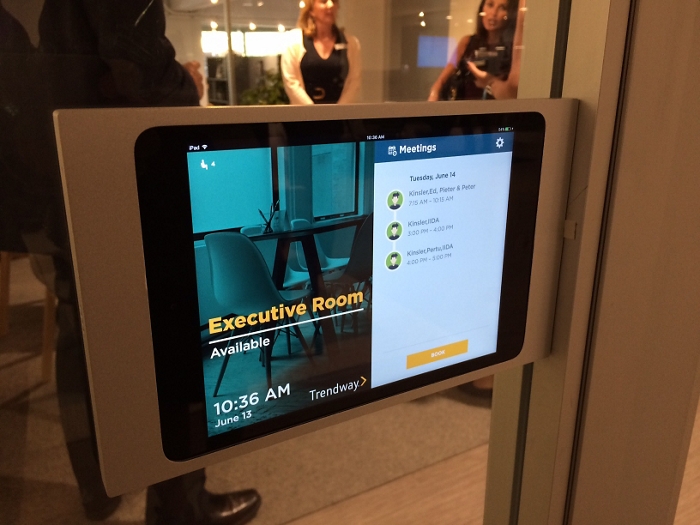 Support for Hoteling. As hoteling, or hot desking, is becoming more and more commonplace, we noticed several advancements that strive to make it easier for employees to thrive at a temporary workspace. Most prominently, we found several benching systems that had lockers either attached or nearby, providing a space for multiple employees to lock up their belongings when the workspace is being used by someone else. Integrated phone charging stations and reservation notices also help set these hoteling desks apart, making them more convenient for everyone.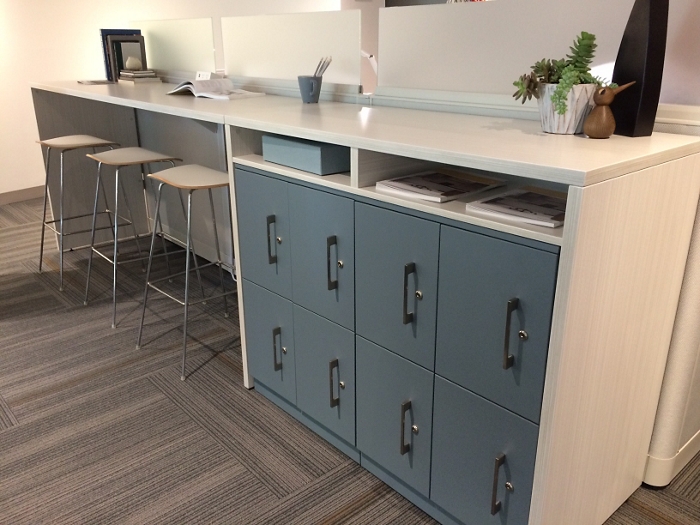 Heated Seating. Most have us have suffered the negative effects of a freezing cold office, and the chill doesn't just set in in the winter. Even in the middle of summer, many office employees are forced to wear heavy sweaters just to stay comfortable when the AC is on full blast. To combat this, we saw a few chair models at this year's Neocon with a heated seat feature, much like that you might see in a heated car seat. We're happy about this trend, of course, since we were early to jump on it when we introduced our exclusive NBF Signature Series Comfortemp chair last fall.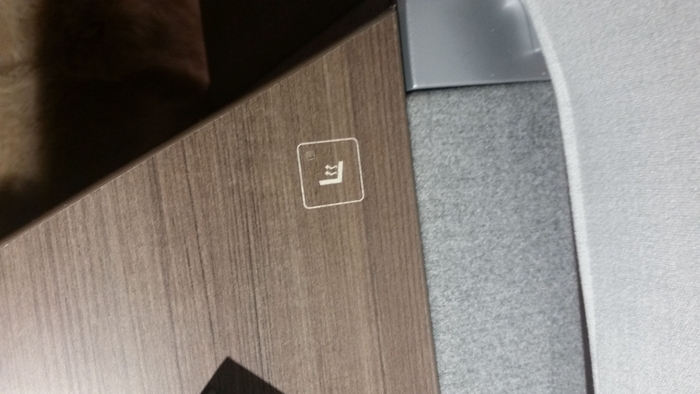 Fun Furniture. Last but not least, we were so excited to see an upward trend of fun furniture at this year's show. What do we mean by fun furniture? Well, exactly what it sounds like—furniture that brings a little fun into the office! Most notably, we saw some conference tables that can be transformed into ping pong tables and can also be folded up into a whiteboard. Talk about multi-purpose furniture! See how we came full circle there?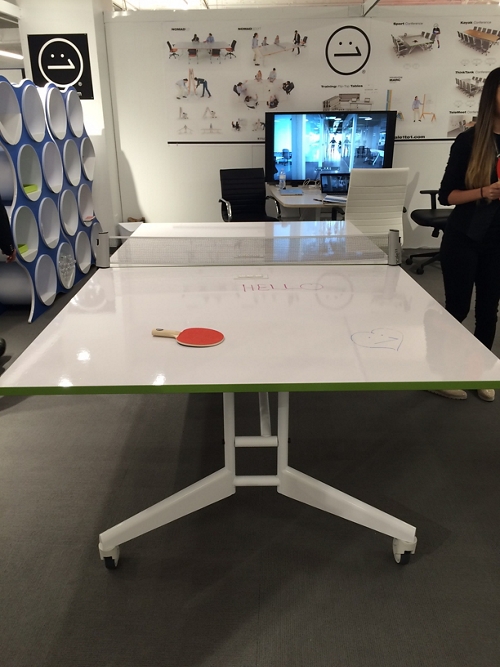 From sound muffling tiles to heated chairs to beautiful décor, this year's Neocon trends were something to behold. For help finding furniture that works for your space, call our furniture experts today at (800) 558-1010.