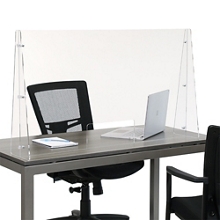 Sneeze guards: once a simple staple of salad bars, now they're one of our best tools for returning to work after COVID-19. Every industry--from retail to food service, healthcare clinics to corporate offices, and everywhere in between--has found some applications for these easy and innovative adds.
Acrylic, plexiglass, polycarbonate? Pass-through, wraparound, easy-attach feet? What does it all mean? We're here to help you find the right sneeze guard or room divider for your workspace, ensuring safety without sacrificing visibility. Feel free to call us at 800-558-1010 for any other burning questions in the sneeze guard and room divider debates.

SNEEZE GUARD MATERIALS
Acrylic
It's the prevailing material choice for sneeze guards and clear partitions. Available in a variety of thicknesses, acrylic is a transparent material that maintains your line of sight while providing a protective barrier.
Let's get nerdy-- there's two ways to manufacture acrylic. Extruded acrylic will keep costs low and price points favorable, allowing you to purchase more partitions for less. Its more durable counterpart is cell cast acrylic, which is inherently more durable, more transparent, and cracks less often during cutting. Speaking of cell cast...
Plexiglas (aka Plexiglass)
Not unlike Kleenex or Jacuzzi, Plexiglas is a brand name of acrylic. At the same time, the debate between Plexiglas vs. acrylic isn't quite so clear-cut. While all acrylic can be manufactured one of two ways, all Plexiglas is cell cast, ensuring its strength, lack of impurities, and ability to be cut without cracking.
Question: But I hear Plexiglass all the time, what's the difference? Over time, Plexiglas gained the misnomer Plexiglass and it also became shorthand for acrylic in general. When you're buying, assume all acrylic is just regular acrylic and instead rely on the thickness of the product.
Polycarbonate
You've heard the term at the optician's office most often; polycarbonate is often used in non-high-index glasses and, in much thicker applications, such as bulletproof glass. If you're installing a sneeze guard for the long haul, it's worth considering this plastic polymer with a lot to prove. While it's still heavier than acrylic, the lightweight nature and thinner profile still has glass beat by a mile.
Question: When you're purchasing, think about your application and the thickness that it needs first. If you need an extremely durable and large coverage area, consider polycarbonate, otherwise opt for a thicker acrylic or a piece with metal edging.
Glass
Admittedly, glass isn't particularly common in movable or temporary sneeze guards. Its weight is prohibitive, it's a lot harder to work with, and it requires framing that just isn't feasible. The appeal of acrylic or polycarbonate outweighs the benefits of glass, though it is the most scratch-resistant material and can be made tempered to prevent dangerous shards.

SNEEZE GUARD THICKNESS
Thickness will be a major determining factor while selecting the best sneeze guard or room divider for your workspace. Get your calculator out-- it's possible that companies might list their thicknesses in fractions, decimals, and you might even encounter a millimeter out in the marketplace.
There's benefits for every thickness:
Thin: Whether it's a piece called 1/8" or 0.118 - 0.125 thick, these thinner sheets are widely available and great for small spaces, such as table dividers or partitions on conference tables. They're significantly less expensive, allowing for bulk buying to add protection in every Use these sheets in spaces that need temporary protection. Usually made from extruded acrylic, can be cast.
Thicker: At the middle of the road, 1/4" or ~0.25 sheets give added stability and durability to your sneeze guard and room dividers, allowing for wider use in larger applications. Especially when finished with a lightweight aluminum frame, these moderate thicknesses are durable yet moveable with ease. Can be extruded or cell cast.
Thick: If you're investing in a long-term solution or looking to purchase a large sneeze guard to cover a wide counter, you'll want to look for significantly thicker materials. 2/3" to 1" thick guards will resist impact, cracking, shattering, and provide more than protection against a cough. Especially in large formats, this is the best solution that will show its strength without sacrificing visibility. Usually cell cast, sometimes extruded.
Extra Thick: Extreme situations call for extreme measures. Enter the thickest acrylic. We'll admit-- this is overkill for office retrofits after COVID-19 and its benefits are better suited for high impact applications. For most applications, look towards materials under 1" thick. Mostly cell cast acrylic.
FEATURES, BENEFITS, AND OPTIONS
While you're evaluating your needs, consider some of the features and benefits that can be built into pre-fabricated sneeze guards:
Pass Through Windows: For reception areas and welcome desks, a pass through window at the bottom makes transactions possible, giving room to pass pens and papers between the transparent barrier.
Full-Body Panels: For valet stands, service areas, and other customer-facing, standing spaces, a full-body sneeze guard is totally transparent option that stands at employee height.
Easy-Attach Feet: Often designed in a triangular shape with a slit down the middle, these feet slip on to a solid sheet of acrylic to get your shield upright in an instant. Sometimes they're acrylic, sometimes they're wood, and sometimes they're a different material entirely.
Aluminum or Metal Frames: To add durability to thinner sheets, enhance the aesthetic appeal, or finish off harsh corners, metal framing can be an option on the edges of many sneeze guards in all shapes and sizes.
Wrap-Around Designs: For all-over protection, a sneeze guard with wrap-around sides adds see-through security from every angle. Stand-alone reception areas benefit the most from these all-in-one solutions.
Small Sizes: Find smaller tabletop dividers to suit conference tables, breakroom tables, or benched desking to add an easy barrier without limiting face-to-face visibility
Desktop Designs: There's an emerging trend in attachable privacy panels that, via brackets, can be clipped on to existing cubicle panels or desking in order to provide see-through solutions for employees.
Ready to retrofit, reconfigure, or reinvent your office? NBF has the tools you need to get the job done. Visit our Return to Work Essentials page or call our sales team at 1-800-558-1010 to see how we can help you make a successful Return to Work.