Our exclusive NBF Signature Series line of furniture is known for its contemporary good looks, quality construction and affordable pricing. But did you know the line isn't limited to just business furniture? We also have an all-encompassing collection of healthcare furniture within the NBF Signature Series brand that seeks to make hospitals and other medical facilities safer, more functional and more affordable. Take a closer look at some of our best–selling NBF Signature Series healthcare collections.
The Oliver Collection
The Oliver collection is made up of a flex back patient chair, a patient recliner and a patient recliner with tablet arm, all of which are ideal for use in healthcare patient rooms. All three chairs in this collection feature easy-to-clean upholstery, and the flex back patient chair comes with reduced seam lines and a generous clean-out area so that staff can get into nooks and crannies to clean without sacrificing cleanliness or safety. The seat deck on each recliner is removable for the same reason. Lockable recliner casters ensure safety first, especially when patients or residents are getting into or out of the seat. The recliners recline with a simple push mechanism, while the flex back chair has a back that gently moves with the user, making all three options within the Oliver collection comfortable, cleanable and easy to operate.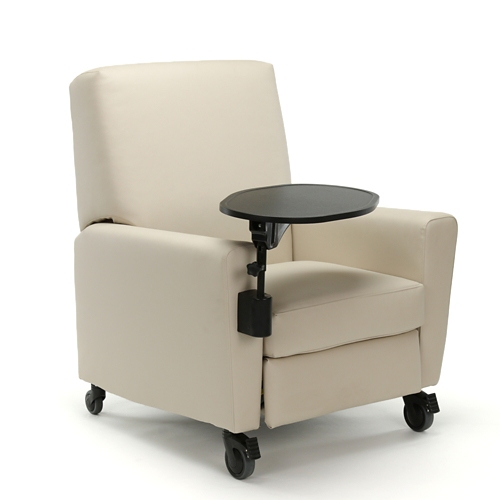 The Easy Collection
The Easy collection is made up of various styles of doctor stools, including both fabric and polyurethane upholstery options. Mobile stools on rolling casters are ideal for use in a patient room, while stationary stools are better used at caregiver workstations. An easy-to-use height adjustment mechanism sits just below the seat and allows the caregiver to adjust his or her seat height with a single touch. Memory foam has been built into each stool seat to provide prolonged comfort and to help the stools last much longer than the average doctor stool.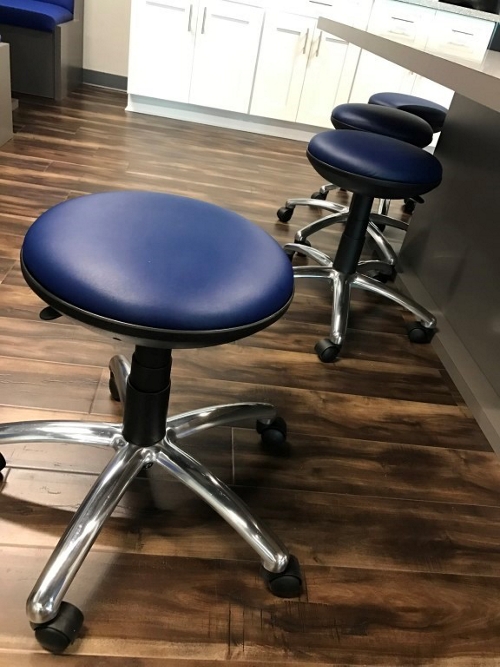 The Mason Street Collection
If it's modern, cleanable, comfortable waiting room seating you're looking for, then look no further than the NBF Signature Series Mason Street Collection. With its metal framework that provides reliable durability and its fabric and vinyl seat upholstery that make cleaning a breeze, these chairs were made for healthcare waiting room use. The PVC-free polyurethane upholstery can even handle cleaning by a solution of up to 10% bleach without cracking or staining, and the cleanout space between the seat and back allows staff to sanitize the entire chair without needing to sacrifice cleanliness or safety. On top of all that, these chairs are designed with a 4" thick seat and 3" thick back to keep guests as comfortable as can be in your reception area. The Mason Street collection includes a huge range of pieces from seating in every size to coffee and end tables, all to give you whatever your waiting room needs in a coordinating style.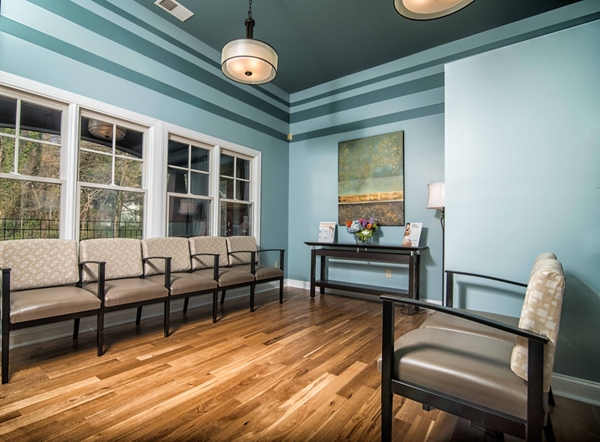 The Hampton Collection
Similar to the Mason Street, the Hampton collection comes with tons of options, including guest seating and lounge seating, which is designed with a larger seat and without the cleanout space between the seat and back of the chair. While Mason Street has metal framework, Hampton frames are made of wood for a warmer, more homelike feel. Chairs are outfitted with a wall saver design that protects your office walls from scuffs.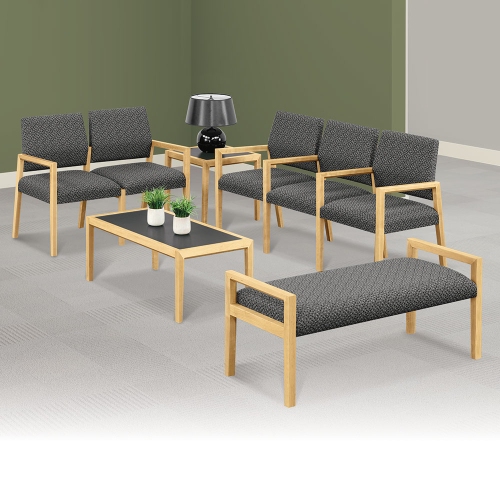 Overtime Chairs
When it comes to the seating at your nurses stations, security stations and any other multi-shift space, we highly recommend the NBF Signature Series Overtime office chair. The polyurethane seat and mesh back provide plenty of support while making the chair a breeze to keep clean with a simple wipe down. The PVC-free polyurethane seat can even be cleaned using a 10% bleach solution, which is often used in healthcare settings. The heavy duty aluminum base supports up to 300 pounds for reliable use 24 hours a day, seven days a week. Plus, this chair comes with adjustable seat height, seat depth, seat angle, back angle, arm height, arm width, tilt tension and tilt lock controls so that multiple users can adjust the chair to fit their individual needs.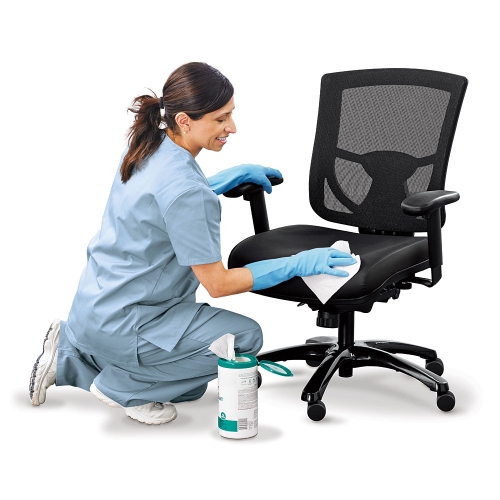 Edison and Davis
Edison and Davis are two casegood collections designed to support home health situations. From wardrobe cabinets to nightstands and dressers, these two collections include everything a resident needs to feel at home. There are plenty of finish options available, and each unit includes a ventilation system in the back for air circulation. Vinyl wrapped drawers hold up to 100 pounds each, so you won't need to worry about anything breaking.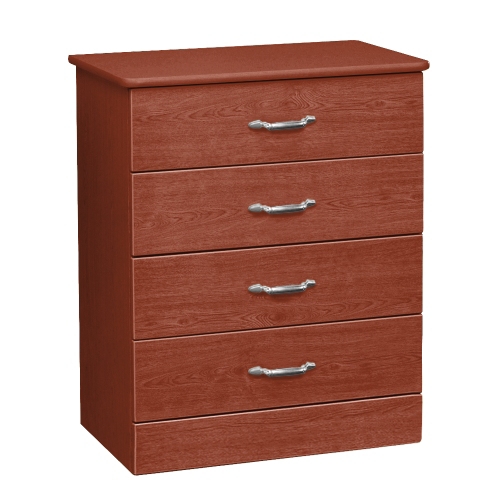 Want to learn more about our exclusive office furniture and healthcare furniture? Check out our full selection of NBF Signature Series products here.