If your medical facility is looking to purchase new recliners, you may find yourself overwhelmed by the options available to you. There's a lot to choose from, and how are you supposed to know the difference from one to the next? This guide is a great starting point.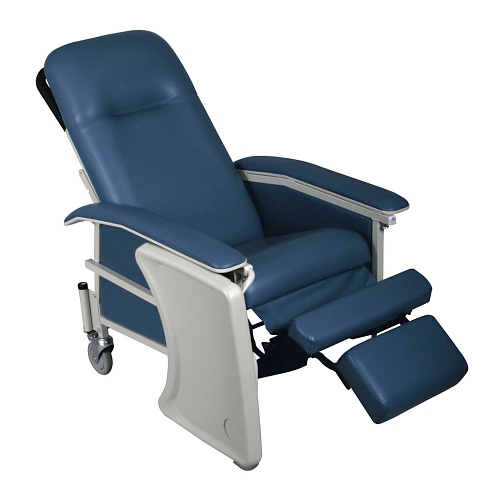 Treatment Recliners
Treatment recliners have a simple, functional design and are meant to be used for short periods of time during exams and for clinical use. This type is often used for dialysis, oncology and geriatric situations wherein the patient will not need to be seated in the chair for more than a couple of hours at a time. Treatment recliners are the most basic form of healthcare recliner and are designed for function above style.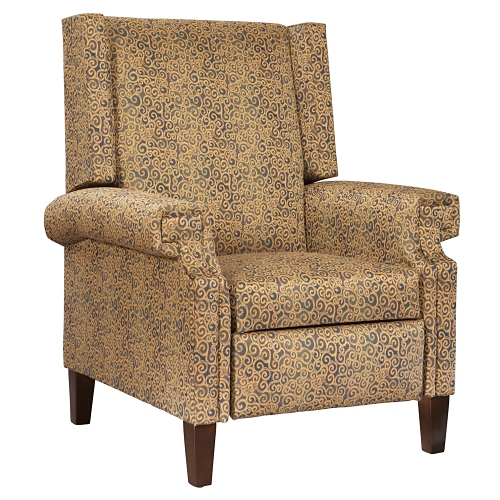 Senior Living & Long-Term Care Recliners
As the name suggests, long-term care recliners are designed to be used in senior living and nursing homes. They feature a more residential look than treatment recliners do, and they usually include rocking or gliding functionality. These seating options are typically smaller than most healthcare recliners, so as to make it easier for senior citizens to get up out of the seat. These recliners typically have limited customizable features, so what you see is what you get.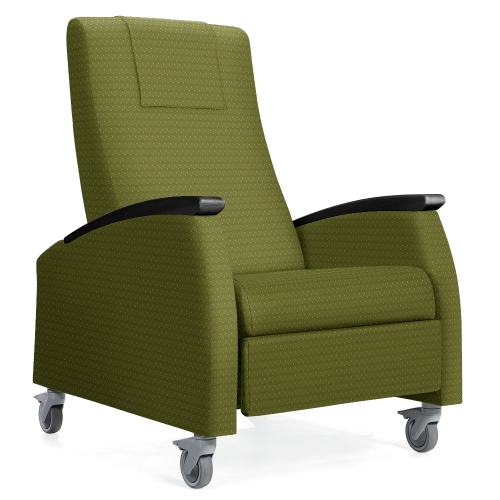 Patient Room Recliners
Patient room recliners are made with commercial grade durability and are heavy duty for continuous use. Most include replaceable parts so that if a backrest, seat or other portion of the chair breaks or tears you can simply replace that one part rather than having to purchase a completely new recliner.
When it comes to customization, patient room recliners have plenty to choose from. You can choose how you want the chair to recline, how mobile you want it to be and what accessories you need with it. Common recliner accessories include footrests and IV holders, and there are even patient room recliners with heated seats. Drop and fold-down transfer arm options are also available for patients needing to be transferred from a wheelchair. When it comes to transportation of the unit, you can choose from small wheels that are good simply for moving the unit out of the way for cleaning and there are also bigger wheels for actually moving patients from place to place in the recliners.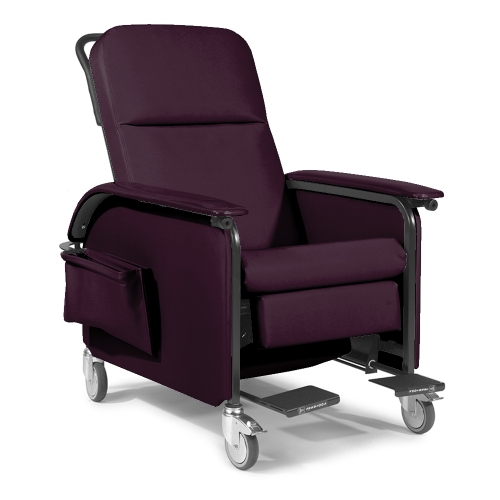 Specialty Recliners
Specialty recliners come in a wide variety and are designed for very specific purposes. They include the following:
Trendelenburg recliners are used when a patient's position needs to be moved to a negative recline as quickly as possible. For example, if a patient were to pass out while in the recliner, the Trendelenburg tilt allows caregivers to tilt the bed backward to keep the patient's feet higher than the head.
Bariatric recliners can usually support 750 pounds or more. Ideal for larger patients, these recliners have much wider seats than standard options and have a limited recline for the safety of both the user and caregivers.
Pediatric recliners are designed to comfortably accommodate children. As you might expect, this type of recliner is typically used in the children's wing and is built smaller than average to better fit a young child. Many options are equipped to support certain gaming systems so that the patient can keep his or herself busy during what may otherwise be an uncomfortable or even frightening visit to the doctor.
Want more information on what type of healthcare recliner is best for your medical facility? Call our healthcare furniture experts today at (800) 558-1010 or shop our full selection of recliners here.