Whether you're outfitting a small or large waiting room, your choices in reception seating are vast and varied. So where do you begin? This guide to waiting room seating explains your choices in reception seating and will help you decide which options will work the best in your office.
Type
Guest chairs are standard size seating options that are also referred to as side chairs. Guest chairs may come with or without arms.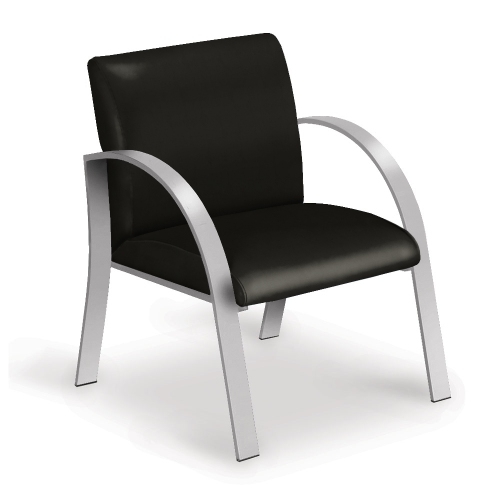 Bariatric chairs are guest chairs that can accommodate more than the standard 250 pound weight capacity. Weight limits vary from 300 pounds to well over 700 pounds. Read our full guide to bariatric seating here.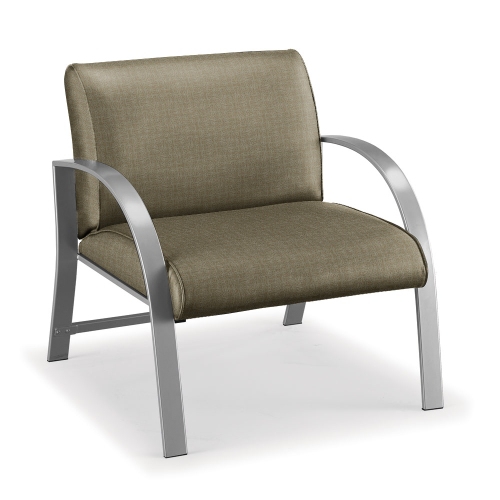 Club chairs are guest chairs that are more padded and plush. This type of seating is commonly used in a lounge or other area wherein visitors will be seated for longer periods of time.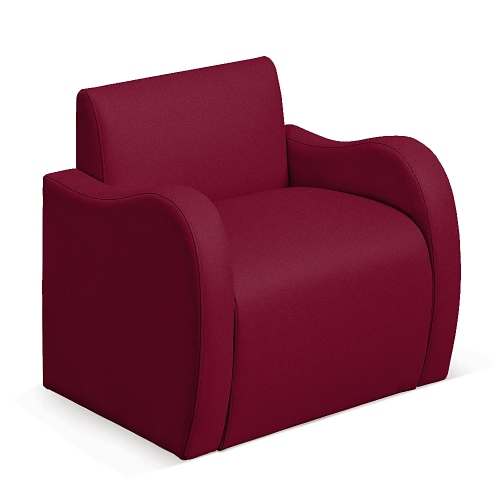 Sofas are commercial grade couches that are often added to a reception area to give the space a more homelike feel. Sofas can typically accommodate up to three average size people. Sofas are similar to club chairs in that they are plush and commonly used in a lounge type setting.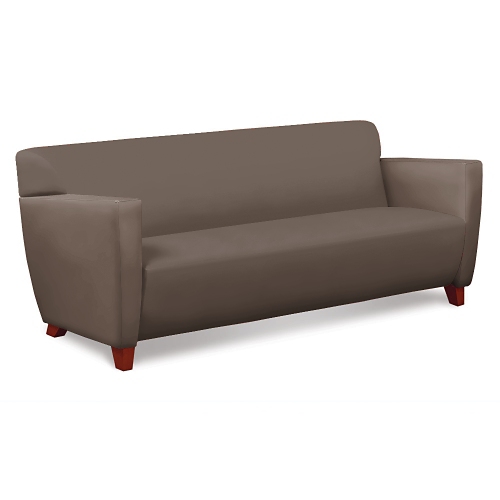 Loveseats are smaller versions of sofas and can typically accommodate two average size people.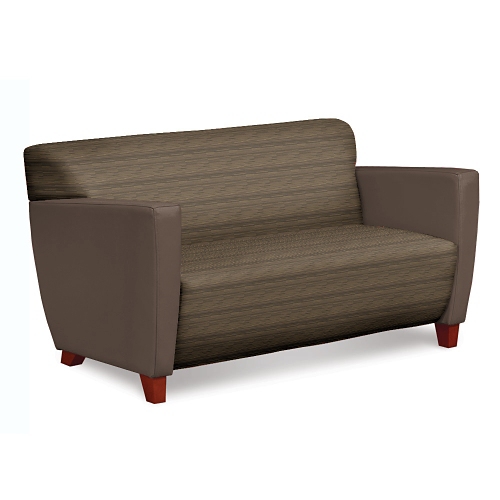 Benches are similar to sofas and loveseats in that they can seat multiple people in one area; however, benches have a lower profile and are not as plush as sofas and loveseats. Benches may come with or without a back and with or without arms.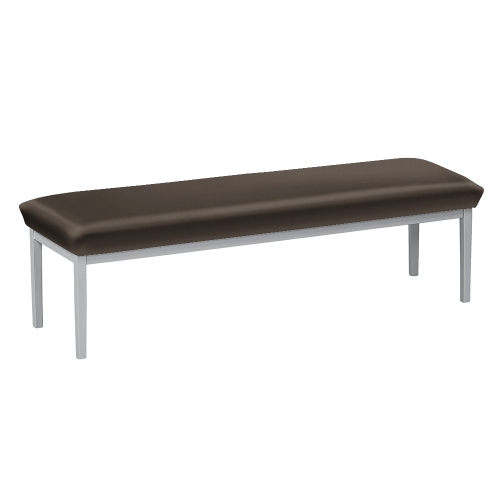 Ottomans are plush single-user benches that are commonly used in combination with club chairs or sofas and can be used as tables or as additional seating in a lounge.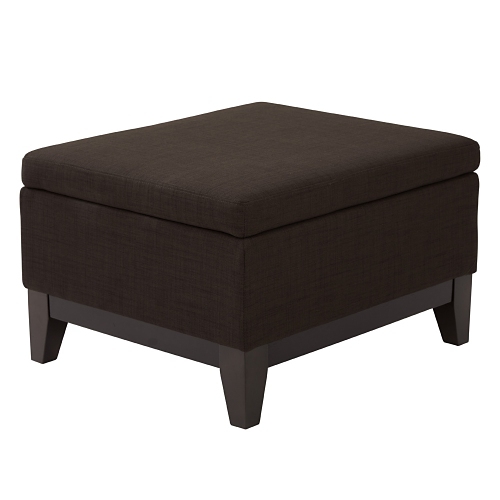 Tandem seating includes two or more guest chairs that are connected together by shared legs and/or arms. Tandem seating may also be referred to as multi-chair sets.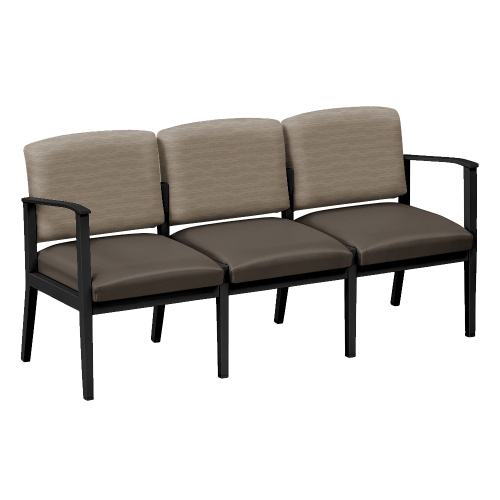 Beam seating is similar to tandem seating, but chairs are connected to one another via a single beam that runs along the seats.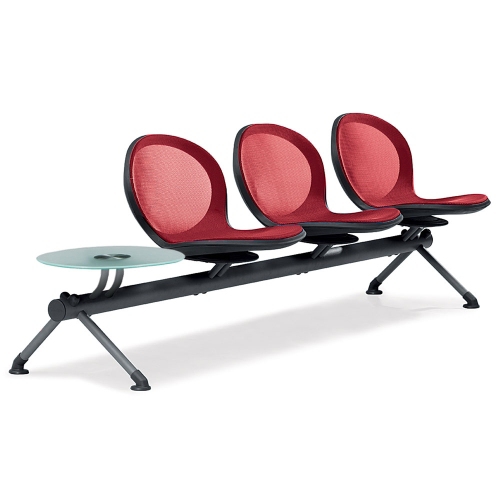 Special Features
Tablet arm chairs have a small, moveable work surface attached to one or both arms. Tablets are often attached to lounge style seating and are ideal for waiting areas wherein paperwork needs to be filled out or business professionals need to get work done while waiting for their meetings.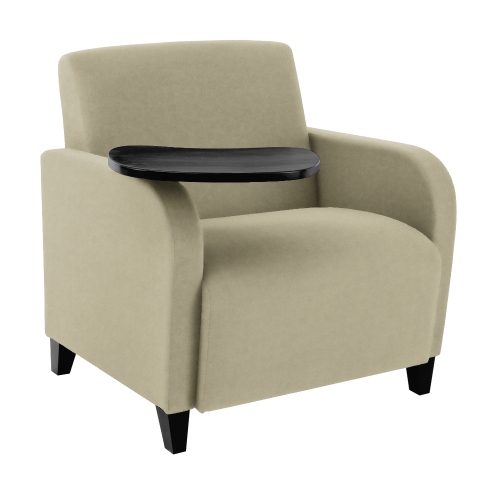 Motion back chairs have a backrest that moves with the user to provide additional comfort during extended waiting periods. This type of chair is commonly used in healthcare facility waiting rooms.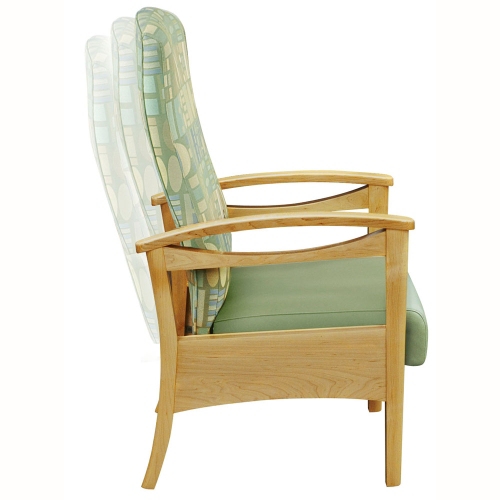 Armless chairs are chairs without arms. This type of seating takes up less space because it is able to be placed closer to other chairs in the room.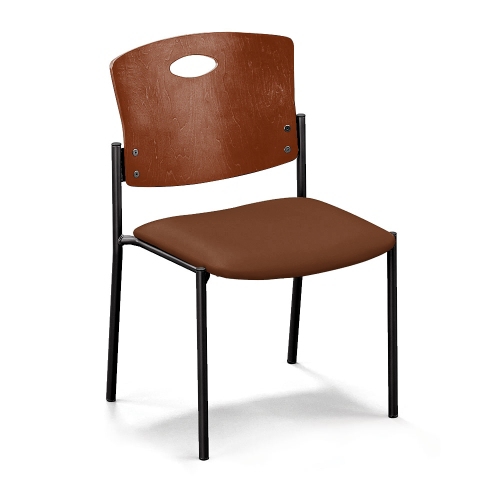 Green chairs are also referred to as eco-friendly. There are many different levels of eco-friendliness, including Greenguard and Level certified seating, but all chairs in this selection are designed to improve indoor air quality in commercial interiors one way or another.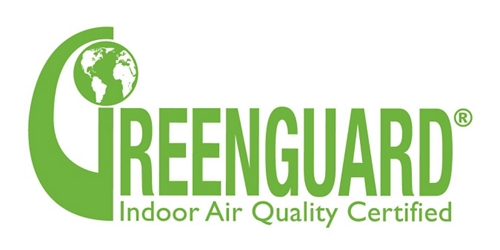 Stacking chairs are guest chairs that can be stacked on top of one another. This type of seating is helpful for areas that need to be frequently cleaned or rearranged, as stackable seating can be quickly and easily moved and stored away whenever needed.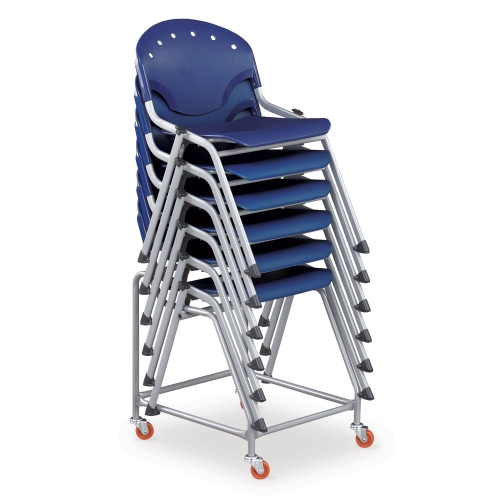 Nesting chairs are similar to stacking chairs, but instead of stacking on top of one another, their seats flip up to allow them to be nested into one another for quick and compact transport and storage. Nesting chairs are almost always mobile.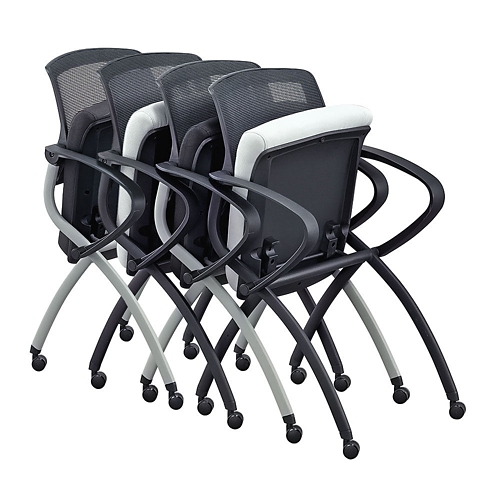 Mobile chairs are chairs with either two or four wheels. This type of chair is best for areas where seating needs to be moved around often.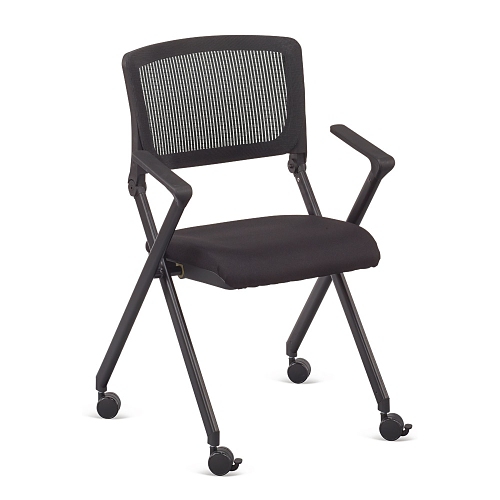 GSA approved chairs are part of NBF's GSA contract. You can find our GSA approved waiting room seating here.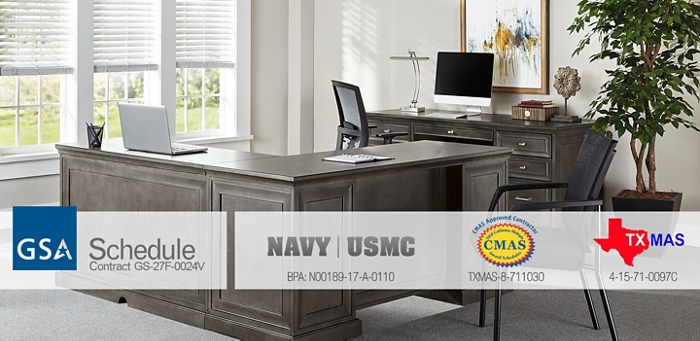 Upholstery
Fabric upholstery is a woven material that helps give furniture a homelike look and feel. Fabric is available in a huge number of colors and patterns, but is not appropriate for use in medical waiting rooms due to its porous nature.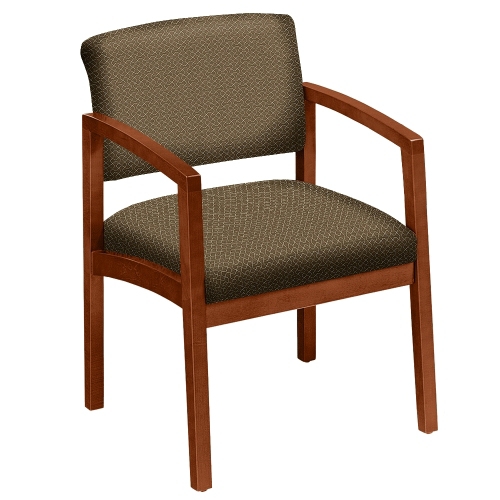 Genuine leather upholstery is either full grain or top grain genuine cow hide. Full grain leather shows its grains and natural imperfections and is as close to its natural state as possible. Top grain leather is the most common type of genuine leather upholstery and is thinner and more flexible than full grain leather. Top grain leather is also sanded down to remove any imperfections, giving it a more polished look.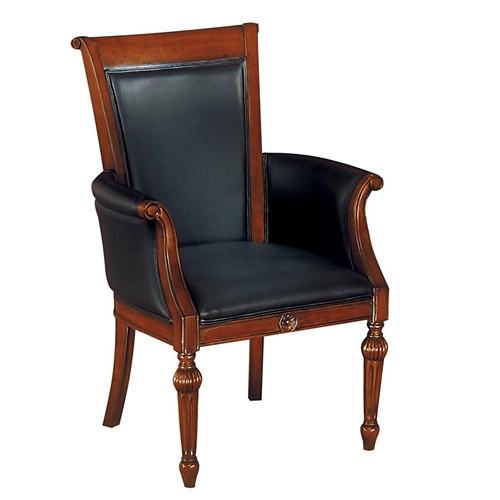 Faux leather and vinyl upholstery is a manmade alterative to genuine leather. Faux leather and vinyl are made of either polyurethane (PU) or polyvinyl chloride (PVC), both of which give the look of leather at a lower cost.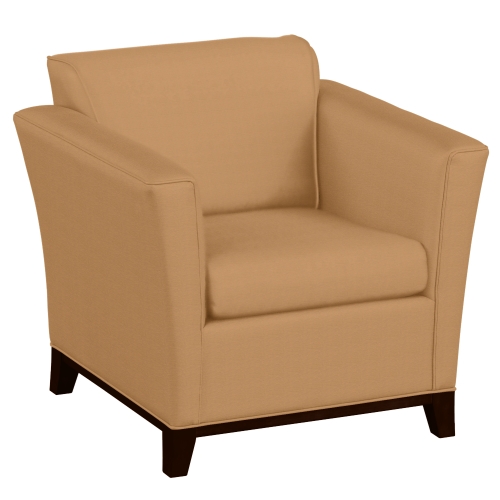 Mesh is a textile that provides more breathability than any other type of upholstery. Mesh is durable, but it can be trickier to clean due to its porous design.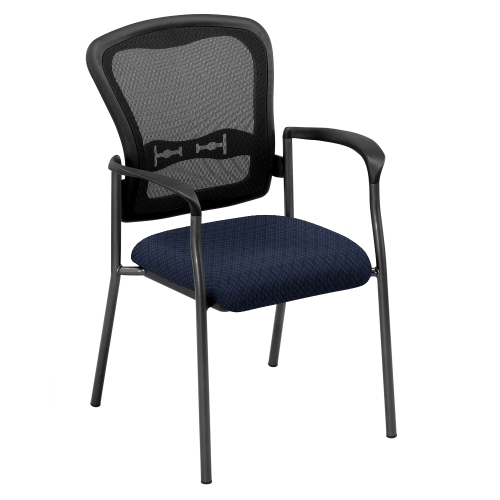 Seat Type
Pocketed coil systems are made up of a number of individual pocketed coils that help evenly distribute weight for user comfort. The coils are usually outfitted with a layer of foam on top and bottom, with the top layer being less dense to create a cushioned feel.
Fabricated foam is one of the most common materials found in upholstered office chairs. This type of foam varies in density, and the denser the foam is the more firm of a feel it will be.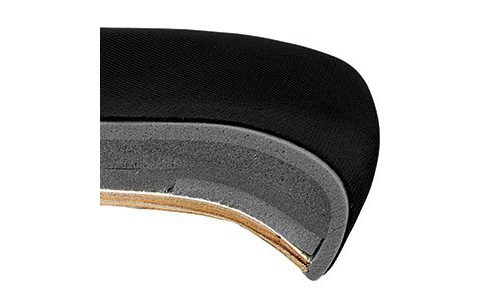 Molded foam is made when a liquid foam material is poured into a mold—hence the name. This type of foam offers more consistent support and is able to hold its shape for longer than fabricated foam. This allows for more contour and a more comfortable feel.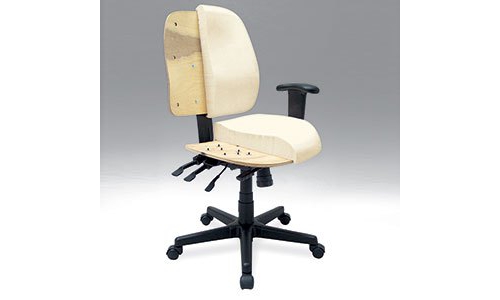 Memory foam has a unique chemical makeup that allows the seat to adjust to your body temperature. The seats, therefore, retain more heat than others, which allows them to mold their shape as the user moves. Memory foam seats are well known for providing a superior level of customized support. In addition, this material is hypoallergenic and resistant to dust mites.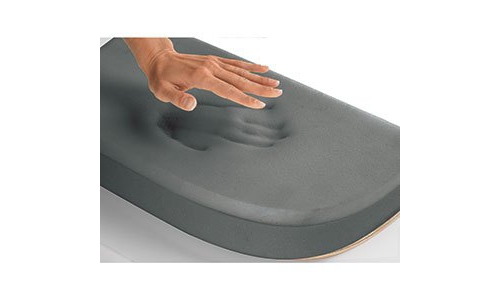 Healthcare Considerations
Healthcare waiting room seating must be in crypton, vinyl or IC+ upholstery. Read our full guide to healthcare textiles here.
Provide 15%-20% bariatric seating in a healthcare waiting room—more if your practice commonly sees patients with these needs.
Select chairs with a cleanout space between the back and seat. This will ensure that each chair can be cleaned safely and completely.
Read our full guide to setting up a healthcare waiting room here.
Need help finding waiting room chairs that work? Call our furniture experts at (800) 558-1010 or shop our full selection of reception seating here.