Is your office paperwork getting a little overwhelming? Use our guide to filing cabinets before you decide what to buy to ensure that you get the best possible solution for your space.
Type
Lateral files
feature wide but shallow drawers that are ideal for high capacity filing. Due to their shallow drawer extension, lateral files are great for walkways and areas that require a lot of filing in a tight space. Most Lateral files are 32"-36" wide, making them wide enough to hold both legal- and letter-size documents, which can be arranged in either a side-by-side or front-to-back configuration. Lateral files can have as few as two and as many as seven drawers, with most two drawer units being low profile enough to fit underneath a work surface.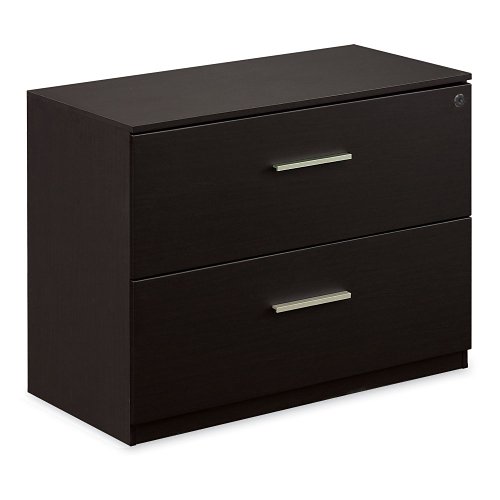 Vertical files
have narrow but deep drawers, usually measuring 15"-20" wide. While lateral files are ideal for high capacity, long term use, vertical files typically hold fewer documents and are great for everyday use at a personal workspace. Vertical files take up minimal wall space, but the deep drawers require more clearance to open than shallow lateral files do.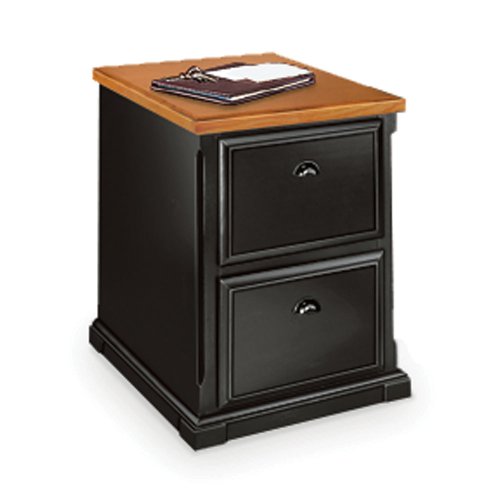 Mobile files
are filing cabinets on wheels. This type of filing cabinet is almost always a vertical file, and most options have only one or two drawers in order to fit underneath work surfaces, though larger mobile files do exist. Many mobile filing cabinets include a fifth wheel on the bottom drawer for added stability, and casters are often lockable to keep the cabinet in place when stationary.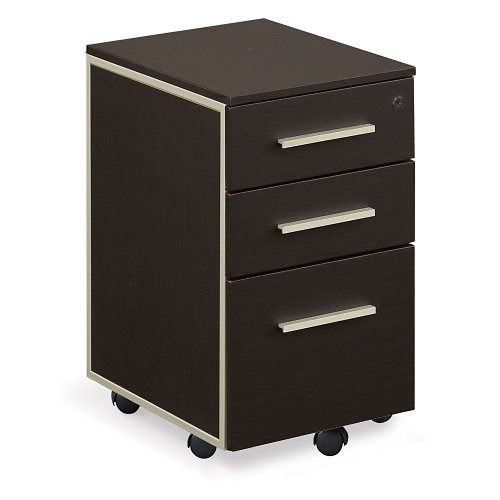 Side tab files
display file folders in a vertical position rather than in a horizontal position. Commonly used in medical record keeping, side tab files make information easily accessible by allowing users to locate the name on a folder tab at a quick glance. Side tab files come without doors, with swinging doors and with tambour doors.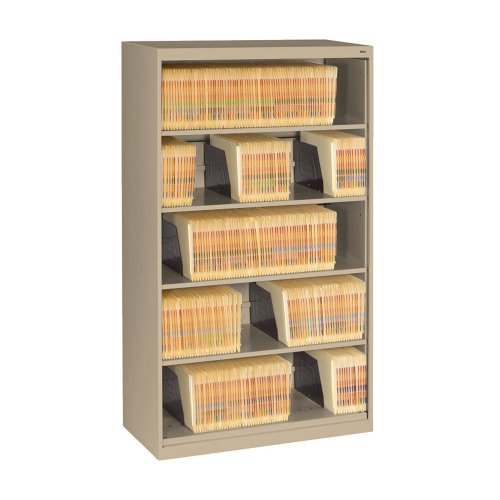 Tambour door files
are side tab files with doors that fold back into the storage unit. This efficient door style is ideal when filing is needed in tight spaces that may not have clearance for large swinging doors.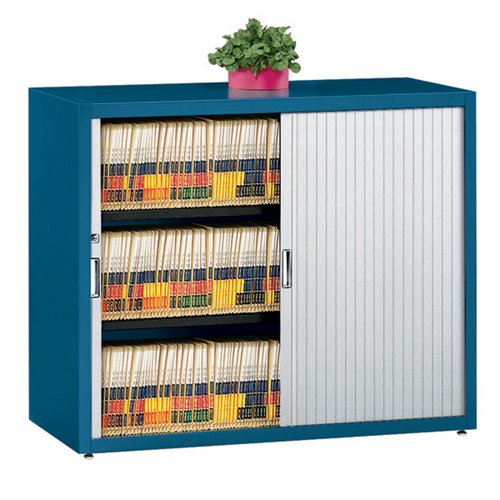 Rotary files
are designed to provide maximum storage space while taking up very little floor space. This type of cabinet is double-faced, meaning the unit can be rotated to reveal a column of files on either side. Rotary file cabinets are made with as few as two and as many as eight shelves that are typically housed in a side tab file configuration.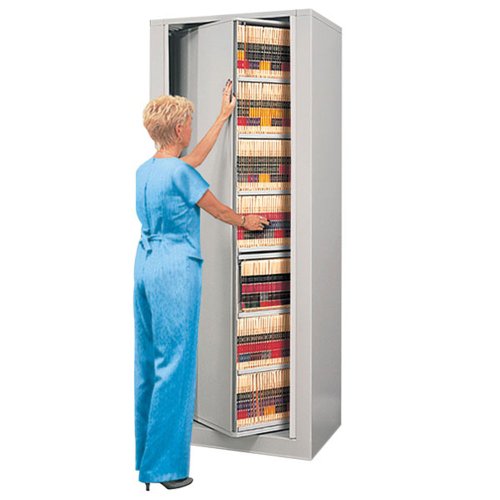 Card files
are designed to house cards of a specific size, including 3"x5" and 4"x6" size index cards, usually in a front-to-back configuration.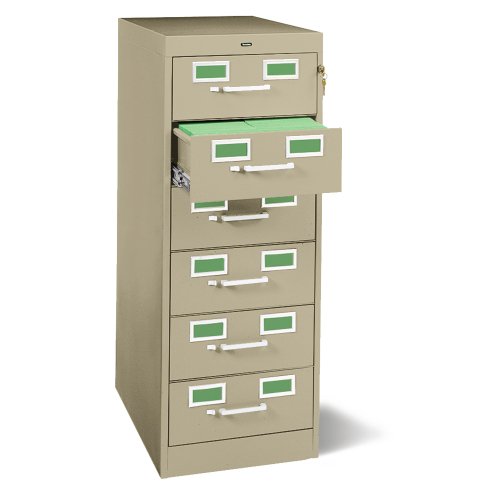 Flat files
have short, wide drawers that are specifically designed to house large blueprints and artwork. Storing art and blueprints in this manner keeps them flat, which is often preferred to having to roll up large schematics and documents.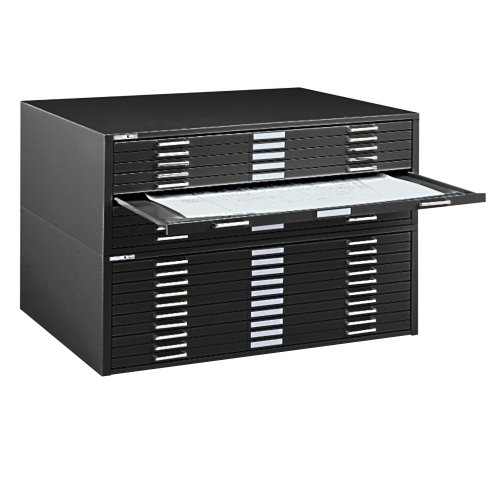 Storage islands
are a combination of any type of filing cabinet and/or storage cabinet with a counter height work surface. Storage islands are ideal for use between employee workstations and not only make great storage solutions, but excellent touch points for collaboration and casual meetings as well.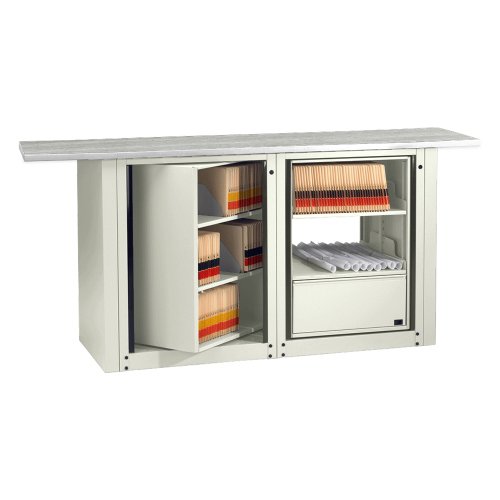 Construction
Metal file cabinets
are typically made of galvanized steel and are the most durable option. This type of file is commonly used for high capacity filing in accounting areas and other places in the office where records are kept for extended periods of time. Although not considered the most traditionally attractive, metal filing cabinets do come in a wide range of colors which you can match to your office.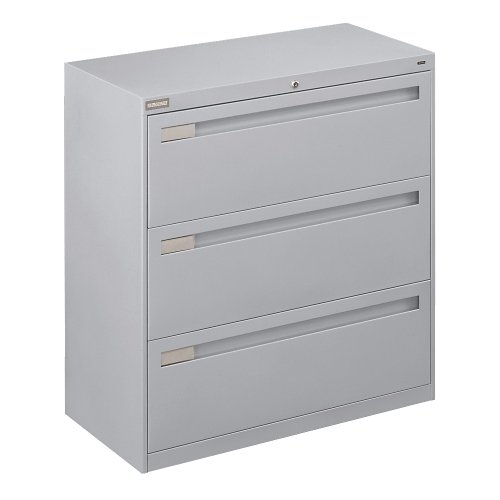 Fireproof filing cabinets
are made with specially formulated insulation that is tested to withstand fire damage for long periods of time. Not only will these cabinets protect documents from fire damage, but they are also designed to prevent water damage caused by office sprinkler systems.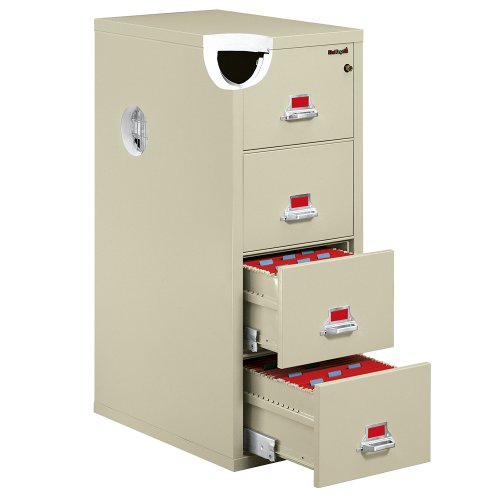 Laminate furniture
can be made to look like real wood, but is actually made from some form of particle board with or without a wood grain print. Laminate filing cabinets are an affordable alternative to real wood and veneer options, giving the look of real wood without the high cost.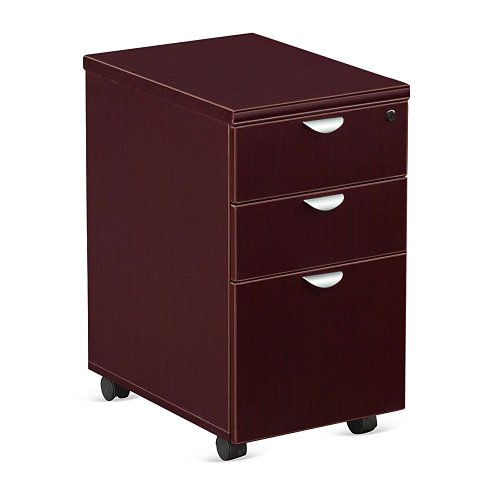 Wood veneer
is made of a thin layer of real wood that is bonded over a thicker layer of pressboard. This provides a more high-end look than laminate, but at a lower cost than solid wood furniture.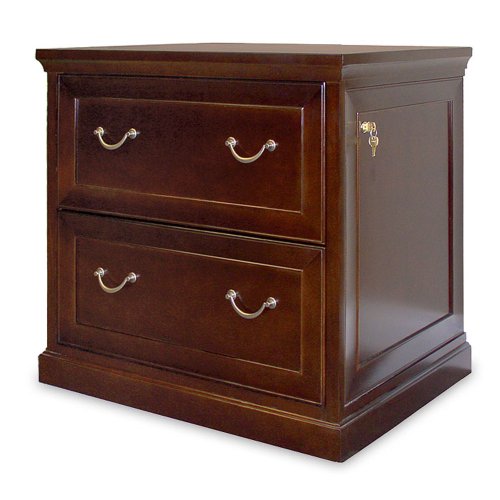 Solid wood
is very high quality, but comes with a high price tag and can be tricky to clean and maintain. Filing cabinets do come in solid wood varieties, but it is uncommon in an office setting.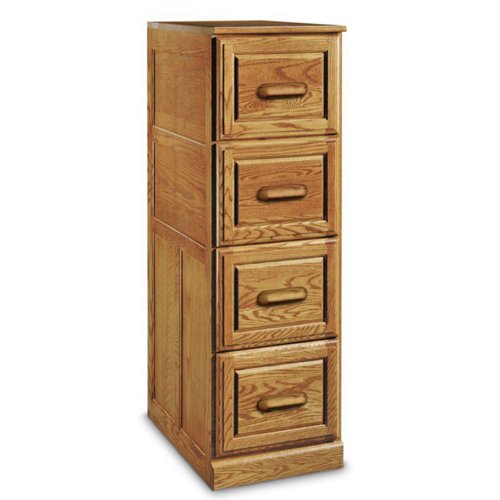 Storage Capabilities
Letter size documents can be accommodated by nearly all types of filing cabinets. A letter size document is the size of a standard 8-1/2" x 11" piece of computer paper.
Legal size documents can be accommodated by many but not all filing cabinets, so be sure to read the product description if you need a unit that can accommodate this type of paperwork. Legal size documents measure 8-1/2" x 14".
Side-by-side filing is also called left-to-right filing and refers to filing folders that are organized in a row from left to right. This is the most common way to file letter-size hanging folders in a lateral file and legal-size folders in a vertical file.
Front-to-back filing is the opposite of side-by-side and refers to filing folders that are organized in a column from front to back. This is the most common way to file letter-size hanging folders in a vertical file and legal-size hanging folders in a lateral file.
Side tab folders are folders used with side tab and rotary filing cabinets. These basic folders include side tabs that can be outfitted with labels for easy access to documents at a glance.
Hanging folders are specifically designed for use with most lateral and vertical files. This type of folder has metal or plastic hooks on each end that is hung from the rail in your filing cabinet.
Tip: Most lateral and vertical filing cabinets do not have sturdy enough bottom panels to accommodate paperwork being stacked in the drawer as they would be in a storage cabinet. If you have a lateral or vertical filing cabinet, be sure to only use hanging file folders hung from the drawer rails.
Safety Features
Fireproof cabinets are designed for the safety of your documents and valuables. Sensitive and highly important paperwork should always be kept in a fireproof filing cabinet, and valuable materials should be kept in a fireproof safe.
Anti-tip mechanisms are built into many lateral files and tall vertical files for the safety of the user. If multiple drawers full of paperwork on a tall filing cabinet are open at the same time, the unit is likely to fall over, which can lead to very serious injuries. An anti-tip mechanism allows only one drawer to be opened at a time, thus drastically reducing the chance of an accident.
Counterbalance weights are often added to taller filing cabinets as an additional safety precaution. These weights are typically made of concrete, lead or another heavy material and are built into the bottom of a cabinet to further reduce tipping and to add stability.
Locking mechanisms are available on some filing cabinets, but not all, so be sure to read the product description if a locking mechanism is something you need. Be sure to also take note of what type of locking system the filing cabinet is equipped with. A central locking system will lock every drawer in the cabinet with a single lock. Some filing cabinets, however, only come with the capability to lock one drawer.
Hutches
Hutches with doors are ideal for concealing items such as personal belongings and large files that won't fit in your filing cabinet drawers.
Open hutches resemble a bookshelf and work as a display area for books and décor.
Note: Only purchase a hutch for your filing cabinet if there is a hutch designed to be used with that specific filing cabinet. Not all hutches can be used with all filing cabinets.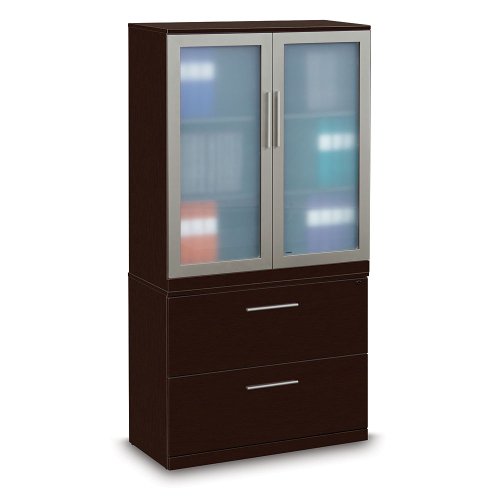 Need help finding filing that works? Call our furniture experts at (800) 558-1010 or shop our full selection of filing cabinets.