Shopping for a new area rug for your office can be a daunting task. With so many options to choose from, how do you decide? When it comes to the workplace, there's a lot more to take into consideration than basic aesthetics. Depending on what room it's being used in, you may also need a rug that's durable, easy to clean and of a specific size. To help you make the right choice, we've compiled this comprehensive guide to area rugs.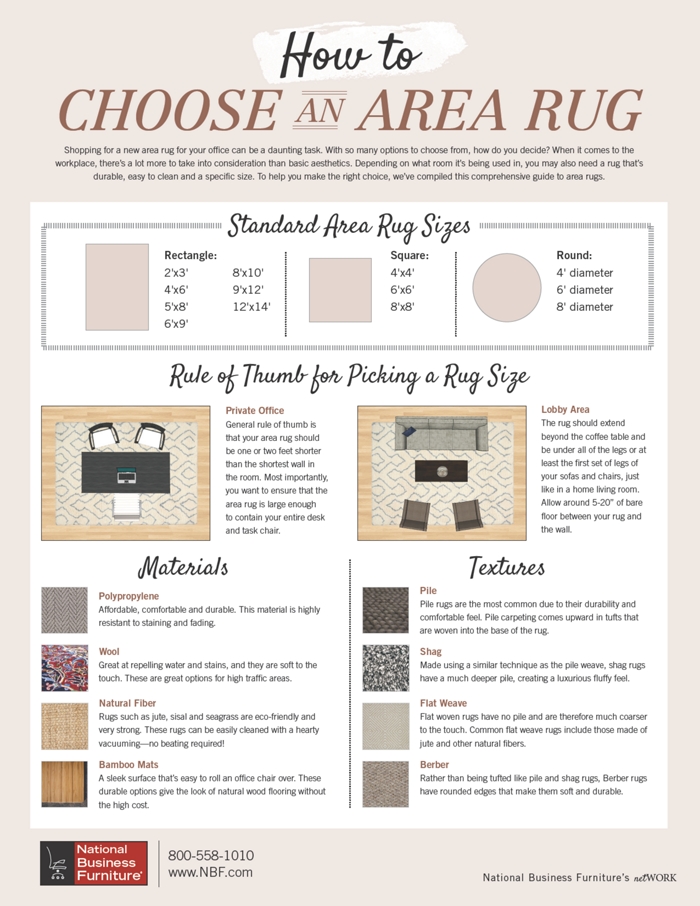 Download the infographic here.
Size
This is the first factor to consider for most spaces. In some rooms the size of an area rug is based on style preference, and in others it is essential for the functionality of the space. Standard rug sizes include: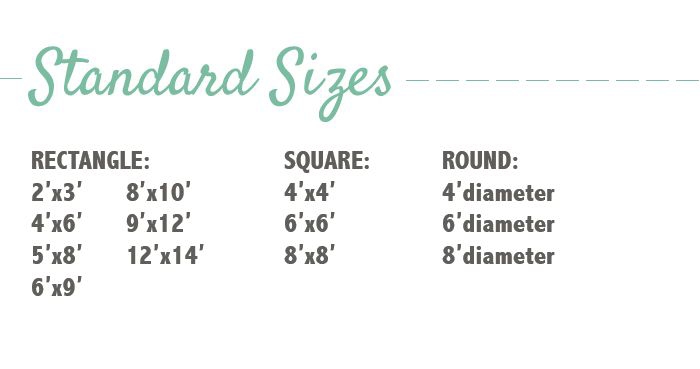 So which size should you choose for your space? That depends on the room of use and what you hope to achieve with the addition of your area rug. Let's break it down by room.
For a private office in a home or corporate space, the general rule of thumb is that your area rug should be one or two feet shorter than the shortest wall in the room. Most importantly, you want to ensure that the area rug is large enough to contain your entire desk and task chair. Not only will this give your workspace a unified appearance, but it also has practical applications, since you don't want your chair to snag on the edge of the rug when rolling about the space. Speaking of chairs, you may want to order carpet casters for your office chair if you are currently using hard floor casters. Call us at (800) 558-1010 to speak with a furniture expert about what type of chair wheels you need.
If you're adding a rug to the main seating area of your waiting room, be careful about the size you choose. The rug should extend beyond the coffee table and be under all of the legs or at least the first set of legs of your sofas and chairs, just like in a home living room. If you select a rug that is too small or too large, it will not appear proportional to the rest of the room. Allow around 5-20" of bare floor between your rug and the wall.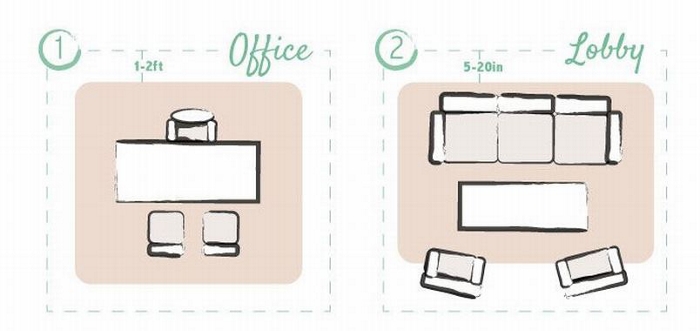 Entryway rugs and mats are excellent tools for showing guests where to go and greeting them with a touch of style. For a small entryway, try a square or round rug and place in the middle of the walk-in area. For a long entryway, try a runner mat or rug and place it in the middle of the space. In both instances, the rug should fill up most of the space but not all of it, leaving equal amounts of space on either side of the rug.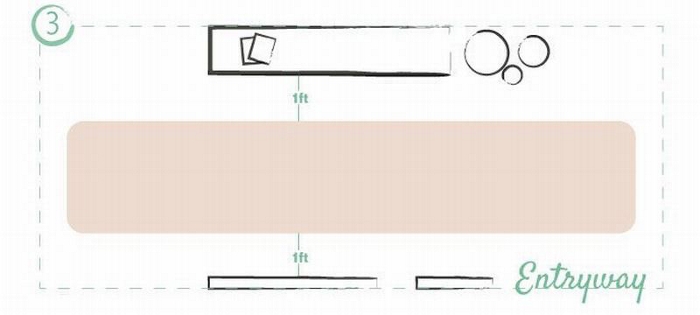 Shape
As mentioned above, rugs come in a variety of shapes, including the following:
Rectangular rugs are the most common shape, and they can work in most any setting. These rugs also come in the widest range of sizes.
Round rugs are most commonly found in entryways, but can work well in other rooms when grouping furniture together.
Square rugs are less common than rectangular ones, but can be very effective in accenting end tables and other pieces of furniture.
Runner rugs are ideal for use in long entryways and can help visitors in your building find their way to your office.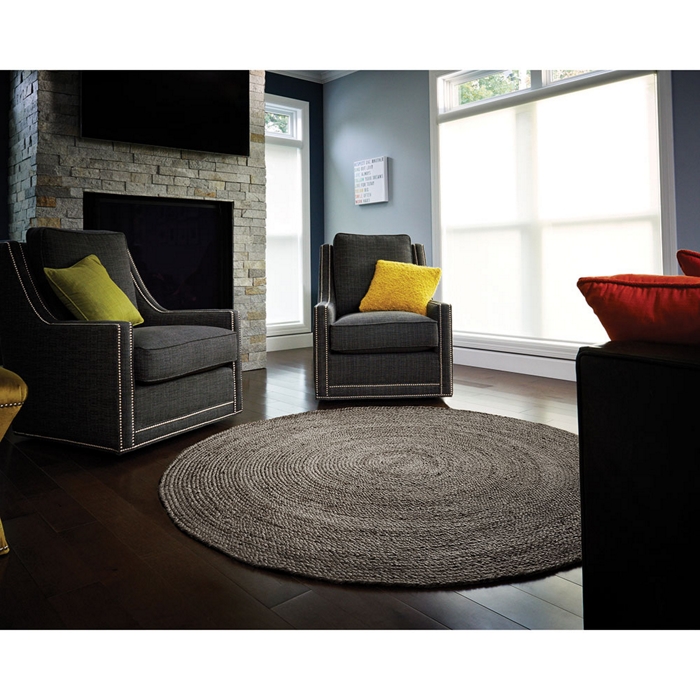 Materials
The material that your area rug is made of will greatly impact how long it lasts, which can make a big difference depending on where the rug is being used.
Polypropylene rugs are affordable, comfortable and durable. This material is highly resistant to staining and fading. To clean, Woolite or a compatible carpet cleaner is recommended. Apply the cleaning solution with a soft bristle brush, rinse with water and extract with a vacuum cleaner. The rug should then be air dried or dried with a hair dryer at a low temperature.
Wool rugs are great at repelling water and stains, and they are soft to the touch. These are great options for high traffic areas due to their resistance to stains, but be aware that they do have a tendency to shed. Wool rugs can be cleaned in the same manner as polypropylene rugs.
Natural fiber rugs such as jute, sisal and seagrass are eco-friendly and very strong. They don't have the plush feel of polypropylene rugs, but you can rest assured they'll last a long time. These rugs can be easily cleaned with a hearty vacuuming—no beating required!
Bamboo mats have a sleek surface that's easy to roll an office chair over. These durable options give the look of natural wood flooring without the high cost, but can be tricky to clean. Contact the manufacturer for the best cleaning techniques for your specific bamboo mat.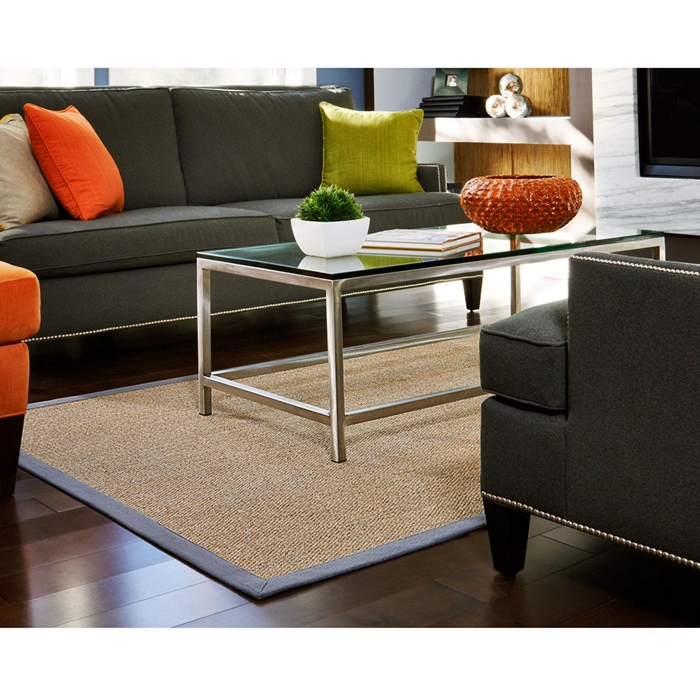 Textures
The way a rug is woven is what makes it soft or hard to the touch. There are a few standard rug textures, including the following.
Hand-knotted rugs are made up of yarn that is knotted around columns of thread. The end of these knots creates the pile, and the fringes on the edges of a knotted rug are crucial to its construction. These durable rugs can last more than twenty years and generally do not shed, but you'll pay a higher cost for that level of hand-crafted durability.
Hand-tufted rugs, as the name suggests, are hooked and tufted by hand. During the weaving process, an artisan wraps yarn through a canvas backing which is then protected by a layer of latex and a second backing which anchors the stitches. This type of rug can shed quite a bit and typically lasts about 3-10 years.
Flat weave rugs are made by yarn that is woven directly onto a loom. This produces an extremely tight, long-lasting weave that sheds very little and can last more than twenty years when properly cared for. Flat weave rugs do not have a backing, so we recommend using a rug pad underneath to prevent slipping and sliding.
Machine-made rugs are woven by computer-controlled machines. Yarn is inserted into a thin mesh backing and latex is then applied to secure and protect the fibers. This type of rug comes at the lowest cost, produces a low to medium amount of shedding and typically lasts about 3-10 years.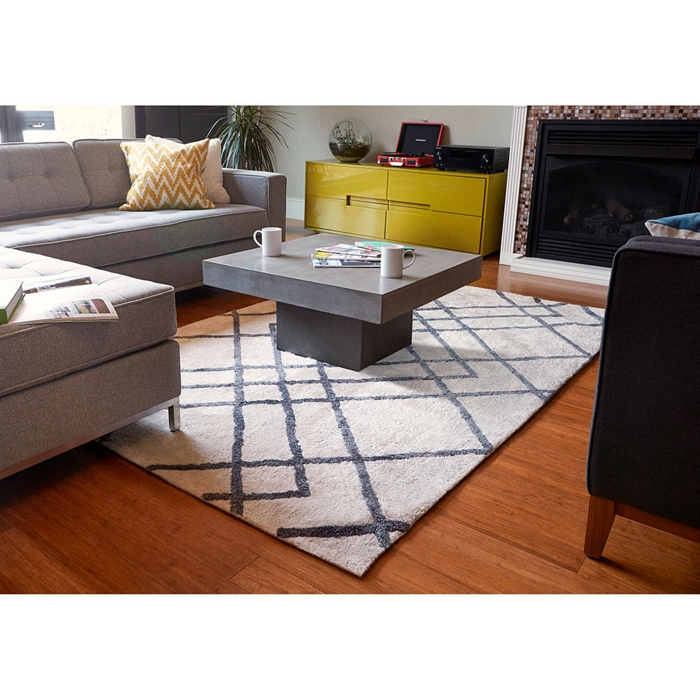 Rug Pads
Rug pads are essential to extending the life of your rug and flooring, no matter where the rug is used. The right rug pad will also prevent the rug from slipping, which is an essential to the safety of employees and guests alike.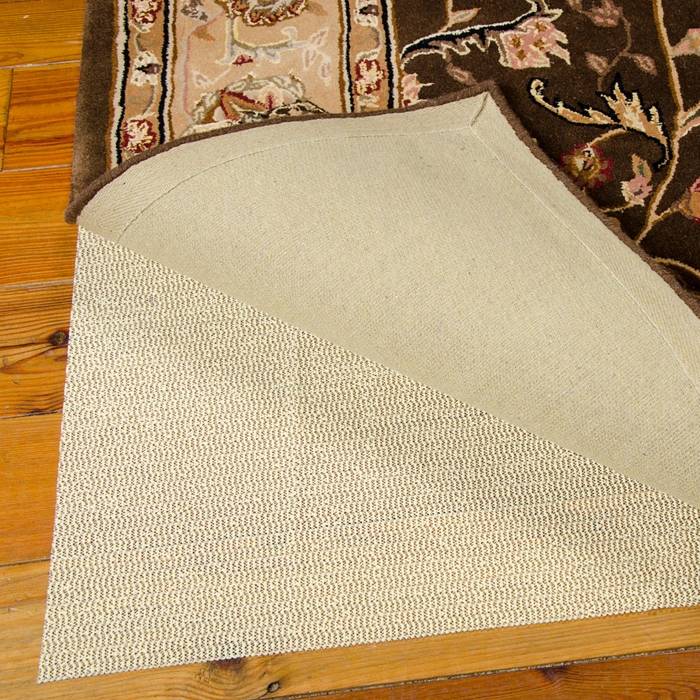 Need help finding an area rug that works? Call our furniture experts today at (800) 558-1010 or shop our full selection of area rugs here.
Download the infographic here.