A breakroom is so much more than a room for employees to sit and eat during lunchtime. It's a getaway. It's a space for co-workers to gather together to chat, chow down and chill out. Workers need time in the middle of the day to get their mind off the job and relax a little, and providing a breakroom that's inspiring and relaxing is the best way to get the batteries recharged and minds reenergized for the afternoon to come. So where do you begin? This comprehensive guide to breakroom furniture should help.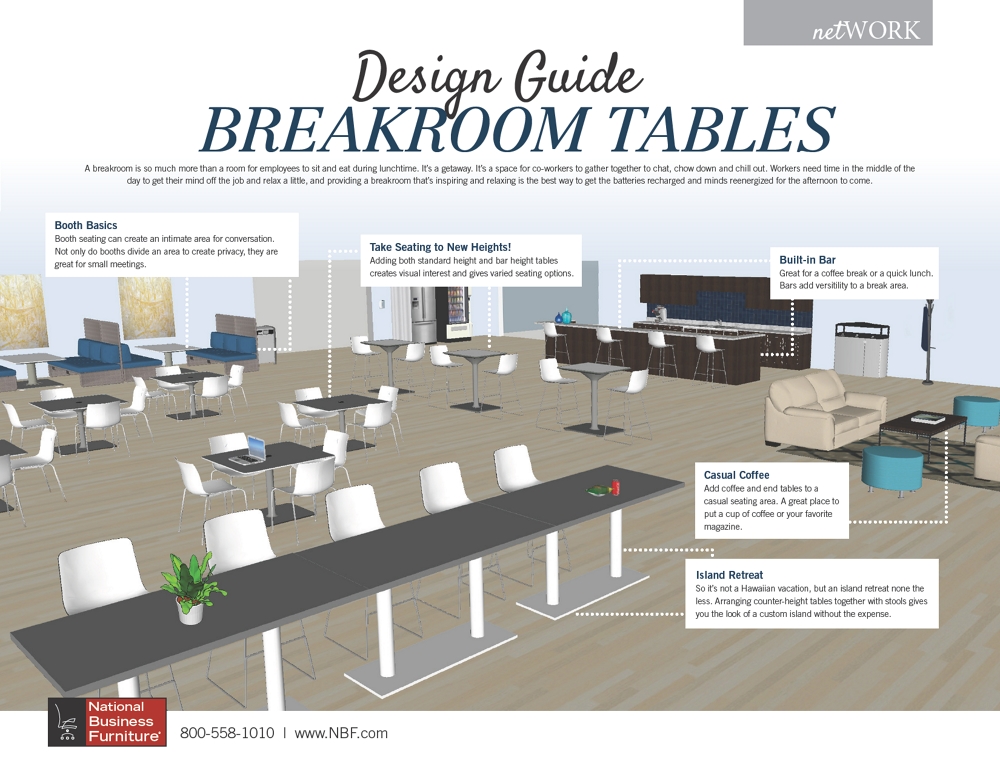 Download the infographic here.
Dining tables come in three heights—standard height, counter height and bar height. All three are great options for a breakroom, and many businesses use a combination of two heights or even all three to create an interesting look and give users some options. Read our article on the difference between standard, counter and bar height here. Take care to also include some ADA height tables (between 28" and 34" tall with at least 27" of knee clearance between the floor and underside of the table) to ensure your breakroom is wheelchair accessible.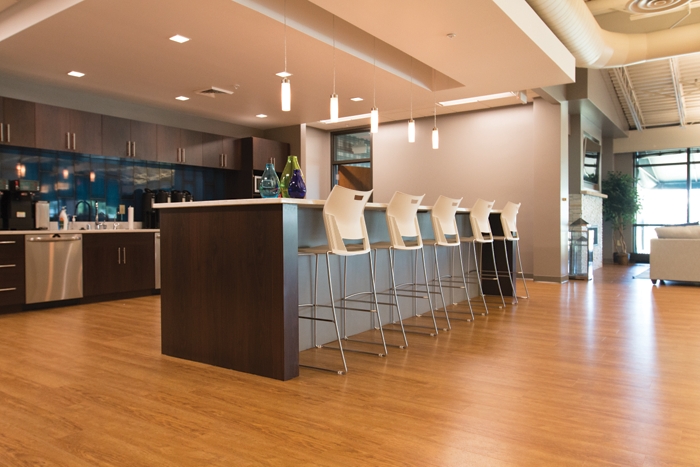 Outdoor tables, including picnic tables, are great additions to outdoor spaces. Who doesn't want to enjoy Mother Nature on a beautiful summer day? Equipping your outdoor space with weather-resistant furniture will give your employees plenty of options to choose from.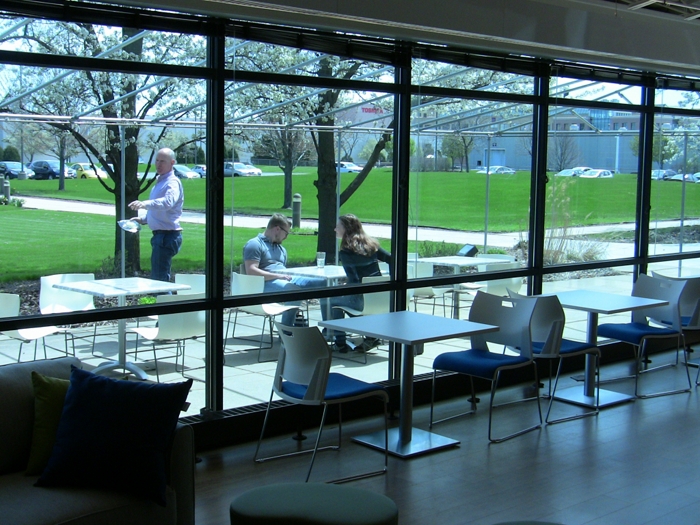 Coffee and end tables are ideal for lounge areas that may be outfitted with sofas and loveseats. A well-placed coffee table or end table can be the finishing touch on a cozy spot, providing room for placing beverages and reading materials.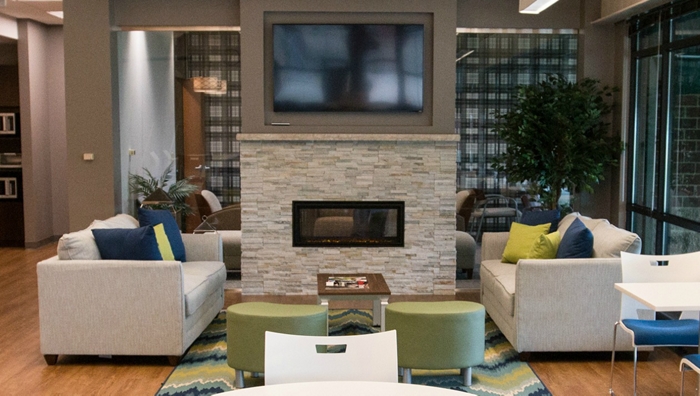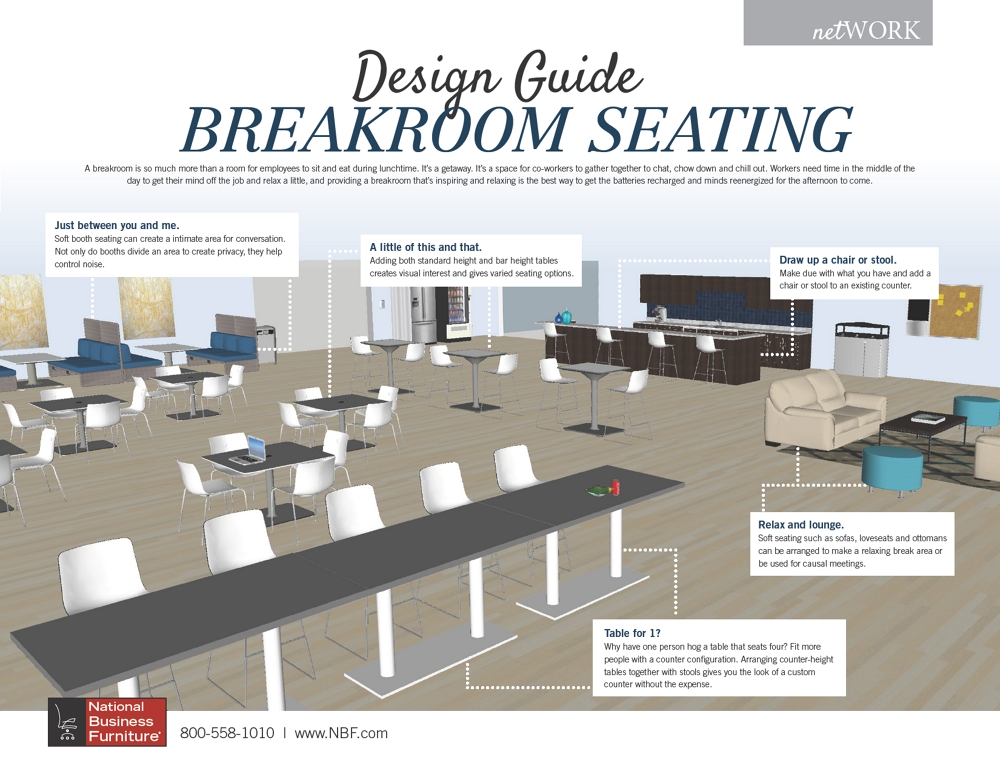 Download the infographic here.
Café chairs and bar stools usually have a simple design that's meant for breakrooms and restaurants. These seating options come in a wide variety of styles, including stackable options and nesting chairs, so that you can create a look you'll love in your office. Read our article on the difference between standard chair height, counter height and bar height here.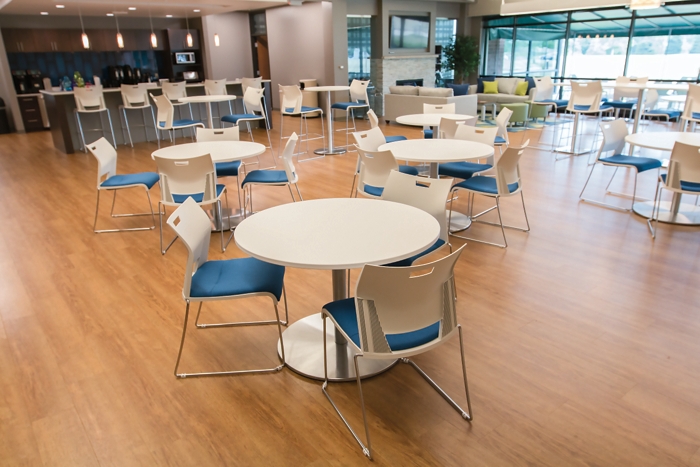 Benches and booths are great for seating multiple people in an area without taking up too much room. Whether you choose built-in booths or go with mobile benches, your employees will appreciate the extra seating options available to them.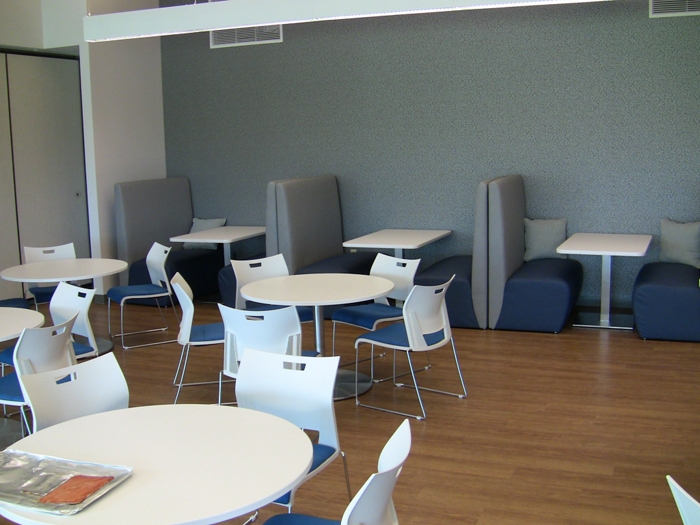 Lounge seating is ideal for use in breakrooms because it provides a cozy space for employees to relax during their breaks. Lounge seating can include club chairs, sofas, loveseats, ottomans and other soft seating commonly found in residential living rooms. While fabric provides a more homelike feel, vinyl is much easier to clean, so consider which of these elements is more important to you before making your decision.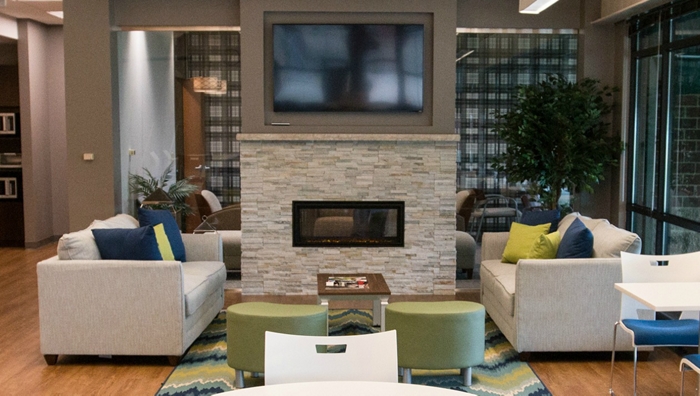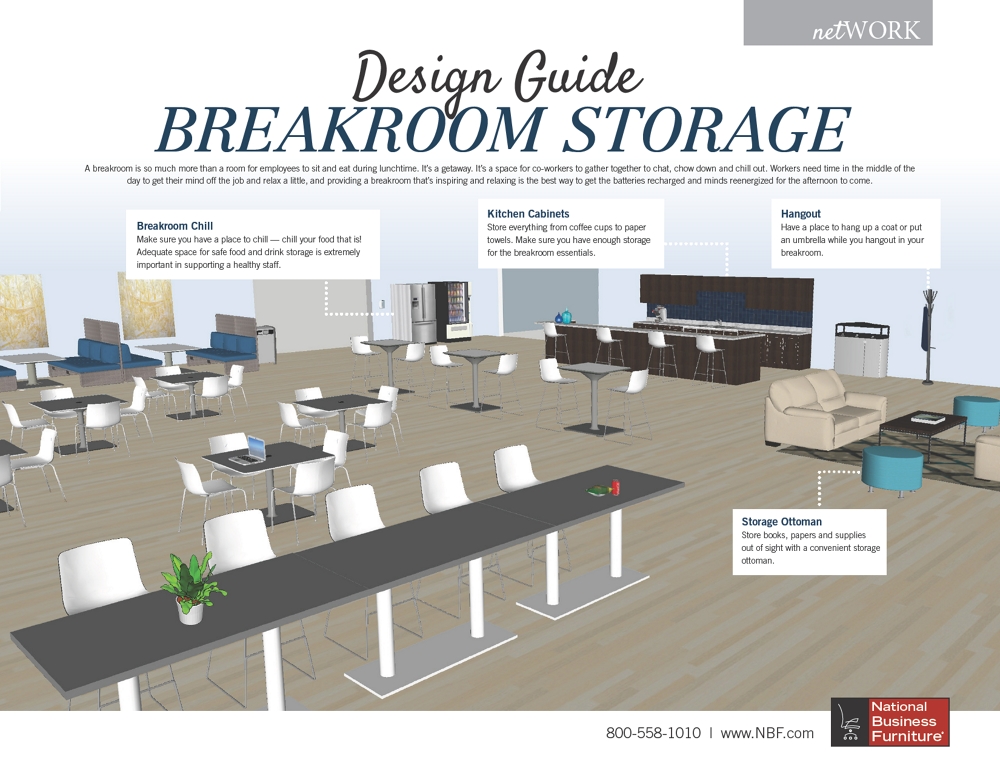 Download the infographic here.
Storage cabinets can be small or large and come in a huge range of styles. For the most part, your breakroom storage will come in the form of upper and lower cabinets similar to what one might see in a residential kitchen. Mobile storage carts and credenzas are also viable options.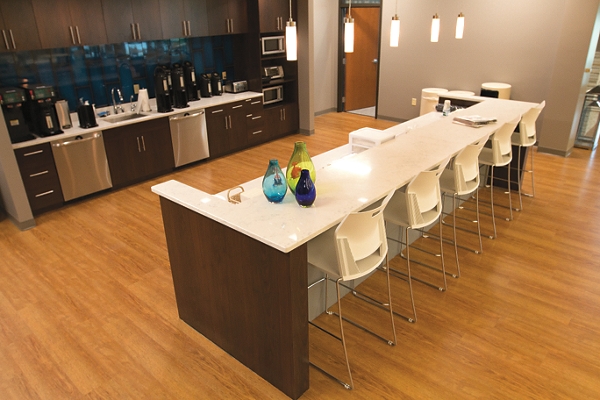 Coat racks Are smart additions to breakrooms of any size because they provide a designated spot for employees to hang coats and umbrellas, keeping your lunchroom looking as tidy and neat as possible.
Magazine racks are smart additions to breakrooms because they provide a designated spot for reading materials in the room. With magazine racks, your space won't get cluttered by magazines spilled all over your tables, and employees will know exactly where to go to grab something to read during their break.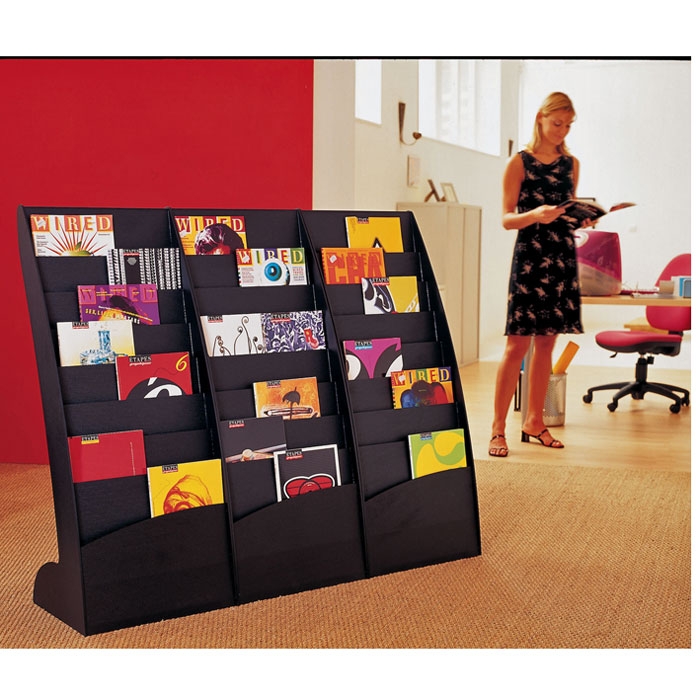 Refrigerators are, of course, key components to the functioning breakroom. Make sure the refrigerators in your office are the right size and that you have the right number of them to support the number of employees in your business.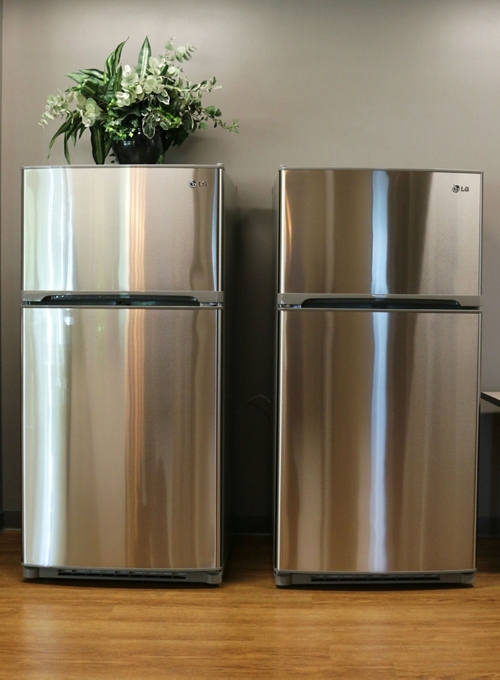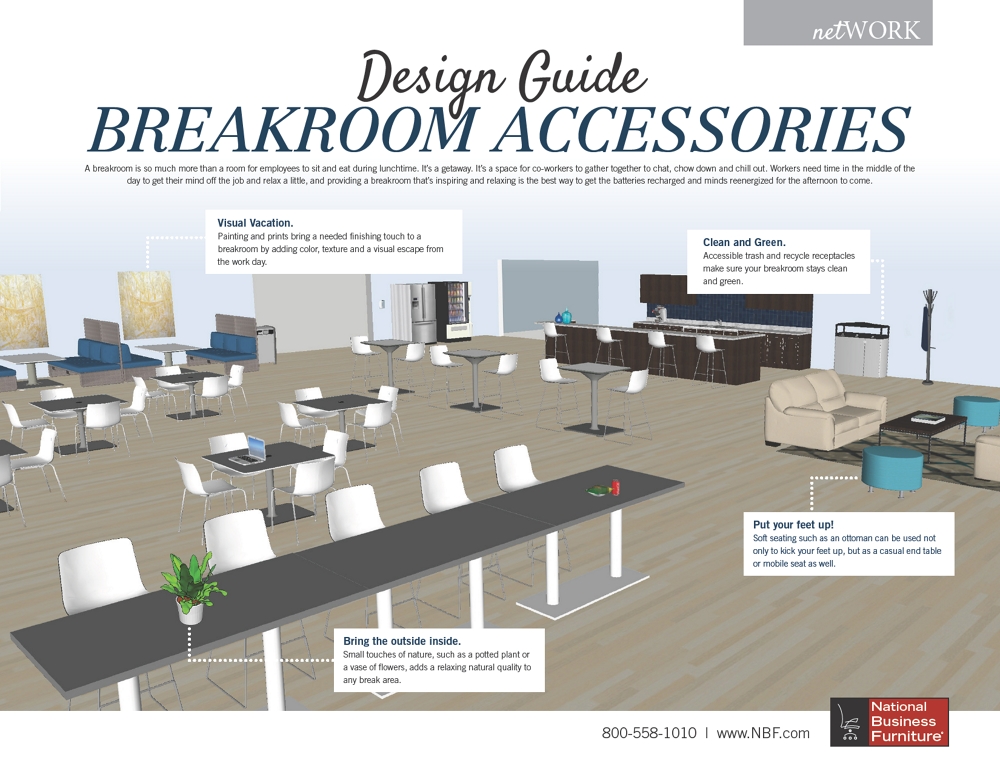 Download the infographic here.
Waste receptacles and recycling stations should be added to your breakroom in an easy-to-see location so that everyone can easily tell where to toss their bottles, cans and trash.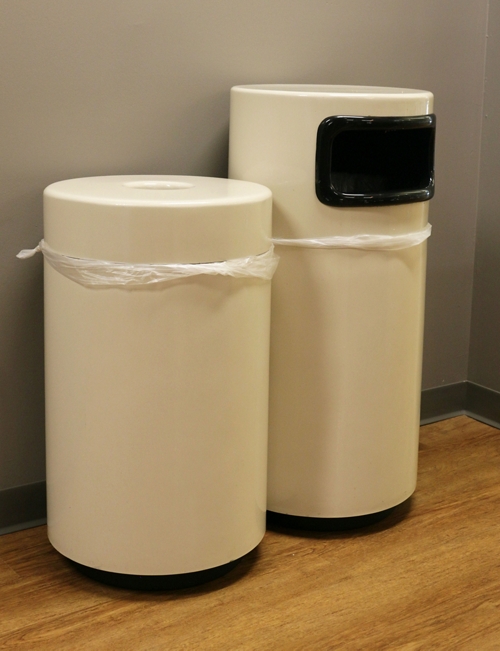 Floor mats are especially necessary in a breakroom if you have a door to your lunchroom leading from outside like we do at the NBF office. A floor mat will trap dirt and debris before it gets inside and prevent employees from slipping on a wet floor after a hard rain or snowfall.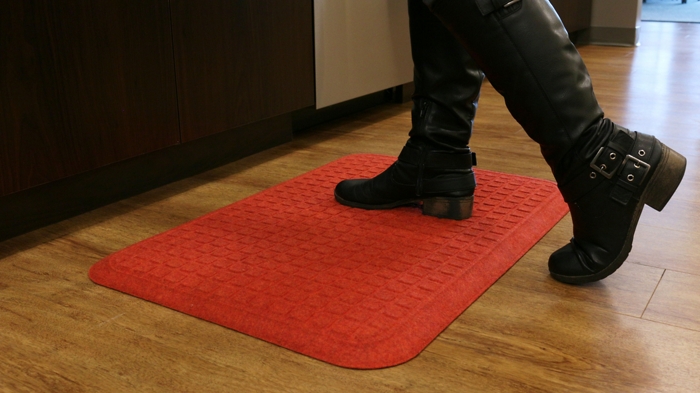 Cleaning products and paper products are essential for keeping the breakroom neat and tidy. Equip your lunchroom with sanitizer and soap so that the space can be cleaned regularly. Paper products like plates and napkins should also be kept on hand for employees who may need them to enjoy lunch.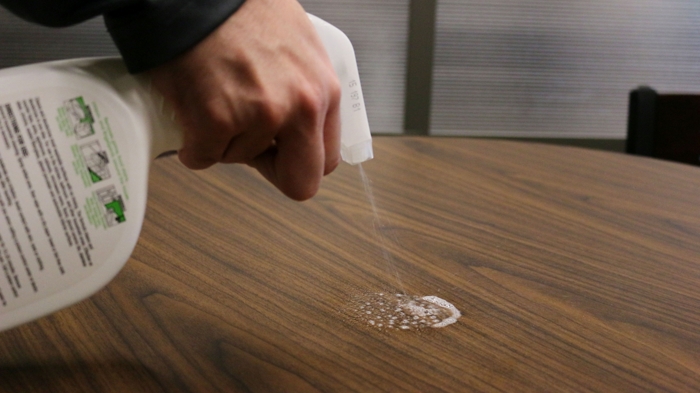 Artwork comes in a vast and varied assortment to match the rest of the furniture and décor in your space. Be sure to measure your walls before deciding what type of painting or print to place on your walls.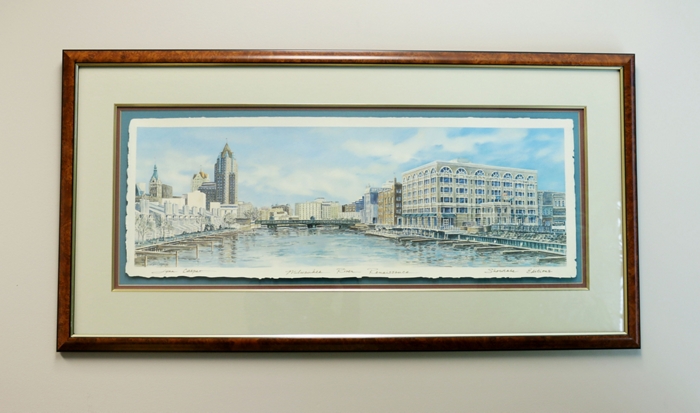 Clocks aren't totally necessary in a breakroom, but employees certainly appreciate them. Add one to your breakroom (or a couple if you have a large breakroom) so that employees can tell when break time is over at just a glance.
Acoustic wall tiles are usually decorative in design, but that's not their primary purpose. Properly placed acoustic wall tiles keep sound within a confined space, making them especially beneficial in a breakroom where employees spend a lot of time chatting and making noise. Adding these specially designed tiles to your breakroom walls will keep the sound in and prevent echoing and amplification of noise from disturbing workers outside of the room.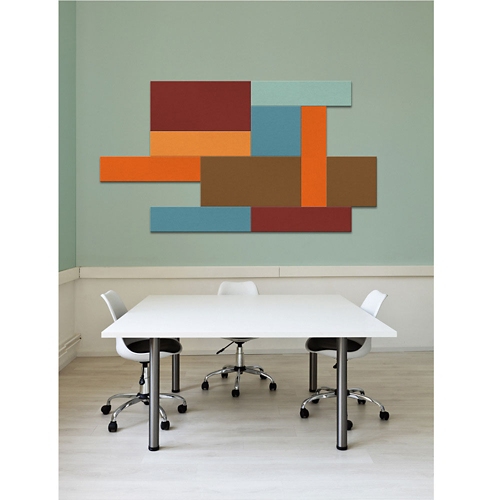 A well-designed breakroom will provide employees with a reprieve from their busy work life, improving morale and making the office an all-around better place to be. Need help finding breakroom furniture that works? Shop our full selection of breakroom furniture here, or shop the breakroom look for inspiration.