Perhaps the weather outside is frightful (and your home office is so delightful), you're feeling under a different kind of weather, or there's a global safety concern that could decimate the workforce-- whatever the reason, a work-from-home day might pop up unexpectedly. While fully and partially-remote employees are used to the on-your-own workflow, desk-bound employees might have a harder time adjusting to a different scenery.
Make sure you're ready for anything by maintaining a well-working home office space. There's a few simple steps that can make these surprises less daunting.
Set Up for Success
Ideally, everybody would have enough space for a sprawling, dedicated home office decked out with all of the amenities. Realistically, there's a lot of things that need to be done in a small amount of space, often creating mixed-use areas that only moonlight as a professional workspace.
Find an area that can accommodate office furniture that can do double-duty with your interior design scheme. Storage pieces, such as bookshelves or short tabletop hutches, can hold smaller office supplies as well as picture frames or knickknacks. Keep additional peripherals, wireless keyboards, and wireless mice stored away for those rainy days or sick spells; they'll be ready for action yet out of sight when your space serves a different purpose.
We're big fans of a few small space-friendly collections, including NBF's Signature Series Structure Collection. This home office-ready collection features simple, no-tool assembly, compact pieces, and modern design sensibilities that can complete a beautiful home office.
Teamwork Never Stops
A great work-from-home situation starts in the office. Use software and hardware that's designed for collaboration and communication, making sure you're familiar with any robust tools that can foster togetherness. It's easier to keep everybody on the same page if it's an expectation and not an exception.
While technology choices are often left to management and senior leadership, familiarity and fluency is the onus of every employee. Save files on cloud based or remote accessible servers, make sure you know how to use a VPN, and become familiar with any chat programs before it's critical.
Don't Get Distracted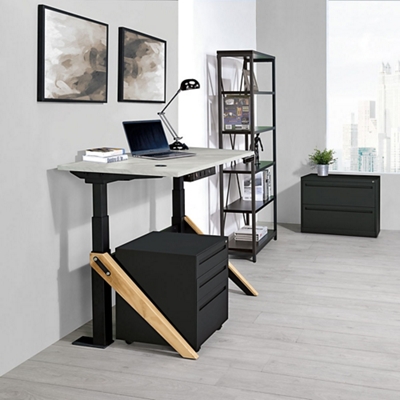 Productivity falls apart if there's too much going on around you. Identify and eliminate distractions in your at home workspace, bringing the same focus and dedication you have at the office into your personal space. Keep the television off, mute your cell phone, eat a quick breakfast, and let the dog out before you put your nose to the grindstone. Ideally, anything that you wouldn't deal with at work should be taken care of outside of your working hours.
Sometimes an illness, emergency, or snow day will keep an entire household grounded. Even if the people around you aren't hard at work, make sure they understand that you're on the clock and working towards your day-to-day goals. Just as it is with coworkers and management, communication solves numerous remote concerns as well.
Exceed Expectations
Everybody knows what's expected of them when they're in the office, but how does that change with remote work? Is this a time to clear your calendar and put a pause on meetings, or should you be coordinating with others to get appropriate call-in information? Are you able to meet your goals away from your day-to-day workstation? The factors are endless but the results should be similar to any other workday.
Offices often have set-in-stone remote work policies, whether they're dictated by HR or established from department to department. Managers, supervisors, and other leaders should be able to clarify these expectations so that even in a last-minute scenario, there's no lapse in productivity. Sometimes a remote day needs to come from the top down, other times it can be decided by the person to whom you are a direct report; it all depends on your company structure.
Do What's Best for Everyone
Sometimes it feels like you're letting down your team if you're taking a few days from home. In any instance where remote work is a favorable option, there's probably a reason why it's on the table. If you're sick, you're a risk to others. If there's bad weather, it could be the difference between coming in that day or never making it to work again. If there's a larger group safety concern, there's a reason why precautions are being taken. Be considerate of the greater reasons why you're still hard at work, just not in the office.
…Don't Forget What's Important
While this one might sound like a give-in, as your humble author, I have to admit-- this is my biggest work-from-home hurdle. I tend to leave my laptop docked at work and ready for tomorrow morning. Instead, make it a habit to pack up your supplies (and, as we suggested in our Clear the Clutter campaign, daily tidying rituals can play a part in office happiness) and bring your laptop home every day. Some remote days are scheduled in advance and some are mandated with a little bit of warning, but a lot of them are true surprises. Be prepared for anything.