Collaboration and innovation thrives in group settings. Whether it's a discussion amongst executive leadership, strategic team meeting, new hire training, vendor presentation, or a conversation between departments, conference rooms are a central meeting place within any office setting.

No matter if it's big or small, modern or minimalist-- your conference spaces may be varied throughout the office or perhaps custom-tailored to fit a myriad of meetings. Whatever the case, a slew of important changes are necessary to make these as safe as possible as you return to work.

While it's not a question of if, it's still a question of when it's best to reintroduce these areas. We recommend taking a tiered and scalable approach to coming together. Start with all-virtual meetings--even when all attendees are in-house--to start, moving to a restrained approach to testing the waters. As you consider relaxing guidelines, err on the side of caution.
DETERMINE OCCUPANCY
Not all conference areas are created--or used--equally. Some are large, some are small. Some are ready for high-tech collaboration, some are made for face-to-face discussion.

Some are set up to accommodate clients or visitors, some are made for employee one-on-one meetings. Depending on its existing square footage, current layout, necessary amenities, and purpose, your new conference room will take on its own unique design.
Start by halving your existing occupancy and determine further spacing needs from there. Physically measure the size of your conference table and how feasible it is to have a full six feet of space between people. Remember that tables are rarely six feet across and ensure that physical barriers run the length of the table, opting to stagger seating whenever possible.

For rooms with a significant amount of excess space, add single tablet chairs further back from the table, however these should be only when absolutely necessary when all other seats are filled up. Mark off the location of these auxiliary chairs, as well as those stationed around the table, to ensure that they aren't needlessly moved throughout the room.
DISPLAY OCCUPANCY

Make occupancy expectations perfectly clear with posted signage outside of every conference room. Ensure that these details also live in any other central locations, such as within your return to work guidebook or in the notes of your Outlook room lists.
ESTABLISH MEETING GUIDELINES
Ask the right questions to determine the best practices for all meetings going forward. These will often be contingent upon your organization's larger return to work guidebook.
Can this be an onsite virtual meeting? Even if everybody is in-house, would it be best to have all attendees take this meeting from their desks via Microsoft Teams or the collaboration software you had been using while working from home? If employees are uncomfortable with in-person meetings, can they choose to participate as an onsite virtual or remote attendee?

Will there be outside attendees? If so, make sure that these attendees are compliant with your company's visitor management guidelines including masking and approval to visit the facility. Have you sent your visitors these guidelines in advance so that they're aware of any new policy changes?

What is the best location? Does your preferred conference area have enough safe seating capacity to accommodate all parties? If not, is there appropriate technology installed to invite some parties in virtually? Make sure you've properly reserved the space on any shared calendars or schedules.

Are the right parties notified? If you have outside visitors coming in, have you let your reception staff know about their arrival and how to contact the meeting organizer?

Is masking required? Even if your organization has gone with an optional-but-encouraged guideline, consider requiring masks in direct group settings. If so, ensure that a box of disposable masks is placed at the entrance of the conference room.
VISUALIZE EXPECTATIONS
At the entrance, near cleaning supplies, on tabletops, or on storage pieces-- place signage in highly-visible areas that are hard to ignore. Ensure that you clearly and easily communicate cleaning expectations, meeting guidelines, occupancy limits, and any other policies in a place that won't go unnoticed. Make sure that there's additional reference points within your return to work guidelines and policies in order to ensure that these details are accessible at any time.
REMOVE EXCESS
The best way to ensure that rooms are properly used is to remove the ability for misuse. By removing unnecessary seating and goods, you can control how tight or relaxed your guidelines can become over time.

SEATING
Place a set number of chairs around the conference table with their positions clearly marked. Remove any added stacks of overflow chairs and keep them stored away from the conference room.
GUEST AMENITIES
Beverage carts, mini-refrigerators, snack stations, coffee makers, and other refreshments should be put on hold for the time being.
SPARE SUPPLIES
Shared goods, such as notepads, pens, pencils, and any other office supplies, should be removed or single-use. Encourage visitors to take their used supplies with or discard them after the meeting.
ADD PARTITIONS AND DIVIDERS
To maintain visibility while bolstering safety and security, use clear acrylic partitions to divide your conference table into sections. Partitions should exceed attendees' sitting height and should separate all face-to-face seats. When possible, seek to add clear partitions between seats, particularly in spaces where a 6-foot separation is difficult or impossible.
OPTIMIZE TECHNOLOGY
As you return to the office, some staff may still be working remote in the immediate and perhaps indefinite future. To accommodate offsite staff, ensure that your conference room is ready to take on partially virtual meetings that go beyond a single laptop screen. Depending on your size, budget, and workforce needs, determine what technology can best outfit some or all of your meeting spaces.
SEE

Mount a television to the wall or on a storage credenza if possible, but a heavy-duty monitor mount can be clamped to the end of most conference tables, accommodating a screen that can adequately display participants. On the other side of the screen, give offsite attendees a peek into the boardroom with a properly-mounted webcam that easily connects to your meeting software to best replicate in-office interaction with remote staff.
HEAR

For an optimal audio connection, go beyond the conference phones of yore and opt for a VoIP connection that can sync up with any video technology. An adequate speaker system on your end, as well as a centralized or ceiling-mounted microphone, speaks volumes compared to a laptop speaker and mic.
INTERACT

Ensure that your collaboration software is up-to-par when it comes to screen sharing capabilities on both ends. While legacy systems can struggle with a speedy connection and robust functionality, modern programs typically have this hard-wired in to their structure.
SMELL
…Well, we're not quite there yet
ADD CLEANING SUPPLIES
As a revolving space that sees a wide variety of visitors throughout the day, conference areas can't be left to once-a-night deep cleaning. Everybody must do their part before, after, and even during meetings in order to ensure that safety protocol is followed at all times.
PERSONAL SANITIZATION STATION

At the entryway, place personal hand sanitizer and/or disposable wipes for compulsory personal use while entering and exiting the area. If you're adding wipes, ensure that a garbage can is placed close by for disposal. Keep a box of disposable masks and/or disposable gloves near the entrance, even if your organization only recommends--and does not mandate--masking in communal areas; those who wish to mask can then choose to do so with ease.
CLEANING CADDIES
Throughout the office you'll want to have a somewhat standardized cleaning caddy that has everything you need to wipe down an area before and after use. These should include a strong spray disinfectant and rags for cleaning tables, chairs, and partitions, as well as disposable wipes for quick touch areas, such as door knobs, as well as hand sanitizer.
TECH CADDIES

While not full of cleaning supplies, keep a separate caddy to store and organize any tech peripherals, such as remotes, wireless keyboards, wireless mice, Bluetooth speakers, or other teleconference necessities. Keep these high-touch items out of the way when they're not in use. After each meeting, make sure to clean each item with solvents specifically designed for use on technology, including screen-safe wipes for any tablets, laptops, or iPads.
GO THE EXTRA MILE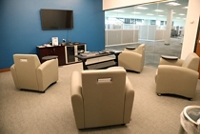 For a total retrofit, seek out tablet chairs that keep seating totally modular, movable, and scalable over time. At NBF, we repurposed several chairs from a lounge area, adding both comfort and function to a decidedly modern retrofit. To keep technology at the forefront of our space, we placed peripherals on a rolling table that could be moved from tablet chair to tablet chair to allow any attendee access to our wirelessly-casted technology. As needed, tall partitions can be placed between chairs for added protection and each seat is mobile enough to increase distancing as needed. Take a look at the finished product here.