Looking for a stylish and cost-effective way to divide your large workspace? The time of the closed-off executive office is coming to an end and open office floor plans are increasing in number. Unfortunately, not everyone thrives in an open plan work environment, as they can be quite distracting. So how do you divvy up floor space without building permanent walls? Here are a few simple and cost-effective solutions.
Modern Partitions
Partitions and room dividers are ideal for breaking up an open concept space. There are ton of options to choose from, including modern standalone room dividers and fabric zip-up panels among others. Don't see the color or design on our website that you want in your office? No problem. Just call our furniture experts at (800) 558-1010 and we'll be happy to place a custom order in the color, shape and size you need. These high-style partitions are ideal for offices of any size, and they're great for directing the flow of a room, creating a sense of organization. Read our complete guide to partitions, cubicles and dividers to learn more.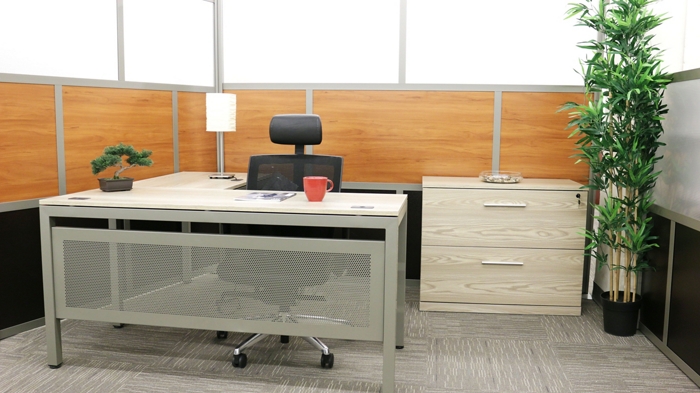 Bookcase Dividers
Did you know that there are double-sided bookcases that can be used as room dividers? Now you do! The biggest benefit to this type of room divider is that it has built-in storage units that can work to your employees' advantage. Place these bookshelves in between workstations to give employees a little privacy while providing both parties with access to the storage boxes within the shelves. Although these units offer excellent utility in their design, they are best suited for larger offices when used as dividers since they are so wide and require extra floor space. These shelving units are also ideal for use in reception areas, as they're great for displaying company awards and décor to guests.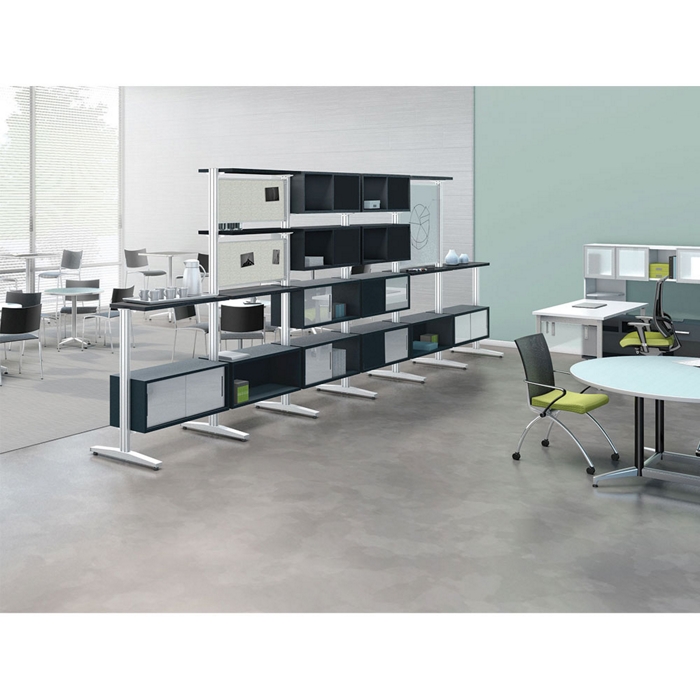 Mobile Whiteboards
Similar to partitions in build but offering greater practicality and versatility, mobile whiteboards can be used to separate a space and then reused at a workstation or in a conference room for taking notes and making memos. Because this type of divider is on wheels, it isn't confined to a single purpose. Employees can use it to get a little privacy at their desk and then roll it into the boardroom for use during their next presentation. These multi-functional, cost-effective boards also come in a wide range of sizes, just like traditional partitions. Be sure to take into consideration whether or not you need sound to be muffled in your office space. Although mobile whiteboards provide great flexibility in some ways, they do not block out any sound, which may or may not be a concern for you.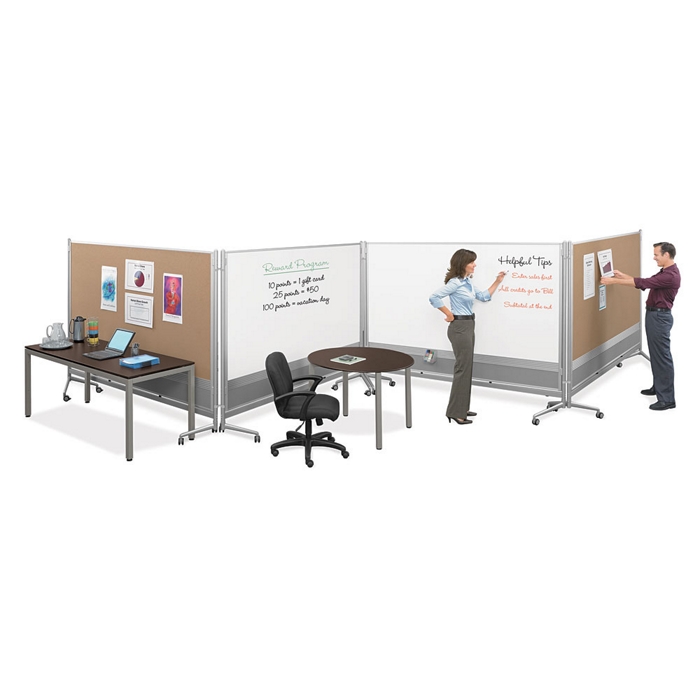 Workstation Privacy Screens
Looking to add just a little more privacy to the existing cubicles in your office? We offer a selection of small screens and even cubicle doors that can be attached right onto the desks in your office. These solutions are the most cost-effective, providing your employees with a way to get their work done in private without breaking your budget. Why buy an entirely new set of desks when you can simply add onto your existing ones?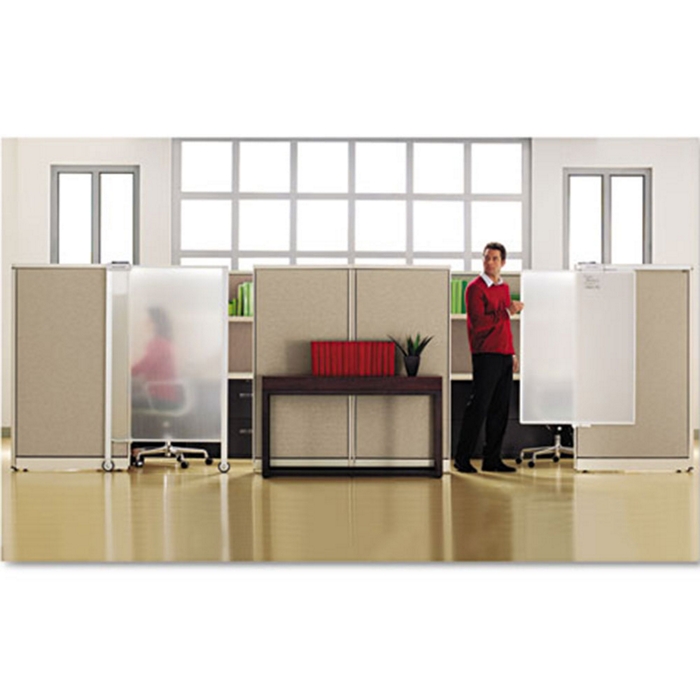 Thinking of adding one of these divider options to your open workspace? Whether dividing multiple workstations or separating an office and a meeting space, be sure to thoroughly measure your entire workspace to determine what size partitions or bookcases you will need to adequately divvy up the area. If you're unsure of what size dividers go with what size rooms and desks, then just give us a call—we offer free space planning design services for just such reasons! Whatever your needs may be, our people can work with you to design exactly what you want for your space.