So you've heard that sitting all day, every day is detrimental to your health, and you'd like to do something about that. Great! Deciding to get a standing desk for your office is easy, but choosing the right standing desk for your space and for your work style is another matter entirely. To help you make the right choice, we've compiled this comprehensive guide to standing desks which includes everything you should consider before taking the plunge.
Download the infographic here.
What Size Standing Desk Should I Get?
Standing desks come in a huge range of sizes from compact to executive, so be sure to determine what size desk you need before you begin shopping. Here's how to determine what you need:
Measure the Office. Measure the size of your office to determine how large of a desk will be possible within the space. When measuring the square footage of the area where you'd like to put your desk, allow for at least two feet of space around it.
Measure Doorways & Stairwells. In addition to the room where the desk will be going, you will also want to measure any doorways or stairwells that the desk must travel through in order to get to your office. If there will be a lot of slender doorways or narrow stairwells to navigate on the way to your room of choice, then you may want to consider getting a desk that isn't too big or comes ready to assemble (RTA), just to make sure that it will make it into your office in the first place.
Measure Yourself. That's right, you are one of the most important things to measure. Measure where you will want your arms to fall when standing so that you know whether or not you'll need a desk with a keyboard tray. You'll also want to take note of a comfortable place for your eyes to land on your monitor or monitors. This will help you determine the height of the desk you should get and whether or not you will need a monitor stand for your computer.
Tip: The top of your monitor should be 2-3" higher than your eye level.
What Types of Standing Desks are There?
Standing desks or stand-up desks come in a few different styles to satisfy the needs of a wide range of users. Depending on whether or not you have an existing desk and what your budget is, you may want to consider each of these options to select the one that's best for you.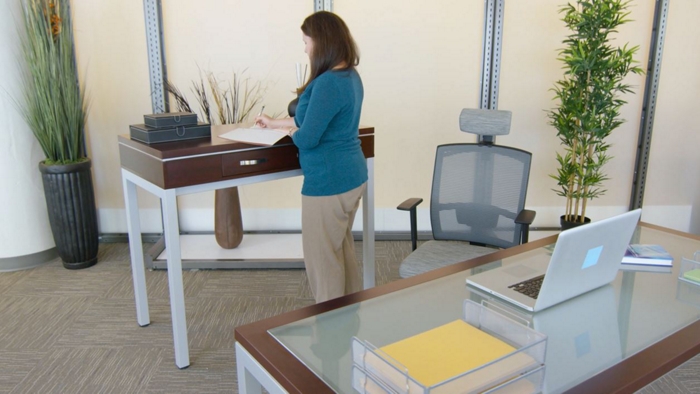 Standing height desks have a work surface measuring around 42" tall for use as a stand-up workstation. If you have a lot of room to work with in your office then you may just want to add a standing height desk to the space and alternate between using that and your regular desk. Remember that standing all day can be as detrimental to your health as sitting all day, so if you only have a standing height desk and no standard height desk then you will also want to get an ergonomic drafting stool so that you can still alternate between sitting and standing.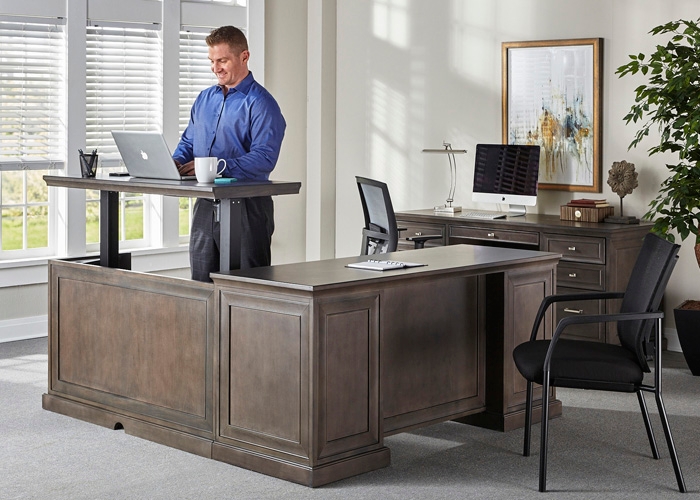 Adjustable height desks have a work surface that moves up and down with you. If you only have space for one desk and want to make switching between sitting and standing as easy as possible, then an adjustable height desk is the best option there is. With an adjustable height desk, you can do all of your sitting and standing in one place. Adjustable height desks will have either a gas lift, a manual lift or an electronic lift adjustment mechanism. There are even some collections in which the adjustable height desk is made up of the bridge on a U-shaped desk or the return on an L-shaped desk.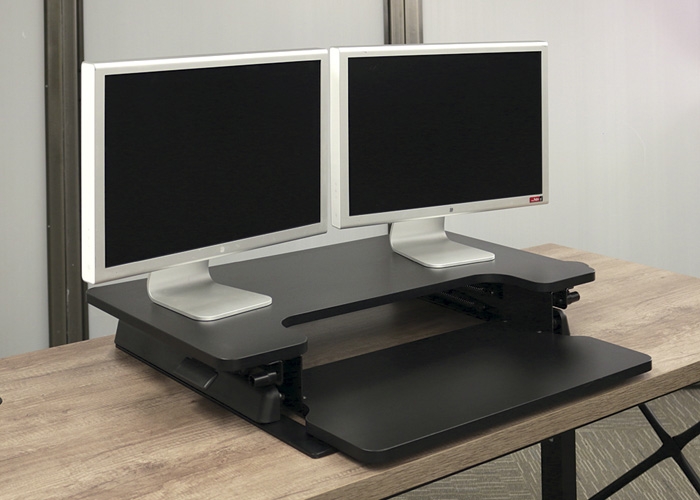 Adjustable monitor risers are a fantastic after-market alternative for those who don't want to spend a ton on a stand-up workstation. If you want the benefits of an adjustable height desk but don't want to get rid of your old desk, then an adjustable height monitor stand is your ticket. These stands and mounts can be attached to your existing desk (or simply placed on top of them) and voila! You've got yourself a low cost alternative to a standing desk.
What are Standing Desks Made Of?
Laminate is the most affordable option. Although laminate can be made to look like it has real wood grains, it is actually made from some form of particle board with or without a wood grain print. Desks that have a laminate surface construction are ideal for high traffic offices because laminate does not scratch or dent easily and is generally easier to maintain and keep clean. Laminate is also an affordable option, making it a great choice for businesses on a tight budget.
Wood veneer is a smart option for those who want a real wood look without the solid wood cost. Wood veneer is a good in-between for those who want that real wood look without paying the high cost of solid wood furniture. Veneer desks have a similar base as laminate furniture (such as particle board), but feature a thin layer of real wood on top of that. Veneer desks can be trickier to clean and care for than laminate, but the veneer layer provides a much richer look that many offices prefer.
Tip: Watch our video on how to clean veneer here.
Solid wood desks are hard to find, but they are the best quality option available. As the name implies, solid wood desks are made of solid wood. These beautiful desks are of the highest quality, but they are very heavy and can be quite expensive.
Metal desks are modern and durable. Although you can find all-metal desks, most come with a wood or glass top and just have metal framework for stability and industrial aesthetics. Metal desks are usually made of steel, though the gauge may vary and the desk may come in either a chrome or powder coated finish.
Glass desks are a rising trend. In the case of glass desks, the work surface is usually made of tempered glass that is thick to prevent shattering. This is usually complemented by metal framework. Glass is easy to clean, but it does show fingerprints easily. If you don't want a full glass top, there are wood top options with a glass inlay.
Do I Need Standing Desk Accessories?
Anti-fatigue mats help soothe sore feet. We recommend that you stand fifteen minutes for every one hour that you sit at work. Because extended periods of time spent standing can be hard on your body, we also recommend that you add an anti-fatigue mat to your workspace. Anti-fatigue mats are thicker than the average mat, often with a padded construction that may include a foam insert. This allows you to stand for longer periods of time without putting strain on your legs. The ergonomic sit or stand chair mat from E.S. Robbins takes it a step further by providing both a plush anti-fatigue mat and a smooth plastic chair mat in one handy unit. You may also want to consider keeping appropriate footwear at the office, since standing in high heels or uncomfortable dress shoes will not making standing easy.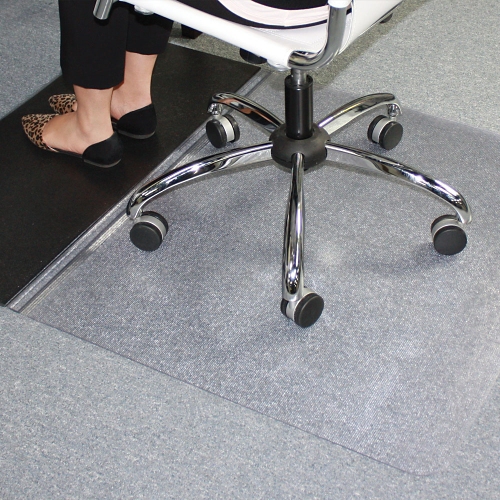 Keyboard trays keep wrists and fingers comfortable. Just as moving throughout the work day is important, so is positioning your wrists properly when typing. This is why measuring your body in relation to where your wrists fall naturally is so crucial. If you have your eye on a stand up desk that does not come with a built-in keyboard tray, then you may want to inquire about what types of add-on keyboard trays are available. Your wrists should remain at a 90 degree angle, not tilted too far up or down.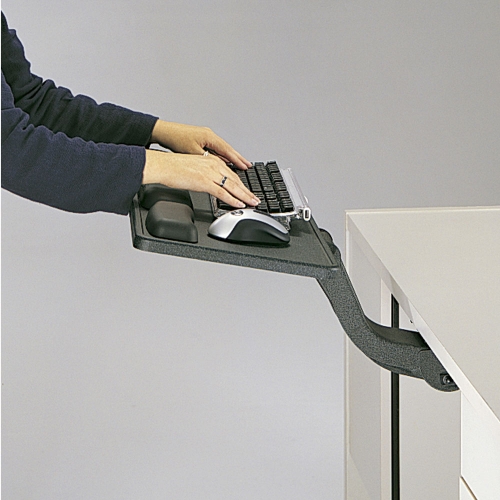 Wrist pads assist in ergonomic performance. A similar aide to a good keyboard tray, a wrist pad may also help you stay more comfortable while standing. A gel or foam wrist pad will help guide your arms, forcing them into the most comfortable and ergonomically appropriate position to encourage better blood flow and keep aches and pains at bay.
Monitor stands may be needed for additional neck support. If your standing desk isn't quite tall enough to hold your computer monitor or laptop at a comfortable height, consider adding a monitor stand to your desk. To learn more about how to properly position your computer monitor, visit our post on the subject.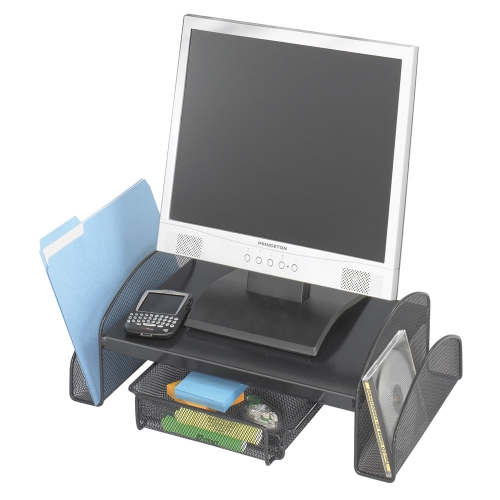 Need help finding the right standing desk for your office? At NBF, we offer complimentary design services and friendly advice from our own in-house furniture experts. Call us today at (800) 558-1010 to learn more!