Looking for a new office chair for your desk? With so many options to choose from, it can be tough to know what to go with. Take our comprehensive guide to office chairs into consideration to help you narrow down your options and decide what the best chair for your needs will be.
Type
Computer chairs are the most basic of the bunch. 'Computer chair' is an overarching term that encompasses several different types of desk chair, including ergonomic chairs and armless chairs. Any chair you use at a computer desk could, in theory, be considered a computer chair, and those which we call computer chairs or desk chairs on NBF.com typically have very few ergonomic adjustments.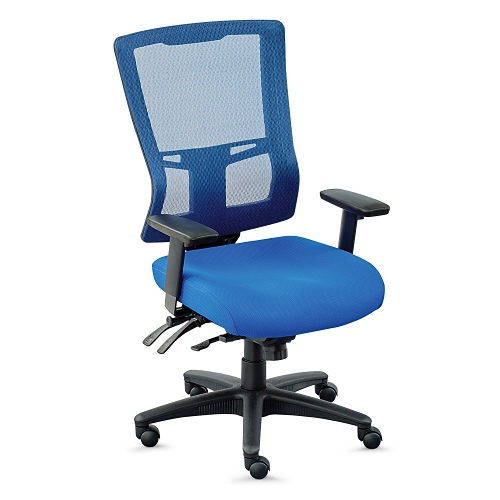 Executive chairs are upgraded versions of computer chairs that usually feature a high back and a stately design. The most distinguishing feature of an executive chair is the presence of a headrest, whether it be built-in or detachable. The higher back and headrest of an executive chair give it a more impressive look that's fitting for corner executive offices, hence the name executive chair or manager's chair.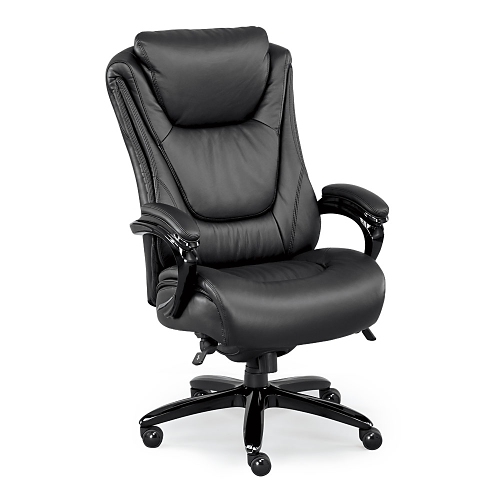 Ergonomic chairs feature multiple ergonomic adjustments that enable the user to easily find his or her ideal seated position by adjusting the chair accordingly. Ergonomic chairs are commonly recommended for use as task seating as they have the ability to conform to a wide range of body types and user needs. Be sure to read our guide to chair ergonomics to learn more about what adjustments to look for and what each one does.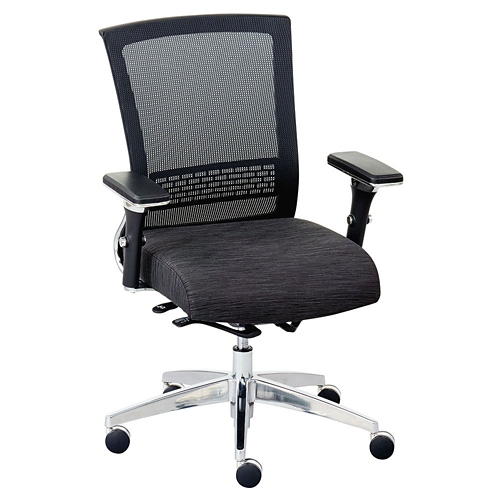 Drafting stools are ideal for use at standing height workstations as they allow the user to easily switch between sitting and standing in seconds. Most drafting stools come with very few ergonomic adjustments, but all are height adjustable and have a much greater height range than computer chairs.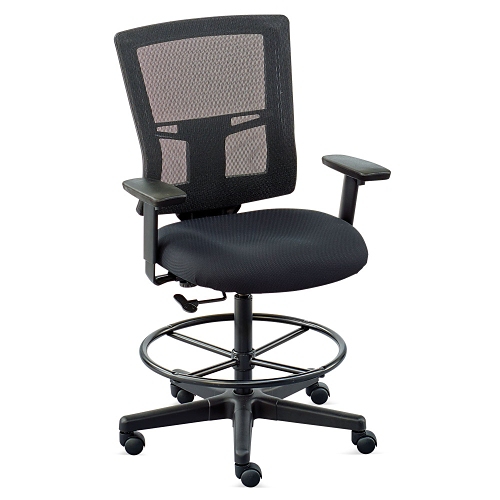 24 hour task chairs are, as the name implies, designed to be used 24 hours a day, seven days a week. These heavy duty seating options are reinforced to withstand constant use, making them ideal for applications such as army bases and 24 hour call centers.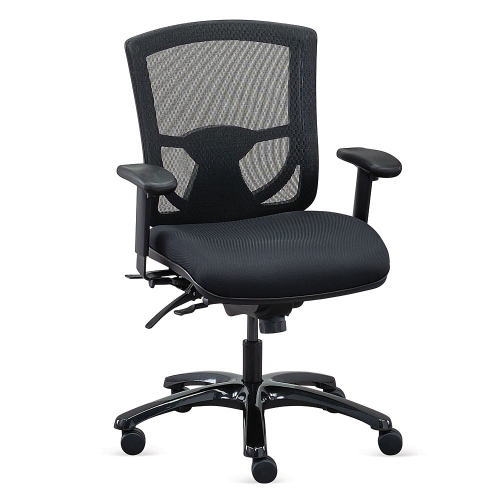 Kneel chairs are ergonomic seating solutions designed to put the user in an upright position by encouraging a kneel-like posture. Kneel chairs were especially popular before active seating options gained popularity, but are quickly being replaced by ball chairs and other active sitting solutions.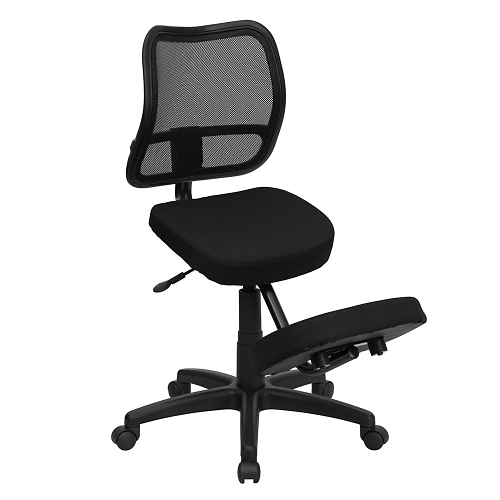 Active seating is taking the world by storm. With new research confirming that a sedentary office lifestyle is leading to increased health issues, standing desks are becoming more and more popular. However, there are steps you can take to make even the process of sitting healthier, and that's done via active sitting. Active seating includes the ever-popular ball chair as well as newer, more unique solutions such as leaning chairs like those from Safco and Focal Upright. These chairs and stools force the user to balance while seated, providing comfort while allowing the user to fidget in order to burn energy and stay active.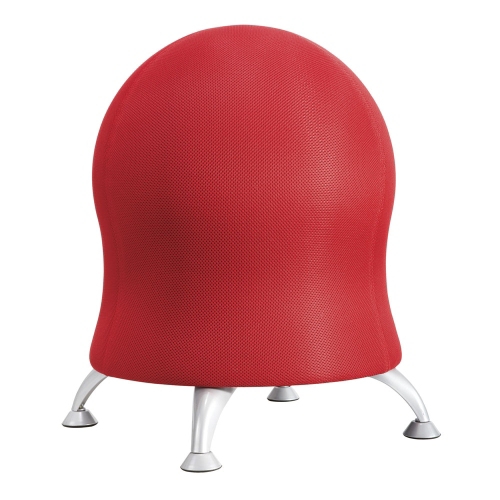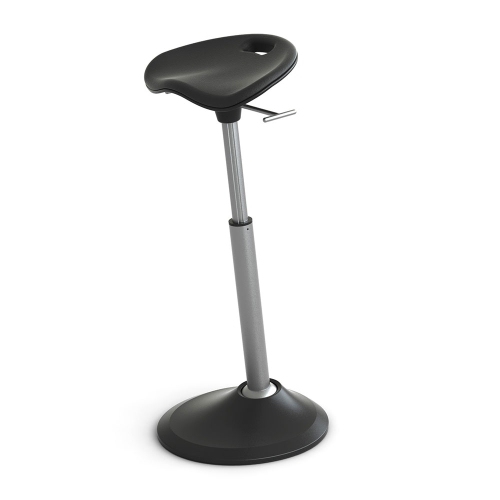 Upholstery
Fabric upholstery is a woven material that helps give furniture a homelike look and feel. Fabric is available in a huge number of colors and patterns and is a popular choice for most office settings.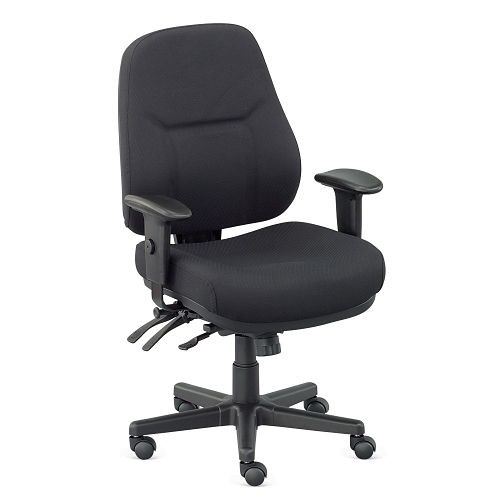 Genuine leather upholstery is either full grain or top grain genuine cow hide. Full grain leather shows its grains and natural imperfections and is as close to its natural state as possible. Top grain leather is the most common type of genuine leather upholstery and is thinner and more flexible than full grain leather. Top grain leather is also sanded down to remove any imperfections, giving it a more polished look.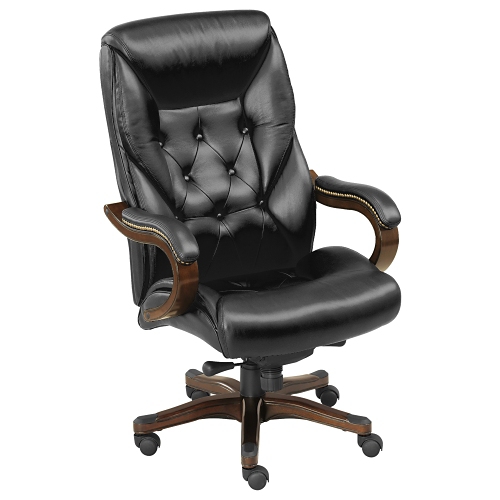 Faux leather and vinyl upholstery is a manmade alterative to genuine leather. Faux leather and vinyl are made of either polyurethane (PU) or polyvinyl chloride (PVC), both of which give the look of leather at a lower cost.
Mesh is a textile that provides more breathability than any other type of upholstery. Mesh is durable, but it can be trickier to clean due to its porous design.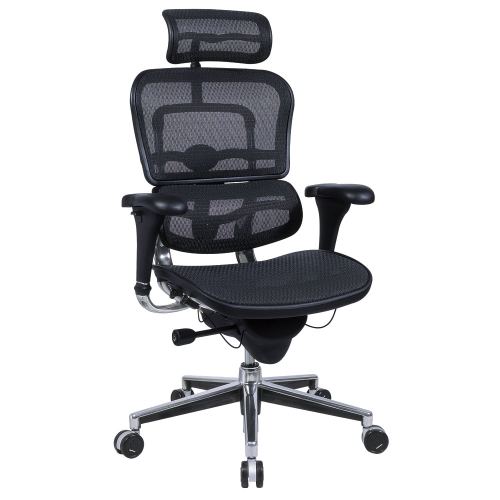 Seat Type
Pocketed coil systems are made up of a number of individual pocketed coils that help evenly distribute weight for user comfort. The coils are usually outfitted with a layer of foam on top and bottom, with the top layer being less dense to create a cushioned feel.
Fabricated foam is one of the most common materials found in upholstered office chairs. This type of foam varies in density, and the denser the foam is the more firm of a feel it will have.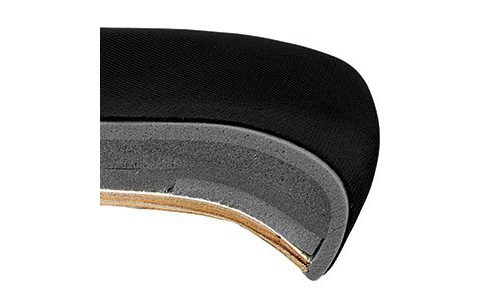 Molded foam is made when a liquid foam material is poured into a mold—hence the name. This type of foam offers more consistent support and is able to hold its shape for longer than fabricated foam. This allows for more contour and a more comfortable feel.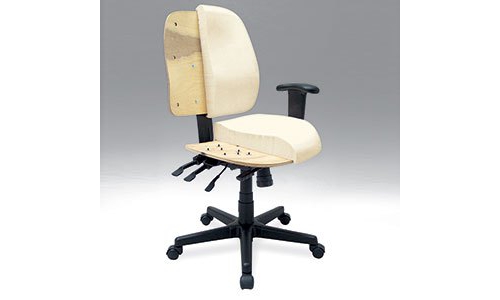 Memory foam has a unique chemical makeup that allows the seat to adjust to your body temperature. The seats, therefore, retain more heat than others, which allows them to mold their shape as the user moves. Memory foam seats are well known for providing a superior level of customized support. In addition, this material is hypoallergenic and resistant to dust mites.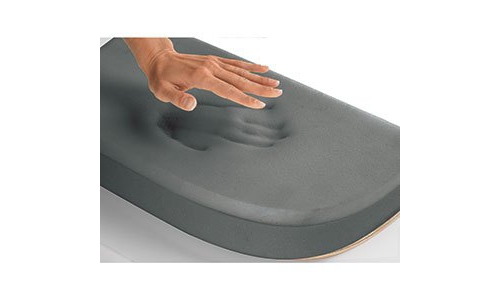 TEMPUR® material is the ultimate in office chair comfort. Found in Tempur-Pedic® office chairs, this type of seat material goes above and beyond basic memory foam to conform to your specific body type, offering the same level of support one expects from a bedroom mattress.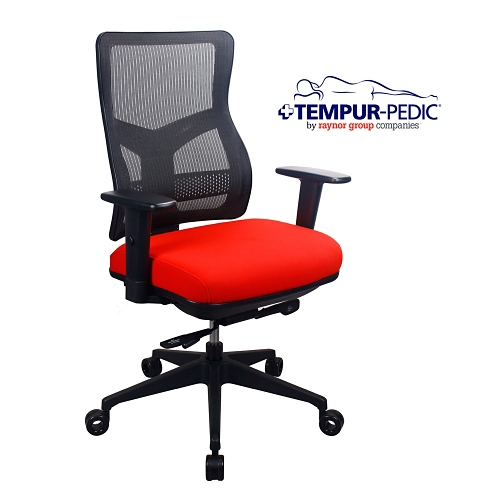 Casters
Soft floor casters are designed to roll effortlessly on soft flooring like carpet. This type of caster comes standard on most office chairs.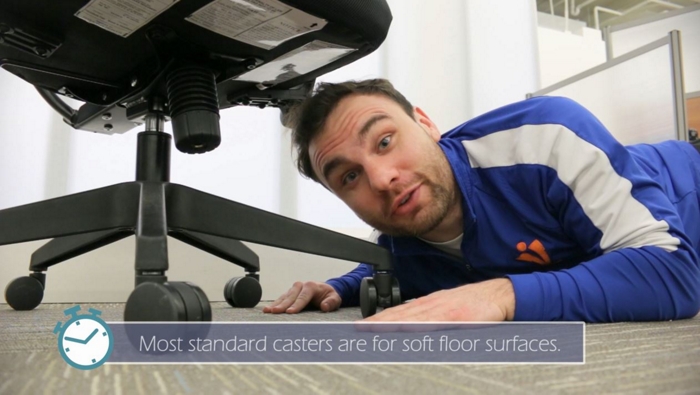 Hard floor casters are designed to be used on hard flooring like tile and wood. Hard floor casters are available for most chair models, but they need to be special ordered in most cases. Consult one of our furniture experts if you'd like to purchase hard floor casters for your chair.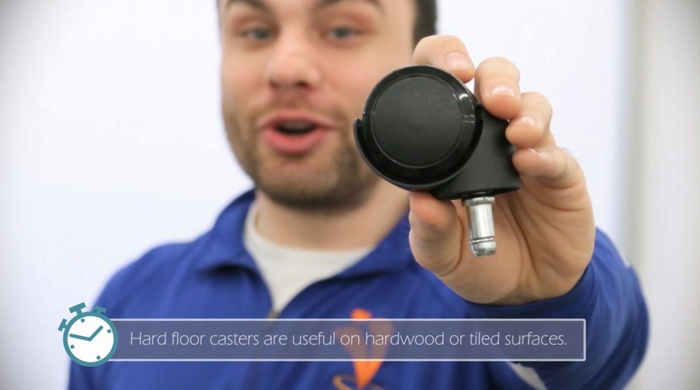 Adjustable floor glides are sometimes used on office chairs in place of casters. Although these are not common, they are good for users who prefer not to roll in their office chair at all.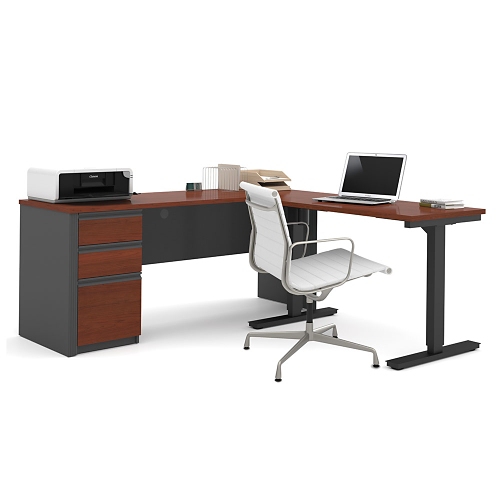 Size
Standard size office chairs are comfortable for the majority of people. A standard size office chair is designed to support users measuring 5' 5" to 6' 0" tall and weighing 250 pounds or less.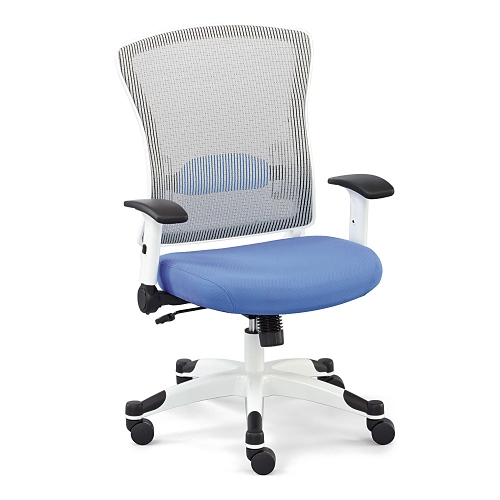 Petite office chairs are designed for smaller users who feel that standard size office chairs are a little too large. Petite chairs can still support up to 250 pounds, but they feature a shorter cylinder and shallower seat pan that's ideal for users who stand at 5' 4" or shorter.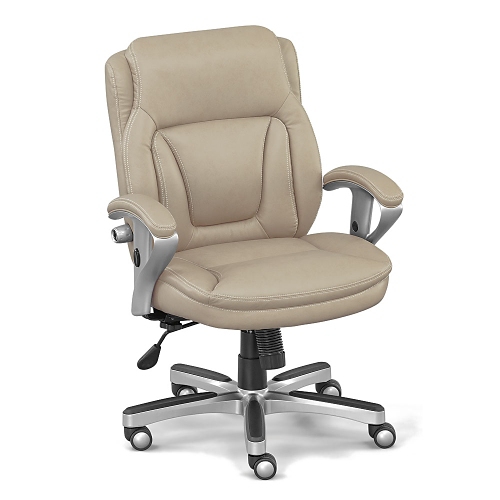 Big and tall chairs are designed for larger users. Not only does this type of chair offer a larger seat and back, but it can also support more weight than standard chairs can. Big and tall chairs can support at least 300 pounds, but many support 500, 700 or more. Be sure to check the description of your big and tall chair to ensure it supports the correct amount of weight.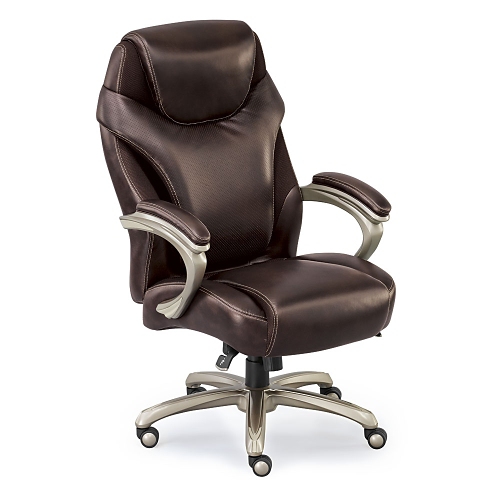 Need help finding an office chair that works? Call our furniture experts at (800) 558-1010 or shop our full selection of chairs. Outfit your reception area by checking out our guide to waiting room seating.