Need new exam tables for your healthcare facility? From keeping patients and caregivers safe to meeting health codes to sticking to your budget, there's a lot to consider before choosing the right tables for your hospital or private practice. That's why we're breaking down the different types of exam tables along with their benefits so that you can have a comprehensive look at what to expect before you start shopping.
Treatment Tables
Treatment tables are the simplest form of exam table, and they are commonly found in physical therapy facilities and other medical areas where similar treatments are performed. This type of table is padded for comfort and upholstered in healthcare grade vinyl for cleanability. There may be a shelf or storage drawers underneath the seated area, but treatment tables are generally quite simple and meant only to provide basic functions needed in an exam area.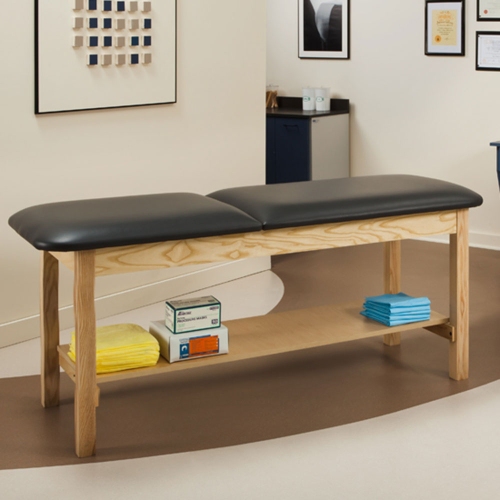 Box Tables
Standard box tables are found in most exam rooms. These feature the same padded vinyl seats as treatment tables, but the backrest of the chair is able to be moved up and down either pneumatically or electrically so that the patient can be easily repositioned as needed. Box tables typically include a heavy duty step to assist patients in getting up onto the table, which is raised high off the ground so that the exam can take place. Storage is often included within this type of healthcare table so that hospital gowns and paper rolls can be kept nearby.
Tip: Choose a box table with dual access drawers when outfitting a small exam room. This will ensure that healthcare providers can get to the contents of the drawers easily no matter where the exam table is set up.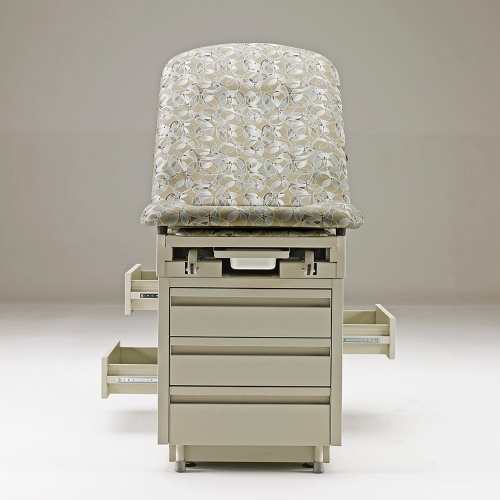 ADA Exam Tables
If your facility sees a lot of patients that might have trouble getting up into a box table (this may include the elderly and individuals with disabilities), then consider equipping your exam rooms with ADA exam tables. The goal of this type of exam table is to eliminate the need for patients to have to jump up or be lifted up onto the exam table. This is accomplished via an electric lift that the patient can simply step or be placed onto that then rises and brings him or her up to the seat. Not only does this make doctor visits easier and safer for both patients and caregivers, but it also provides a more dignified experience for the patient, ensuring they will always feel comfortable during their appointments.
Tip: If you're considering adding ADA exam tables to your healthcare facility but are deterred by the high cost, know that there are often tax credits available that bring the cost of ADA tables down closer to the cost of the average box table.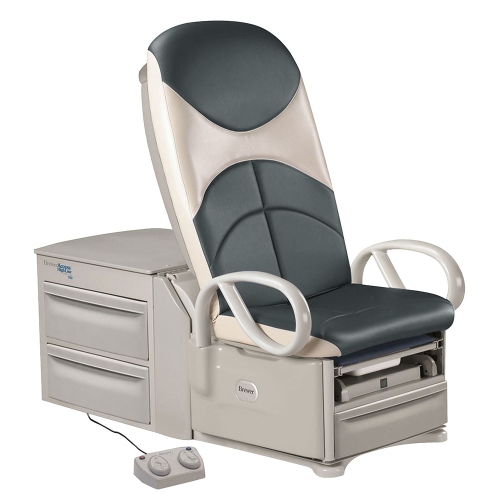 Procedure Tables
Procedure tables are designed to be used while medical professionals perform minor procedures. Most of these have an adjustable height feature along with preset positions to make performing these procedures easier on healthcare providers. Like treatment and box tables, they often include storage and are upholstered in easy-to-clean, antimicrobial vinyl.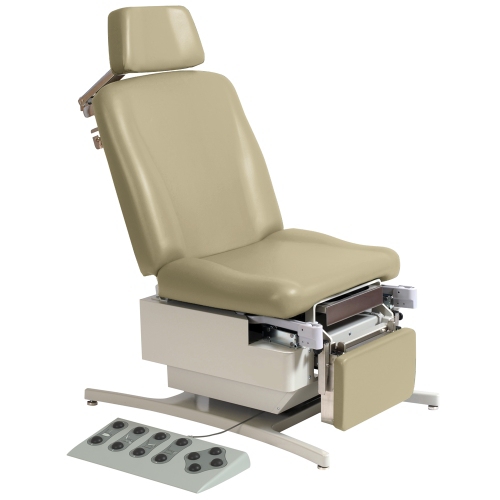 Specialty Exam Tables
Specialty tables are those that are used in specialty medical exam areas such as a radiology or imaging rooms. Accessories and special features like stirrups and drop windows help healthcare providers provide the best possible care in these settings.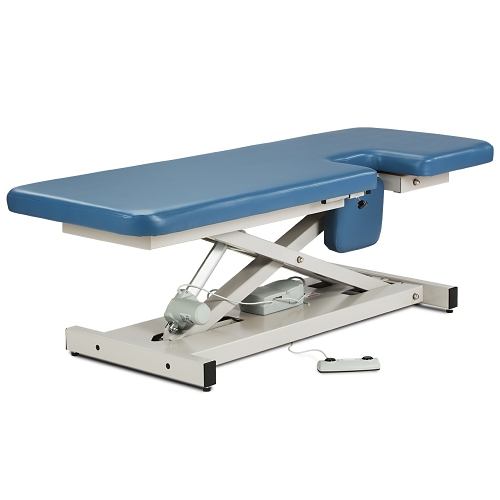 Mobile Exam Tables
Mobile exam tables are movable via integrated lockable casters. This feature allows caretakers and cleaning crews to easily move the tables to clean or rearrange the room as needed. Options such as the UMF Medical ProGlide collection tables feature OneTouch WheelBase integrated central-locking caster systems for reliable mobility and stability.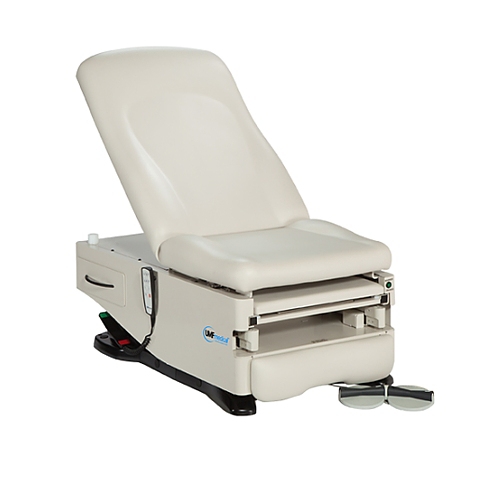 Pediatric Exam Tables
If you work in a pediatric care facility, then these tables are just what you and your patients need. Pediatric tables are smaller than treatment tables, typically sized appropriately for children of various ages. Most importantly, they're designed with fun art and bright colors that help make children feel more at ease when visiting the doctor—a prospect that can be scary for young ones.
Exam Table Accessories
Most exam room tables are compatible with a multitude of accessories which you can usually order along with your table. These accessories include but are not limited to stirrups with or without warming capabilities, drainage trays and moveable arm rests.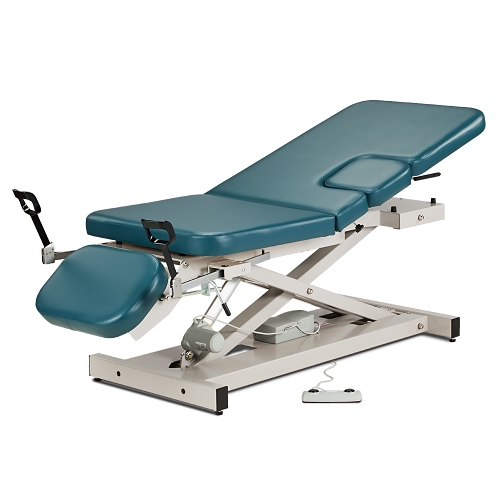 Want more information on what type of exam table is best for your medical facility? Call our healthcare furniture experts today at (800) 558-1010 or shop our full assortment of healthcare furniture.