Industry: Software Development
Location: Menomonnee Falls, WI
Furniture Collections Used: NBF Signature Series At Work, NBF Signature Series Tabella, NBF Signature Series Folio, Boss Hydra, Best Rite Visionary, Office Star Air Grid and Best Rite DOC Partitions
When WhyHigh Technology, a social, referral-driven marketplace start-up located in Menomonee Falls, WI, needed a new office, they called on NBF for furniture that works. Not only did the company need desks, chairs, storage and accessories that would be functional and visually appealing, but they also had a strict start-up budget to adhere to. That's where Chad Capelle, NBF Inside Sales Team Lead, came in. Capelle worked with the owners at WhyHigh to create a functional, beautiful and affordable workspace that its employees could be proud to work in.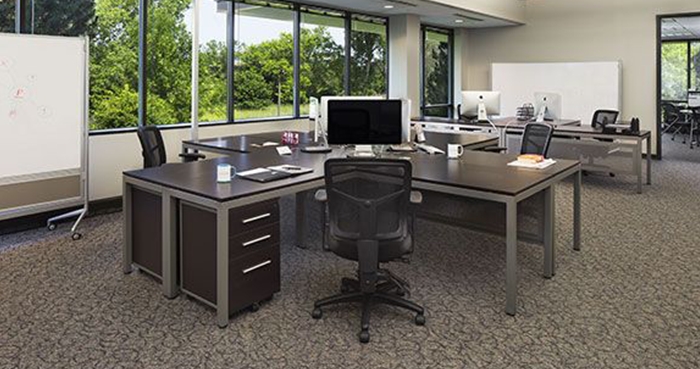 Collaborative Spaces
Because the team at WhyHigh relies heavily on daily collaboration, having a space that could foster a high level of open communication was vital. To achieve this, Capelle recommended the NBF Signature Series At Work collection, an exclusive collection found only at National Business Furniture, to outfit the primary workstation area. "The open space was designed to promote communication among the developers and owners," Capelle stated. While cubicles tend to block employees off from one another, the open concept design created by the At Work desks made it easy for employees to chat and brain storm together whenever the need arose, all while providing personal space for everyone. Combine that with easy-to-move mobile pedestals and ergonomic mesh desk chairs, and what's left is a comfortable, collaborative workspace where teamwork can thrive.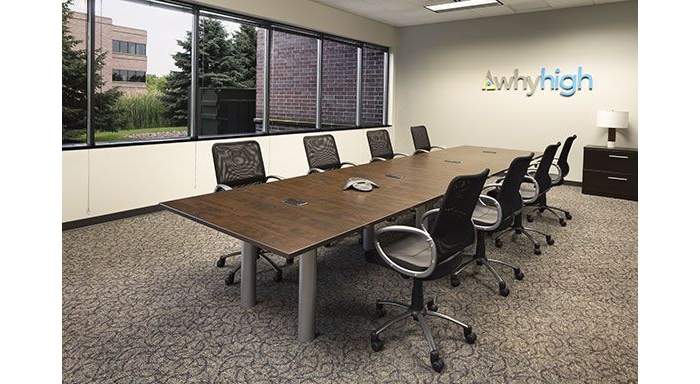 Private Rooms
Of course, not everybody works well in an open concept workspace, and management needs to have a quiet area in which to work on large projects and hold private meetings with employees. For this reason, an executive office was added and outfitted with the same At Work L-desk and filing cabinets used in the main workstation area. Mesh nesting chairs were brought into the space to provide an open invitation for employees to sit down and have a discussion with the boss at any time.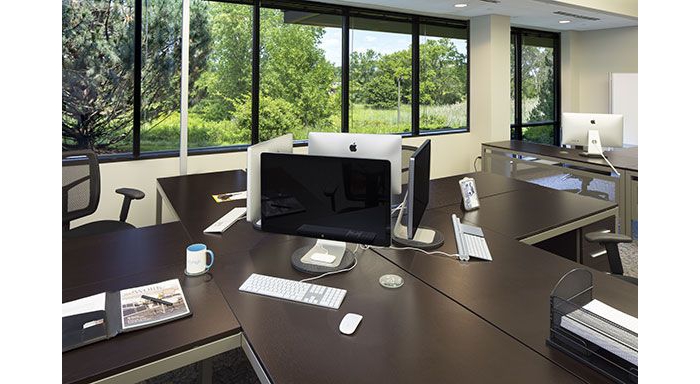 Modern Conferencing
Having a professional and polished meeting room was another need for this startup. "It's a room to have meetings both with employees and prospective customers and investors," Capelle explained in regards to the company's large private conference room. Outfitted with the NBF Signature Series Tabella conference table, this boardroom reflects a high level of modern professionalism that seamlessly incorporates state-of-the-art technology and the WhyHigh Technology brand. In addition to its formal conference room, Capelle also incorporated the addition of a small huddle area inside of the executive office. In this space, two nesting chairs surround a small table with a computer that can be used for teleconferencing. This area serves as a secondary meeting space for impromptu gatherings between a few employees at a time.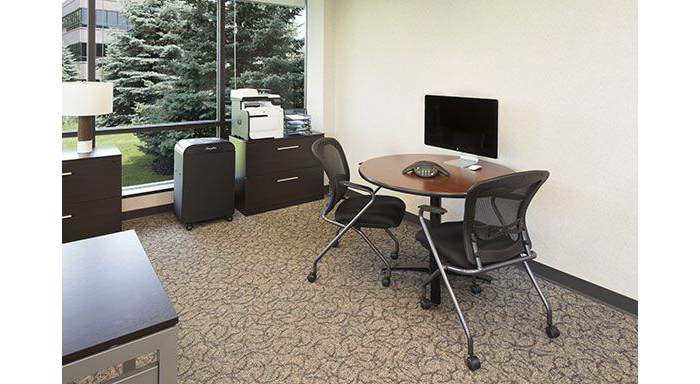 With the new design complete, employees and executives at WhyHigh have enjoyed the new office that reflects their startup culture and working needs without breaking their budget.