Industry: Creative Digital Media
Location: Austin, TX
Furniture Collections Used: Trendway's Trig, Choices & Sketch; National Office Furniture's Epic, Aurora, Mio, Fringe & Cinch
The Vision
When NBF Sales Manager Rusty Jenkins was asked to help design a large office space for Sizmek, an industry-leading digital advertising firm, he was given a blank canvas with which to bring the company's culture to life. Sizmek, which has multiple locations in the U.S. and around the world, was moving their headquarters from Dallas to Austin, and corporate leaders didn't want the new space to fall victim to the old cubicle design that is so popular amongst large companies. This is what their ambitious wish list entailed.
Collaborative Spaces
Sizmek is a company that values collaboration as a key element of success, so leaders didn't want to fill their new space with private boxes and cubes that would keep everyone separated. The best ideas often happen on the fly, not during scheduled conferences, so creating a space in which employees could hop into casual meetings the moment a new business idea popped into their heads was important.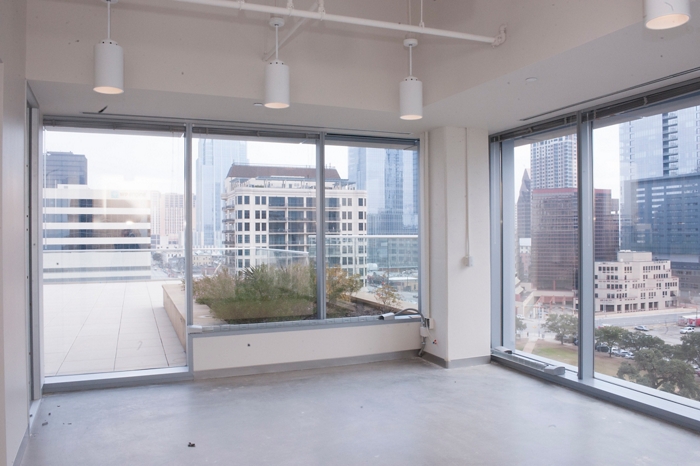 Private Rooms
Although they didn't want to pollute their space with cubicle farms, Sizmek leaders did recognize the importance of offering employees private areas where they could get work done in silence. Providing quiet spaces along with open work areas is the key to achieving harmony at this company. Tim Quillin, Associate Vice President of Real Estate and Facilities for Sizmek, pointed to specific tasks as being the distinguishing factor for who will work in an open space and who will work in a private room, since some tasks require constant privacy, while others only need it from time to time.
"This location is both our corporate office and an operations office. We wanted a mix of modern yet traditional for the executive side, and an open collaborative feel on the operations side," Quillin said.
Break Areas
All work and no play does not make for productive employees. Because Sizmek recognized the importance of an energized mind, they wanted to be sure to provide ample space where employees could go to relax throughout each day. Whether during lunch or whenever they need to relieve some stress, Sizmek wants its employees to take a load off and forget about work for a few minutes each day so they can clear their minds.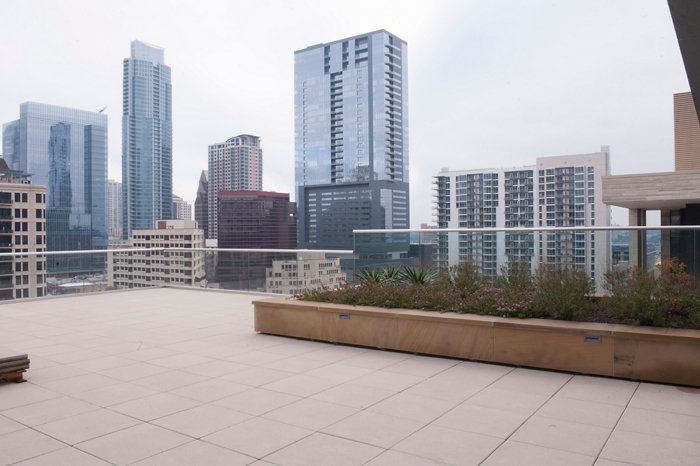 "We wanted to keep the people who use the space engaged by the furnishings and environment they are in—to keep it interesting and not give off a cookie cutter feeling," Quillin said.
Style and Branding
Being a company that revolves around branding, the Sizmek team is well aware of the importance of style and wanted their workplace to reflect their culture and mission. Not only did they want their new headquarters to display the Sizmek brand, but they wanted to bring a little taste of Texas into the office as well.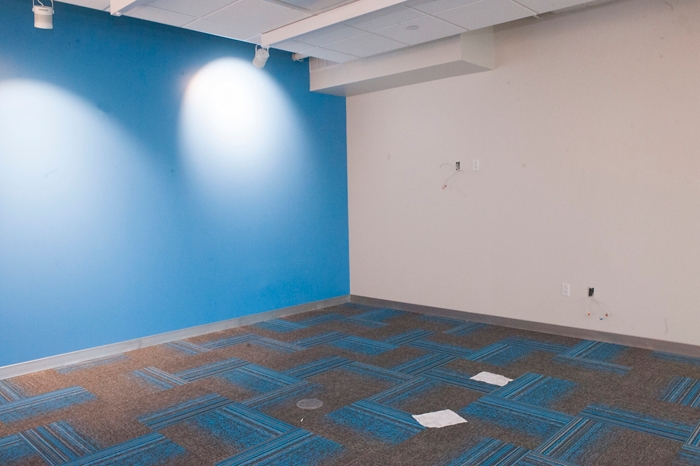 The Finished Product
Collaborative Spaces
To implement Quillin's vision of an open environment for employee workstations, NBF's Jenkins incorporated pieces from Trendway's Choices and Trig collections. By pushing these desks together and adding short partitions between workspaces, Jenkins was able to create just the right combination of openness and privacy. Every employee also has a padded-top mobile filing cabinet which doubles as storage and as a seat for co-workers stopping by to brainstorm. For comfort, Jenkins recommended Trendway Sketch chairs which feature mesh backs to keep employees cool and comfortable on those hot Austin days.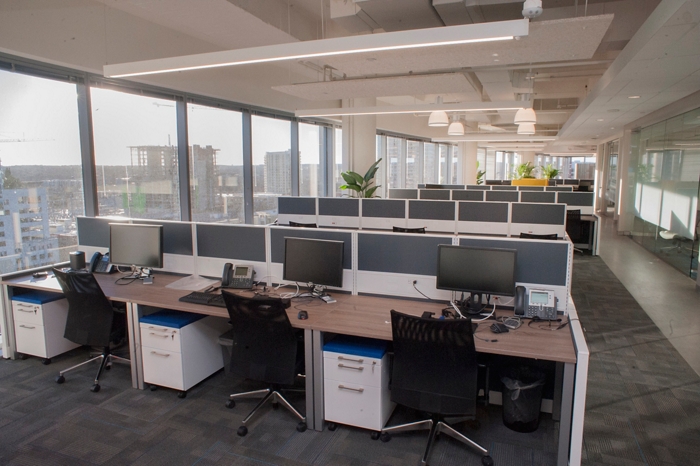 Because Sizmek has multiple locations across the country, they wanted to incorporate small touch-down spaces where they could easily teleconference with employees in other offices. To accomplish this, Jenkins designed five different video conference stations using the Mio Collaborative Tables and Cinch Stools by National Office Furniture.
"The goal was to provide a mix of meeting rooms, both formal and informal, that both clients and employees can utilize—some as quick breakout rooms to allow teams to collaborate among themselves or with clients either via phone or video," Quillin said.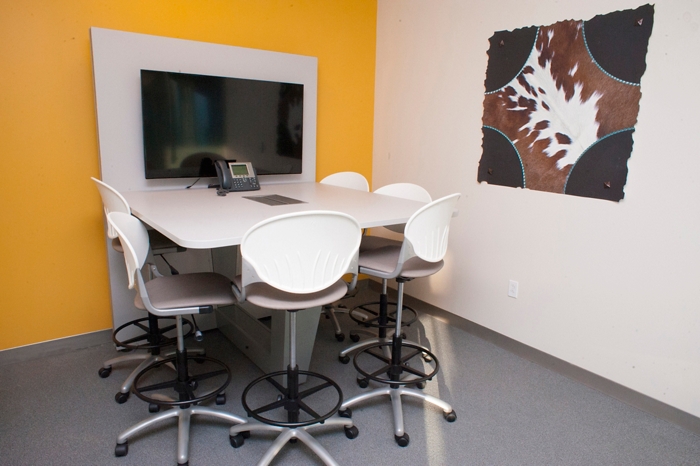 By combining a traditional conference table with a platform for mounting a large computer monitor, Mio allows employees in the Austin office to seamlessly hold meetings with people in other locations. Sizmek even decided to add conference tables right in the middle of the operations floor so that employees could hop on over to hold impromptu meetings without needing to reserve a boardroom. These open spaces are the keys to collaborative success, making employees feel as though they can express their opinions and share their ideas at any time, any day.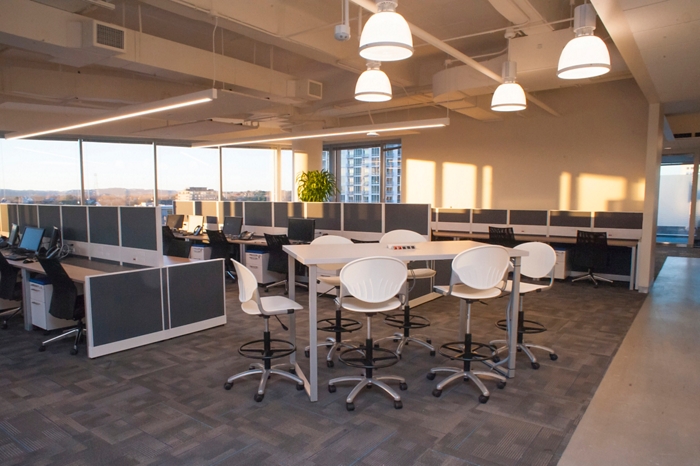 Private Rooms
Because the largest portion of the office is dedicated to an open concept, Jenkins helped Sizmek utilize the outer perimeter as private space. Private conference rooms and executive suites provide space where scheduled meetings can take place without disturbing employees on the floor. These rooms were outfitted with desks and tables from the Epic Collection and seating from the Aurora Collection, both from National Office Furniture.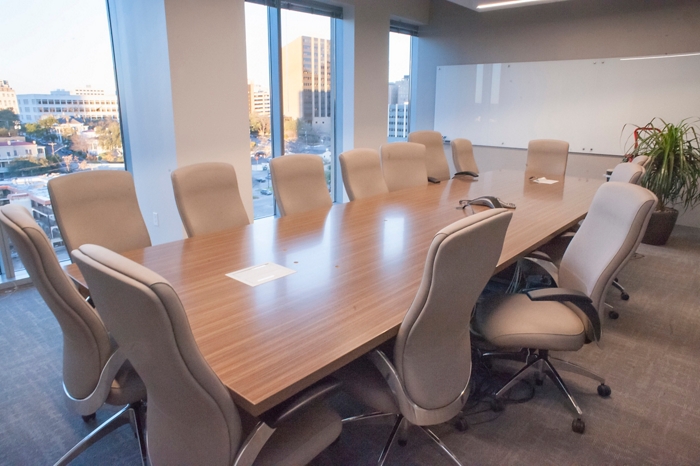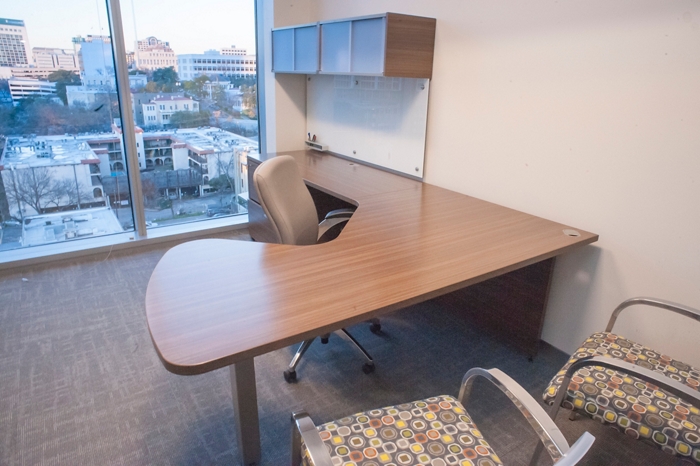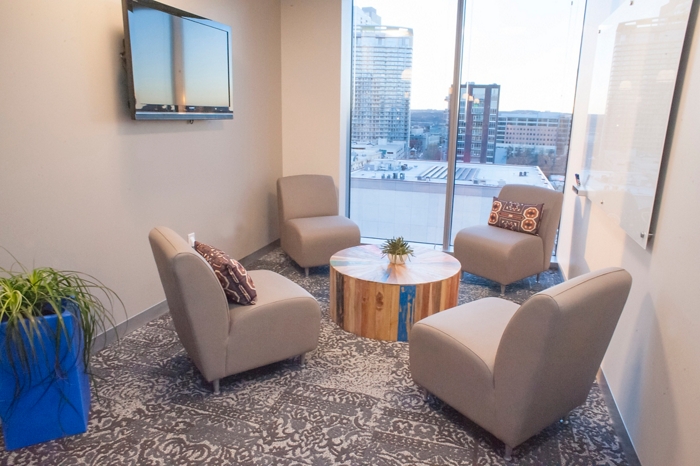 Sizmek even has two privacy rooms, each with a desk and two chairs. These unique, small spaces were included specifically to give employees a secluded space to make personal phone calls, allowing them to feel a sense of privacy even in an open floor plan.
Break Areas
Rather than having a single, closed-off breakroom, Sizmek has provided its workers with multiple break areas throughout the office so that employees can take a break whenever needed. Multiple break areas consisting of café height tables and stools reside along large glass windows, allowing employees to get a little sunlight and look out at the beautiful city skyline. Sizmek has also provided employees with cozy spaces to sit and relax via the National Office Furniture Fringe soft seating collection.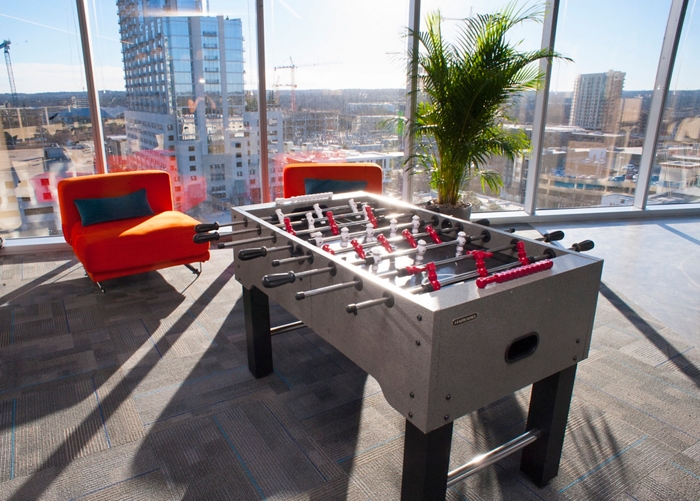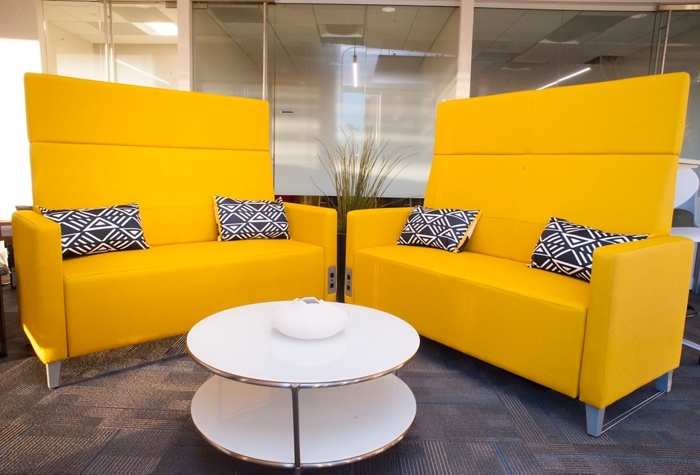 The patio break area consists of weather-proof tables, benches, stools and lounge seating that allow employees to soak up the sun on a break or during a casual meeting. With all of these breakroom options, employees are provided with a wide range of ways to take a short mental vacation from work. Sizmek tops off their innovative break areas by providing employees with an everlasting supply of snacks and beverages. Oh, and let's not forget the foosball table.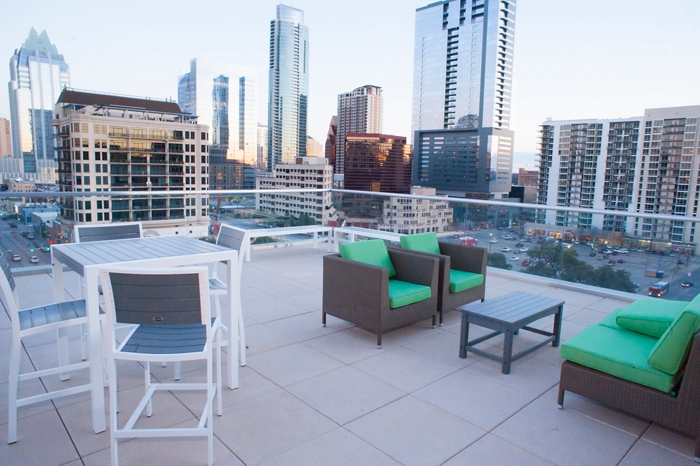 Style and Branding
Achieving a distinct branding and style in the new office was the most fun part of the project for Jenkins and Quillin. The first task was to incorporate the brand colors into the design, which was accomplished by adding bright yellow Fringe seating paired with brilliant blue walls and floors. To make the new headquarters unique to the company's other locations, Tim wanted to "Texas" and "Austin" this office up to keep it a funky and energetic environment for employees. From longhorn skulls and cowboy prints on the walls to skull pillows on the lounge chairs and famous cow brands painted on the floor, the office looks as though you've just stepped into a modern western.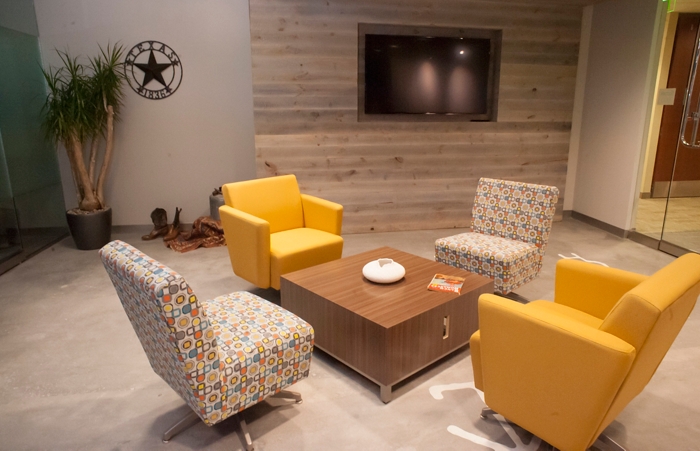 Now that all is said and done, the design and furniture in Sizmek's new office reflects the company's slogan: "See and be Seen." Eye-catching and functional, this new office space is hard to ignore and leaves a lasting impression on employees and guests alike. Sizmek turned to National Business Furniture to create a beautiful space with their employees' wellbeing in mind. After all, happy employees make the best employees.