Industry: Dance & the Arts
Location: Lynchburg, VA
Furniture Collections Used: NBF Signature Series At Work, NBF Signature Series Barista, NBF Signature Series Atlantic, Commercial Zone Waste Receptacle
2015 marked our 40th anniversary here at National Business Furniture, and we wanted to celebrate in a big way. What better way to do that than to hold our biggest contest ever—The Ultimate Office Makeover. To enter, contestants needed to submit photos of their ugly, outdated or mismatched workspace along with an explanation as to why they're in need of an office makeover. Once all of the submissions were in, we got right to work on narrowing down the entries to our five finalists. Then we opened it up to the public, allowing anyone and everyone to take our survey and vote for which of the five finalists should win the Ultimate Office Makeover. Our three deserving winners were chosen, and all were awarded NBF credit toward their next purchase-- $5000 for first place, $3000 for second place and $1000 for third place.
When all was said and done, the grand prize winner of our contest was Ryan Moody, owner and managing director of Seven Hills Dance Studio in Lynchburg, VA. Seven Hills Dance Studio has been a staple of the dance community in Lynchburg since 1939, but due to limited funding for the arts, the office and lobby of the studio had not been updated in years. Faculty and staff at Seven Hills includes Moody along with eight dance instructors, all of whom work tirelessly to create innovative opportunities for their approximately 250 students while teaching them to be citizens of their community and confident individuals through the art of dance.
Before
When Moody entered our Ultimate Office Makeover contest, her office was outdated to say the least. Thick oak desks, bookcases and storage cabinets were probably very fashionable 20 or 30 years ago, but the bulky furniture made the room seem small and old fashioned in 2015.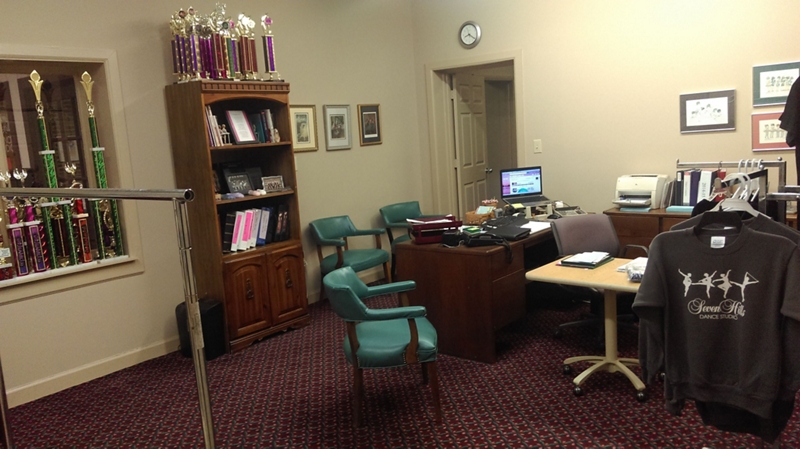 Not only was the furniture in the space old, but it was also worn down after years of heavy use. The studio serves a large number of students each and every day, so between students and their family members, it isn't uncommon for Seven Hills to see 300 people or more walk through its doors every week. With that in mind, it's no surprise that the high traffic nature of the studio does quite a bit of wear and tear on its furniture.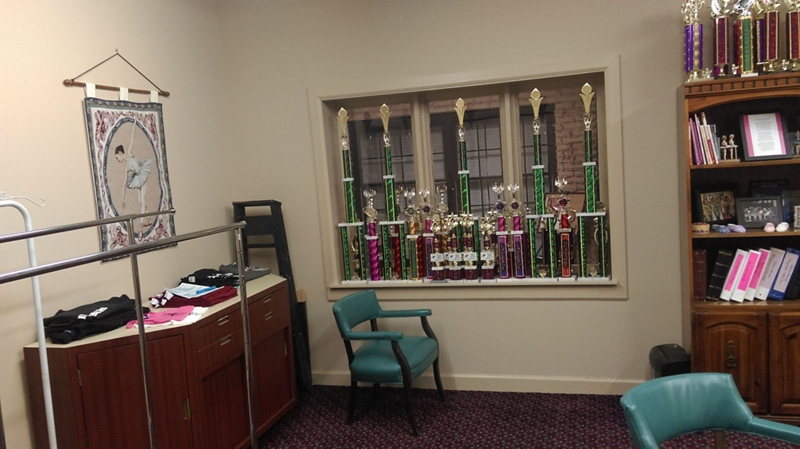 "From the costumes to the choreography, so much of what's seen in dance these days is contemporary, colorful and fresh, and a studio should be like that too," Moody comments. "We wanted a space that these children call home for the majority of their adolescence to feel just as streamlined and contemporary as the dances they do."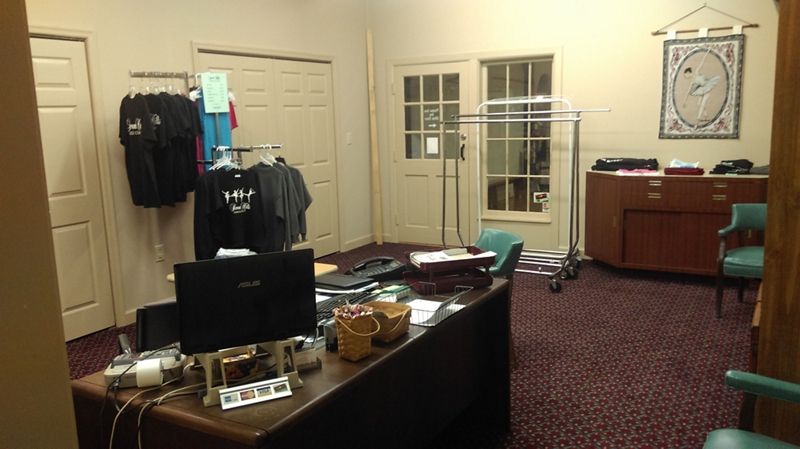 After
When Moody found out that she had won first place in our contest, she wasted no time in claiming her winnings so that she could get her studio looking the way she had always wanted it to look.
First, desks and cabinetry from the NBF Signature Series At Work Collection were added to the office, which is not only the hub of all administrative duties, but also functions as a teacher and student lounge and the overall hangout area at the studio when classes are not in session. The At Work desk used in the office has an L-shaped design, but the addition of an At Work table desk turns it into a functional U-shaped workstation. The addition of the At Work table desk is an important one because it provides space for one-on-one sessions with students, parents and teachers. The front of the desk has also been equipped with a transactional counter so that customers can walk right up and have an easy-to-access space for filling out forms and talking with a Seven Hills staff member.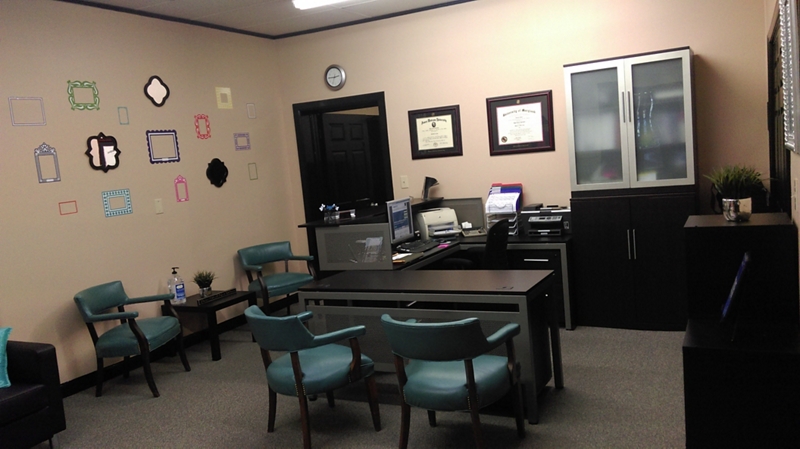 The At Work storage cabinet is sleek, modern and super roomy, allowing Moody and her staff to store office supplies, client information and even some leftover apparel that isn't for sale. With everything hidden from client sight, the space always appears clean, which is a key factor in gaining new clients and keeping existing clients. At Work filing cabinets have also been added to the space to maximize the storage and filing potential in the room.
The sofa in Moody's office is from our NBF Signature Series Atlantic collection. The black faux leather sofa is made bright and inviting by the addition of several colorful accent pillows, and it serves as a comfortable place for older dancers and staff to decompress and take a break. Before the addition of the Atlantic sofa, lunchbreaks had to be taken standing up or sitting on the floor, so this has been a most welcomed addition!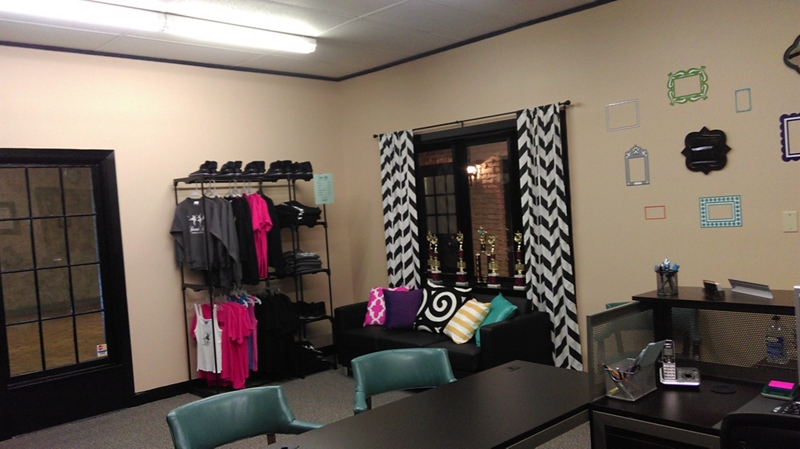 In the lobby of Seven Hills Dance Studio is a table from the NBF Signature Series Barista collection in black and silver that matches the chairs in the space. This table was chosen to serve as a convenient area for dancers to do homework while waiting between classes and for parents to sit and converse while waiting for their children to be done with their sessions. A large hexagonal waste receptacle from Commercial Zone was also added to the lobby to keep it as neat and tidy as possible.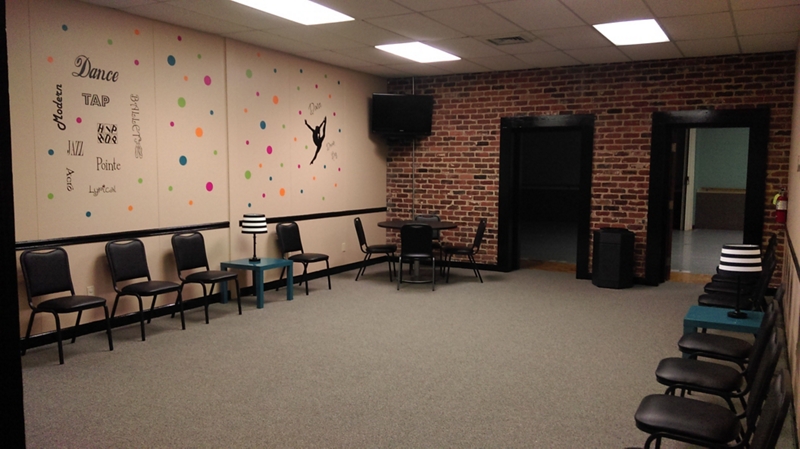 Parents and students were all excited to see the much anticipated studio improvements, especially with a new year of dance on the horizon. Enrollment increased soon after the makeover, and Moody feels confident that her new furniture played a part in that. As a parent herself, she believes that clients are more inclined to enroll their students in a studio that appears clean, modern and updated. As a business owner, she loves coming to work not only because she loves her job but because she feels that she made the space her own and because the studio functions in a way that helps everyone work more effectively. Overall, everything operates in a cleaner, more streamlined manner, and the staff of Seven Hills Dance Studio feels proud to show clients their new space. Above all, the brand new office and lobby allow them to focus their attention on what's really important—their mission to bring quality dance education to the community.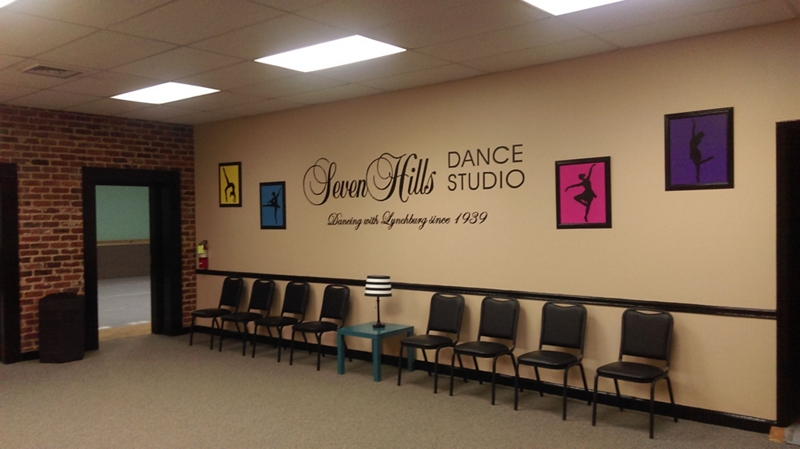 Moody is excited with the space she's created and eager for what the future will bring, saying, "I am beyond pleased with National Business Furniture's products and customer service. We are truly grateful for the contest, for the opportunity to apply and be chosen as a winner, and ultimately, for the gracious gift of all our new stuff! I bought the studio last June and feel so blessed to have been able to make so many renovation changes right off the bat to market our best self to our community. We LOVE our furniture and were so pleased with the delivery and assembly. Thank you National Business Furniture!"