Industry: Office Furniture
Location: Milwaukee, WI
Furniture Collections Used: NBF Signature Series Metropolitan, NBF Signature Series At Work
As National Business Furniture grows as a company, so grows its need for more furniture experts. Although that's great news for business, it also poses the problem of where to put all of those employees. Though NBF's number of people has been expanding, its office remains the same size, and the company has taken creative measures to maximize the space that it has to work with.
Saving Space
One such effort to save space is by sharing executive suites between employees. Two NBF furniture experts, Jan Martin and Mike Lemoine, were kind enough to volunteer to share an office together to help out with the lack of usable floor space. For these two professionals, the agreement has worked out well because neither of them is in the office for a full forty hours per week. As head of the outside sales team, Mike spends much of his time either traveling or working from home. As head of our healthcare sales team, Jan's schedule is sporadic, and she is often away attending healthcare conferences and meeting with professionals in the industry. In fact, Jan and Mike say that they are only in the office together at the same time about one day per week on average. This, of course, makes them the ideal candidates for office sharing, since their office is only really shared one day or so per week.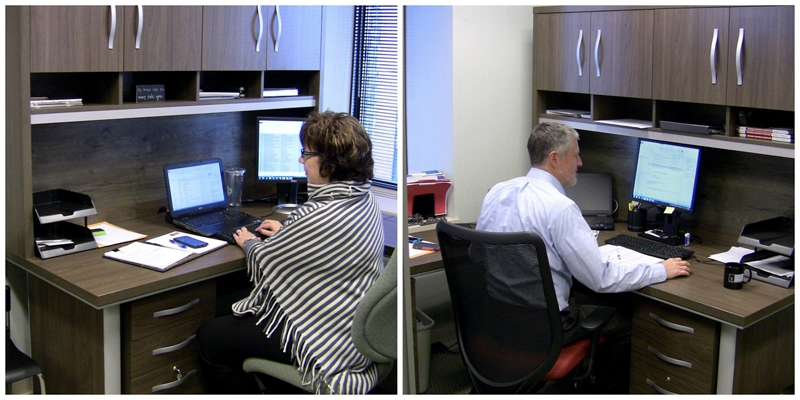 Privacy
On the days when they do share their office, privacy is crucial. Having to split any amount of workspace with a coworker can be distracting, but that is especially true when both of you are in the confines of one small room together. Jan and Mike each have their own spacious Metropolitan Collection desks to work at, but to provide a little extra privacy they have added a tall NBF Signature Series At Work divider between them. This has effectively split up what was once one large room into two smaller but distinctly separate workspaces. Even with the two of them working within one room, it's still a private office that can be shut off from the rest of the floor. "It's nice to be able to shut the door and get some peace and quiet every once in a while," Jan comments.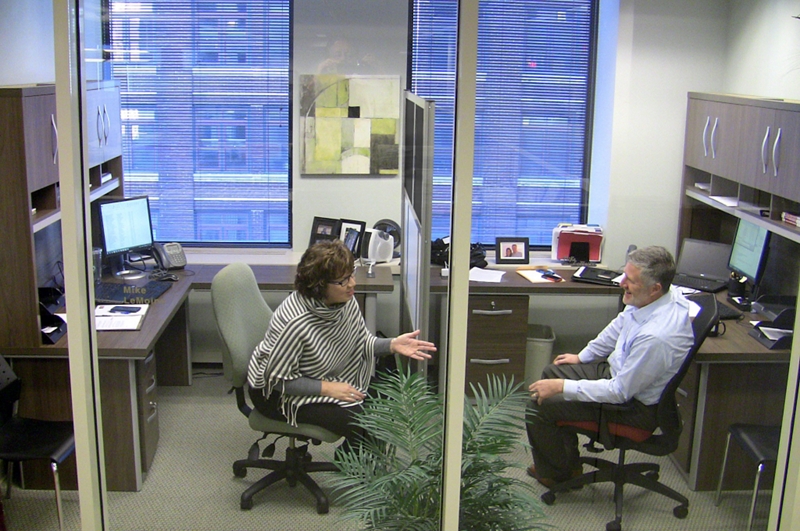 Collaboration
As much as privacy is needed between Jan and Mike, they actually feel that the collaborative possibilities of this new setup is the best part of the arrangement. The At Work divider provides enough privacy for the two of them to get their work done in peace, but it's also set up in a way that makes it very easy for them to pop over into one another's workspace when a question arises. Mike and Jan aren't part of the same department, but they still work together quite a bit, as the worlds of outside sales and healthcare sales often collide. Plus, it also allows them to get to know each other on a personal level, which is something they may not have been able to do otherwise.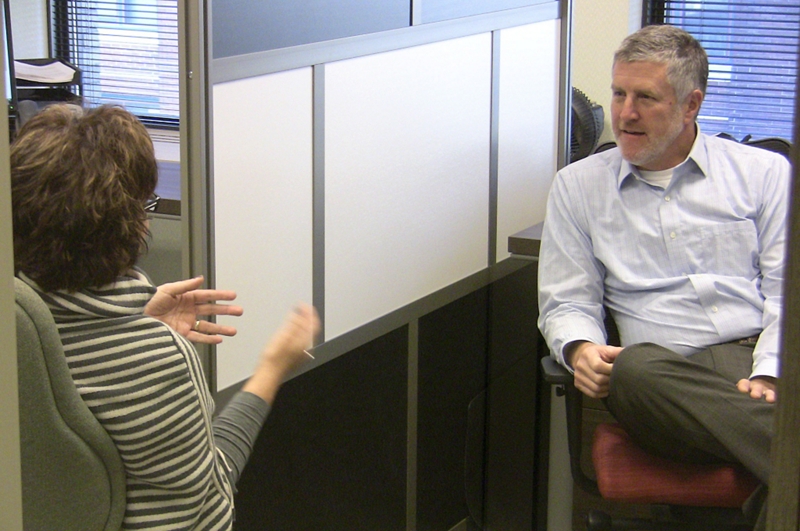 Effective Communication
One hidden challenge that Jan and Mike hadn't expected when this arrangement was first made was the level of communication they would have to keep between the two of them. For example, they need to communicate with each other about which days they will be in and out of the office and about when one of them will be on a conference call in the event they are both in the room. For example, if they both schedule calls that will need to be taken at their desks at the same time, then each may have a difficult time focusing and hearing the person on the other end of the phone. Keeping the lines of communication open helps to prevent these shared office mishaps.
Overall, the arrangement between Jan and Mike has gone over quite well. The two get just the right amount of collaborative time and private work time, thanks to the combination of effective communication, good scheduling and versatile office furniture. Plus, they make sure to incorporate a little fun into the workspace too!