One of the primary issues that NBF employees faced at their former headquarters location in Milwaukee, WI was that there were never quite enough conference rooms to house the company's ever-growing number of workers. In Milwaukee, NBF had four formal conference rooms—one main conference room that was large enough to seat up to 14 people around a 14-foot-long table, and three smaller rooms with enough space to seat six people each. With more than 100 employees working for NBF and that number growing more every year, this just wasn't enough. And what's the solution when you need to meet with your team members but there's nowhere to go? Most employees resorted to meeting at one another's desks where privacy was at a minimum, or worse—not meeting at all.
When the decision to move NBF into a new location in West Allis, WI was made, key decision makers knew that doubling the number of meeting spaces would be a must. So how did they do it? By incorporating six formal, private conference rooms, adding in multiple open meeting spaces and providing employees with the ability to meet more easily at their desks, the game of conference rooms has been won.
The Pabst Room. On the south side of the NBF lobby, you'll see the Pabst Room, which lies behind large glass doors with a white tree-like design overlay that provides a touch of privacy. All six of the private conference rooms in the office have been named after famous Milwaukeeans, and the Pabst Room is no different. Named after Frederick Pabst, the space includes a table and storage from Mayline's Medina collection in a grey steel finish. Trendway's Code chairs sit around the table, allowing for seating up to eight. A blue accent wall sits opposite a large window that lets in tons of natural light, and two modern ceiling lamps enhance that lighting even more.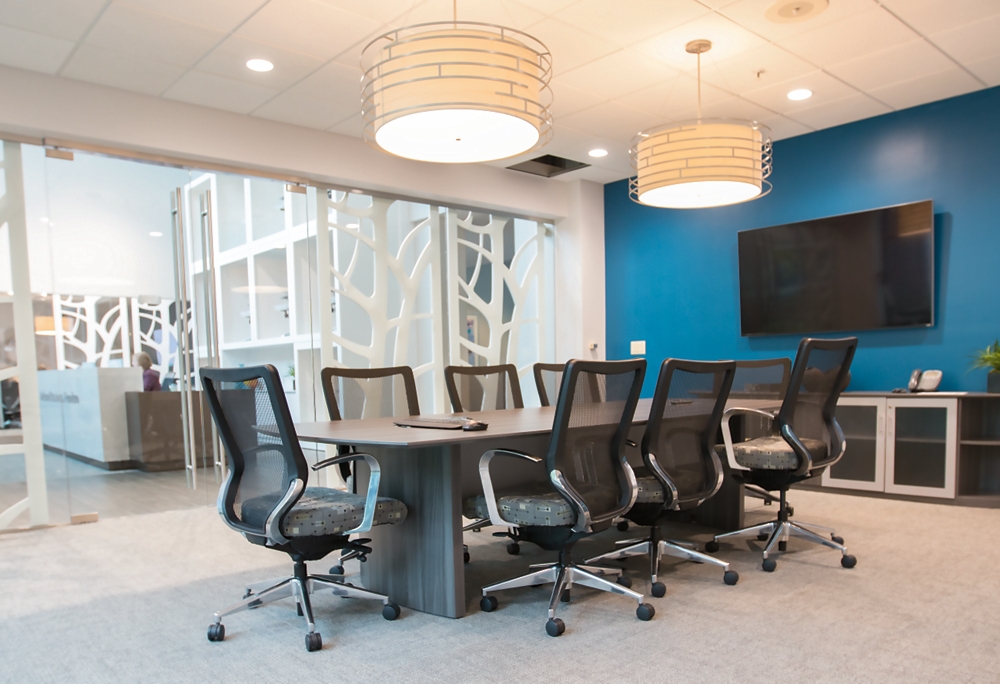 The Schlitz Room. Also in the main lobby, but on the north side, the Schlitz Room is named after Joseph Schlitz and boasts the same blue accent wall and outpouring of natural and artificial lighting as the Pabst Room. The difference here is that the furniture collections used are National Office Furniture's Waveworks conference table (which seats 10) and storage, and our exclusive NBF Signature Series Arris chairs—some of our best-selling lines.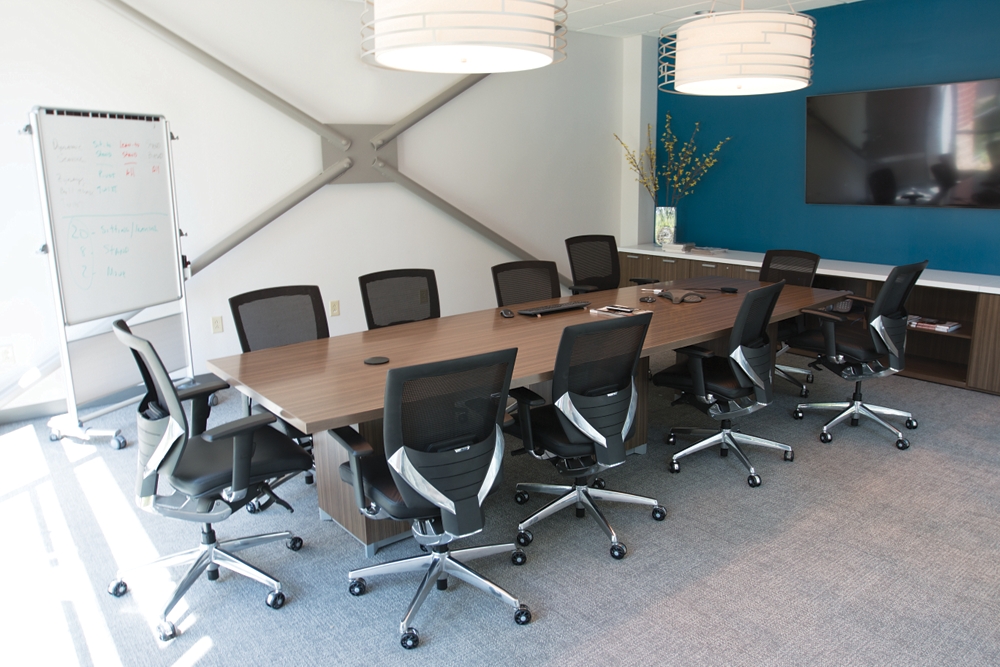 The Miller Room. Named after Frederick Miller, the Miller Room acts as a combination conference and training room. When set up in a classroom style, the training tables and NBF Signature Series Linear chairs in the room are ideal for new product training sessions during vendor visits to the office. When set up in a conference style configuration, the Miller Room is transformed into a space for open discussion between co-workers. Once again, you'll notice a blue accent wall and that natural light the West Allis office is full of!
Learn how to design a productive training room here.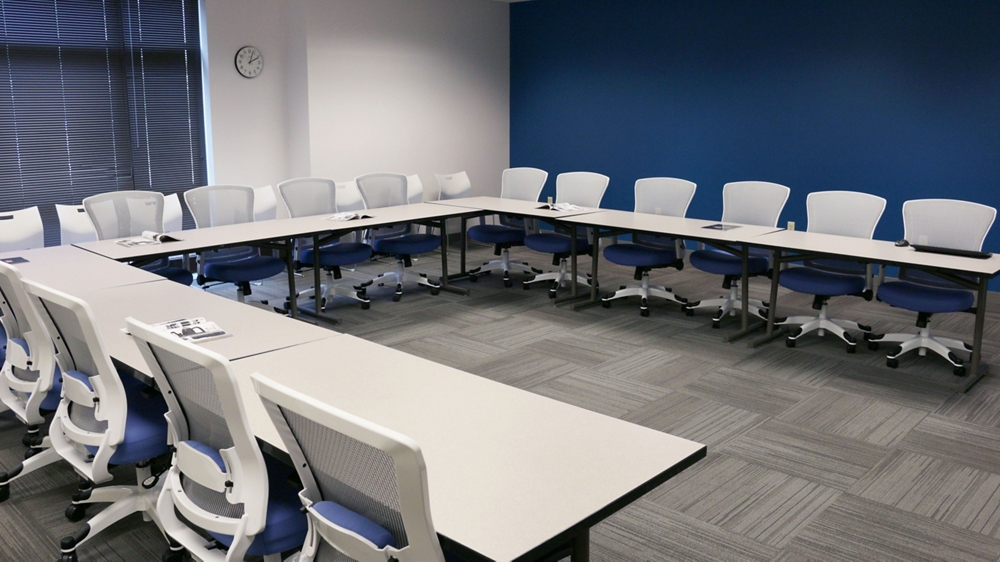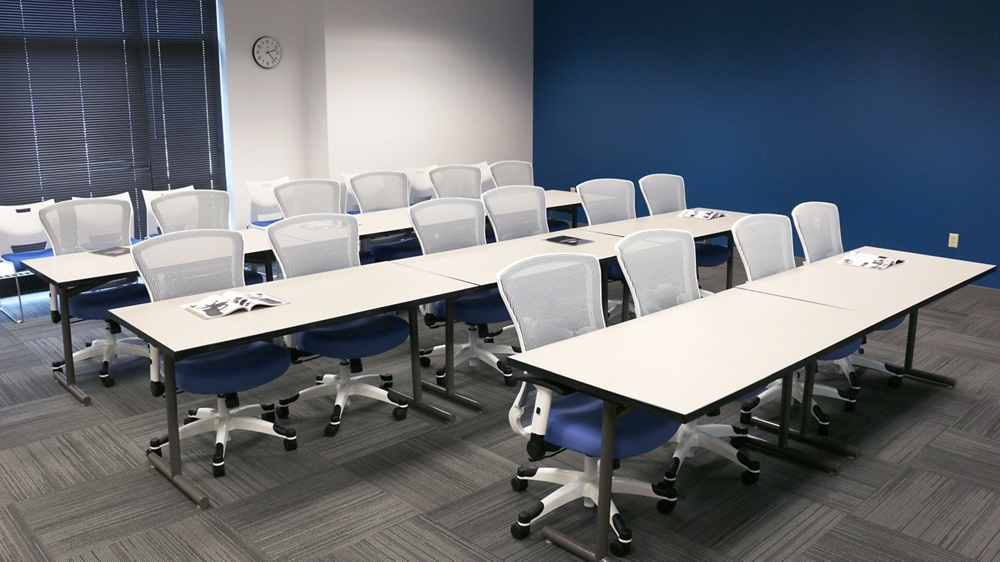 The Leinenkugel Room. The Leinenkugel Room is located on the second floor of the NBF offices, right outside of NBF president Kent Anderson's office. The Leinie room is named after Jacob Leinenkugel and includes furniture from the Mayline Corsica collection along with Mercado chairs. This room seats up to six people at a time and features a large glass wall that brings in natural light from the other room—a must, since the Leinenkugel Room has no windows.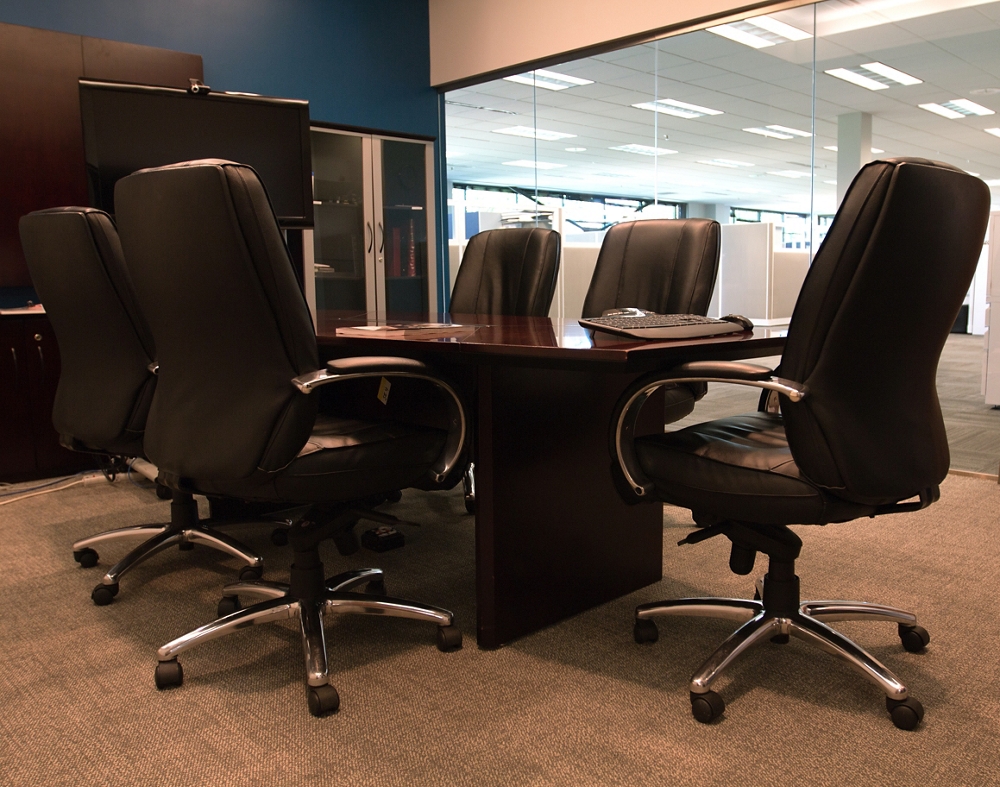 The Blatz Room. Named after Valentin Blatz, the Blatz Room recycles furniture from NBF's old main conference room in Milwaukee. Furniture collections used here include National's Waveworks conference table and storage and National's Aurora conference chairs. The large space seats up to 14 people at a time, which is ideal for large meetings in the sales and customer service departments where the Blatz Room resides.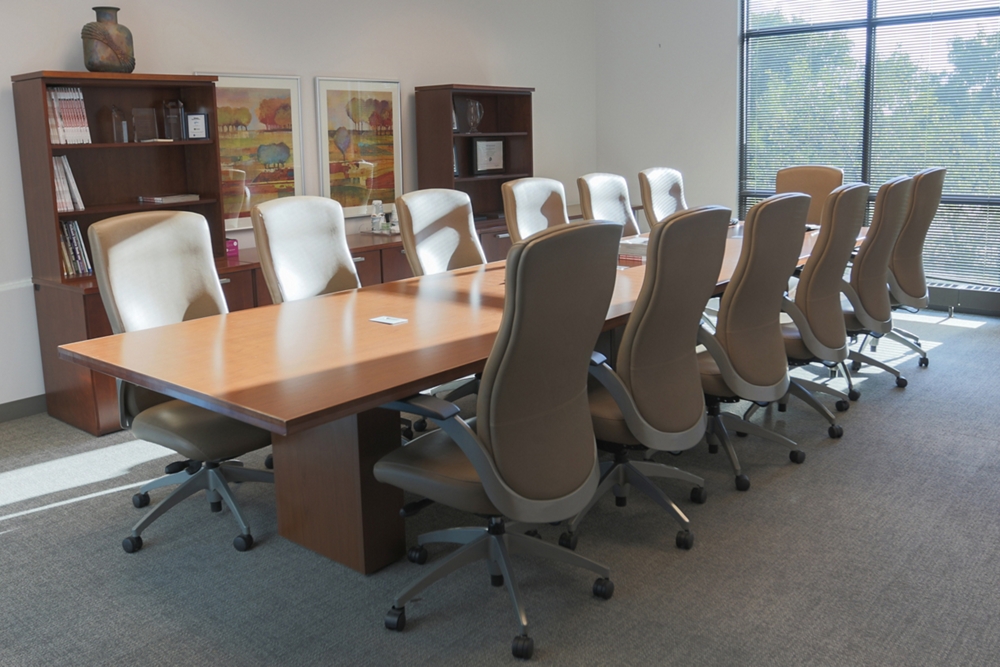 The Sprecher Room. Located on the second floor near NBF's IT department, the Sprecher Room is named after Randal Sprecher and consists of the NBF Signature Series View conference table, five conference chairs and a large monitor. This is the smallest of the formal conference rooms in the office.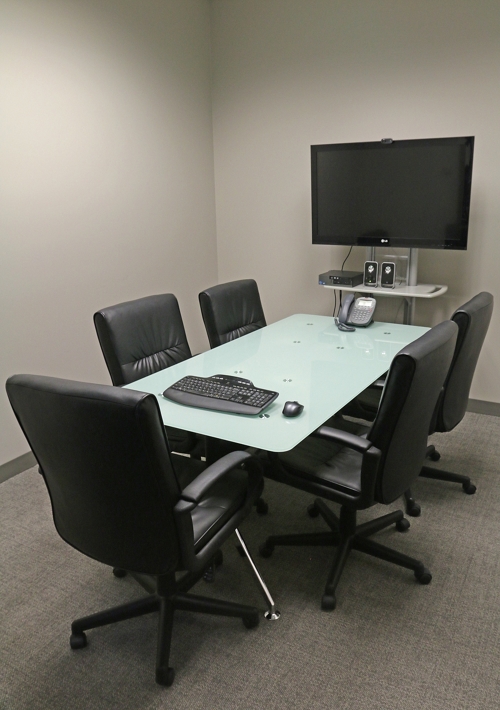 Casual Open Meeting Spaces. In addition to all its formal rooms, NBF also wanted to incorporate multiple casual meeting spaces in its common areas that would not need to be booked in advance in order to use.
Two of these casual touchdown spots were incorporated via soft seating from the Officient Gather Collection. Just add a whiteboard and a mounted TV/computer monitor and—voila! Instant meeting area.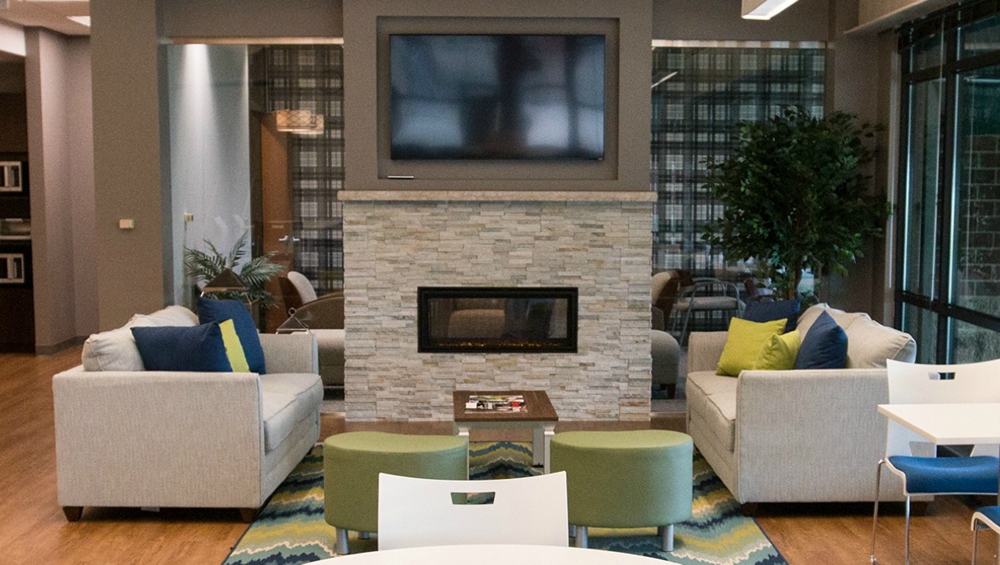 In addition to pieces from the Gather collection, NBF's marketing collaboration area features comfortable soft seating from the NBF Signature Series Synergy collection.
Another lounge area was added to the sales and customer service floor to serve as either meeting space or relaxation space. Outfitted with KI's award-winning Sway collection, this sitting space is one of the most comfortable in the office.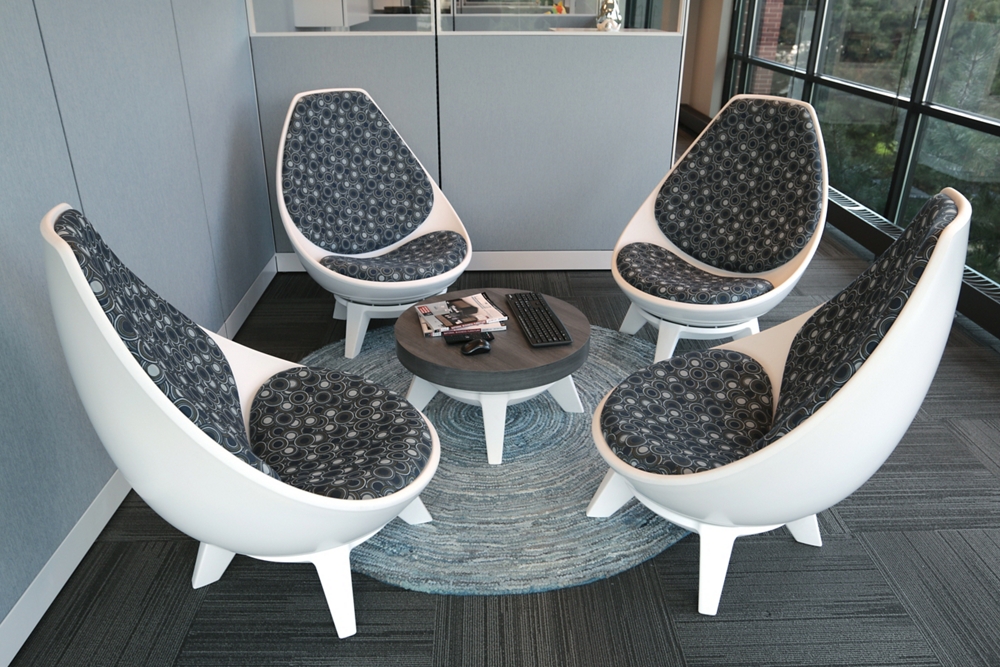 Finally, you'll find a colorful meeting area smack dab in the middle of NBF's stairwell. Felt seating from National Office Furniture's Fringe collection in four different colors with matching ottomans provide a comfy, cozy space for employees to get together and chat while soaking up some sun.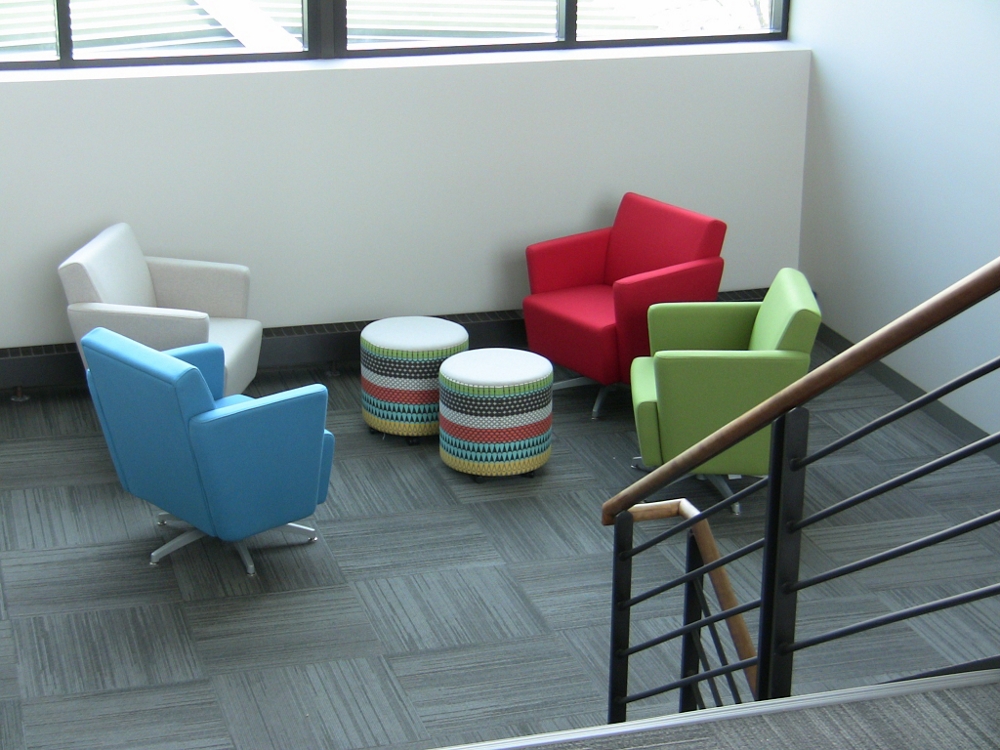 Outdoor Meeting Spaces. As if all those indoor conference areas weren't enough, National Business Furniture executives also took steps to outfit its spacious outdoor area with chairs and tables so that employees can hold meetings outside on the occasion Wisconsin weather is being generous.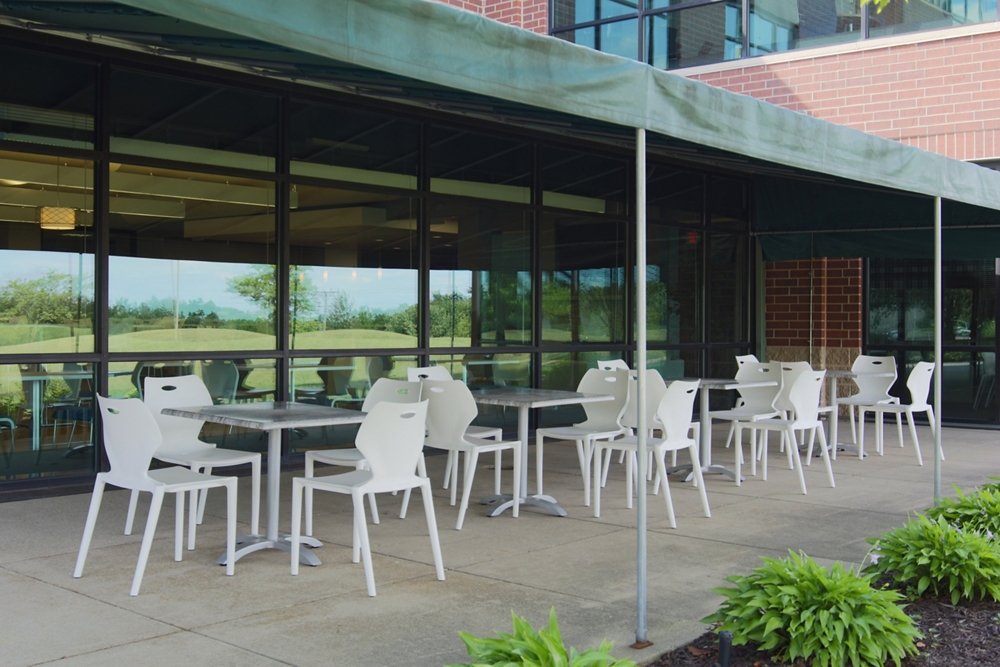 With six formal conference rooms, three casual meeting spaces, outdoor meeting areas, several private offices and incentive to have one-on-one chats at individual workstations, employees have no problem finding space for their meetings now. It's this ability to choose where and how to meet that allows creativity and collaboration to flourish.
Need help finding conference room furniture that works? Shop our full selection of conference furniture here or shop the look.