BEFORE
National Business Furniture has been doing business across the country and maintaining its corporate headquarters in Milwaukee, WI for decades, having just had its 40-year anniversary in 2015. But with a growing business comes a need for more employees, and with more employees comes a need for more space. After many years leasing multiple floors of a Milwaukee high rise building, the decision was made to move to a new office in West Allis, WI that would provide more space. So what did NBF hope to get out of the renovation of the new building?
Better Workstations. NBF employees perform such different tasks from one department to the next that it didn't make sense to keep everyone in the same crammed cubicles. The goal for the renovation of the new building was to offer up a variety of spaces designed to support different types of workloads and different employee personalities.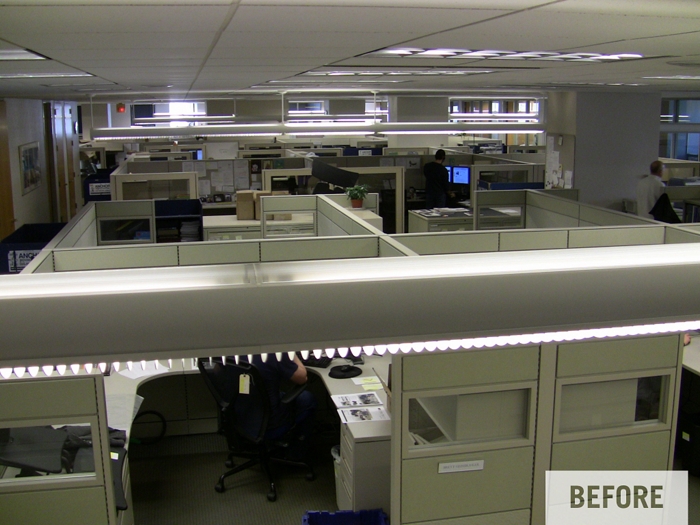 More Meeting Spaces. NBF's previous Milwaukee office had only three conference rooms, and over the years the issue of over-booked rooms became frequent and unavoidable. More spaces for employees to meet and collaborate became a must-have for the West Allis office.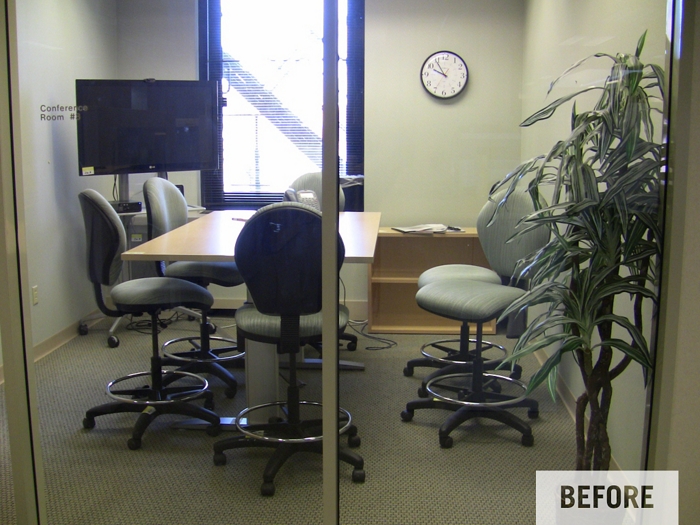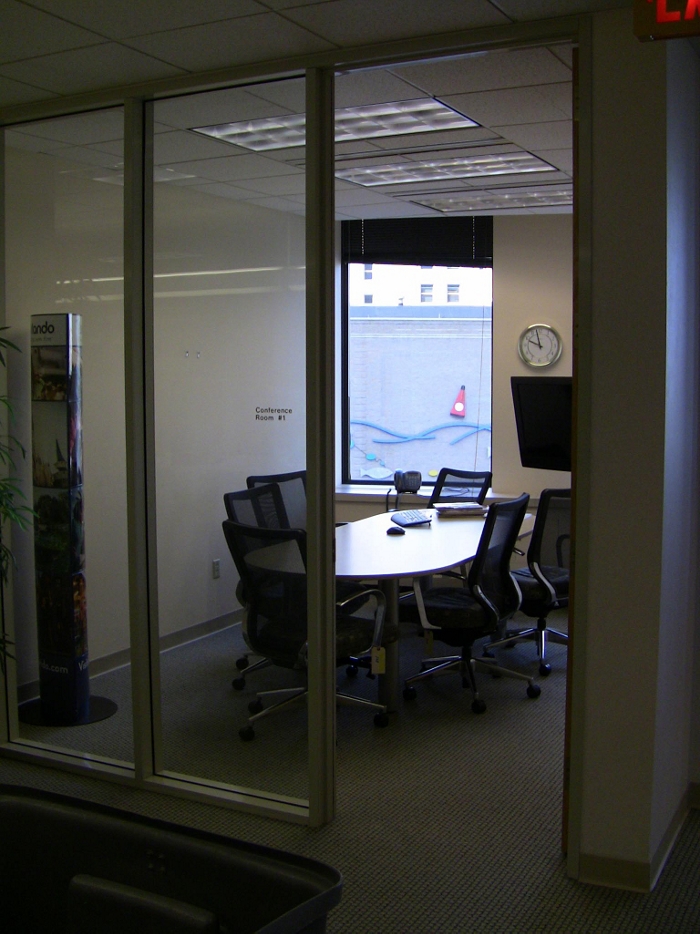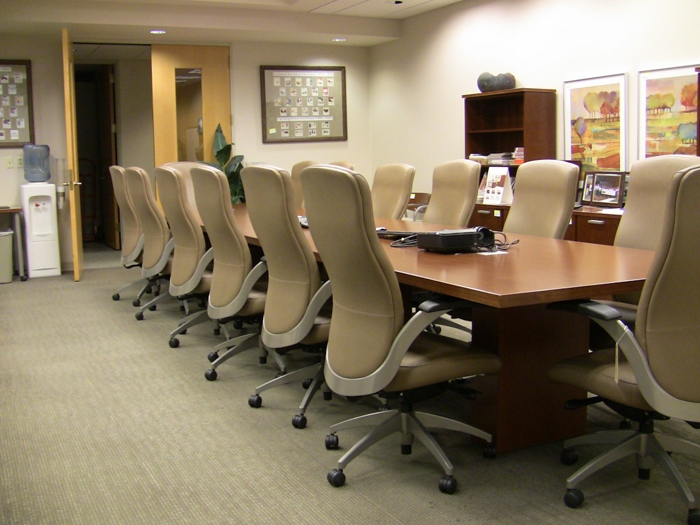 Inspiring Breakrooms. When you're located in the heart of downtown Milwaukee, the lunch options for employees to choose from are endless. Because the new location in West Allis wouldn't offer quite so many restaurant options within walking distance, NBF decision makers wanted to make sure that the breakrooms in the new space were comfortable, beautiful and enjoyable.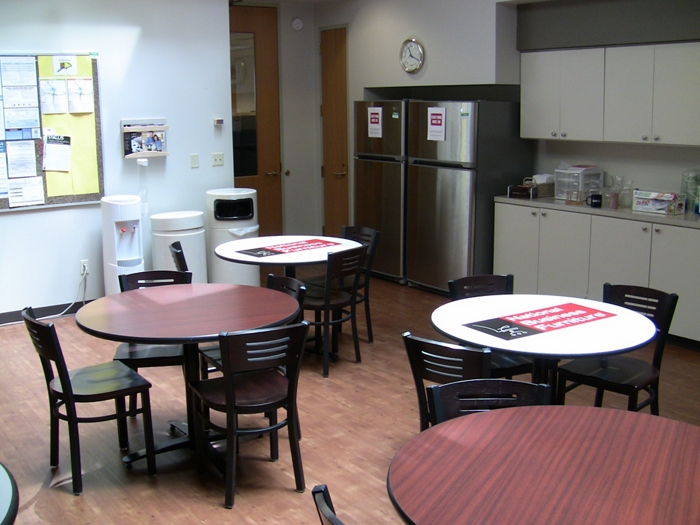 Beautiful Reception Areas. In Milwaukee, NBF's office consisted of two small, outdated waiting areas. Of course, first impressions are everything, and the company wanted to make sure that they made a positive first impression with a larger and more modernized waiting room in the new space.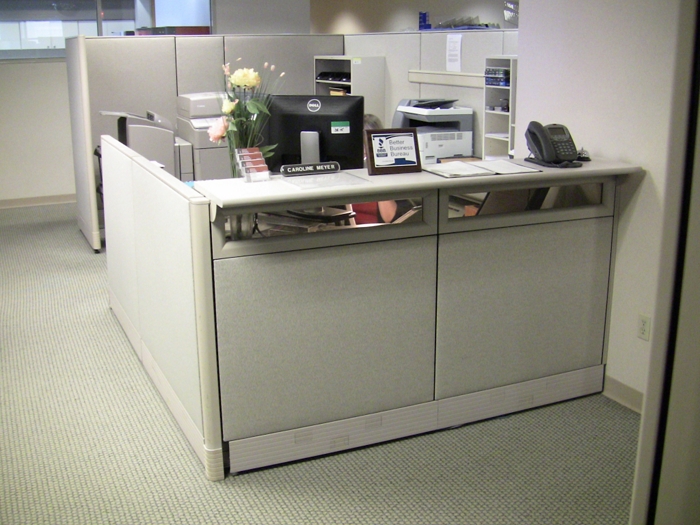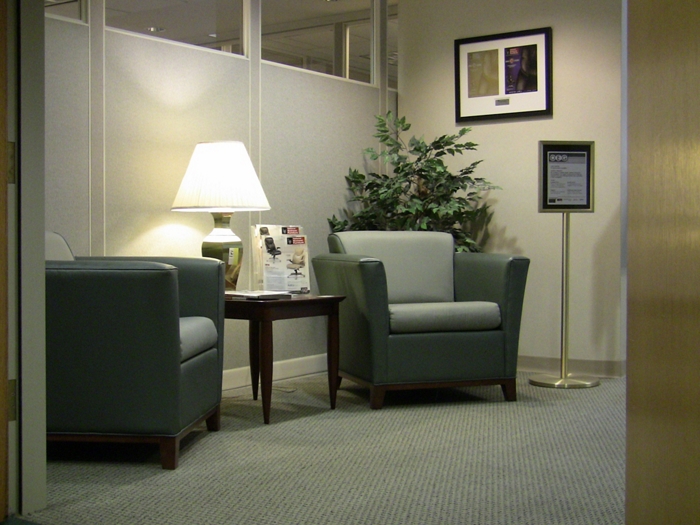 More Showroom Space. In 2014, NBF opened its virtual showroom in a 15,000-square-foot space in a local mall, several blocks away from its Milwaukee office. The goal for the new space was not only to have the virtual showroom located in the same building as the rest of NBF's headquarters, but to be able to open it up as a full-fledged showroom that customers can visit along with their assigned sales representative.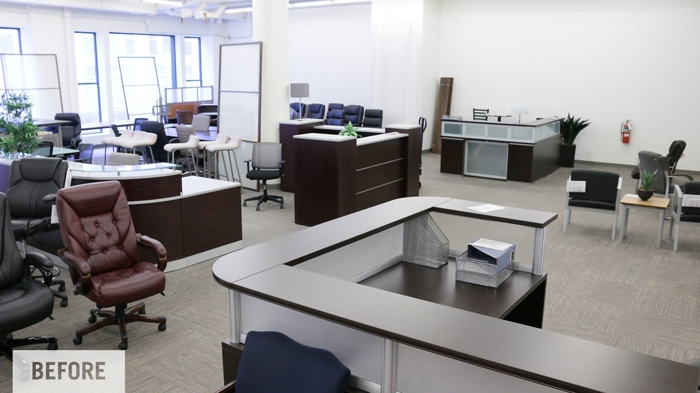 AFTER
Kent Anderson, President of NBF, explained how the move has already affected employees: "Since we had previously been scattered between two buildings and three floors of one of the buildings, we are very excited to finally have all of our Milwaukee employees working in the same location. Getting our showroom, call center and headquarters employees all together will be a positive change for our team and our customers. So far, the atmosphere has been very upbeat, and we can already see improvement in the culture and work habits."
Better Workstations. The solution to NBF's workspace woes came in the form of mixing and matching. Old workstations were donated to various charities and replaced by four similar but unique workstation systems from four different NBF furniture manufacturers. The idea was to change the face of the corporate office by incorporating modern design elements with the intention that it will encourage employee engagement, improve work-life balance and boost productivity.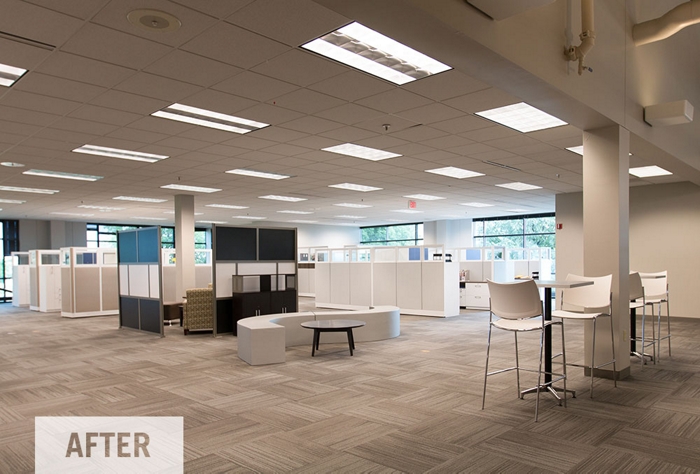 HON's Accelerate panel system was added to the sales and customer service floor to provide privacy to associates who are on the phones with customers all day, every day. NBF's database, logistics, administrative and merchandising teams also received private cubicles, with these ones consisting of Trendway's Choices collection. The NBF marketing and analytics teams have been outfitted with desks from the Global Evolve collection, but in a more open concept layout meant to foster collaboration between creative minds. This mix of private and open spaces has already made a huge difference in the way employees work.
Private offices at the West Allis office have been equipped with various NBF Signature Series collections, including Santa Clara and Metropolitan, allowing managers to show off National Business Furniture's exclusive lines of furniture without all having to look the same.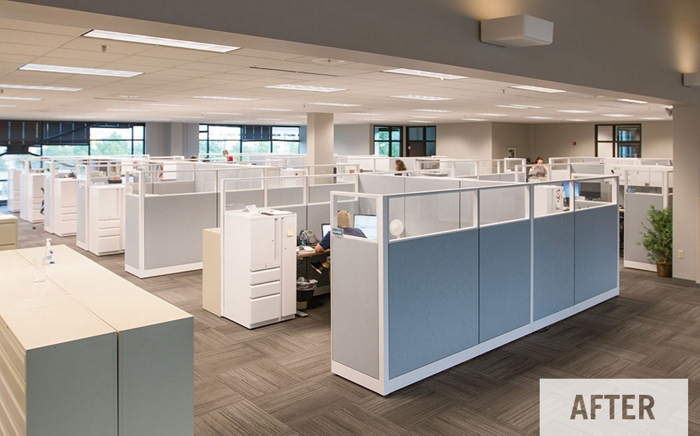 More Meeting Spaces. To solve the issue of too few conference rooms and too many meetings, the new office was renovated to include six formal conference rooms, one of which can also be used as a training room. To pay homage to its Milwaukee roots, NBF named all six conference rooms after Milwaukee beer barons—Miller, Schlitz, Leinenkugel, Blatz, Pabst and Sprecher, respectively. Pabst and Schlitz are both large conference rooms designed to fit up to a dozen people at a time, while the other four are smaller and designed to fit four to six people at a time.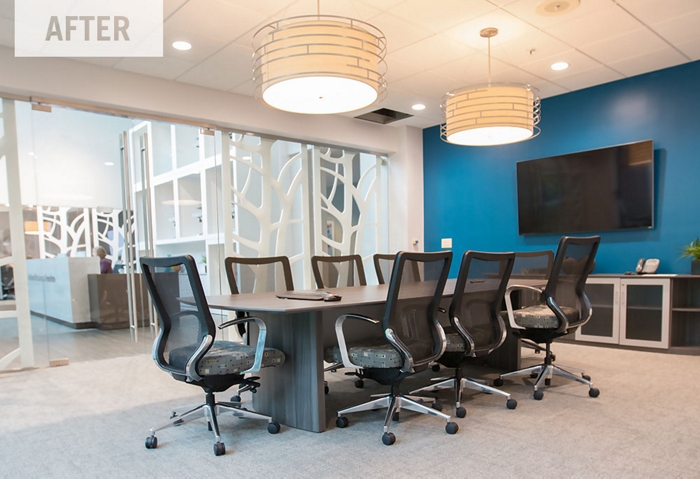 In addition to these six private conference rooms, several small, open lounge areas were added to the new office to serve as spaces where employees could gather to collaborate on a more casual basis. One of these touchdown areas is equipped with soft seating from the Officient Gather collection, a whiteboard and a mounted TV and computer monitor. Another features KI's Sway collection surrounded by floor-to-ceiling windows that drench the space in natural light. A third touchdown space is located in the main stairwell and includes four felt lounge chairs from National's Fringe collection with matching ottomans.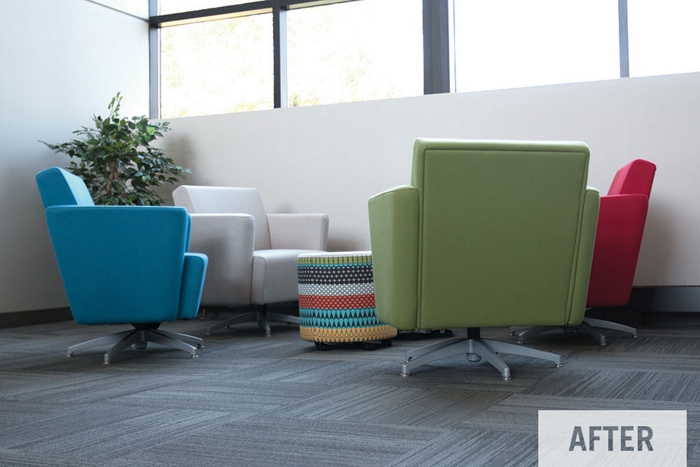 To further enhance collaborative efforts, all employees were given a mobile pedestal with a cushioned top that can serve as an extra seat when employees want to pop into each other's workspaces to chat. With six formal conference rooms, three casual meeting spaces, several private offices and incentive to have one-on-one chats at individual workstations, employees should have no problem finding space for their meetings now.
Inspiring Breakrooms. Similar to what was done with the varying workstation styles, NBF wanted to switch up the different types of places it offered its employees to sit and enjoy lunch. NBF's main café includes an open concept kitchen complete with booths, café seating and a cozy lounge area with a fireplace.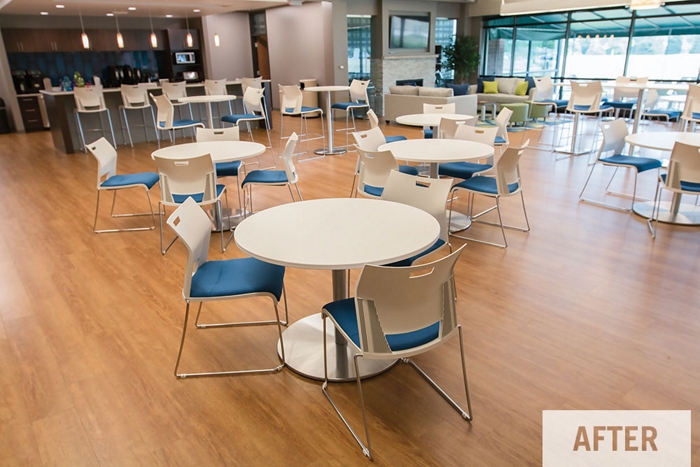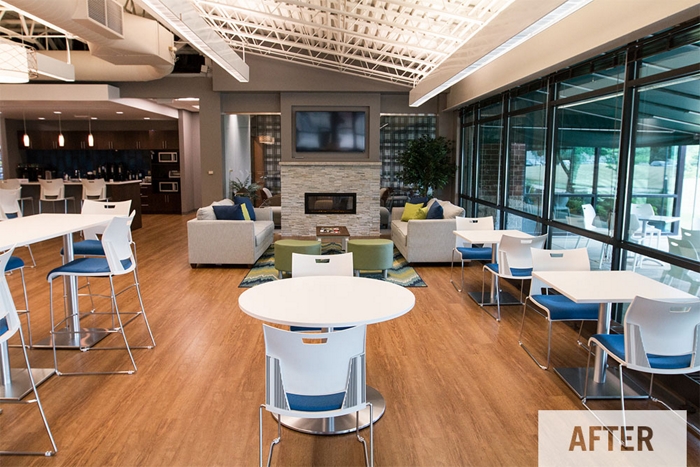 On the other side of the fireplace is the NBF library—a quiet room where employees can sit in peace while reading or eating lunch. The library includes breakroom tables and chairs as well as lounge seating so that users can cozy up with a good book.
Finally, employees can enjoy any moment of good Wisconsin weather they can get thanks to NBF's outdoor break area. With several tables and chairs located just outside the main breakroom, there's plenty of space to sit and enjoy Mother Nature. The West Allis office is also located near a trail that some employees utilize for walking during breaks.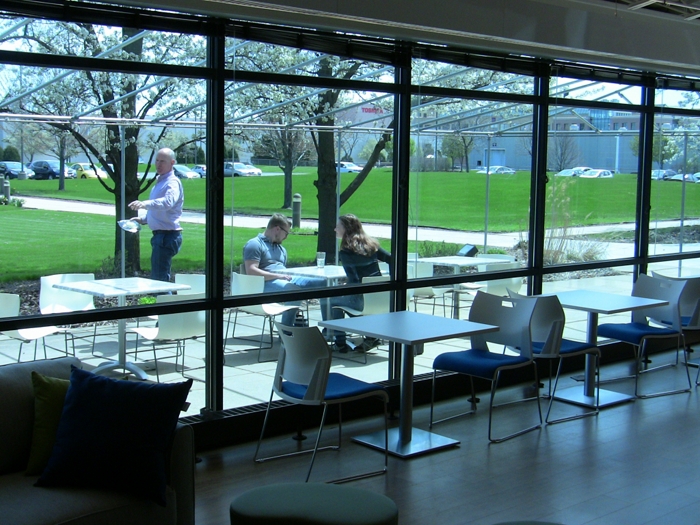 Beautiful Reception Areas. Upon entering the front door, guests are greeted by a large reception desk that sits in front of a wall display of office chairs—truly a statement piece. On either side of the reception desk is where you'll find the Pabst and Schlitz conference rooms. Outside those rooms you'll see two separate areas of lounge seating from National Office Furniture with coffee tables and reading materials for guests to enjoy.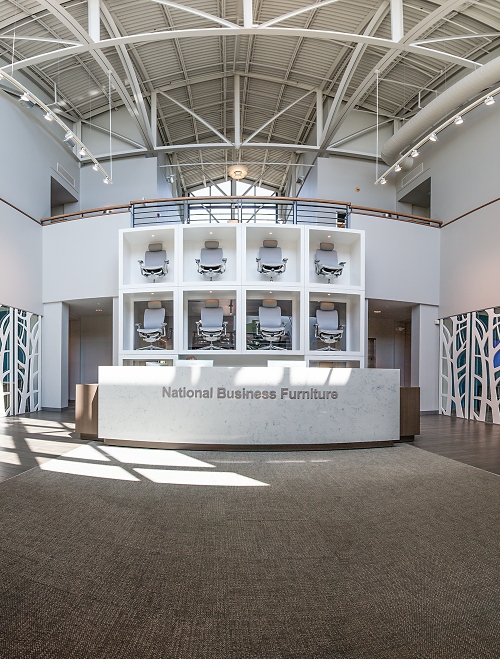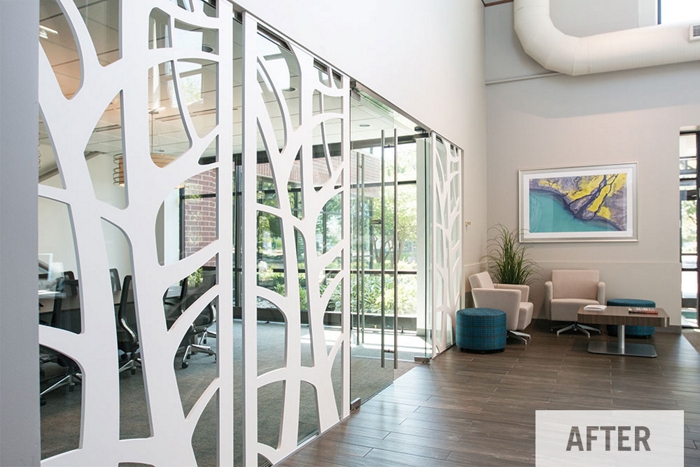 More Showroom Space. NBF's new showroom space is located on the first floor of its offices in a more modern space. Along with the convenience of having its showroom in the same building as its corporate employees and sales teams, the new showroom provides plenty of room for video production, photo shoots and walk-in customers—all things that it was not able to accommodate previously.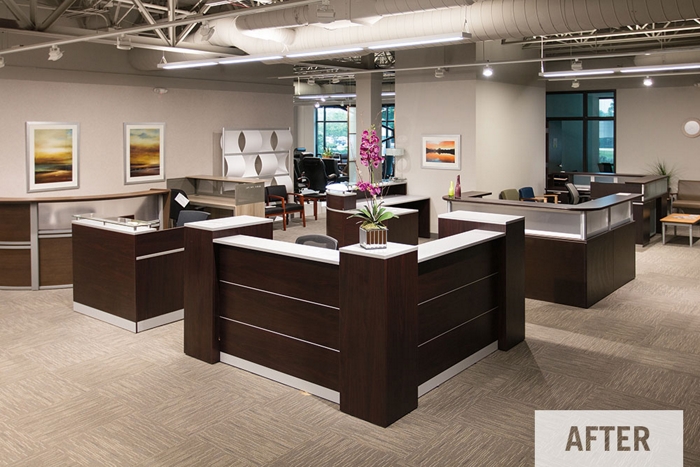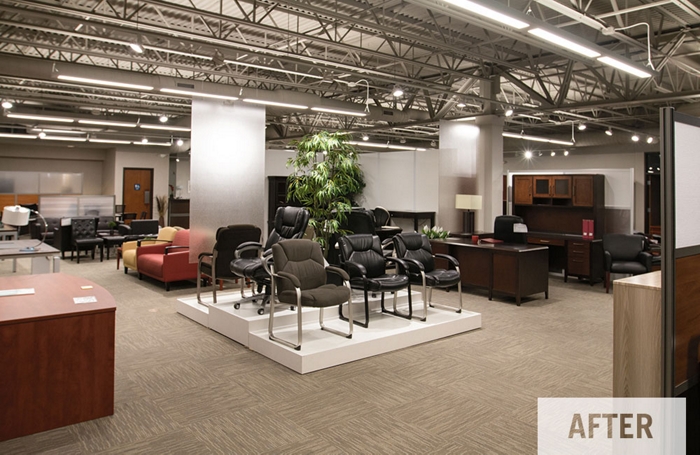 In addition to creating a positive work environment for employees, the new office also has a lot to offer NBF customers. Anderson says, "We will have the largest office furniture showroom in Wisconsin, and with easy freeway access and plenty of parking, customers can easily visit us and see our vast assortment of great products. We've also added a Design Center for our designers, sales teams and customers to collaborate on large furniture projects."
By creating an inspiring space for both NBF employees and customers alike, National Business Furniture is making leaps and bounds in living up to its motto—Furniture that works. People who care.
What do you think of our new office? Let us know in the comments!